Kategorie Desktop / Sonstige
AltDesk Portable
Version: 1.8 | Shareware (15,00 EUR)
AltDesk lets you easily arrange multiple tasks by means of Virtual Desktops used for the storage of individual groups of windows. You can switch Desktops and even swap tasks between them by using Drag and Drop. You can create as many Virtual Desktops as you want and work on various tasks simultaneously. The portable version of AltDesk can be stored on any removable data medium (CD, USB flash drive, etc.) and used on any computer.
Mehr…
Comfort On-Screen Keyboard Pro
Version: 7.5 | Shareware (19,95 USD)
Comfort On-Screen Keyboard ist eine virtuelle Bildschirmtastatur. Gegenüber der ?echten? Tastatur hat diese einige Vorteile, z.B. das Anzeigen der Programmsymbolen und Shorcuts für Windows und gängige Anwendungen, sowie der getippten Zeichen - in jeder Sprache. Diese verfügt über alle Funktionen einer normalen Tastatur und ist mit allen Windows Programmen kompatibel (UMPC, TabletPC, kiosk).
Mehr…
Clever Keyboard Indicator
Version: 5.0 | Demo (18,00 EUR)
The Clever Keyboard Indicator is a program which stays in your Windows system tray and displays "Caps Lock", "Num Lock" and "Scroll Lock" status, allows you to switch key status, plays a sound when the key status changed and many more. You can display OSD (on screen display) text when a key is pressed, add your own keys or key combinations and select a sound for added keys.
Mehr…
Aston2 Menu
Version: 1.6.1 | Shareware (19,95 EUR)
Aston2 Menu opens the new line of Aston2 products, which turn your desktop into a yet more convenient and attractive environment. Iits basic features are themes and skins support, widgets and plug-ins support, fast and convenient search, flexible configuration, animation support, Drag'n'Drop operations support, unicode support, XML standard, multi-language support. Every element of the menu can be tweaked and customized according to your needs.
Mehr…
DESKonTOP
Version: 2.40.151 | Shareware
Solve window clutter, speed-launch desktop shortcuts and access icons on your computer desktop easily. With just one mouse click you'll get a small copy of your desktop with all shortcuts and icons. Another click will launch a shortcut. No need to minimize or move windows around. No need for Start menu exploration. No playing hide-and-seek with your windows. All it takes is one click on DESKonTOP icon, and one more click to launch a shortcut!
Mehr…
Fire Heart Desktop Gadget
Version: 2.20.134 | Freeware
Nothing says 'I Love You!' more than a burning heart. Give your special one a perfect gift! A burning heart...on a computer's desktop! Receiving another digital postcard just isn't as exciting as it used to be. If you want to give something unique, something pretty, something that will be seen a lot, give Fire Heart, a unique, unbelievably smooth computer desktop gadget!
Mehr…
12Ghosts SaveLayout
Version: 9.70 | Shareware (12,99 USD)
Keep changes to your desktop icon layout once and forever. This is the final answer to Windows' re-arranging desktop icons at will. Keep your icon layout in a file, with several versions.
Mehr…
12Ghosts SetColor
Version: 9.70 | Shareware (12,99 USD)
Great tool to set the icon colors suitable to your wallpaper image. Change the desktop icon's text color and the desktop icon text's background color, even to transparent! Now with Windows XP shadow support. A handy tool, with a functionality not possible before in Windows.
Mehr…
IndieVolume
Version: 3.5.99.171 | Shareware (19,95 EUR)
IndieVolume ist ein Zusatz zur Windows Lautstärkenregelung welche den Klang von Windows Anwendungen stark verbessert. IndieVolume erlaubt, jeder Anwendung eine eigene Lautstärkeeinstellung, unabhängig von der Lautstärke anderer Anwendungen, zuzuweisen. IndieVolume unterstüzt auch eigene Balance- und Stummschaltungs-Einstellungen für jede Anwendung. IndieVolume erlaubt die Auswahl des Ausgabegeräts für einzelne Anwendungen.
Mehr…
Multi Screen Emulator for Windows
Version: 2.0.2 | Shareware (14,99 USD)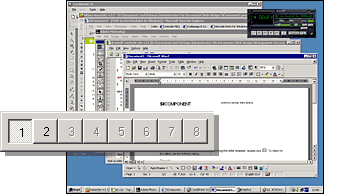 MSEW allows you to create and configure up to 10 virtual screens to simplify switching between
different tasks. Switching of virtual screens is performed by using the MSEW panel or by hot keys.
This useful tool allows you to distribute applications to different virtual screens and to manage
switching among them quickly.
Mehr…
Universal Desktop Ruler
Version: 3.2 | Shareware (49,95 USD)
Univerasl Desktop Ruler allows you to measure not only a straight line distance but any curved distance on the Screen. It allows you to measure quickly and accurately distances, areas and perimeters of figures on the screen. You can determine your own scale and get results in pixels and your units of measurement (feet, inches, meters, ...). It is useful for measuring distance and area on a map, finding area and perimeter in a house project.
Mehr…
Screen OCR
Version: 13.5 | Shareware (29,95 USD)
Konvertiert alles, was Sie auf dem Computerbildschirm lesen können, in einen editierbaren Text. Jeder, der mit einem Text arbeitet, welcher nur angesehen (nicht gespeichert oder gedruckt) werden kann, wird von diesem Programm profitieren und seinen Wert und seine Nützlichkeit zu schätzen wissen. Screen OCR speichert den gesamten Text, den Sie auf dem Bildschirm sehen, mit einer überraschenden Genauigkeit ab. Erkennt die Buchstaben, kopiert sie.
Mehr…