Kategorie Desktop / Sonstige
Fire Heart Desktop Gadget
Version: 2.20.134 | Freeware
Nothing says 'I Love You!' more than a burning heart. Give your special one a perfect gift! A burning heart...on a computer's desktop! Receiving another digital postcard just isn't as exciting as it used to be. If you want to give something unique, something pretty, something that will be seen a lot, give Fire Heart, a unique, unbelievably smooth computer desktop gadget!
Mehr…
12Ghosts SaveLayout
Version: 9.70 | Shareware (12,99 USD)
Keep changes to your desktop icon layout once and forever. This is the final answer to Windows' re-arranging desktop icons at will. Keep your icon layout in a file, with several versions.
Mehr…
12Ghosts SetColor
Version: 9.70 | Shareware (12,99 USD)
Great tool to set the icon colors suitable to your wallpaper image. Change the desktop icon's text color and the desktop icon text's background color, even to transparent! Now with Windows XP shadow support. A handy tool, with a functionality not possible before in Windows.
Mehr…
IndieVolume
Version: 3.5.99.171 | Shareware (19,95 EUR)
IndieVolume ist ein Zusatz zur Windows Lautstärkenregelung welche den Klang von Windows Anwendungen stark verbessert. IndieVolume erlaubt, jeder Anwendung eine eigene Lautstärkeeinstellung, unabhängig von der Lautstärke anderer Anwendungen, zuzuweisen. IndieVolume unterstüzt auch eigene Balance- und Stummschaltungs-Einstellungen für jede Anwendung. IndieVolume erlaubt die Auswahl des Ausgabegeräts für einzelne Anwendungen.
Mehr…
Multi Screen Emulator for Windows
Version: 2.0.2 | Shareware (14,99 USD)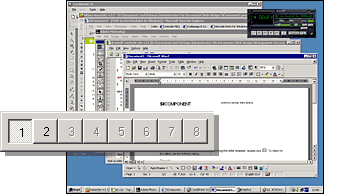 MSEW allows you to create and configure up to 10 virtual screens to simplify switching between
different tasks. Switching of virtual screens is performed by using the MSEW panel or by hot keys.
This useful tool allows you to distribute applications to different virtual screens and to manage
switching among them quickly.
Mehr…
Universal Desktop Ruler
Version: 3.2 | Shareware (49,95 USD)
Univerasl Desktop Ruler allows you to measure not only a straight line distance but any curved distance on the Screen. It allows you to measure quickly and accurately distances, areas and perimeters of figures on the screen. You can determine your own scale and get results in pixels and your units of measurement (feet, inches, meters, ...). It is useful for measuring distance and area on a map, finding area and perimeter in a house project.
Mehr…
Screen OCR
Version: 13.5 | Shareware (29,95 USD)
Konvertiert alles, was Sie auf dem Computerbildschirm lesen können, in einen editierbaren Text. Jeder, der mit einem Text arbeitet, welcher nur angesehen (nicht gespeichert oder gedruckt) werden kann, wird von diesem Programm profitieren und seinen Wert und seine Nützlichkeit zu schätzen wissen. Screen OCR speichert den gesamten Text, den Sie auf dem Bildschirm sehen, mit einer überraschenden Genauigkeit ab. Erkennt die Buchstaben, kopiert sie.
Mehr…
Type4Me Automatic Typing
Version: 1.1 | Shareware (4,95 USD)
This program is for people who want to automatically fill in forms by hitting one button. This program is also for people who use chat rooms and want to hit one button to type in common expressions or emoticons.
Mehr…
Elefun Screen-Mate :: Christmas-Fir!
Version: 1.010 | Freeware
The EleFun Multimedia Company congratulates you with Christmas! As a gift to its users our company has released a new Screen-mate 'Christmas Fir'. The same way as you bring a fir-tree to your home and decorate it, you can download 'Christmas Fir', install it on your computer and decorate it! You can put 'Christmas Fir' in any corner of the screen of your monitor and decorate it choosing one of four sets of decoration. You can also switch snow...
Mehr…
1 Click & Go
Version: 1.2996 | Freeware
1 Click & Go arbeitet wie die bekannte Office Toolbar. So haben Sie schnell, einfach und übersichtlich all Ihre Lieblingsprogramme und Dateien zur Verfügung. Das Tool ist einfach zu bedienen, Programme oder Dateien können einfach mittels Drag & Drop in die Leiste gezogen werden.
Mehr…
Active Tray
Version: 2.2.1 | Shareware (24,95 EUR)
Active Tray is ground-breaking software which finally allows you to transform your meager Windows System Tray into the most important and useful area of your screen! Go ahead; add programs, documents, folders, internet links, and more! Now imagine adding hotkeys, cascading popup menus, and password protection - and it's all right there, at your fingertips! Get your copy of Active Tray today and watch your productivity skyrocket!
Mehr…
Aston
Version: 2.0.3 | Shareware (29,95 USD)
Aston will provide the unique appearance for your Desktop. Aston has enhanced the basic shell components and added original elements, extending the Desktop capabilities: floating widgets (RSS, calendar, weather, clock etc.), live wallpapers in themes, easily adjustable panels. Aston is one of the most stable and reliable Windows shells ever, incredible adjustment and application simplicity of which will never be unnoticed even by a novice user.
Mehr…