Kategorie Entwicklung / Basic, VB, VB DotNet
Kode Magd
Version: 1.0.3.0 | Vollversion (50,00 EUR)
Kode Magd is a toolbar for the VBA editor window in Microsoft Excel, designed to help computer programmers. Report dependencies of variables, function, sub routines, properties, classes, forms and modules. Map out basic structure of code. Formatting and readability of existing code. Renaming variables, modules, classes, forms. functions and subroutines, for improving readability. Generating new code for a multitude of specific tasks.
Mehr…
LabledControls
Version: 1.0 | Freeware
Drei 'beschriftete' Steuerelemente für VB 6.0. Eine typische Routinearbeit bei der Erstellung von Bedieneroberflächen besteht darin, Eingabe- oder Auswahlsteuerelement mit Beschriftungen zu kombinieren. Zuweilen sind ausserrdem 'Nachbeschriftungen' erforderlich (z.B. für Masseinheiten). Diese lästige Routinearbeit wird durch die LabledControls erleichtert.
Mehr…
.NET My Screen Capture
Version: 1.50 | Shareware (89,00 EUR)
This .NET component let you easily capture screen in 6 ways (Full screen, Active window, predefined region, manual region, specific window, full web page) and getting instant result in memory. Some options are available to save the screenshot result on disk, FTP, clipboard, and in different formats. Easy to use, one of the good scenario is that you can add new support feature to your application...
Mehr…
.NET Barcode Recognition Decoder SDK
Version: 1.0 | Demo (395,00 USD)
The Dotnet Barcode Recognition Decoder SDK reads multiple barcode types in C#, VB.NET and Visual Studio from a single DLL that is 100% managed code, strong named and digitally signed. Supported barcode types include Code-39, Code-128, GS1-128, Code-93, Code-11, Interleaved 2 of 5, Codabar, MSI, UPC-A and EAN-13. The demo download includes a source code example for Visual Basic .NET.
Mehr…
VB Barcode Integration Kit
Version: 2007 | Shareware
Integrate barcodes into VB 6 and Visual Basic .NET with this Integration Kit from IDAutomation.com. Several integration options are provided. Includes documentation and source code for both VB and VB Dotnet encoders. Supports several barcode types including Code 128, GS1-128, USPS Barcodes, Code 3 of 9, PDF417 and Data Matrix.
Mehr…
VBto Converter
Version: 2.71 | Shareware (159,00 USD)
Software for converting Microsoft Visual Basic 6.0 projects (including source code) to MS Visual Studio VB.NET, C#, J#, VC.NET, VC++ (MFC), Borland C++ Builder, Borland Delphi.
Visual Basic forms viewer (.frm, .frx files) and source code analyzer (.frm, .bas, .cls files).
The utility of decompiling VB5/VB6-programs
Mehr…
Spices.Net Decompiler
Version: 5.12.1.0 | Shareware (299,90 USD)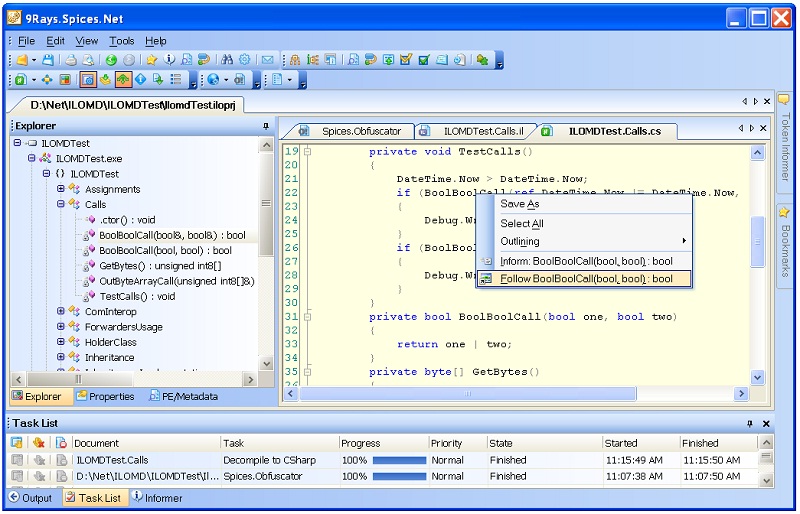 .NET Decompiler - .Net assembly decompiler that recovers source code from crashes and convert executables to C#, Vb.Net, J#, Delphi.Net and managed C++ code.
Mehr…
.NET Linear + 2D Barcode Forms Control
Version: 13.12 | Demo (1.190,00 USD)
Generate barcode images in Visual Studio .NET with the IDAutomation Barcode Forms Control and DLL package. This product is 100% managed code, strong named and signed. Includes printing examples with source code for C# and VB.NET. Supports all popular linear barcode symbologies including Code-128, Code-39, ITF, Code-93, UCC, UPC, EAN, GS1-128, USPS Intelligent Mail, Planet and Postnet.
Mehr…
SmartVBA
Version: 2.0.5 | Shareware (99,95 USD)
Useful Visual Basic for Application development tools to build fast and robust VBA code. It includes intuitively understandable modules that help in programming such as powerful project explorer, snippets that is a library of useful codes, a number of builders: procedures, classes, properties, structures, collections, enum and error handlers. Settings form is also included into the program to easily adjust necessary parameters.
Mehr…
Outlook Security Manager
Version: 1.5 | Demo (99,00 EUR)
One-line programming tool to control Outlook Security. Outlook Security Manager allows you to disable Outlook Security warnings in add-ins and applications that automate Outlook. It supports VB.NET, C#, C++ MFCL/ATL/.NET, Visual Basic 6, Delphi, VBA, Word MailMerge and Outlook 2000, 2002 (XP), 2003 with /without its service packs. Read more on http://www.add-in-express.com/outlook-security/
Mehr…
FB-Tools
Version: 13.10 | Shareware (29,90 EUR)
FB-Tools ist ein professionelles ActiveX-Control für Visual Basic VB6, VB2005, VBA mit etwa 15 anspruchsvollen Werkzeugen, die bei keiner Anwendung fehlen dürften. Laden Sie sich dieses Tool mal ´runter und probieren Sie es kostenfrei aus. Viel Spass damit FienauBerlin.
Mehr…
FlyGrid.Net
Version: 1.5.8.0 | Shareware (289,90 USD)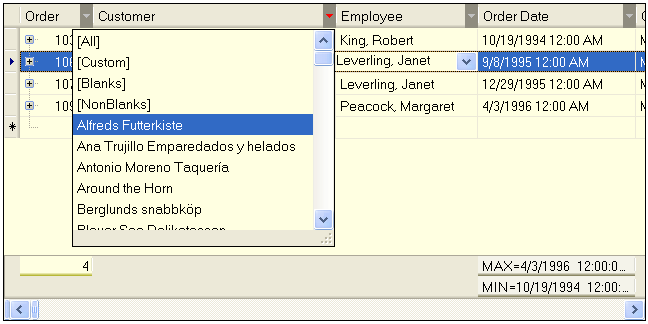 Great things indeed come in small packages. FlyGrid.Net is a fast, lightweight and highly customizable .Net DataGrid/Tree control which completely manages the data, offering outstanding performance and flexibility to display and manage tabular, nested and hierarchical data.
Mehr…