Kategorie Entwicklung / Basic, VB, VB DotNet
OCR in .Net
Version: 4 | Shareware (399,00 USD)
IronOCR is an .NET OCR (Optical Character Recognition) and Barcode library for C# and VB.Net. It adds OCR functionality to Desktop, Console and Web applications in minutes. IronOCR reads Text, Barcodes and QR from images and PDFs. Image pre-processing includes: Rotation and De-Skewing, Background Noise Cleaning, Resolution Enhancement, Increasing Contrast, Color Simplification, and Setting Crop Regions. https://ironsoftware.com/csharp/ocr/
Mehr…
Excel .Net Library
Version: 2020.6 | Shareware (399,00 USD)
IronXL Excel Library can develop .NET Excel applications in C#, our most popular .NET language, in addition to VB.NET, F#, Python, and all other known .NET languages. Read and write XLSX Excel Spreadsheets in .NET. More information on how to use IronXL for your C# .NET Excel projects and licensing the product can be found here https://ironsoftware.com/csharp/excel/technology/net-excel-library/ or https://www.nuget.org/packages/IronXL.Excel.
Mehr…
OCR for VB.NET Library
Version: 4.4.0 | Shareware (399,00 USD)
VB.NET OCR library is an optical character recognition library for Visual Basic .NET projects, generally compiled to the .NET Framework. Iron OCR allows images, PDFs, scans, and photographs to be read for text, and that text returned as a string back to the developer. Coming soon for .Net Core and .NET Standard. https://ironsoftware.com/csharp/ocr/technology/ocr-vb-net/ or https://www.nuget.org/packages/IronOcr/
Mehr…
VBto Converter
Version: 2.71 | Shareware (159,00 USD)
Software for converting Microsoft Visual Basic 6.0 projects (including source code) to MS Visual Studio VB.NET, C#, J#, VC.NET, VC++ (MFC), Borland C++ Builder, Borland Delphi.
Visual Basic forms viewer (.frm, .frx files) and source code analyzer (.frm, .bas, .cls files).
The utility of decompiling VB5/VB6-programs
Mehr…
VBA Recovery Toolkit
Version: 2017.09.22 | Shareware (29,95 USD)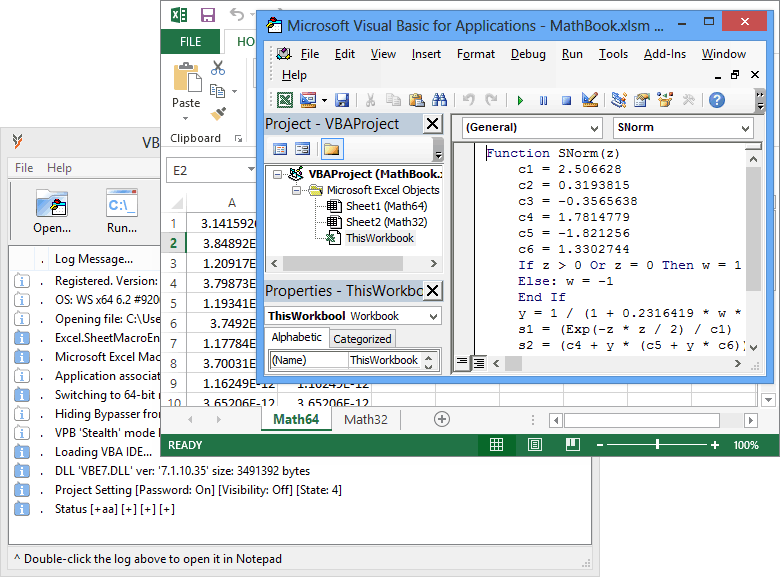 VBA Recovery Toolkit by Thegrideon Software is an advanced tool for VBA Projects reverse engendering: access, recovery and analysis. VBA Recovery Toolkit allows you to access locked or unviewable VBA Projects in MS Office [Access, Excel, ...], AutoCAD, CorelDRAW, etc. Build-in VBA Code Viewer with syntax highlighting and basic de-obfuscation is available to reveal hidden modules and code. "Advanced mode" for on the fly PROJECT settings editing.
Mehr…
Spices.Net Decompiler
Version: 5.17.4.3 | Shareware (299,90 USD)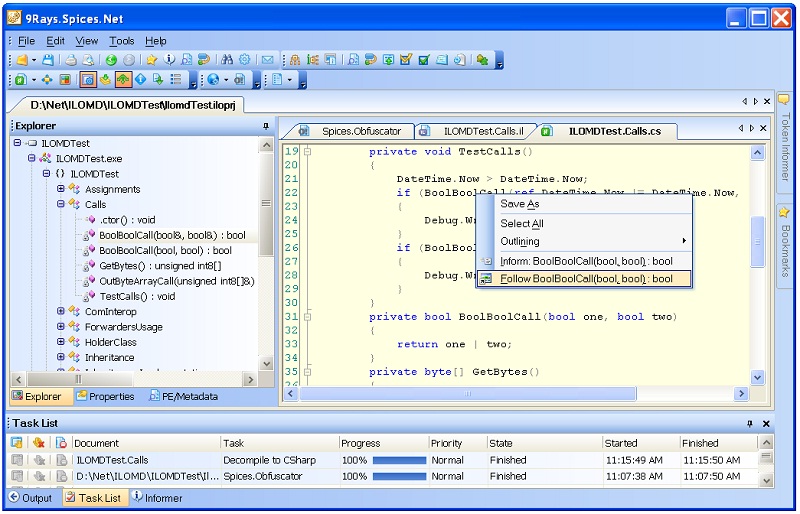 .NET Decompiler - .Net assembly decompiler that recovers source code from crashes and convert executables to C#, Vb.Net, J#, Delphi.Net and managed C++ code.
Mehr…
.NET Linear + 2D Barcode Forms Control
Version: 13.12 | Demo (1.190,00 USD)
Generate barcode images in Visual Studio .NET with the IDAutomation Barcode Forms Control and DLL package. This product is 100% managed code, strong named and signed. Includes printing examples with source code for C# and VB.NET. Supports all popular linear barcode symbologies including Code-128, Code-39, ITF, Code-93, UCC, UPC, EAN, GS1-128, USPS Intelligent Mail, Planet and Postnet.
Mehr…
SmartVBA
Version: 2.0.5 | Shareware (99,95 USD)
Useful Visual Basic for Application development tools to build fast and robust VBA code. It includes intuitively understandable modules that help in programming such as powerful project explorer, snippets that is a library of useful codes, a number of builders: procedures, classes, properties, structures, collections, enum and error handlers. Settings form is also included into the program to easily adjust necessary parameters.
Mehr…
Outlook Security Manager
Version: 1.5 | Demo (99,00 EUR)
One-line programming tool to control Outlook Security. Outlook Security Manager allows you to disable Outlook Security warnings in add-ins and applications that automate Outlook. It supports VB.NET, C#, C++ MFCL/ATL/.NET, Visual Basic 6, Delphi, VBA, Word MailMerge and Outlook 2000, 2002 (XP), 2003 with /without its service packs. Read more on http://www.add-in-express.com/outlook-security/
Mehr…
FB-Tools
Version: 13.10 | Shareware (29,90 EUR)
FB-Tools ist ein professionelles ActiveX-Control für Visual Basic VB6, VB2005, VBA mit etwa 15 anspruchsvollen Werkzeugen, die bei keiner Anwendung fehlen dürften. Laden Sie sich dieses Tool mal ´runter und probieren Sie es kostenfrei aus. Viel Spass damit FienauBerlin.
Mehr…
FlyGrid.Net
Version: 1.5.8.2 | Shareware (289,90 USD)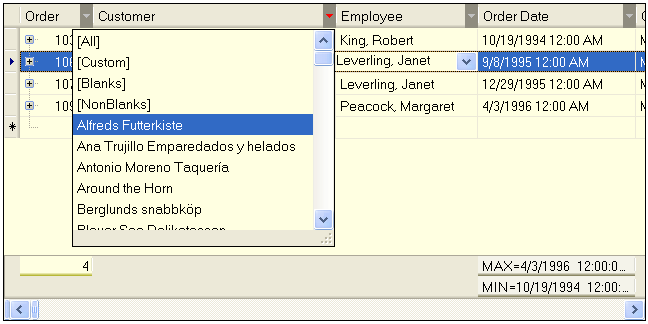 Great things indeed come in small packages. FlyGrid.Net is a fast, lightweight and highly customizable .Net DataGrid/Tree control which completely manages the data, offering outstanding performance and flexibility to display and manage tabular, nested and hierarchical data.
Mehr…
Spices.Net Suite
Version: 5.17.4.3 | Shareware (399,90 USD)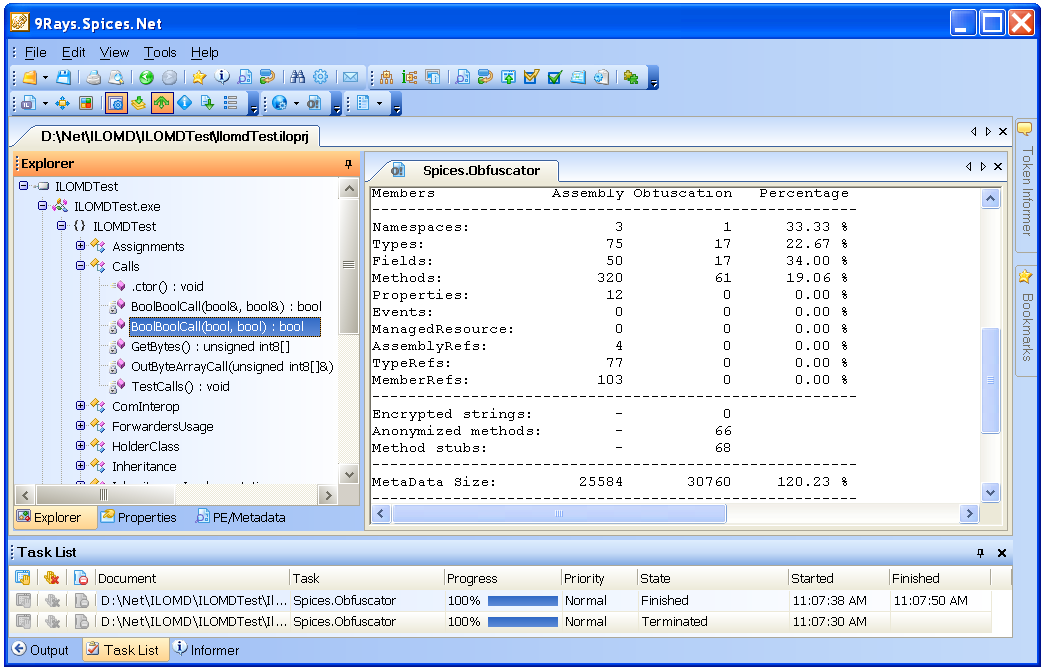 Professional approach to protecting, research, document and reverse engineering .Net assemblies! Spices.Net - powerful tool for .Net developers that offers obfuscation, decompilation, analytical and documentation management features. Spices.Net is plugin environment that constantly renewing new possibilities.
Mehr…