Kategorie Entwicklung / Basic, VB, VB DotNet
FlyGrid.Net
Version: 1.5.8.0 | Shareware (289,90 USD)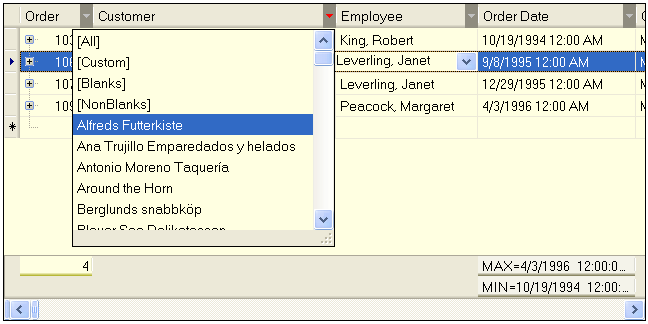 Great things indeed come in small packages. FlyGrid.Net is a fast, lightweight and highly customizable .Net DataGrid/Tree control which completely manages the data, offering outstanding performance and flexibility to display and manage tabular, nested and hierarchical data.
Mehr…
Spices.Net Suite
Version: 5.12.1.0 | Shareware (399,90 USD)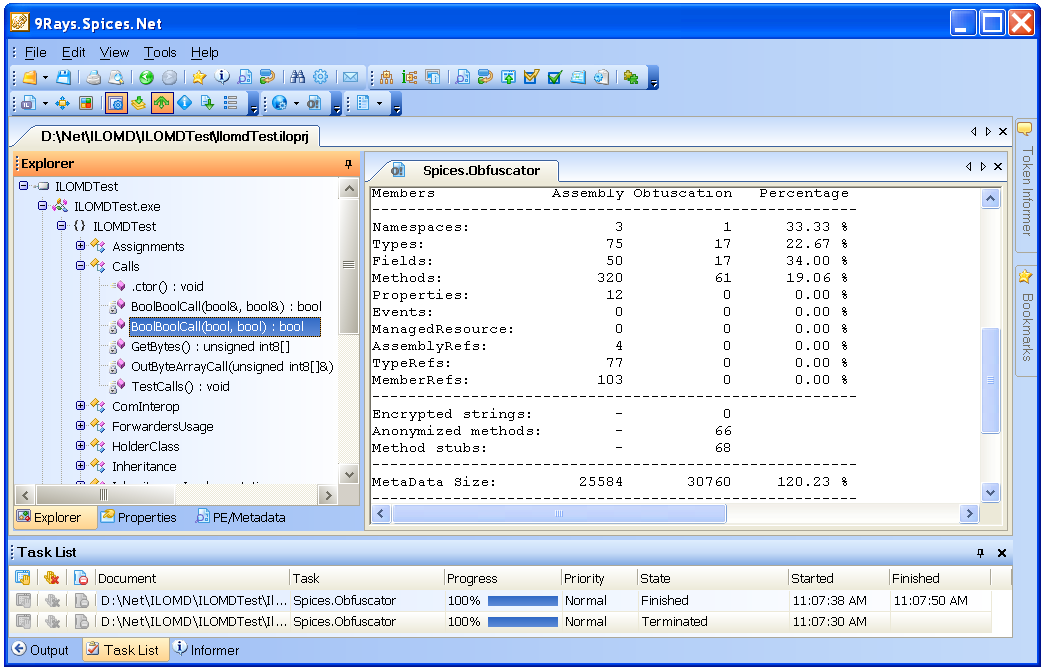 Professional approach to protecting, research, document and reverse engineering .Net assemblies! Spices.Net - powerful tool for .Net developers that offers obfuscation, decompilation, analytical and documentation management features. Spices.Net is plugin environment that constantly renewing new possibilities.
Mehr…
Add-in Express Toys for Excel and .NET
Version: 2.0 | Freeware
This is a free sample COM add-in (ready to install and use) that adds a number of useful features to Microsoft Excel. The add-in is based on the advanced Add-in Express technology and is designed to show you how to create add-ins, how to manage add-in's toolbars and controls, and how to access Excel objects. The add-in contains a full source code in VB, C# and supports Excel 2000, 2002 (XP), 2003 and Excel 2007.
Mehr…
JRSpell Checker
Version: 5.0 | Shareware (97,00 EUR)
..ist ein ActiveX-Steuerelement, das es Programmierern und Web-Designer ermöglicht, sehr einfach eine Rechtschreibprüfung zu integrieren.Das Steuerelement kann in allen Programmierumgebungen, die Activex unterstützen eingefügt werden. Jetzt auch unter Visual Studio .net-einfache Rechtschreibprüfung von beliebigen Textstrings und Inhalten der Text-Box.-erweiterte Rechtschreibprüfung für das RTF-Steuerelement und TX-TextControl. Autokorrekturfunkt.
Mehr…
Kode Magd
Version: 1.0.3.0 | Vollversion (50,00 EUR)
Kode Magd is a toolbar for the VBA editor window in Microsoft Excel, designed to help computer programmers. Report dependencies of variables, function, sub routines, properties, classes, forms and modules. Map out basic structure of code. Formatting and readability of existing code. Renaming variables, modules, classes, forms. functions and subroutines, for improving readability. Generating new code for a multitude of specific tasks.
Mehr…
LabledControls
Version: 1.0 | Freeware
Drei 'beschriftete' Steuerelemente für VB 6.0. Eine typische Routinearbeit bei der Erstellung von Bedieneroberflächen besteht darin, Eingabe- oder Auswahlsteuerelement mit Beschriftungen zu kombinieren. Zuweilen sind ausserrdem 'Nachbeschriftungen' erforderlich (z.B. für Masseinheiten). Diese lästige Routinearbeit wird durch die LabledControls erleichtert.
Mehr…
.NET My Screen Capture
Version: 1.50 | Shareware (89,00 EUR)
This .NET component let you easily capture screen in 6 ways (Full screen, Active window, predefined region, manual region, specific window, full web page) and getting instant result in memory. Some options are available to save the screenshot result on disk, FTP, clipboard, and in different formats. Easy to use, one of the good scenario is that you can add new support feature to your application...
Mehr…
.NET Barcode Recognition Decoder SDK
Version: 1.0 | Demo (395,00 USD)
The Dotnet Barcode Recognition Decoder SDK reads multiple barcode types in C#, VB.NET and Visual Studio from a single DLL that is 100% managed code, strong named and digitally signed. Supported barcode types include Code-39, Code-128, GS1-128, Code-93, Code-11, Interleaved 2 of 5, Codabar, MSI, UPC-A and EAN-13. The demo download includes a source code example for Visual Basic .NET.
Mehr…
VB Barcode Integration Kit
Version: 2007 | Shareware
Integrate barcodes into VB 6 and Visual Basic .NET with this Integration Kit from IDAutomation.com. Several integration options are provided. Includes documentation and source code for both VB and VB Dotnet encoders. Supports several barcode types including Code 128, GS1-128, USPS Barcodes, Code 3 of 9, PDF417 and Data Matrix.
Mehr…
VBto Converter
Version: 2.71 | Shareware (159,00 USD)
Software for converting Microsoft Visual Basic 6.0 projects (including source code) to MS Visual Studio VB.NET, C#, J#, VC.NET, VC++ (MFC), Borland C++ Builder, Borland Delphi.
Visual Basic forms viewer (.frm, .frx files) and source code analyzer (.frm, .bas, .cls files).
The utility of decompiling VB5/VB6-programs
Mehr…
VBA Recovery Toolkit
Version: 2017.05.20 | Shareware (29,95 USD)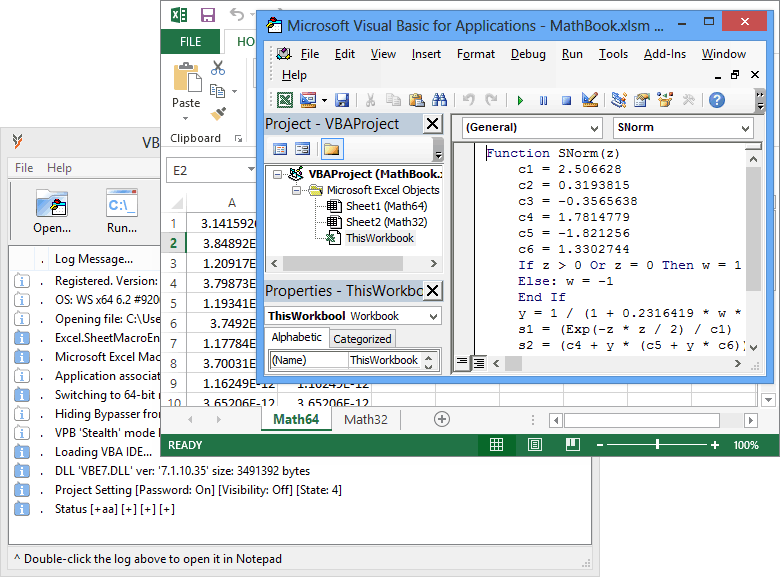 VBA Recovery Toolkit by Thegrideon Software is an advanced tool for VBA Projects reverse engendering: access, recovery and analysis. VBA Recovery Toolkit allows you to access locked or unviewable VBA Projects in MS Office [Access, Excel, ...], AutoCAD, CorelDRAW, etc. Build-in VBA Code Viewer with syntax highlighting and basic deobfuscation is also available to recover, quickly review and filter files with potentially harmful (hidden) modules.
Mehr…
Spices.Net Decompiler
Version: 5.12.1.0 | Shareware (299,90 USD)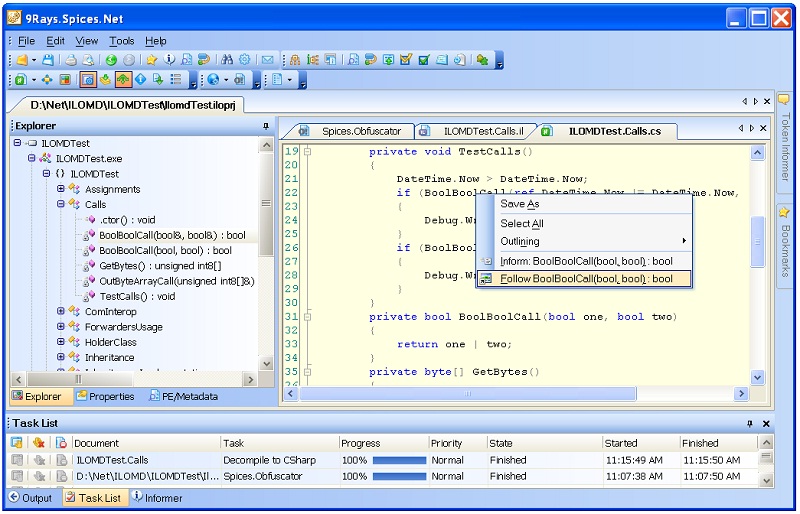 .NET Decompiler - .Net assembly decompiler that recovers source code from crashes and convert executables to C#, Vb.Net, J#, Delphi.Net and managed C++ code.
Mehr…