Kategorie Audio & Multimedia / Audio Datei-Recorder
Stepvoice Recorder
Version: 2.1.0 | Shareware
StepVoice Recorder is software for real-time recording with MP3 file format support. It allows recording from any sound source, such as a microphone, line in or any sound currently playing on your PC (Internet radio, movie sounds, etc.).
Mehr…
Replay Radio
Version: 9.0.1.46 | Shareware (29,95 USD)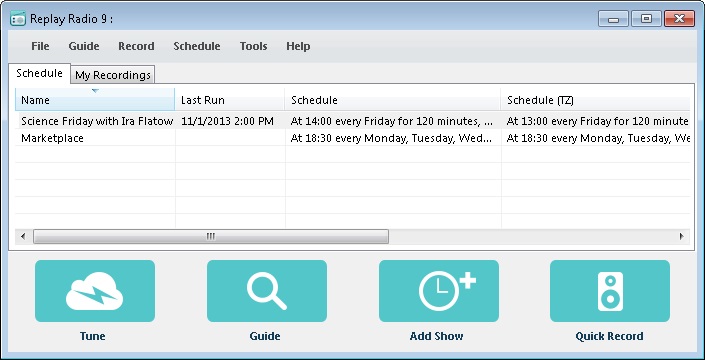 Automatically record radio shows, stations - including Sirius/XM, BBC, NPR and podcasts. Choose from 1000s of radio show/station listings in the Replay Radio Media Guide. The guide is updated regularly so all listings are current. Discover new shows or re-discover old favorites. Convert your recordings to all the popular formats and enjoy them when and where you like. Save your recordings to Dropbox and pick them up remotely. Try it today!
Mehr…
Claudio
Version: 6.3 | Shareware (29,90 USD)
This audio recorder offers wide range of sound qualities (11-192 kHz, 8/16-bit, mono/stereo) and adds features like import/export to WAV, OGG and MP3, keyboard shortcuts, endless loop playback, simple editor, transcription mode and playback effects.
Mehr…
Modem Spy
Version: 4.0.9854 | Shareware (39,95 USD)
Modem spy is handy utility for telephone calls recording. Features: 1) record phone calls. 2) record from microphone. 3) plays back recorded mesages via phone line. 4) Plays back recorded mesages via sound card. 5) Can record ALL incomming phone calls. 6) Has built-in software automatic gain control. 7) Detects and logs Caller ID. 8) Pops up caller ID information
Mehr…
i-Sound WMA MP3 Recorder Professional
Version: 6.9.9.8 | Shareware (29,95 USD)
i-Sound WMA MP3 Recorder turn your computer into high-quality audio recording studio. It enables you capture any sounds of your PC into MP3 or WMA files quickly and easily! WMA MP3 Recorder allows you to record sound without running out of memory as long as there's enough disk space. WMA MP3 Recorder have simple and intuitive interface. Sound quality of the recordings remains excellent.
Mehr…
Loop Recorder
Version: 2.08 | Shareware (24,95 EUR)
Loop Recorder ist spezialisiert darauf, Übertragungen aus dem Radio oder Internet-Radio mitzuschneiden. Beim Loop Recording erfolgt die Aufzeichnung in einer permanenten Endlosschleife von einstellbarer Dauer. Immer die neuesten Audiodaten werden dabei vorgehalten, und die älteren kontinuierlich verworfen. Dadurch stehen die jeweils zuletzt gespielten Musiktitel stets bereit, um geschnitten und als WMA, MP3, OGG oder WAV abgespeichert zu werden.
Mehr…
AudioEdit Deluxe
Version: 5.01 | Shareware (40,00 USD)
Ein ausgereifter visueller Audio-Editor und Konverter, der viele leistungsstarke Aktionen unterstützt. Sie können die Formate CD, MP3, WAV, WMA, OGG, AAC, AC3 usw. bearbeiten und zwischen ihnen konvertieren. Er kann auch Audiodaten abspielen und aufnehmen; schneiden; kopieren; löschen; Pausen löschen; einfügen; mischen; verstärken, verzögern; Echo, ein-/ausblenden; umkehren; normieren; revers; Pause; schrumpfen, strecken und filtern.
Mehr…
SoundTap Streaming Audio-Recorder Mac
Version: 2.38 | Shareware (25,36 EUR)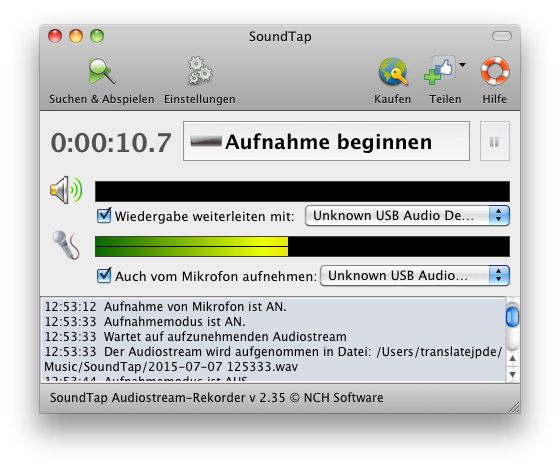 Mit SoundTap kann man fast jedes Audio in WAV oder MP3 aufnehmen, das auf einem Mac OS X abgespielt werden kann. Dies beinhaltet Internetradio, VoIP-Anrufe und Instant Messaging Unterhaltungen. Man muss dieses Programm nur installieren, einschalten und es wird jeder Sound als WAV- oder MP3-Datei aufgenommen, der über den Computer abgespielt wird. Sämtliches Audio wird von einem virtuellen Treiber direkt im Kernel aufgenommen.
Mehr…
Nero Wave Editor
Version: 2017 | Freeware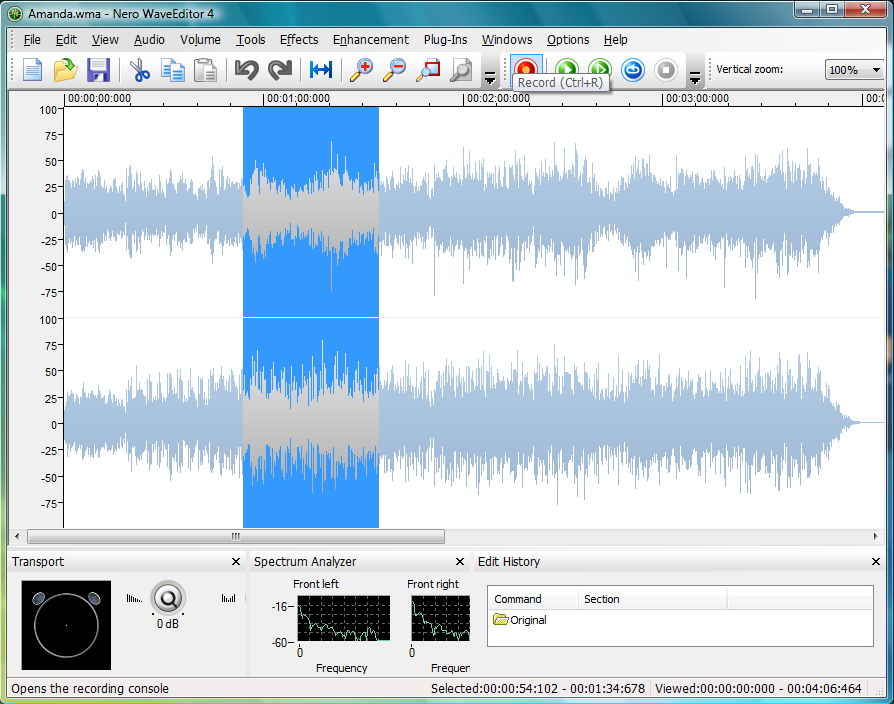 Mit Nero Wave Editor können Sie Musikstücke aufnehmen und die entsprechenden Audiodateien beispielsweise mit unterschiedlichen Filtern und Klangoptimierungsmethoden bearbeiten. Anschließend können Sie diese optimierten Audiodateien mit Nero Burning ROM oder Nero Express brennen. Mit Nero WaveEditor bearbeiten Sie die Audiodateien in Echtzeit und nicht-destruktiv, d.h. ohne die Originaldatei zu beschädigen.
Mehr…
Jaksta Music Miner for Windows
Version: 5.0.1.54 | Shareware (12,95 GBP)
Jaksta Music Miner for Windows captures & tags MP3s from popular audio and video web sites, automatically. Just open Jaksta Music Miner, play a song or video and the MP3 is created, usually up to 10x faster than real time. Adding the MP3 to iTunes happens with the click of one button. Jaksta Music Miner supports Grooveshark, Last.FM, YouTube, Jango and more. Jaksta Music Miner is great for discovering new music or enjoying your music offline.
Mehr…
Express Dictate für Mac
Version: 6.01 | Shareware (57,96 EUR)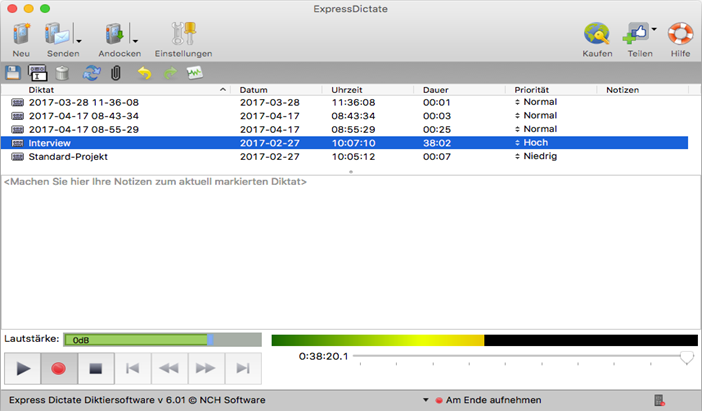 Express Dictate ist eine professionelle Diktiersoftware für Mac OS X. Funktionen beinhalten sprachaktivierte Aufnahme, Aufnahme einfügen, überschreiben und anhängen, Verschlüsselung und die Fähigkeit, Aufnahmen automatisch via FTP, E-Mail, LAN und Befehlszeile zu versenden. Die Software kann auch über ein tragbares Diktiergerät oder Fußschalter gesteuert werden (zum freihändigen Diktieren).
Mehr…
Any Audio Record
Version: 5.4.5.627 | Freeware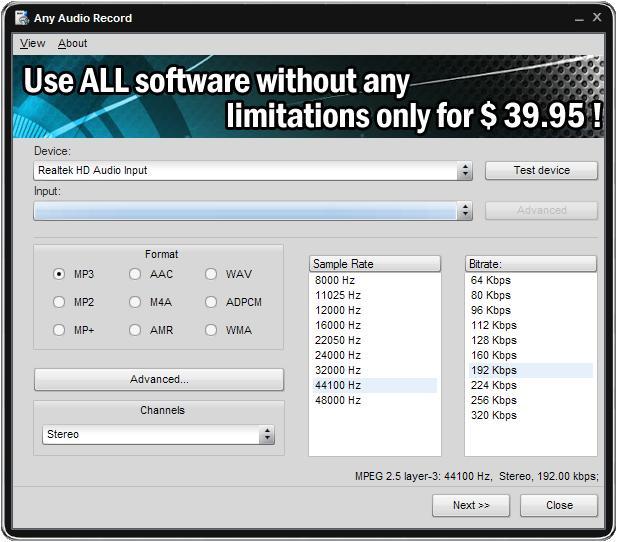 Soft4Boost Any Audio Record ist ein kompaktes Audioprogramm zum Aufnehmen der Audiodaten von unterschiedlichen Eingängen wie Mikrophon, Schallplatten, Ihre beliebigen Videospiele, solche Programme wie Real Player, Skype und Eingänge der Soundkarte.
Mehr…