Kategorie Entwicklung / C | C++ | C#
jk-ware MDI-Projektworkspace
Version: 3.0 | Shareware (49,90 EUR)
Für Visual C#-Entwickler bieten wir unseren MDI-Projektworkspace zur Entwicklung ihrer eigenen Produkte an. Der Workspace benötigt Visual C# 2008 Express und beinhaltet alle Sourcedateien zur Erstellung einer Formenverwaltung für die Windows-CLR. Das resultierende Programm verwaltet die Formen einer Anwendung und eines Basisprogramms. Der Workspace besteht aus fünf Projekten. Der Quellcode umfasst Multithreading und die Vergabe von Lizenzdateien.
Mehr…
Add-in Express 2007 for VSTO
Version: 2008.4.0 | Shareware (349,00 USD)
Use visual designers of this component set to create professional extensions for Microsoft Office in VSTO 2005 (SE) and VSTO 2008. Enjoy lots of advanced features: customize Office 2007 Ribbon UI and Office 2003 toolbars at design-time, add elements to Ribbon tabs, the Quick Access Toolbar and Office Menu and validate the resulting Ribbon XML in no time. C# and VB.NET are supported. Read more at http://www.add-in-express.com/add-in-vsto/
Mehr…
Toolbar Controls .NET for Microsoft Office
Version: 1.0 | Demo (199,00 USD)
This component allows developers to add any visual .NET controls onto Microsoft Office applications' toolbars at design-time. You can create feature-rich toolbars of Outlook, Excel, Word, PowerPoint. Supports Visual Basic .NET, C#, C++ .NET, J# in Visual Studio 2003 and Visual Studio 2005. Toolbar Controls for Microsoft Office gives .NET developers new possibilities to create advanced GUI of Microsoft Office COM add-ins.
Mehr…
ADX Extensions for Outlook
Version: 1.0 | Freeware (119,00 EUR)
It allows you to embed your .NET and VCL forms into Outlook custom forms and Outlook folder views. You can use any feature-rich .NET forms, controls and components (such as grids, editors and tree-views) and embed them into the Outlook Explorer and Outlook Inspector windows like form regions provided by Outlook 2007. It supports Outlook 2007, 2003, 2002 (XP) and 2000 with or without any service packs. Read more on http://www.add-in-express.com/
Mehr…
MouseImp Pro Live! Source Code
Version: 0.0.0.0 | Freeware
Please feel free to download and use MouseImp Pro Live! source code. The source lacks MouseImp Pro?s copy protection and some other trialware/evaluation stuff from the commercial version. The source code can be compiled under Microsoft Visual C++ 6.0 SP5. Installation wizard is made with Wise Install Builder 7.04. Volunteer developers are highly welcome!
Mehr…
Spices.Net Obfuscator
Version: 5.12.1.0 | Shareware (399,95 USD)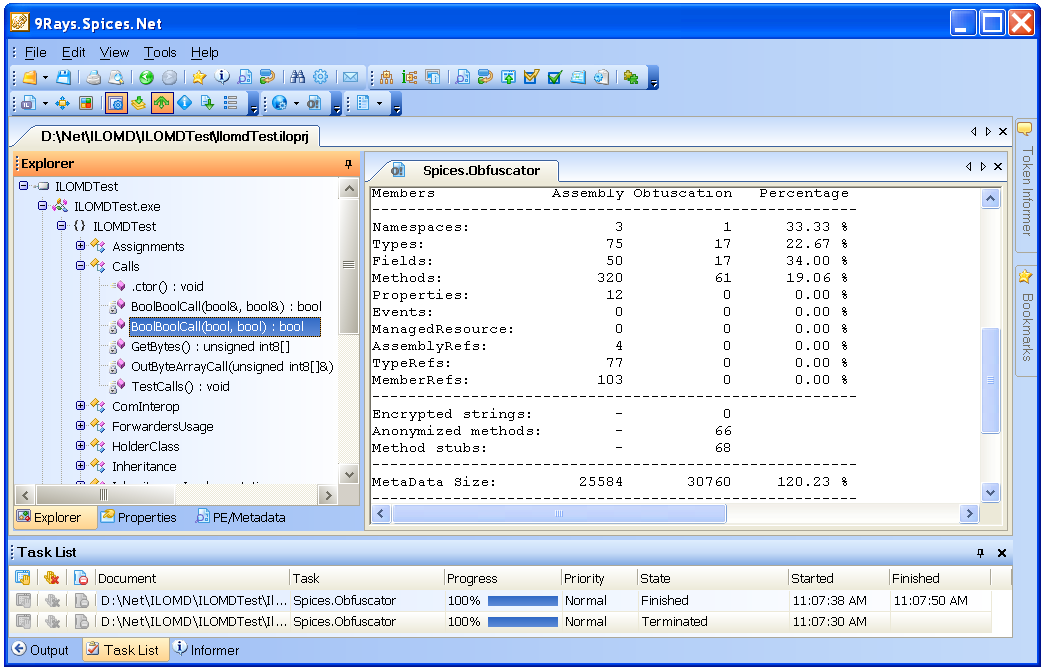 .NET Obfuscator - efficient and easy of use .Net obfuscation tool that protects your .NET software from hackers, competitors, and prying eyes by preventing unauthorized use, code tampering and reverse engineering.
Mehr…
MetaLib
Version: 5.0 | Shareware (59,95 EUR)
The MetaLib SDK includes functions for reading, writing, editing, inserting, sorting and deleting MetaStockTM price data. It is perfect for software developers wanting to create powerful add-on modules for MetaStockTM users. You have no complexities of accessing MetaStockTM data files from your program. As a result, your development time will be shorter.
Mehr…
Add-in Express for Office and .NET
Version: 2010 | Shareware (303,09 EUR)
All-in-one platform for developing any types of Office extensibility projects, including COM add-ins, smart tags, RTD servers and user-defined functions for Microsoft Office 2010 - 2000. Create application-specific plugins and shared extensions that work on all end-user applications: Outlook, Excel, Word, PowerPoint, Visio, Project, MapPoint, Publisher, etc. in C#, VB.NET, C++ and Delphi Prism. More info: http://www.add-in-express.com
Mehr…
TRichView for C++Builder
Version: 16.15.1 | Shareware (310,00 EUR)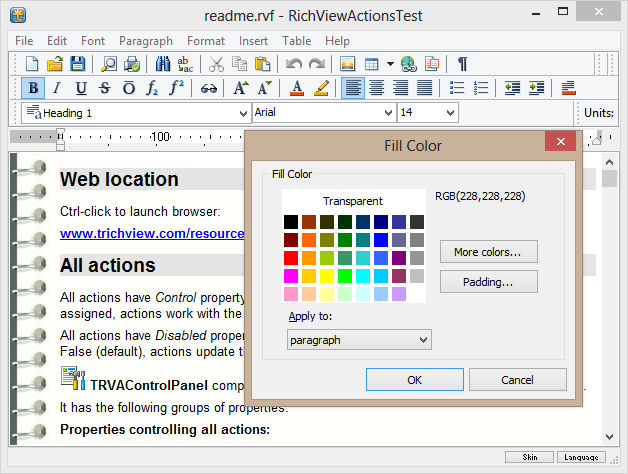 RichView ist eine Suite von Delphi Komponenten zum anzeigen, editieren und drucken von Hypertext Dokumenten. Die Komponenten unterstützen verschiedene Attribute wie Schriftarten, farbiger Text, farbiger Hintergrund. Dokumente können Bilder enthalten, Delphi Steuerelemente. Export zu RTF oder HTML und mehr... ScaleRichView ist ein Satz von VCL-Komponenten für das WYSIWYG-Editieren.
Mehr…
Turbo-Locator x86
Version: 6.01 | Shareware (29,90 EUR)
Code-Relocator für Prozessoren x86, V25, V40, V50, Am486, AMD SC400 u.s.w. Verwendet Output von Turbo/Borland C++, Turbo/Borland Pascal und TASM. Geeignet für x86 kompatible Embedded Systeme und Industrie / Flat / Raw / ROM / BIOS PC Anwendungen.
Mehr…
Extensibility Studio
Version: 1.0 | Shareware (699,00 USD)
Extensibility Studio is a complete solution allowing to extend your .NET application with user-defined logic. It provides set of tools allowing users of your applications to write code for mini-programs (scripts) to enhance existing or define new logic by accessing and manipulating application objects, build visual user interfaces for these scripts and debug them with fully-featured debugging engine.
Mehr…
C# Web Scraping Library
Version: 4.0.4.2 | Shareware (299,00 USD)
Die C # Web-Scraping-Bibliothek ermöglicht es Programmierern auf dem Microsoft .Net Framework zu scraper (Download und Parse) gesamte Web-Anwendungen zurück zu rohen, strukturierten Daten. Iron WebScraper bietet eine logische Schnittstelle zur Verwaltung von Scrape-Jobs, Proxies, Cookies, HTML-Parsing und Dateidownloads in logischen 1-Seiten-Klassen, die in Visual Studio pausiert, wieder aufgenommen und problemlos ausgewertet werden können.
Mehr…