Kategorie Sicherheit & Datenschutz / Zugangskontrolle
Security Desktop Tool
Version: 7.5.5.2 | Shareware (34,95 USD)
Security Desktop is a security utility that allows you to restrict access to Windows important resources. This utility limits kids time they spend in internet and playing games. It provides folders and files protection.
Mehr…
Kids PC Time Administrator
Version: 6.1.5.56 | Shareware (15,00 USD)
If you are concerned your child may be spending too much time online or playing games this type of software will offer a solution. It allows you to set limits on how much time your child spends on the computer or online.
Mehr…
Public Access Desktop
Version: 6.1 | Shareware (69,00 USD)
Make a foolproof public access workstation, protect the critical files, and manage applications to be run. You can create an Internet Kiosk for cybercafe, library information terminal, in-store terminal or restrict children activities on home PC, etc. Set the proper type of access to a locked desktop such as user-name and password authentication, time-locked code (that allows users to access PC for a given period only) or a combination of both.
Mehr…
Parental Control Tool
Version: 7.5.5.55 | Shareware (15,00 USD)
Parental Control Tool is a powerful security utility that allows you to restrict access to Windows important resources. This easy-to-use utility helps you to keep your computer in order. It enables you to impose a variety of access restrictions to protect your privacy. You can deny access to each individual component of several Control Panel applets, DOS programs, Registry editing and network access.It has got the multiuser intuitional interface.
Mehr…
User Time Administrator
Version: 6.1.3.1 | Shareware (18,95 USD)
User Time Administrator lets you specify when exactly and how long the computer can be used and define users which will be allowed to use the computer without any limits. You can schedule time intervals and the number of hours each child can use the computer per day a week. It automatically logs your child out of their computer when it's time for lights out. Also you can prevent the PC usage until the specified date and after the specified date.
Mehr…
DeviceLock
Version: 6.4 | Demo (32,00 EUR)
DeviceLock erlaubt es Netzwerkadministratoren anzugeben, welche Benutzer auf welche Laufwerke (Ports, Diskettenlaufwerke, optische Laufwerke usw.) auf einem lokalen Windows XP/2000/NT Rechner zugreifen dürfen. Sobald DeviceLock installiert ist, können Administratoren Berechtigungen vergeben, auf CD-ROMs, USB, COM-Ports oder alle anderen Laufwerke zuzugreifen, ebenso wie sie es für den Zugriff auf eine Festplatte machen würden.
Mehr…
ZIP Pointer
Version: 2.01 | Freeware (24,95 EUR)
Lookup USA and Canada towns by ZIP, postal code or name and show them on a North American map. This helps you to check customer information, verify postal addresses, and reduce credit card fraud. Using the program is simple. Just enter a ZIP Code, and the program gives you the matching city, state, latitude, and longitude.
Mehr…
Rohos Logon Key
Version: 3.0 | Shareware (32,00 USD)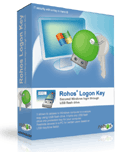 It allows to access Windows in a secure way by USB drive, biometric USB drive, Bluetooth mobile or eTokens, replacing the Windows login. For Windows Vista program installs two-factor authentication Credential Provider. Supports remote desktop login. No risk because of: Emergency Logon that helps to access your system in case you lost USB drive or forgot PIN code; Safe Mode support - no way to bypass USB Key security.
Mehr…
Disk Password Protection
Version: 5.4.3 | Shareware (49,00 USD)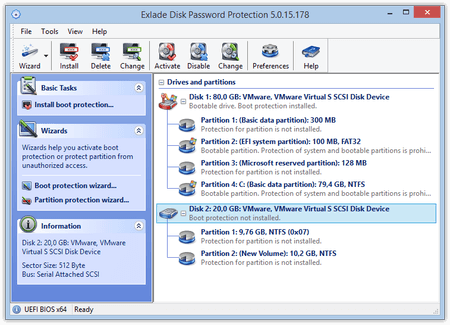 Softwarelösung zur Sicherung der Festplatten und Partitionen gegen unbefugten Zugriff und zum Bootsschutz der Betriebssysteme. Schutzen Sie Ihre Festplatten und Partitionen mit Kennworte, beschränken Sie den Zugriff zum Lesen und Ausführen von Dateien an Ihren Festplatten. Stellen Sie den Bootsschutz Ihres Computers ein.
Mehr…
Password Protected Lock
Version: 2.92 | Shareware (20,00 USD)
Password Protected Lock is an excellent security computer lock you can use to secure your PC and protect your privacy. It is attractive, secure, and very easy to use. It starts automatically with Windows and optionally activates desktop lock with password upon loading. It hides your desktop at the same time and provides an informative message that you can edit as you like. You can have the program power down your monitor.
Mehr…
Program Protector
Version: 4.7 | Shareware (29,95 USD)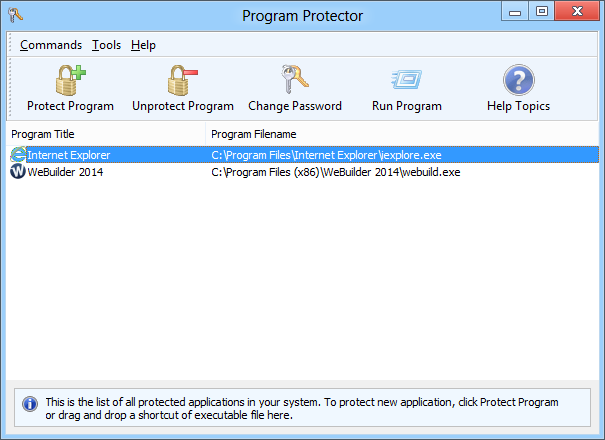 Program Protector is unique, state of art security utility that allows you to password protect programs. You can easily password protect any Windows application. Program Protector is very easy to use and does not require any special computer knowledge.
Mehr…
Secure Folders XP
Version: 3.0 | Shareware (24,95 USD)
Introducing Secure Folders XP: the unique files, folders and entire drives data protection system intended to make your life easier, while making sure your private and sensitive data are kept away from prying eyes! Download now!
Mehr…