Kategorie Sicherheit & Datenschutz / Zugangskontrolle
Luxand Blink! Face Recognition
Version: 2.4 | Shareware (29,95 USD)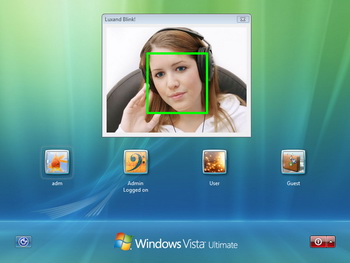 Login to your PC without touching a thing! Luxand Blink! is a free tool to let you log in to your Windows account by simply looking into a webcam - no passwords to type and no fingers to scan. The innovative face recognition technology developed by Luxand recognizes users' faces quickly and reliably, and is able to match the user with an associated account even with different haircuts, beards or mustaches grown or shaved off.
Mehr…
CybSecure
Version: 1.3.300 | Shareware (59,00 USD)
CybSecure is an Internet Filtering, Application Blocking, Device Security Tool. CybSecure blocks access to illegal file downloads and it also provides you increased protection with its EXE and Window Blocker which will prevent the usage of mis-usable software. The Device Security feature provides you with additional protection against data theft by blocking USB and other storage devices which are a threat to company?s sensitive internal data.
Mehr…
Access Administrator
Version: 5.104 | Shareware (34,00 USD)
Access Administrator schützt Ihre Dateien und verhindert das andere Ihre Dateien sehen, starten, ändern oder löschen können. Diese Sperre kann z.B. so eingestellt werden das Sie für eine gewisse Uhrzeit gültig ist. So können Sie z.B. festlegen das von 9 bis 17 Uhr nur ein bestimmter User nur Microsoft Office verwenden kann, aber nach 17 Uhr darf er außerdem noch den Internet Explorer starten. Ebenso können Sie einzelne Dateien für eine gewisse...
Mehr…
Disk Drive Security
Version: 10.01 | Shareware (39,00 USD)
Hide and lock your local, network, Floppy and USB drives as well as disable the AutoRun feature for specific drive types with this password-protected security utility. If you do not want the removable media to appear and be accessible in My Computer after it is inserted, just hide and lock all the drive letters you do not normally use.
Mehr…
Easy Desktop Keeper
Version: 10.01 | Shareware (39,00 USD)
Der Easy Desktop Keeper ist imstande die Einstellungen Ihres Desktops zu speichern und wiederherzustellen. Dabei werden alle Dateien, Verzeichnisse und deren Platz am Desktop abgespeichert. So müssen Sie nicht jedes Mal wenn Ihre Systeme durcheinander kommen diese umständlich neu sortieren. Die Software kann auf Wunsch die gespeicherte Ausgangssituation nach einem Neustart wiederherstellen. Dies ist besonders praktisch wenn viele Personen den...
Mehr…
Network Security Protector
Version: 3.31 | Shareware (59,00 USD)
The best network-based security software for public environment applications to secure and maintain a lot of network PC workstations located in different places. It supports over 600 different security restrictions, options and tweaks to restrict access to all parts of Windows, lets you apply executable patches remotely, and schedule reboots, shutdowns, and Windows Explorer restarts from a single administrator's computer.
Mehr…
Public PC Desktop
Version: 7.72 | Shareware (69,00 USD)
Benutzen Sie Public PC Desktop um aus Ihrem PC eine Surfstation oder einen Präsentations PC zu machen. Stellen Sie die Software z.B. so ein, das kein Zugriff auf Dateien oder die Festplatte mehr möglich ist, die gewünschten Programme aber noch ausgeführt werden können. So können Sie schnell und einfach einen Computer für die Öffentlichkeit bereitstellen und brauchen keine Angst zu haben das Ihnen jemand das Betriebssystem zerstört oder wichtig...
Mehr…
Security Administrator
Version: 14.01 | Shareware (69,00 USD)
Mit Security Administrator kontrollieren Sie Zugang und Nutzung Ihres Rechners. Per Passwortschutz blockiert Security Administrator effizient jeglichen Missbrauch Ihres PCs. Legen Sie für jeden Anwender ein Benutzerkonto an und bestimmen Sie, wer welche Programme öffnen darf, wer auf das Internet zugreifen kann, wer den Drucker benutzen darf etc. Der Download der Software ist kostenlos!
Mehr…
Hide Folders
Version: 5.3 | Shareware (39,95 USD)
Diese Anwendung beschränkt den Zugriff auf Dateien und Ordner auf Ihrem PC. Möchten Sie Ihre Dateien vor neugierigen Augen verstecken? Oder möchten Sie Ihre Dateien davor schützen, gelöscht zu werden? Hide Folders versteckt und sperrt Ihren privaten Daten sicher vor anderen Benutzern und gewährt den Zugriff nur mit einem Passwort.Dieses Werkzeug wurde für die Bedürfnisse von Anfängern bis Profis entwickelt!Holen Sie sich Ihre Testversion!
Mehr…
Dekart Logon for Citrix ICA Client
Version: 2.04 | Shareware (31,00 EUR)
Stop memorizing logins, passwords, Citrix servers and manually entering them; store all your Citrix connections on one USB flash drive, smart card, or token; enjoy automated access - simply insert the USB drive and pass convenient identification. An easy to use and convenient way to make the login to Citrix MetaFrame Presentation Server sessions fast and secure. Biometrics enabled (optional). ). No passwords being lost, forgotten or stolen.
Mehr…
WinLock Professional
Version: 7.21 | Shareware (31,95 USD)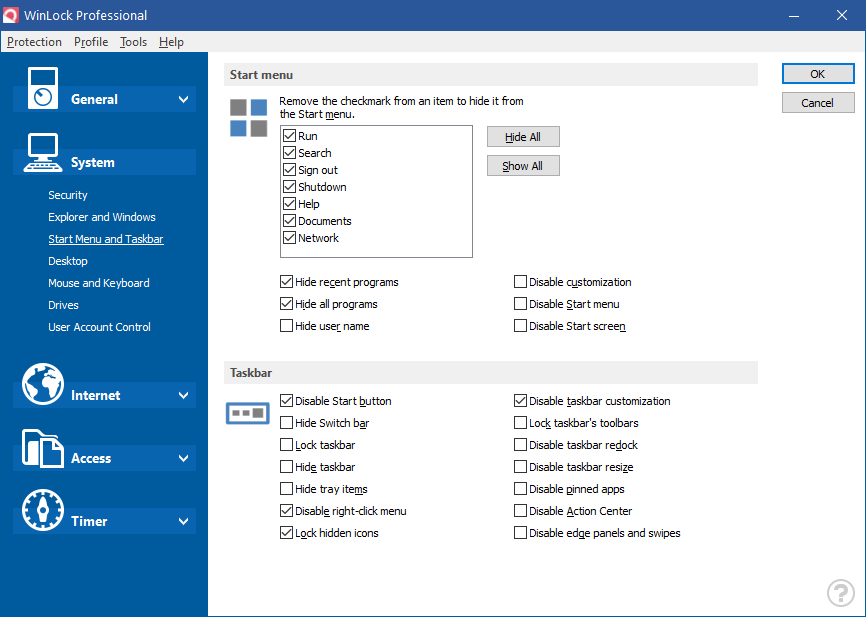 WinLock is a comprehensive security solution for personal or publicly accessible computers. It is a program that ensures that only authorized people can access sensitive information on your computer. With WinLock, you can control how long others can use your computer, disable Windows hot keys (such as Alt-Ctrl-Del, Alt-Tab, Ctrl-Esc, etc.), lock Windows desktop, hide the Start button, lock files and folders, filter Internet content and much more.
Mehr…
Public Kiosk Software
Version: 7.7 | Shareware (69,00 USD)
Simple and easy to setup and manage, this program is ideal for Internet cafe and public places, it allows you to secure your PC, so you can turn it into public access workstation. Protect all features of your operating system like system files and registry. Allow only those programs and web sites you require. Users will be able to browse and run only those programs and web sites, you explicitly give access to.
Mehr…