Kategorie Sicherheit & Datenschutz / Zugangskontrolle
Lock Folder XP
Version: 3.9.2 | Shareware (24,95 USD)
Lock Folder XP is a new security tool that lets you lock your files, folders and drives with your personal password. The program protects your sensitive data from unauthorized access, malicious programs, accidental damage and intentional harm. Just drag your file, folder or drive over to the program's window and the rest is done automatically. Get Lock Folder XP now.
Mehr…
iNet Protector
Version: 4.7 | Shareware (29,85 USD)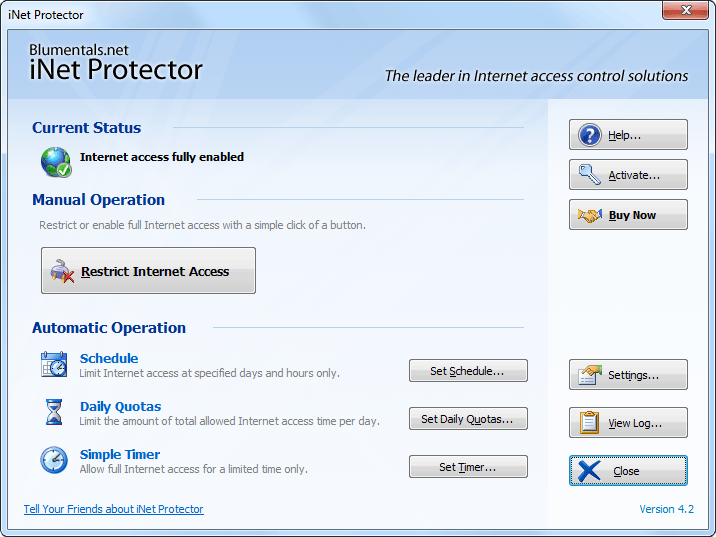 With iNet Protector you can restrict Internet access at specified times or on demand. You can disable connection completely or limit Internet to work with allowed programs and services only. In order to fully enable Internet access, user defined password must be entered. You can easily schedule Internet availability. Timer allows you to disable Internet connection after specified amount of time. Ideal tool for parents and businesses.
Mehr…
Folder Crypto Password
Version: 2.0.1 | Shareware (29,95 USD)
Worried about the safety of your data? With Folder Crypto Password, you can encrypt and password-protect your folders so no one can access them. This tool provides 10 encryption algorithms to choose from. You can also create sfx (self-extracting and self-decrypting) archives to transfer or email your data safely and securely. The protection works in DOS and safe mode as well. Compression options are available.
Mehr…
WinLock
Version: 7.3 | Shareware (24,95 USD)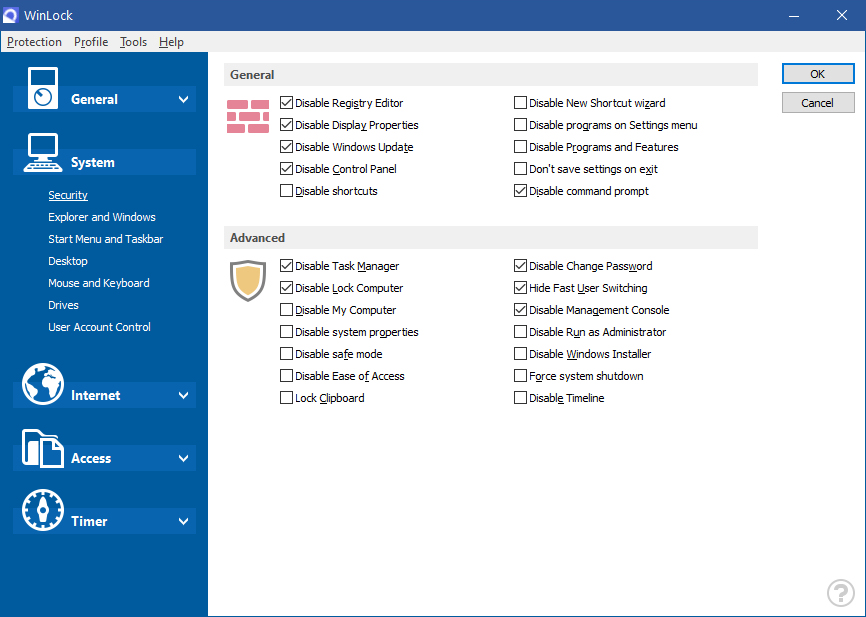 WinLock is a comprehensive security solution for personal or publicly accessible computers. It is a program that ensures that only authorized people can access sensitive information on your computer. With WinLock you can control how long others can use your computer, disable Windows hot keys (such as Alt-Ctrl-Del, Alt-Tab, Ctrl-Esc, etc.), lock Windows desktop, hide the Start button, lock files and folders, filter Internet content and much more.
Mehr…
Active System Locker
Version: 3.2 | Shareware (29,95 USD)
Active System Locker is a smart tool that allows you to protect your PC by blocking desktop, keyboard and mouse. Use System Locker to restrict access to your computer from unauthorized access when you are away. It is fast, secure, and easy to use. System Locker offer flexible configuration options, reminder, scheduler, audit and other useful functions. It starts automatically with Windows and protects your system.
Mehr…
Access Denied
Version: 4.00 | Shareware (19,95 USD)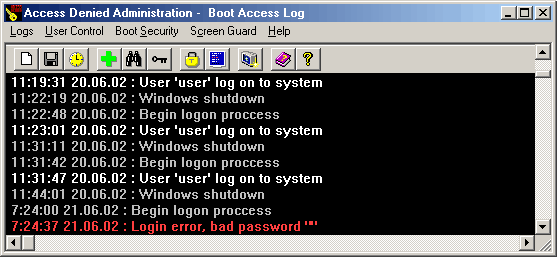 Security program requests username and password or simple password upon boot-up and locks desktop by one mouse click. It can't be bypassed on Windows 95/98/ME. All unwanted people are kept out to your PC. Very flexible use: multi-user support(up to 450 users), password encryption, integration with your favorite screensaver and other pleasant additions including hidden measures that can stop hackers/crackers.
Mehr…
Hide Files & Folders
Version: 3.597 | Shareware (49,00 USD)
Mit diesem Programm können Sie Ihre Dateien und Ordner mit Passwörtern schützen oder diese sogar komplett verstecken. Wenn jemand Zugriff zu den Dateien haben will erscheint ein Eingabefeld indem das Passwort eingetragen werden muss.
Mehr…
Access Manager for Windows
Version: 10.02 | Shareware (69,00 USD)
Der Access Manager für Windows ist in der Tat ein wahrer Manager wenn es darum geht unter Windows Sicherheits-Richtlinien einzustellen. Sie können nahezu jede Systemfunktion sowie den Zugriff auf System und einzelnen Anwendungsprogramme sperren. Durch unterschiedliche Passwörter für Sie als Admin und den User, haben Sie dennoch weiterhin vollen Zugriff auf alle Anwendungen und Einstellungen.
Mehr…
Advanced Desktop Shield
Version: 10.02 | Shareware (69,00 USD)
Advanced Desktop Shield ermöglicht es Ihnen, Veränderungen an den Desktop Einstellungen mit verschiedenen Usereinstellungen zu schützen, als Datei zu sichern und bei Bedarf aus dieser Sicherung wiederherzustellen. Sobald der Computer neu gestartet wird, werden durch unbefugte Benutzer gelöschte Icons und Einstellungen automatisch wieder hergestellt.
Mehr…
Easy File & Folder Protector
Version: 5.134 | Shareware (39,00 USD)
Mit diesem Programm können Sie Ihre Dateien und Ordner unter Windows vor ungewolltem Zugriff schützen, oder diese sogar komplett verstecken. Sie können einstellen, welche User wann Zugriff auf die Daten haben sollen. So können sogar bestimmte Zeiten festgelegt werden wann der User auf die Daten Zugriff hat. Das Programm arbeitet auf einer Systemebene und verändert die Daten selbst nicht.
Mehr…
1st Security Administrator Pro
Version: 14.01 | Shareware (69,00 USD)
Mit 1st Security Administrator kontrollieren Sie Zugang und Nutzung Ihres Rechners. Per Passwortschutz blockiert Security Administrator effizient jeglichen Missbrauch Ihres PCs. Legen Sie für jeden Anwender ein Benutzerkonto an und bestimmen Sie, wer welche Programme öffnen darf, wer auf das Internet zugreifen kann, wer den Drucker benutzen darf etc. Der Download der Software ist kostenlos!
Mehr…
Access Lock
Version: 3.304 | Shareware (29,00 USD)
Access Lock schützt Ihren Rechner in Ihrer Abwesenheit. Die Shareware blockiert dafür den Desktop ? sowohl die Tastenkombination STRG-ALT-ENTF als auch Maus, Cursor und Taskleiste werden außer Funktion gesetzt. Nur durch Eingabe des korrekten Passworts gewährt das Programm wieder normalen Zugriff. Legen Sie einen beliebigen Zugangscode fest und wählen Sie aus zwei Blockier-Modi: Bildschirmschoner oder normale, aber blockierte Desktop-Anzeige...
Mehr…