Kategorie System Utilities / Registry Tools
Registry Life
Version: 3.31 | Freeware
Registry Life is a utility designed to improve system performance by fixing errors, defragmenting, and compressing the registry. The registry cleanup tool scans the registry for a wide variety of problems and fixes them all at once. Unlike similar freeware tools, Registry Life offers registry cleanup and optimization in a single tool.
Mehr…
Remote Registry Cleaner
Version: 1.7.700 | Shareware (9,00 USD)
RemoteRegistryCleaner scans a remote or local machine for Windows Registry errors and fixes them up for smoother running of the computer. RemoteRegistryCleaner also scans and list obsolete and unwanted Windows files and deletes them which results in faster performance of the computer. RemoteRegistryCleaner is the worlds first and one-and-only registry cleaner software that works for a local computer as well as for network computers.
Mehr…
Monitor Registry Changes Software
Version: 7.0 | Shareware (19,99 USD)
This software offers a solution to users who want to monitor and keep a record of changes to Windows registry keys. The user first selects the registry branch/s to monitor and can choose to include sub keys or not. There are options to run the software on Windows startup and to start it in the system tray. There is a button to start monitoring and another for creating a registry snapshot. Results can be saved.
Mehr…
SLOW-PCfighter
Version: 2.1.31 | Shareware (14,95 EUR)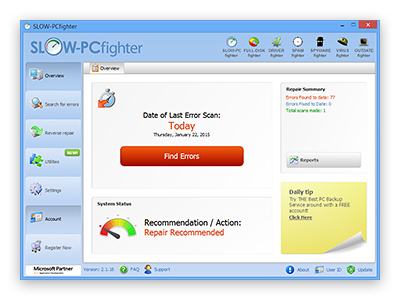 Ist Ihr Computer in der letzten Zeit langsamer geworden? Hier gibt's Hilfe! Unternehmen Sie etwas dagegen sofort - optimieren Sie Ihren Computer, sodass er Ihnen noch viele Jahre erhalten bleibt! SLOW-PCfighter bedient sich einer hochentwickelten und schnell Technologie. SLOW-PCfighter ist einfach zu bedienen und schnell.
Mehr…
Wise Registry Cleaner
Version: 4.23 | Shareware (19,95 EUR)
Das unwichtige Informationen regelmäßig aus der Registry getilgt werden, dafür sorgt der Wise Registry Cleaner Pro. Er ermitelt automatisch die Informationen, die von Programmen nicht mehr abgefragt werden und deswegen eigentlich überflüssig sind. Hat der Wise Registry Cleaner solche Informationen gefunden, löscht er sie. Außerdem verfügt das Tool zusätzlich über Systemoptimierungsfunktionen.
Mehr…
Advanced Registry Doctor Pro
Version: 8.8.8.21 | Shareware (24,95 EUR)
Advanced Registry Doctor (ARD) bereinigt Ihre Registry und entlockt Ihrem Betriebssystem mehr Leistung. Viele Programme, auch MS Windows selber, gehen mit der Registry sehr unvorsichtig um, was zu verschiedenen Problemen führen kann. Wenn Sie heute z.B eine neue Software installieren, kann es sein, dass Sie morgen schon nervige Fehlermeldungen während des Windowsstarts erhalten.
Mehr…
Auslogics Registry Cleaner
Version: 5.1.2 | Freeware
Cluttered and corrupted Windows Registry leads to system and software errors, crashes, and failures. Auslogics Registry Cleaner is designed for fast and safe Registry optimization. It will fix various registry errors and ensure that your computer runs as good as new. With Auslogics Registry Cleaner you won't have to pay for expensive hardware upgrades or computer technician's time. In fact, you won't have to pay at all because it's 100% FREE.
Mehr…
jv16 PowerTools 2009
Version: 1.9.1.606 | Shareware (29,95 USD)
With a staggering array of 27 tools, jv16 PowerTools simply gives you the control; the power to fix your registry, stop services that only serve to slow your PC, neatly uninstall programs that usually leave a mess behind and much, much more.
Mehr…
Reimage
Version: 1220 | Shareware (65,00 USD)
Developer of the revolutionary Reimage technology, Reimage.com did more than create data safe, PC repair automation in minutes. Reimage provides a complete PC repair solution for dysfunctional PCs. Reimage's versatility stems from being online, allowing for simple PC repairs of unprecedented quality.
Mehr…
Auslogics Registry Defrag
Version: 9.1.2 | Freeware
Microsoft Windows and various programs access the Registry a few hundred times a second. Therefore a fragmented Registry is one of the major reasons why your computer may be so slow. Auslogics Registry Defrag can significantly speed up your computer by helping you defragment the Registry, remove gaps and make it contiguous, smaller and faster to access. This program is free of charge.
Mehr…
Registry Defender 2011
Version: 7.3.3 | Shareware (29,95 USD)
Find and repair registry errors, cleanup unneeded files, defragment your drive, backup system files, and more! Registry Defender 2011 is a powerful system diagnostic utility that helps you optimize system performance. Registry Defender 2011 will help make your system fast, error free, optimized and in your control.
Mehr…
WinTools.net Professional
Version: 17.3.1 | Shareware (29,99 USD)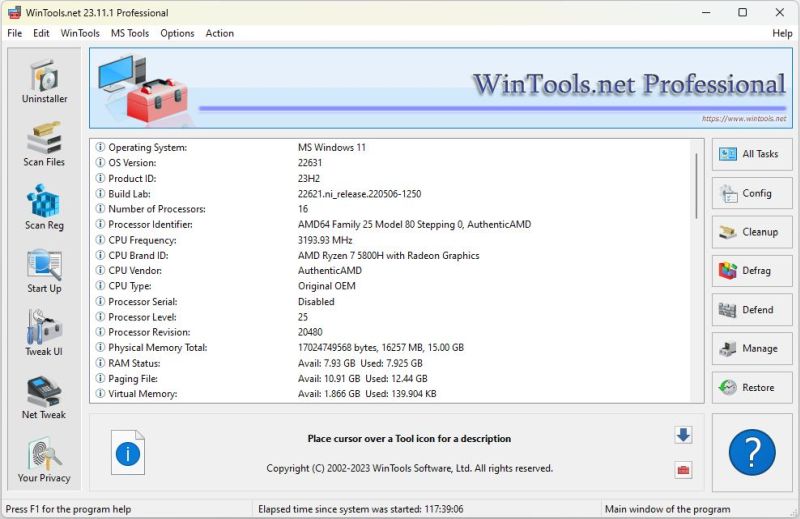 A suite of tools for increasing MS Windows operating system performance. WinTools.net Professional contains tools: Clean Uninstaller, Scan Files, Scan Registry, Start Up, Tweak UI, Net Tweaker, The Privacy, File Shredder, Invisible Man.
Mehr…