Kategorie Büro / Sonstige
Personnel Organizer Deluxe
Version: 4.11 | Shareware (75,00 USD)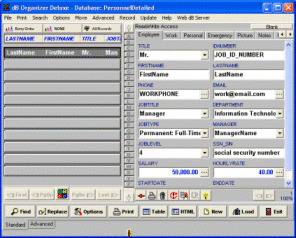 Personnel Organizer Deluxe is a flexible personnel management software for Windows users. Our software solution gives you an easy way to gather, organize and manage information about all employees in your company or organization. For the database novice, Organizer's intuitive interface and ready-to-use personnel management solutions make it easy to set up and use.
Mehr…
Asset Organizer Deluxe
Version: 4.11 | Shareware (75,00 USD)
Asset Manager is a simple to use asset management software for Windows. Our software solution gives you an easy way to gather, organize and manage information about all your valuable equipment, tools, machinery, containers, devices, furniture, media, and any valuable items.
Mehr…
GSA JobFinder
Version: 2.42 | Shareware (19,00 EUR)
Der GSA JobFinder untersucht eine Vielzahl von JobBörsen im Internet nach Ihren Kriterien und meldet Veränderungen und Neueinträge. Dadurch kann Ihr Unternehmen sofort auf mögliche Neuaufträge reagieren und Angebote einreichen. Profitieren Sie vom wachsenden Markt der Job-Auktionen. Unterstützte Börsen: jobdoo, KalleKanns, Quotatis, MyHammer, UnderTool, Vampino, Work5...
Mehr…
PDF Splitter and Merger
Version: 3.0 | Shareware (59,99 USD)
PDF Splitter und Merger ist ein PDF-Tool entwickelt, für die schneller und effizienter Zugang zu Informationen, die von Ihrer PDF-Dateien, die so reorganisiert sie in einer Art, macht sie einfacher zu verwalten und zu handhaben. Mit der Fähigkeit, Split-PDF-Dateien in separate Dokumente, entweder durch Angebot oder Seite Seite Zahlen und Zusammenführen eine unbegrenzte Anzahl von PDF-Dokumenten in einem einzigen PDF-Datei, dieses Dienstprogramm h
Mehr…
CodeTwo Outlook Export
Version: 1.2.6 | Freeware
CodeTwo Outlook Export is an easy-to-use free tool for quick and advanced export of data from Microsoft Outlook to CSV text files. The program allows exporting much more data than offered by the built-in export feature in Outlook, allowing the export of non-standard user-defined fields from Outlook and is quicker and easier to use. Data can be exported from folders of all types, such as: Contacts, Calendar, E-mail, Post, Tasks, Journal, Notes.
Mehr…
Resource Scheduling
Version: 2.0 | Freeware
Our online Resource Scheduling Software allows your employees to easily book rooms (board rooms, meeting rooms etc..) and resources (laptops, projectors etc..) from any computer connected to the web.
Mehr…
ACoM Peanuts
Version: 1.0.1a | Demo (196,00 EUR)
ACoM Peanuts: für professionelles Networking und maximalen Netzwerkerfolg. Das Programm sichert, dass alle Partner von der Netzwerkbeziehung profitieren. Denn nur so entstehen langfristig erfolgreiche Beziehungen. Lassen Sie sich mit ACoM Peanuts direkt anzeigen, wer Ihnen bei Problemen am besten helfen kann. Ueberpruefen Sie, dass alle Ihre Kontakte im Gleichgewicht sind. Lassen Sie sich an neue Aufgaben erinnern und behalten Sie den Ueberblick.
Mehr…
WebIdeaTree
Version: 5.61 | Shareware (24,99 EUR)
WIT is a knowledge manager and a web site builder, that makes it easy to create, organize and maintain your knowledge bases and web sites. Both powerful and simple, build your full site in seconds, and stay focused on what you mean, making knowledge emerge from raw information through organization and classification : no HTML skills are required. You can build value added knowledge that you can be proud of.
Mehr…
Event Organizer Deluxe
Version: 4.11 | Shareware (75,00 USD)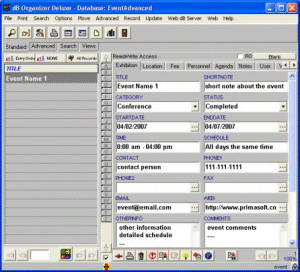 Event Organizer Deluxe is a flexible event management software for Windows users. For any organization that would like to organize and manage event related information. Helps to organize and plan: conference, meeting, celebration, party, workshop, seminar, training sessions, business activities, webinars,...
Mehr…
Load!
Version: 1.40 | Shareware (94,01 EUR)
Load! senkt Frachtkosten durch Optimierung der Ladung im Container - mit 3D Ansicht
Mehr…
ca6
Version: 6.001.012 | Demo (499,00 USD)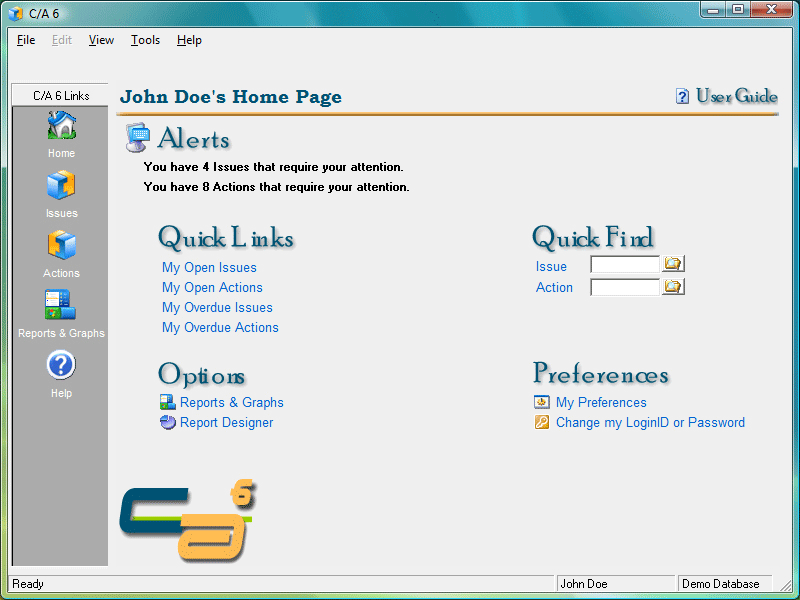 The flexible issue management system lets you categorize all types of issues, assign responsibility and attach related data such as photos and Email documents. The Action Item module lets you track team activities to resolve important issues.
Mehr…
SF-Papierdruck
Version: 2.00 | Shareware (9,90 EUR)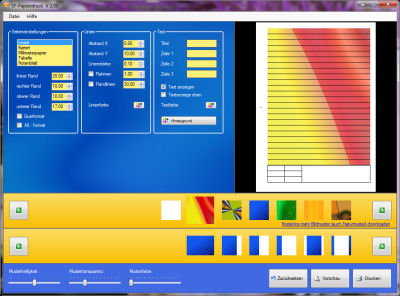 SF-Papierdruck erstellt Blätter mit den Formaten: Liniert, Kariert, Millimeterpapier, Tabellen und Notenblätter. Das Blatt kann mit einem Rand versehenwerden, ein Wasserzeichen und ein Textfeld einbinden und die Linienabstände können variabel eingestellt werden. Der Ausdruck kann im Hoch- und Querformat erfolgen. Das Programm bietet auch die Möglichkeit zwei DIN A5 Blätter zu erstellen.
Mehr…