Kategorie Büro / Sonstige
SF-Ordnerlabel
Version: 4.00 | Shareware (13,90 EUR)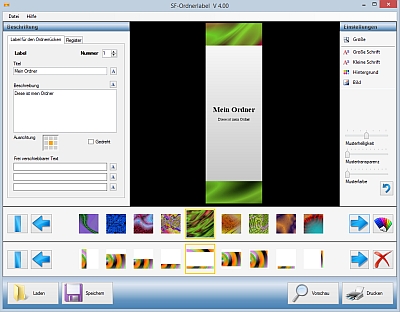 Aktenordner lassen sich im Nu beschriften. Mit SF-Ordnerlabel können Sie sich in wenigen Minuten ein Rückenschild für Ihren Aktenordner erstellen und drucken. Mit Mustern und Designs lassen sich die Label optisch aufpeppen. Auch ein Bild kann einfach mit integriert werden. Zusätzlich lassen sich auch Registereinlagen mit einem Inhaltsverzeichnis drucken. Diese werden automatisch generiert und können nach dem Ausdruck so geschnitten werden, dass d
Mehr…
EF Talk Scriber
Version: 4.20 | Shareware (10,00 EUR)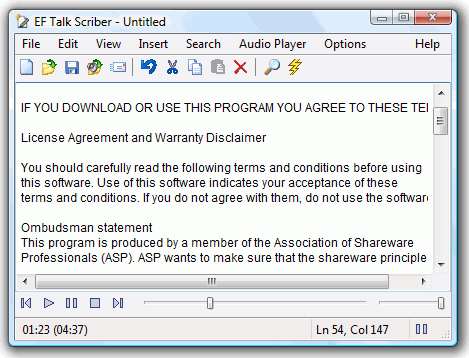 Der EF Talk Scriber ist eine Kombination aus Textbearbeitungsprogramm und Audioplayer und dient der einfachen und schnellen Erfassung von Tonaufnahmen. Spezifische Verbindungen zwischen Text und Ton stehen zur Verf?gung. Ihre H?nde brauchen die Tastatur nicht zu verlassen, wenn Sie einen gesprochenen Text mit der Computertastatur eingeben. Mehrsprachig. Shareware
Mehr…
Europeantenders.com Windows Edition
Version: 1.0 | Shareware (99,00 GBP)
Europeantenders.com Windows Edition connects to one of the leading providers of European tender information, including invitation to contract, business opportunities and government contracts. New tenders that match specific keywords that you define will be sent through to you automatically, on a daily basis via email, once you subscribe to the service, providing a fully automated method of letting you know about new invitations to tender.
Mehr…
Astice CRM
Version: 1.2 | Shareware (650,00 EUR)
Netzwerkfähiges Customer Relationship Management zur Verwaltung von Kundenkontakten, Terminen, Dokumenten sowie zur Verkäuferkontrolle; konzipiert für den Einsatz in kleinen und mittelgroßen Betrieben; mit Unterstützung von TAPI-Schnittstellen für Telefonie. Anbindung an MS-Office und OpenOffice für die Dokumentenverwaltung.
Mehr…
SF-Fixrech
Version: 3.01 | Shareware (39,90 EUR)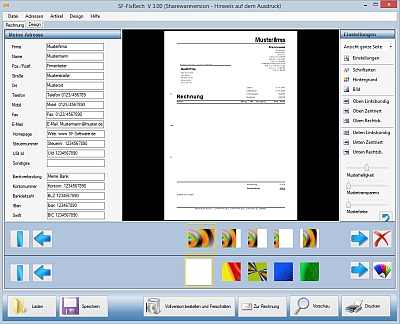 Mit SF-Fixrech haben Sie eine sehr schnelle und einfache Möglichkeit in wenigen Minuten Rechnungen zu erstellen und drucken. Sie geben nur noch die Adresse und bis zu 24 Artikel mit Preis und Anzahl an und SF-Fixrech berechnet den Gesamtpreis mit Steuern und erstellt automatisch das fertige Rechnungslayout zum ausdrucken. Integrierte Adressendatenbank und Artikelvorlagen.
Mehr…
SF-Fixvis
Version: 5.00 | Shareware (9,90 EUR)
In wenigen Minuten erstellen Sie Ihre eigene Visitenkarte mit der Auswahl aus 200 Hintergrundmustern und -bildern und 100 verschiedenen Designs.
Mehr…
EZOutlookSync Portable
Version: 1.3 | Shareware (39,95 USD)
EZOutlookSync Portable allows to use your USB flash drive to synchronize MS Outlook files on different computers, make backups of existing Outlook data files, and restore the backup data from the flash drive in several mouse clicks. Updates Outlook data on an unlimited number of computers using just a single flash drive.
Mehr…
SF-Fixbrief
Version: 4.02 | Shareware (19,90 EUR)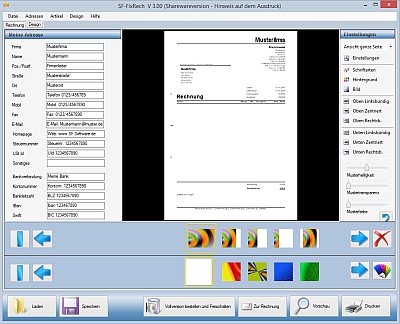 Kein langes herumprobieren und gestalten. In wenigen Minuten haben Sie einen professionell aussehenden Brief oder Serienbrief geschrieben und ausgedruckt. Sie geben nur noch Ihre Adresse, den Empfänger und den Text ein und SF-Fixbrief druckt einen perfekten Brief mit den richtigen Abständen, Falt- und Lochmarken. Bei Wunsch kann das Brieflayout grafisch aufgebessert werden, indem 200 verschiedene Hintergrundmuster ausgesucht werden können.
Mehr…
SurveyGold
Version: 8 | Shareware (120,00 USD)
A complete software system for building and then administering surveys/exams and analyzing their results. It is ideal for individuals, educational institutions and organizations that need to quickly create and conduct exams or surveys over the web, over the phone or with a printed questionnaire form. It provides point-and-click features that make collecting and reviewing results quick and easy. Full support for automated test scoring is included.
Mehr…
Service Desktop Pro
Version: 2.0.8 | Shareware (99,95 USD)
Service Desktop Pro is an integrated Business Information & Service Management Software. It is useful for small business managers,IT Service Providers, Freelancers, Consultants, Web Developers and Software Developers. It handles over 20 key business requirements including Contact Management, Leads Management, Project Management, Billing Management, Document Management, Expense Management and Customer Service Management.
Mehr…
Article Submit System
Version: 2.0 | Shareware (37,00 USD)
The Article Submit System software by www.IndieRetailer.com will help you submit your articles to an unlimited number of article directories. Submitting and posting articles increases your site traffic by including backlinks from all the directories. Our article submission software is user friendly and customizable. With an integrated browser and over 150 directories already installed, you can swiftly and easily navigate and submit to each.
Mehr…
Artemis Lite
Version: 1.0 | Freeware
Artemis Lite: Article submission software including 1000's of publishers built in. Each article submitted is 100% unique. This is a great way to increase traffic and ranking for your web-site.
Simple form simply asks for the author name, email address, article file, resource box file and the URL you want to promote. Then you click submit and the software does the rest automatically.
Mehr…