Kategorie Audio & Multimedia / Video Tools
EasyDVDCopy
Version: 1.01 | Shareware (19,90 USD)
Make copies of your DVDs easily. A new extremely handy copy utility. Insert the DVD
and then the destination disk...that's all! A transparent interface and easy usability
will help you to do the rest without a problem. Copy a DVD with only one click. Never
have you copied DVDs so effortlessly!
Mehr…
AVI Splitter
Version: 1.0.3.0 | Shareware (17,99 EUR)
AVI Teiler (avi splitter) kann eine große AVI Akte in kleinere Teile aufspalten. Da das Programm die AVI-Dateien nicht nochmals komprimiert, erleiden Audio und Video in der erzeugten AVI-Datei keinen Qualitätsverlust. Und die Umwandlungsgeschwindigkeit ist äußerst hoch. Das Programm "AVI schneiden" unterstützt keine DML-AVI-Dateien.
Mehr…
AVI Joiner
Version: 2.05 | Shareware (19,95 USD)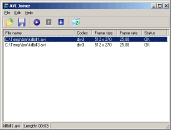 Easy-to-use tool to join multiple AVI files into one larger AVI file. AVI Joiner is designed to join AVI files quickly, without reducing quality and without re-compression. You can also select any installed video or audio codec and recompress the desired file to any format that you prefer.
Mehr…
Open Video Joiner
Version: 3.0.5.0 | Shareware (27,99 EUR)
Video Zusammenfügen - Kombinieren / verbinden / Zusammenfügen alle Arten von Videodateien wie z.B. MPEG (MPG), VCD, AVI, ASF, WMV mit Übergangeffekten in eine große AVI-Datei ein.
Mehr…
SWF.max Player
Version: 2.2 | Shareware
Use this free player to open SWF movies, FLV Videos and EXE Projectors. Control Movie Playback with on screen controls, multimedia keyboard or mouse. Find the exact movie you need with Previews powered Media Browser. Go Full Screen with all controls still readily available at the screen edges. Create and save SWF Playlists. Set any movie as a Screen Saver or interactive SWF Wallpaper. Enjoy Watching SWF Movies!
Mehr…
Mpeg Joiner
Version: 2.4.1.2 | Shareware (17,99 EUR)
MPEG Joiner ist ein Werkzeug zum Verbinden von Videos, welches MPEG-Dateien zu größeren Dateien im MPEG-Format verbindet. MPEG Verbinden ist schnell und robust und arbeitet ohne erneute Kompression.
Mehr…
Ofilter Player
Version: 1.0.9.5 | Shareware (17,99 EUR)
Ofilter Player is an easy-to-use multimedia player. It can play many kinds of audio and video formats such as mp3, wav, midi, avi, VCD, mpeg etc. It supports the powerful playback control: play, pause, stop, step, skip forward, skip backward. It can display and configure all filters' properties during the playback of the video.
Mehr…
Aiseesoft Free Video Editor
Version: 1.0.6 | Freeware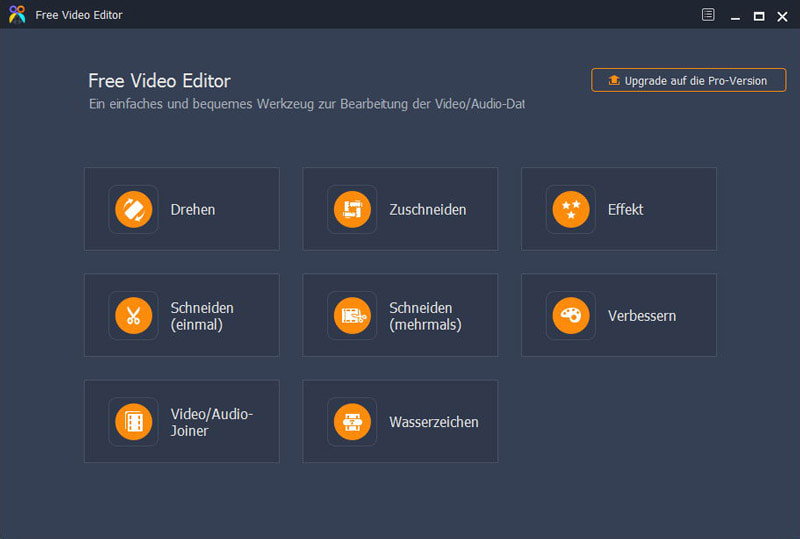 Aiseesoft Free Video Editor ist eine leistungsstarke und kostenlose Videobearbeitungssoftware, die Ihnen ermöglicht, Video auf Ihren Wunsch zu bearbeiten. Damit können Sie Video in richtige Richtung drehen, Video in Clips schneiden und zusammenfügen, Video-Bildgröße zuschneiden, Videoeffekte wie Helligkeit, Kontrast, Farbton und Sättigung anpassen, Text/Bild-Wasserzeichen ins Video hinzufügen.
Mehr…
AVI Joiner
Version: 1.0.8.5 | Shareware (17,99 EUR)
AVI Dateien verbinden (Englisch name: AVI Joiner) ist ein einfach zu nutzendes Werkzeug, um AVI-Dateien in einer größeren Datei miteinander zu verbinden (zusammenfügen). Es können nur AVI-Dateien mit gleichen Bildwiederholraten, Einzelbildgrößen, Videocodecs und Audioparametern miteinander verbunden werden.
Mehr…
WM Recorder
Version: 15.2.0 | Shareware (49,95 USD)
WM Recorder 15 is the easiest, most powerful way to download & convert video/audio from the internet. For unencrypted YouTube-like sites, open WM Recorder, play your video or audio and it's downloaded to your PC at up to 50x playback speed. For protected or encrypted videos, WM Recorder's screen capture tool easily grabs ANY video you can play on your screen. There's also a scheduler for recording when you're away from your PC. Try WMR 15 today!
Mehr…
Freecorder
Version: 8.0 | Freeware
Freecorder 8 is a FREE, revolutionary browser-based video/audio recording and conversion program that allows you to save and convert ANY streaming video - it includes a video downloader, a screen recorder, even a torrent downloader. Create MP3s from ANYTHING you hear on your PC and convert your saved files to the most popular formats. All these powerful tools are easily accessible right in your browser where you need them. Give it a try today!
Mehr…
Debut Pro Video-Aufnahme-Programm
Version: 4.05 | Shareware (59,95 USD)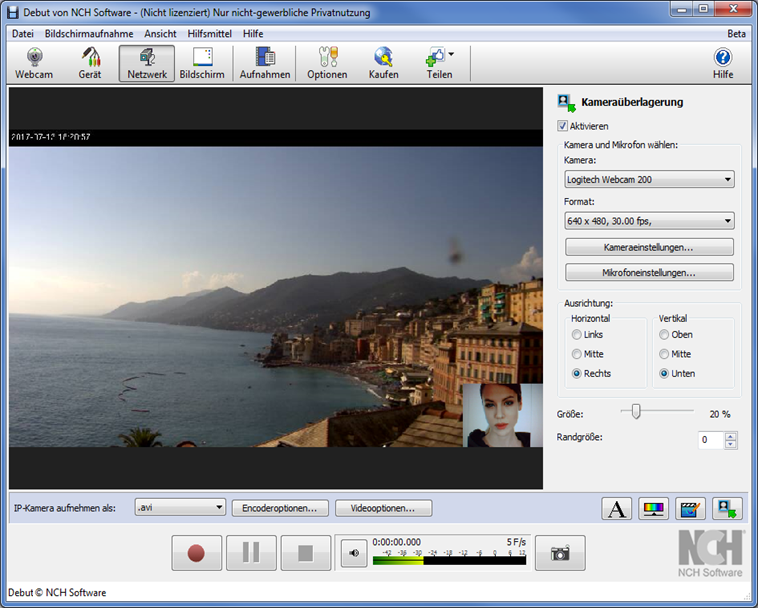 Video vom Bildschirm aufnehmen, von Webcam oder anderen Videogeräten. Einen gewählten Bereich oder den gesamten Bildschirm aufnehmen und die Aufnahme in AVI, FLV, WMV oder einem anderen Videoformat speichern. Wenn die Aufnahme anhält, diese automatisch per E-Mail oder via FTP versenden. Debut dazu einrichten, Video zu einer bestimmten Uhrzeit aufzunehmen. Computerspiele aufnehmen, Videoanleitungen erstellen, Videonachrichten aufzeichnen und mehr.
Mehr…