Kategorie Grafik / Icon Tools
FolderShine
Version: 1.1 | Shareware (19,90 USD)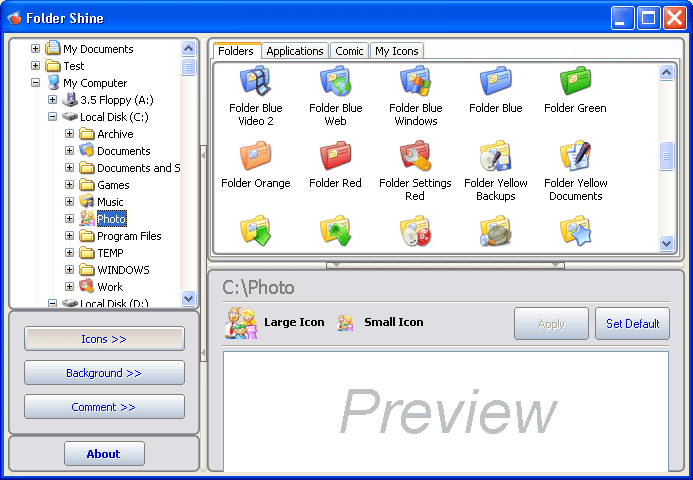 Be creative in everyday work! FolderShine changes an icon or color of any folder you like. Now you'll never forget about the folder Must Be Done Urgently thanks to its red icon. The folder with the photos of your family turn pink or green or violet. Let your imagination do the job! Replace boring yellow folders with colorful icons from the list with one click only.
Mehr…
PNG Icon Portfolio
Version: 2016.1 | Freeware
Durchsuchen Sie Hunderte von fertigen Icon-Sets mit Tausenden von Symbolen in Minuten. PNG Icon Portfolio macht es einfach, Stock Icons mit On-time-Lieferung garantieren zu kaufen. PNG Icon Portfolio macht es einfach, Stock Icons kaufen, mit Tausenden von Vorschauen direkt vor Ihren Augen. Das Symbol-Galerie enthält eine Datenbank mit Tausenden full-size icons ohne Wasserzeichen für einfache Betrachtung.
Mehr…
Icon Editor
Version: 1.0 | Demo (19,99 EUR)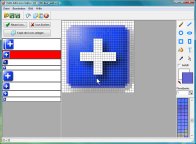 Erstellen Sie eigene Icons oder bearbeiten Sie bestehende Icon Dateien. Sie können in vielen Auflösungen und Farbformaten Icons erstellen. Der Import und Export ist auch als Bilddatei (BMP) möglich, so dass Sie bestehende Bilder übernehmen können. Das Programm kann pro Icon Datei mehrere Varianten des Icons in verschiedenen Auflösungen verwalten. Zum Bearbeiten stehen viele Werkzeuge wie Pinsel, Linie, Ellipse, Fülleimer usw. zur Verfügung.
Mehr…
Sib Icon Catalog
Version: 2013.2 | Freeware
Durchsuchen Sie Hunderte von Stock Icon-Sets und suchen unter Tausenden von Icons in wenigen Minuten. Sib Icon Catalog macht es leicht zu finden und zu kaufen lizenzfreien Icons mit pünktliche Lieferung garantieren. Mit Durchsuchen können Sie sofort eine Vorschau einzelnen Symbole und ganze Icon-Sammlungen ohne Wasserzeichen.
Mehr…
Image2Ico
Version: 2.3 | Shareware (12,50 USD)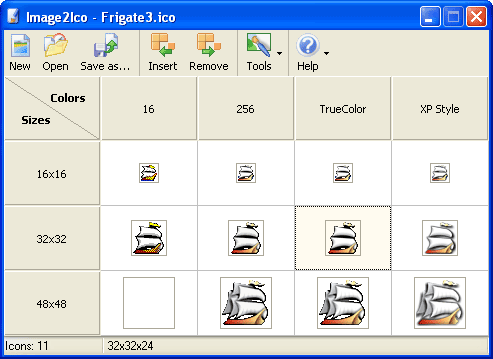 Image2Ico is a powerful and easy-to-use utility for converting images to ico. It supports a lot of image formats including bmp, dib, rle, gif, jpg, jpeg, jpe, ico, png, wmf. You can create icons of any size (16x16, 32x32, 48x48, 256x256, etc.). Image2Ico reads and writes 16 colors, 256 colors, TrueColor and 32bpp (XP-Style) icons and has a built-in image processing. Download the free trial copy now to see how it works.
Mehr…
Sib Icon Replacer
Version: 2.32 | Shareware (16,95 EUR)
Sib Icon Replacer is a compact yet efficient tool which will take care of all your icon management needs. Its user-friendly interface and intuitive navigation will help you access any program function in a couple of mouse clicks. The program extracts icons from DLL, EXE and Macromedia Flash files without changing the code - you can work with the most important applications and essential libraries without the risk of damaging their contents.
Mehr…
ABB Icon Library Manager
Version: 5.1 | Shareware (29,95 USD)
ABB Icon Library Manager is a professional and powerful icon conversion and management tool. Extracts icons from files in 35 formats, converts icon to files in 16 formats. Manages icon libraries, library categories with a hierarchical structure like Windows Explorer. Downloads 40,000 + icons from www.abbsoft.com/downicon.
Mehr…
ABB Image Icon Converter
Version: 5.1 | Shareware (19,95 USD)
ABB Image Icon Converter is a powerful tool for converting images to icon.
** Support converts images to icon in 24 formats.
** Creates icon from screen capture.
** Supports any icon size 16x16, 24x24, 32x32, 48x48, 64x64, 72x72, 96x96, 128x128.
** Reads and writes Mono, 16 colors, 256 colors, TrueColor and 32bpp (XP-Style) icons.
** Makes icon transparent.
Mehr…
Chameleon Icons
Version: 1.0 | Shareware (49,00 USD)
Chameleon Icons converts images of any format into Windows icons with just a few clicks. Convert any picture or photo in BMP, JPEG, GIF, PNG, PSD, TIFF format into icons for your Windows desktop, applications, folders, email and ICQ contacts. As it supports Windows XP icons in 32-bit color depth with an alpha channel, you can easily create semi-transparent XP icons. Chameleon Icons is equipped with a rich frame styles collection.
Mehr…
Icon Plugin for PhotoShop
Version: 2.1 | Freeware
Icon Plugin for Photoshop enhances Adobe Photoshop with an ability to export and import Windows icons (.ico). Thanks to this ability, users can create icons directly in Adobe Photoshop, using its powerful arsenal of creative tools and stylistic options. No intermediate files or extra icon editors are required. The plug-in supports multi-format icons, transparency and semi-transparency and allows making icons compatible with Windows XP and Vista.
Mehr…
Sib Icon Studio
Version: 4.02 | Shareware (29,95 EUR)
Mit Sib Icon Studio bearbeiten und erstellen Sie Symbole in zwei Standardgrößen sowie individuell skalierte Symbole mit einer Farbtiefe bis zu 16 Millionen Farben sowie Symbole für Windows 7/8 (32-bit Farbtiefe + transparente Schichten jeder Größe). Der Editor umfasst praktische Funktionen, z.B. Zeichnen, Ex- und Importieren oder Bearbeitung von Symbolen. Mit der Funktion ?Symboltest? überprüfen Sie, ob Ihr Symbolformat korrekt eingestellt ist.
Mehr…
Sib Icon Converter
Version: 3.02 | Shareware (16,95 EUR)
Sib Icon Converter converts multiple digital images and photos into Windows 7 icons. You can add files and folders from Windows Explorer or other file shells using drag and drop, and you can break down entire icon libraries into individual icons. You can change color resolution and size to create customized icons. Sib Icon Converter allows you to extract icons from folders and libraries. It's easy to process multiple files at once.
Mehr…