Kategorie System Utilities / Drucker
SmartVizor Variable Barcode Label Printing Software
Version: 25 | Shareware (395,00 USD)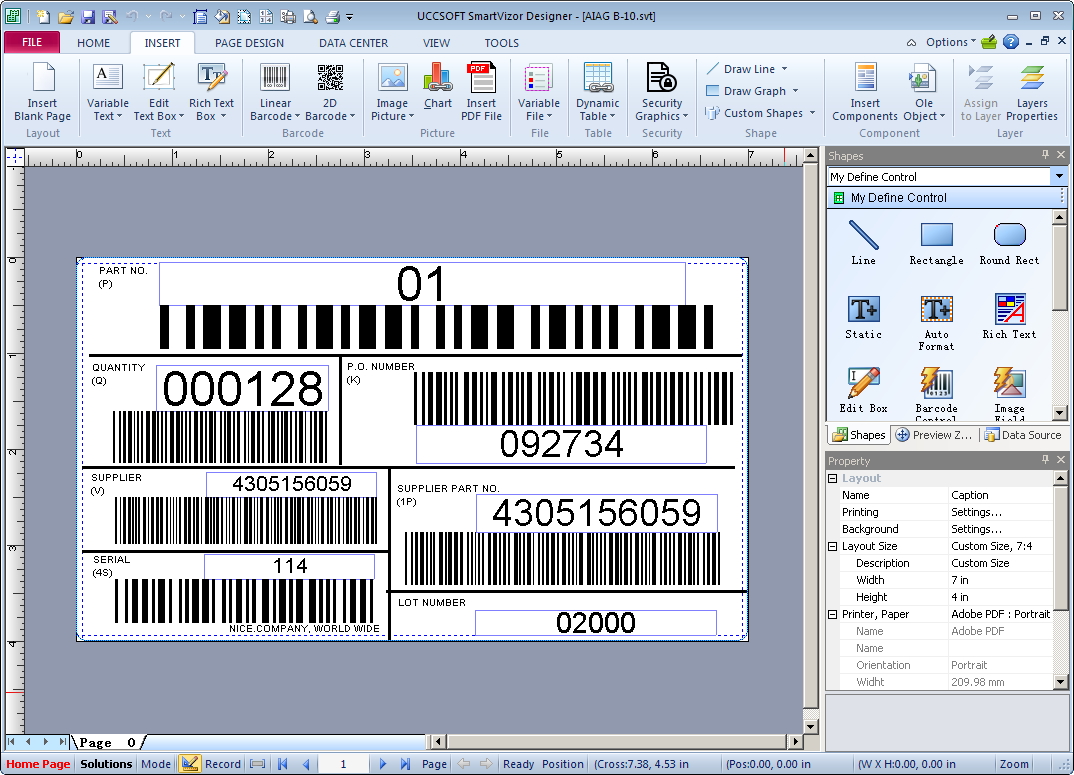 SmartVizor is a stand-alone,powerful and extremely easy to use barcode label printing application. SmartVizor Suite is a software solution for creating personalized communications and professional one to one documents. It is one of the least expensive full-featured barcode label printing solutions available today. With SmartVizor Solution, merge any design with any database and print on any printer.
Mehr…
Adolix PDF Converter PRO
Version: 4.4 | Demo (49,95 USD)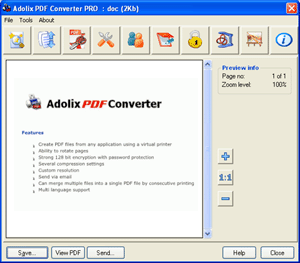 Adolix PDF Converter PRO is PDF writer software that will help you create PDF files from virtually any application. The idea is very simple: open the file you want to convert to PDF, click print and select the PDF Converter printer. This set of actions will open the main PDF Converter PRO windows and you will be able to manage you PDF file. Now you can split and merge PDF files in Windows Vista.
Mehr…
PDF24 Creator Personalizer
Version: 1.0 | Freeware
Mit dem pdf24-personalizer können Sie kostenlos ein eigenes Programm erstellen, welches aus jeder Anwendung heraus PDF-Dateien erzeugt. Sie integrieren einfach ein Bild in den pdf24-design.creator und speichern diesen ab - schon ist Ihr eigenes PDF-Erstell-Programm fertig und kann von Ihnen benutzt oder weiterverschenkt werden. Bei jeder Anwendung Ihres pdf24-design.creator zeigt sich Ihr Bild (Foto, Logo, Werbeclaim) an.
Mehr…
Ap Document to PDF converter
Version: 3.0 | Shareware (29,90 USD)
AP Document to PDF Converter is a powerful document to pdf converter, the converter allows you to convert over hundred windows printable documents,such as doc,xls,ppt,txt,pdf,html and any type of image files etc, to searchable pdf document.the converter can be used as a PDF writer or PDF creator from any application as soon as it supports printing.It does not need any software support, such as Adobe Acrobat, Acrobat Reader, etc.
Mehr…
Perfect PDF 8 Master
Version: 8.1 | Freeware
Einfache Software, die in zwei Clicks PDF erstellt! Perfect PDF 8 Master erstellt direkt aus Ihrer Anwendung automatisch hochqualitative PDF-Dokumente unter Verwendung vordefinierter PDF-Einstellungen, oder mit einige wenigen Schritte für die wichtigsten PDF-Eigenschaften. Folgende Einstellungen sind verfügbar: Beschreibung (allgemeine Dokumenteigenschaften), Sicherheitseigenschaften, Version, Optimierung, Schriften-Einbetten, Bildqualität
Mehr…
RonyaSoft Poster Printer
Version: 3.02.16 | Shareware (19,95 USD)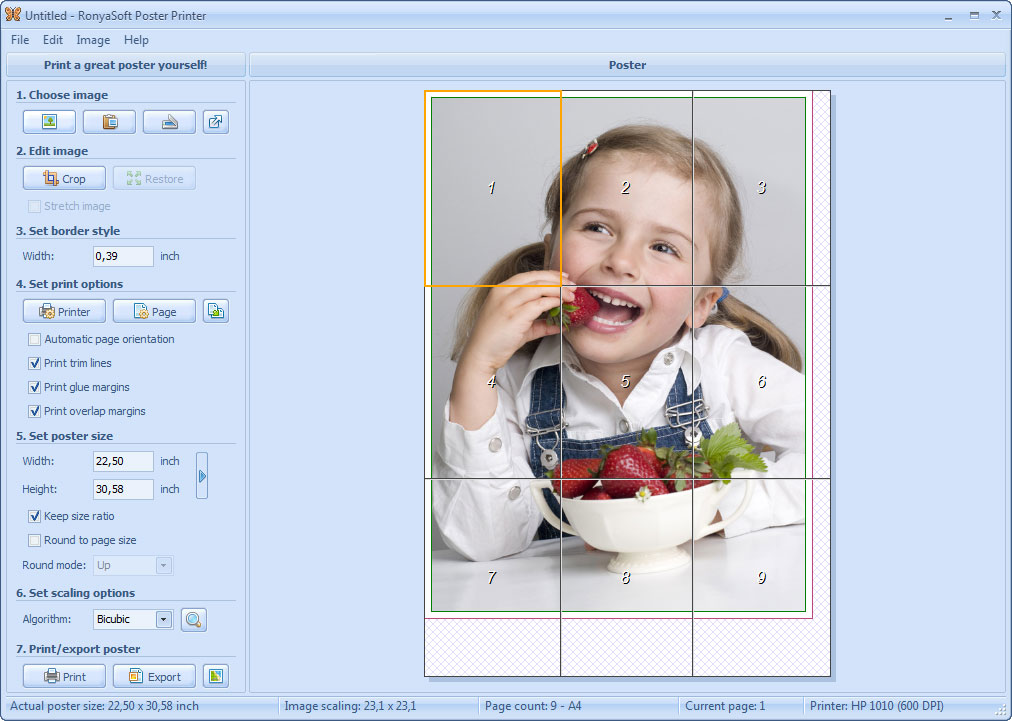 Erstellen Sie Banner und Poster mit einem normalen Drucker! Die Poster Printer-Software erlaubt große Drucke auf Standard-Papiergrößen. Nehmen Sie ein beliebiges Foto, Bild oder Word-Dokument mit Text oder Zeichnung, der Poster-Designer berechnet dann das/die nötige Papierformat und -menge, um ein Poster oder Banner herzustellen. Für große Poster bedarf es einen DIN A3, A4-Drucker, Klebeband, eine Schere und Ihre leistungsstarke Poster-Software.
Mehr…
Print365. Print monitoring software
Version: 2.1 | Shareware (59,90 USD)
Print365 provides your with detailed information about print jobs and their cost for printers in your company or your local printer 24/7/365, which helps you optimize printing, save expenses, etc. Print365 uses a very precise method of calculating the exact number of printed pages and copies. Desktop and web access are supported. Print jobs data can be exported into MS-Excel or HTML format for the next analysis and reporting.
Mehr…
O&K Printer Viewer Pro
Version: 2.0 | Shareware (99,00 USD)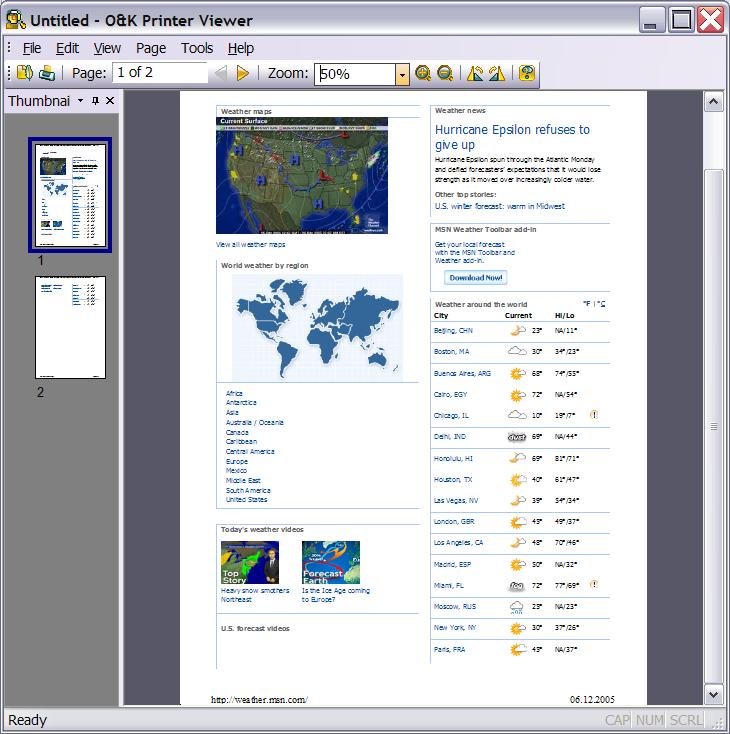 O&K Printer Viewer is a tool for viewing printed files. This program will help you view what you or someone else prints on your printer. You can view each document printed on
Mehr…
Miraplacid Publisher Terminal Edition
Version: 7.0 | Shareware (125,00 USD)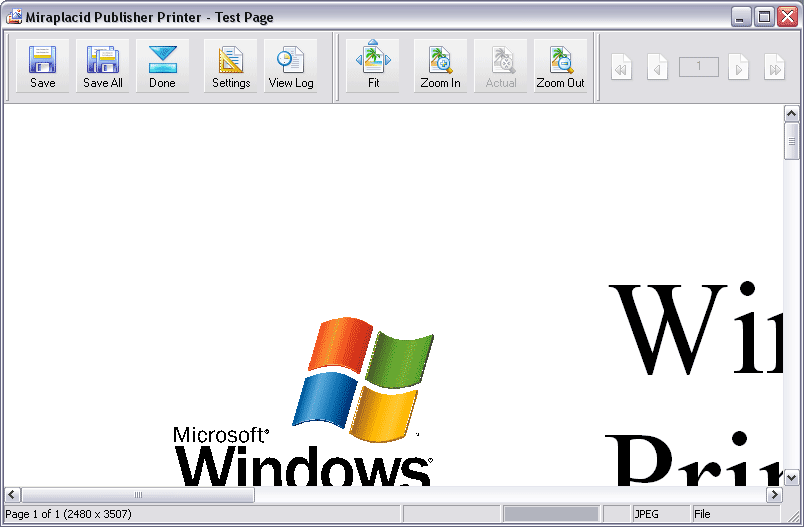 Miraplacid Publisher converts any printable documents to images. Miraplacid Publisher supports following output formats: PDF, JPEG, TIFF, BMP, PNG, TGA, GIF and Web Presentation. Scale the image as you need, adgust colors and gamma, set output format and compression ratio, get rid of unused white borders. Save to file, upload to FTP or HTTP server, email or print to a real printer. Multi-page images suppor. Free SDK.
Mehr…
Miraplacid Text Driver Terminal Edition
Version: 6.0 | Shareware (155,00 USD)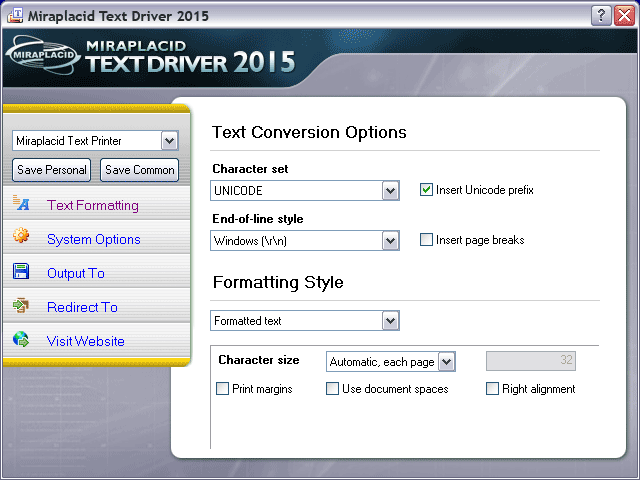 Miraplacid Text Driver (Text Printer Driver) extracts text from documents and saves it to file, copies to Clipboard, uploads to a server or emails. Text Output can be formatted as plain text or text with layout, previewed and saved in Unicode or specified code page. When auto-save mode is on, the software does everything with no user interaction. Software can insert current date, time, print job and page number into output file path and name.
Mehr…
Print Censor Professional
Version: 5.60 | Shareware (169,00 USD)
Print Censor Professional ist eine kompakte und benutzerfreundliche Entscheidung für die Verwaltung der Netzwerkdrucker. Es verfolgt alle Druckjobs nach einer Reihe von Kriterien und verschafft Ihnen volle Kontrolle über alle Druckgeräte in Ihrem Netzwerk. Mit erweiterter Funktionalität und übersichtlichem Interface ist diese Applikation eine weise Geldanlage, um Druckkosten zu minimieren und die Effizienz des Unterlagenflusses zu steigern.
Mehr…
Remote Queue Manager Professional
Version: 5.50 | Shareware (49,00 USD)
Remote Queue Manager is a professional solution to manage print tasks. There is no requirement to install any drivers to control a remote printer. The program uses the remote machine's drivers. Instead of searching through non-descriptive job names, Remote Queue Manager lets you visually preview files in the spool. Easily connect to a remote printer cancelling unwanted tasks or changing their priority.
Mehr…