Kategorie Entwicklung / Compiler & Interpreter
Text to Software
Version: 7.7 | Demo (99,00 USD)
Text to Software erstellt automatisch Apps aus Expertenfachwissen, Daten von Websites, menschlichen Quellen, Dokumenten und Datenbanken. Die so entstandene App erfüllt die betrieblichen Anforderungen fachgerecht und der Entstehungsprozess ist 80 % schneller und 60 % günstiger als herkömmliche Programmiermethoden.
Mehr…
HF ExeScript
Version: 3.0 | Shareware (59,95 USD)
HF ExeScript is a program that converts batch files (.bat), VBS and JS scripts to executable files (.exe) in less than 30 seconds. It also protects contents of .bat, .vbs and .js files from being changed by other users accidentally or intentionally. In addition, HF ExeScript hides contents of these files, so they cannot be viewed.
Mehr…
TextTransformer
Version: 1.7.5 | Shareware (98,00 EUR)
Analyse und Umwandlung von Texten - auch in freier Version: z.B. multiple Wortersetzungen, Berechnungen mit extrahierten Daten, Konvertierungen u.v.m. Transformationsprogramme sind schrittweise zu testen. Fertige Programme können für einzelne Texte interaktiv ausgeführt werden oder mittels des integrierten Transformations-Managers beliebige Dateigruppen, z.B. ganze Verzeichnisse transformieren. Parser sind als C++-Code exportierbar.
Mehr…
ExeScript
Version: 3.3.7.0 | Shareware (49,95 USD)
Kompilierung und Ausführung von Scripts ohne zusätzliche Software. Haben Sie je eine BAT-Datei oder ein VB- oder JS-Script ausführen wollen, ohne den Webbrowser dafür zu öffnen? Brauchen Sie eine ruhige automatische Ausführung? Müssen Sie eine ausführbare Datei ohne teure und monströse Entwicklungsumgebung erstellen? Suchen Sie nicht weiter: ExeScript erstellt sichere unabhängige Anwendungen aus allen unterstützten Scriptformaten!
Mehr…
JCGO
Version: 1.10 | Shareware (900,00 EUR)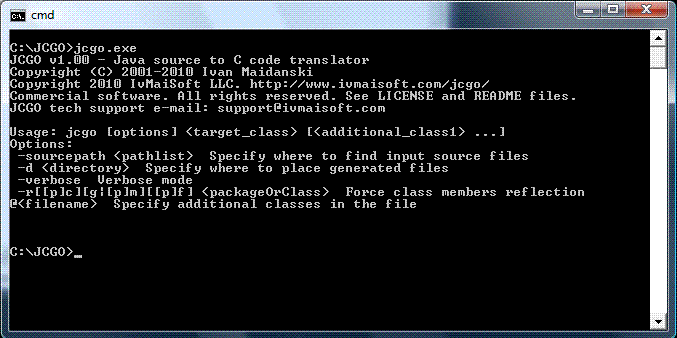 JCGO is a commercial software product which translates programs written in Java into platform-independent C code, which could, further, be compiled (by third-party tools) into highly-optimized native code for the target platform and deployed. JCGO product is a powerful solution that enables your desktop, server-side and embedded/mobile/wireless Java applications to take full advantage of the underlying hardware.
Mehr…
Total Resource Changer
Version: 1.1 | Shareware (37,60 USD)
Total Resource Changer makes the process of changing version variables an easy thing. In few minutes you will be able to modify the file version numbers as well as product version numbers. Total Resource Changer may automatically increase the last value or a completely new file version. The program is invaluable for web developers working with Delphi, C++ and other environments. Download you free trial copy now.
Mehr…
BMDFM
Version: 5.9.9_R15_b1701 | Shareware
BMDFM (Binary Modular DataFlow Machine) is software, which enables running an application in parallel on shared memory symmetric multiprocessors (SMP) using the multiple processor cores to speed up the execution of single applications.
BMDFM automatically identifies and exploits parallelism due to the static and mainly DYNAMIC SCHEDULING of the data flow instruction sequences derived from the formerly sequential program.
Mehr…
ScriptCryptor
Version: 4.0.5.1 | Shareware (54,95 USD)
ScriptCryptor lets you quickly produce standalone, royalty free applications from your VBS or JS files. VBScript or JScript files will be converted into EXE files, the source of your scripts will be encrypted with Blowfish algorithm. Once converted, they cannot be modified or viewed by other users.
Mehr…
Basic4ppc
Version: 6.30 | Shareware (54,00 USD)
Basic4ppc is a powerful but yet simple development environment which targets both mobile devices and desktops. Basic4ppc supports a wide range of advanced features including: GPS, SQL, FTP, Web Services, Networking, Serial Ports, Graphics and more. Applications compiled with Basic4ppc do not require any special runtime libraries (Pocket PC 2002 requires Microsoft .Net CF 1.0).
Mehr…
JadRetro for Linux
Version: 1.6 | Freeware
JadRetro is a command-line utility that could help You to successfully decompile Java classes created by the modern Java compilers (of Java 1.4, Java 1.5 or later). JadRetro operates by transforming the specified Java class files (if needed) into ones which could be processed correctly by an old Java decompiler (designed to work with classes of Java 1.3 or earlier). JadRetro is not a decompiler itself, it is a class transformer for decompilers.
Mehr…
Bat-to-Exe
Version: 1.0 | Shareware (24,85 USD)

"Bat-to-exe" is exactly what its name says - a bat to exe converter. Compiles Batch file to EXE files. The resulting EXE files are compressed and encoded, making it harder to reverse engineer your batch files. "Bat-to-Exe" is fast, simple to use and has a built-in auto-update functionality. The resulting EXE files are free to be redistributed.
Mehr…
Gentee
Version: 3.6.2 | Freeware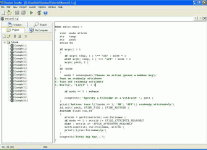 Gentee is a friendly full-scale programming language. It is a reliable assistant in your everyday work. It is easy-to-master, and can be your first, as well as tenth programming language. All necessary documentation and a set of libraries are available. Software engineers can easily use it in their applications. Everything is free of charge!
Mehr…