Kategorie Sicherheit & Datenschutz / Anti-Spam & Anti-Spy Tools
Internet Security
Version: 8.0 | Shareware (59,95 USD)
Internet Security is an advanced adware and spyware removal utility that detects and cleans thousands of potential spyware, ad ware, trojans, keyloggers, spy ware cookies, trackware, spybots, malware and other malware from your PC. Protect your privacy and computing habits from prying eyes.
Mehr…
AnVir Security Suite
Version: 7.5 | Shareware (49,95 USD)
Monitor processes, services, connections, CPU, disk, memory, DLLs, drivers, locked files. Remove spyware. Speed up boot time and performance. Descriptions for 70 000 startup programs and services, alerts on new startups. Security analysis. Icons in tray for CPU, memory and disk load. Quick access to last launched programs and folders. Hide windows to system tray. Save priority for processes. Can replace Windows Task Manager http://www.anvir.com
Mehr…
Antispam Scanner
Version: 3.02 | Shareware (19,95 USD)
Do you receive more and more spam every day? Use Antispam Scanner! Antispam Scanner will solve this problem, allowing you to quickly remove different trash from your mailbox before you receive your mail. The program will be helpful especially for those who receive dozens or even hundreds spam letters during a day.
Mehr…
Keylogger Hunter
Version: 3.02 | Shareware (14,00 USD)
Utility for blocking the activity of keyboard monitoring programs presumably running on your PC. Neutralizes 66% of keyloggers, depriving them of information about the pressed keys. Keylogger Hunter was created, which paralyzes accumulation of information by Hook-based keyloggers. This program is neither a detector, nor a disabler of keyloggers; it paralyzes the principle of keylogger functioning, based on Hooks.
Mehr…
Free Anti-SPY Guard
Version: 1.0 | Freeware
Free Anti-SPY Guard is a free tool designed to detect malicious software on your computer. Unlike other similar software, Free Anti-SPY Guard does not use signature databases, but the algorithm of the program allows it to detect spyware, viruses, trojans, rootkits and other malware that is not known yet.
Mehr…
Keylogger Detector
Version: 1.35 | Shareware (19,95 USD)
Keylogger Detector can provide every computer with strong protection against most types of unauthorized activity monitoring software, both known and unknown. It effectively finds and removes keyloggers, trojans and other spy software. Keylogger Detector is not using a signature-based detection, instead it detects a suspicious software behaviour. Remember - antivirus software often cannot detect the newest or private-built keyloggers!
Mehr…
Internet Trace Destroyer
Version: 10.0 | Shareware (29,90 USD)
Erase all traces of your online activity before it's too late. Clear web browser's online history, delete cookies, temporary Internet files, index.dat files, recent document lists, recently typed information, search history and other traces. This software is easy-to-use and it includes a user manual. You can schedule cleaning process and use an advanced data erasing technique to totally erase unnecessary information.
Mehr…
AntispamSniper for Outlook Express
Version: 3.2.6.5 | Shareware (19,95 USD)
This is an antispam and antiphishing plug-in for Outlook Express. The unique combination of several methods for automatic email classification shows excellent filtering quality for all kinds of spam, including graphical spam with random text. The plug-in has a built-in option which allows spam deletion from the server by headers.
Mehr…
E-Mail Image Generator
Version: 2.1 | Freeware
E-Mail Image Generator is a program based on a fairly simple principle - it enables you to generate email images that can be used as a substitute for your email address. Images can be easily read by other people while being totally inaccessible to email harvesting programs, which ensures that your email will not appear on spam lists. Reliable spam protection at an affordable price - that's all Sibcode E-Mail Image Generator is about!
Mehr…
IP Address Shield
Version: 10.0 | Shareware (29,90 USD)
Hides your IP address while you are browsing the Internet and protects your identity. Whenever you surf the Web or do something else on the Internet, this program will totally protect you. Freely use any web browsers, instant messengers, P2P file sharing, e-mail and any other applications without fear of being exposed to others - nobody will see your real IP address anymore. This utility has a great functionality and it's simple and inexpensive.
Mehr…
1st Evidence Remover
Version: 2.774 | Shareware (59,00 USD)
1st Evidence Remover - Das Surfen im Internet hinterla?t Spuren auf Ihrem Rechner, das wissen Sie sicher. Wo uberall Bilder, Dateien oder sonstige Daten gespeichert werden, ist allerdings nicht jedem bekannt. Gerade der Internet Explorer sorgt da fur Verwirrung und es ist kaum moglich alle privaten Daten zu loschen. 1st Evidence Remover ist ein Tool, dass die entsprechenden Daten findet und loscht. Somit bleibt das Surfen Ihre Privatsache...
Mehr…
IE Internet Security
Version: 10.0 | Shareware (69,00 USD)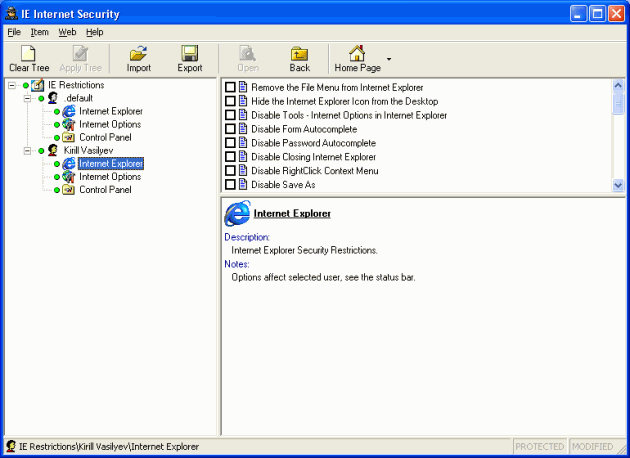 IE Internet Security ist ein Passwort-geschütztes Programm, das den Internet Explorer im Bereich der persönlichen Sicherheitseinstellungen ergänzt. Es erlaubt dem Nutzer beispielsweise die Möglichkeit zur Änderung der Browser Einstellungen abzuschalten, den Zugang zu bestimmten Einstellungen im Internet Explorer zu beschränken, sowie einzelne Optionen ganz zu unterdrücken. So kann der Benutzer andere daran hindern, spezifische Einstellungen...
Mehr…