Kategorie Sicherheit & Datenschutz / Anti-Spam & Anti-Spy Tools
Web Form SPAM Protection
Version: 1.5.2 | Shareware (29,95 USD)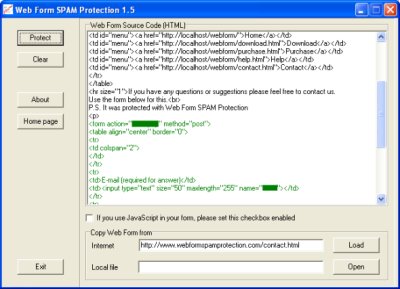 Web Form SPAM Protection ist ein Programm, welches Formulare gegen SPAM Boten schützt. Es verschlüsselt den Quellcode der Formulare, so dass es den Spam-bots nicht möglich ist die Formulare zu analysieren und zum SPAM-Versenden nutzen. Web Form SPAM Protection kann mit den ganzen HTML Dateien arbeiten (die können im Internet oder auf Ihrem Rechner liegen) oder nur mit dem Quellcode von Formularen.
Mehr…
Spyware IT
Version: 2.0 | Shareware (27,95 USD)
Spyware IT removes all the spyware, adware and malware from your PC for you. It offers total protection, and once installed, works around the clock to ensure constant real-time protection. Spyware IT contains a huge database of almost 100,000 spyware, adware and malware programs. When scanning your computer, Spyware IT identifies violating spyware and - with your approval - removes it from your system, for GOOD.
Mehr…
Advanced Task Manager
Version: 5.0 | Shareware (29,00 USD)
Advanced Task Manager shows you all the programs running on your computer, including the invisible ones. It displays a security rating, advice and details about each program, and helps you identify and remove spyware, trojans and other dangerous programs. You can also manage the Windows startup programs, Internet connections, CPU and memory use. Advanced Task Manager can also stop, quarantine or uninstall any rogue process that you find.
Mehr…
Anti Identity Theft
Version: 12.0 | Shareware (27,95 USD)
Anti-Identity Theft protects you from identity theft threats, while you use your PC. Simply install it - and forget it. Anti Identity Theft ensures you aren't infected by spyware threats and constantly clears private information from your PC. Bundles with a FREE guide to identity theft, FREE lifetime updates, FREE system optimization tools & much more.
Mehr…
Spyware Doctor (de)
Version: 3.8 | Shareware (29,95 EUR)
Spyware Doctor bietet dreifachen Schutz gegen Spyware durch Blockade, Suche und Immunisierung der Bedrohungen in Echtzeit; diese Funktionen verriegeln effektiv jedes Hintertürchen Ihres PCs für Eindringlinge und ist einer der vielen Gründe, warum das mehrfach preisgekrönte Programm Spyware Doctor von Millionen Anwendern ausgewählt wurde. Effektiver Schutz ihres PCs gegen Spyware, Adware, Trojaner, Keylogger, Spybots und andere
Mehr…
SPYWAREfighter
Version: 4.5.155 | Shareware (25,00 EUR)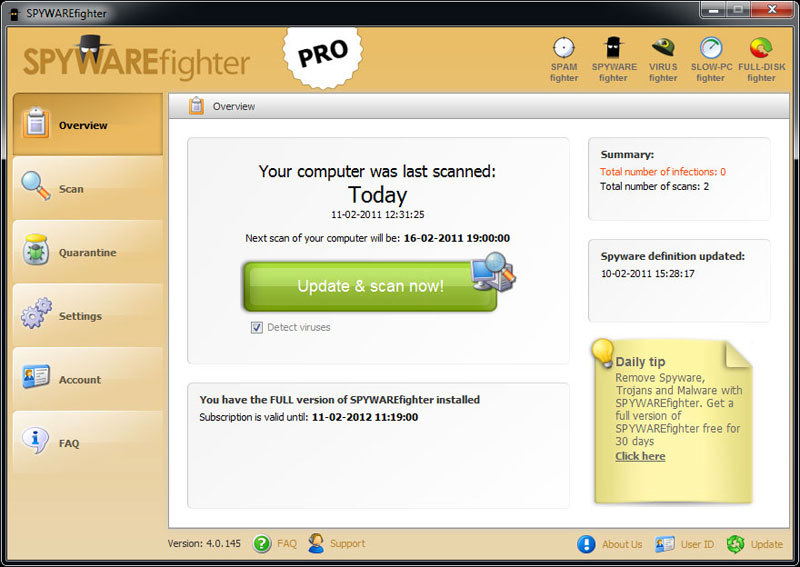 SPYWAREfighter ist ein benutzerfreundlicher Spyware-Entferner und sowohl in der Installation als auch Anwendung kinderleicht zu bedienen. SPYWAREfighter schützt Ihren Rechner als auch Ihre Daten vor Spyware, Adware, Reklame und anderen unerwünschten Schädlingen. SPYWAREfighter ist z. Z. in deutscher, englischer, dänischer, schwedischer, niederländischer, chinesischer, spanisch, französisch, italienisch und griechischer Sprache erhältlich.
Mehr…
Anti-SPAM Guard
Version: 4.0 | Shareware (29,95 USD)
Anti-spam software for Windows. Combines the maximum ease of use with the support of any mail client and power spam mail detection. The anti-spam filter is ready to run right after you install it and does not require additional configuration or training ? even a newbie will be able to use Anti-SPAM Guard.
Mehr…
Evidence-Blaster
Version: 2010 | Demo (13,95 GBP)
Evidence-Blaster completely "cleans your history, ensuring your computer and Internet use cannot be discovered by anyone EVER. Clear your browser history, erase your browser cache, eliminate all your system cookies, remove your visited and typed URL list, clean the hidden & locked index.dat file, overwrite all AutoComplete information, clear documents, history and Find searches from the Start menu, and much more!
Mehr…
Privacy Restorer
Version: 1.0 | Shareware (29,95 USD)
Your PC knows a lot about you. What websites you?ve visited. What you?ve seen and downloaded. Your passwords, personal preferences, files you?ve used, programs you?ve installed, your usage habits, and more. It?s an open book for all to see?and exploit. With a simple mouse click, award-winning Privacy Restorer permanently removes the history of your activities on a PC.
Mehr…
Junk Mail Remover
Version: 1.3 | Shareware (19,95 USD)
Delete junk mail (spam, virus, trojan, and e-mails with big attachments) fast and easily. If your connection is slow (dial-up, GPRS, etc) or you have to pay for internet traffic, this program will save your time and money.
Mehr…
Spam Reader
Version: 3.7 | Shareware (29,00 USD)
Spam Reader is an MS Outlook plugin that extends Outlook functionality with a Bayesian spam filter. There is no need to run an external program. Spam Reader fully integrates into MS Outlook. Spam Reader analyzes each message when you receive it and puts it in the Spam folder if needed. SpamReader does not break existing Outlook filtering rules. The Bayesian spam filter is self-trainable. You can also tune it up for better accuracy.
Mehr…
Advanced Tracks Eraser
Version: 5.6.1 | Shareware (29,95 USD)
The complete solution for cleaning Internet activities and traces of your PC! It cleans up your browser's cache, cookies, history, recent document list and much more automatically! With Advanced Tracks Eraser FREE Plug-Ins you can clean the tracks of up to 50 popular applications, such as the recent viewed pictures history of ACDSee, play list RealOnePlayer and Windows Media Player, Office recent documents, Acrobat Reader, WinZip and much more!
Mehr…