Kategorie Sicherheit & Datenschutz / Anti-Spam & Anti-Spy Tools
Spyware Doctor (de)
Version: 3.8 | Shareware (29,95 EUR)
Spyware Doctor bietet dreifachen Schutz gegen Spyware durch Blockade, Suche und Immunisierung der Bedrohungen in Echtzeit; diese Funktionen verriegeln effektiv jedes Hintertürchen Ihres PCs für Eindringlinge und ist einer der vielen Gründe, warum das mehrfach preisgekrönte Programm Spyware Doctor von Millionen Anwendern ausgewählt wurde. Effektiver Schutz ihres PCs gegen Spyware, Adware, Trojaner, Keylogger, Spybots und andere
Mehr…
SPYWAREfighter
Version: 4.5.155 | Shareware (25,00 EUR)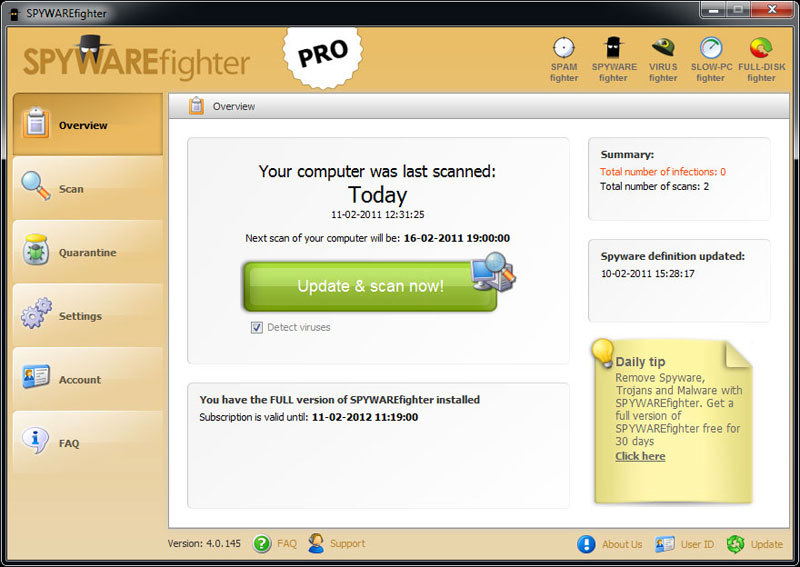 SPYWAREfighter ist ein benutzerfreundlicher Spyware-Entferner und sowohl in der Installation als auch Anwendung kinderleicht zu bedienen. SPYWAREfighter schützt Ihren Rechner als auch Ihre Daten vor Spyware, Adware, Reklame und anderen unerwünschten Schädlingen. SPYWAREfighter ist z. Z. in deutscher, englischer, dänischer, schwedischer, niederländischer, chinesischer, spanisch, französisch, italienisch und griechischer Sprache erhältlich.
Mehr…
Anti-SPAM Guard
Version: 4.0 | Shareware (29,95 USD)
Anti-spam software for Windows. Combines the maximum ease of use with the support of any mail client and power spam mail detection. The anti-spam filter is ready to run right after you install it and does not require additional configuration or training ? even a newbie will be able to use Anti-SPAM Guard.
Mehr…
Evidence-Blaster
Version: 2010 | Demo (13,95 GBP)
Evidence-Blaster completely "cleans your history, ensuring your computer and Internet use cannot be discovered by anyone EVER. Clear your browser history, erase your browser cache, eliminate all your system cookies, remove your visited and typed URL list, clean the hidden & locked index.dat file, overwrite all AutoComplete information, clear documents, history and Find searches from the Start menu, and much more!
Mehr…
Junk Mail Remover
Version: 1.3 | Shareware (19,95 USD)
Delete junk mail (spam, virus, trojan, and e-mails with big attachments) fast and easily. If your connection is slow (dial-up, GPRS, etc) or you have to pay for internet traffic, this program will save your time and money.
Mehr…
Privacy Restorer
Version: 1.0 | Shareware (29,95 USD)
Your PC knows a lot about you. What websites you?ve visited. What you?ve seen and downloaded. Your passwords, personal preferences, files you?ve used, programs you?ve installed, your usage habits, and more. It?s an open book for all to see?and exploit. With a simple mouse click, award-winning Privacy Restorer permanently removes the history of your activities on a PC.
Mehr…
Spam Reader
Version: 3.7 | Shareware (29,00 USD)
Spam Reader is an MS Outlook plugin that extends Outlook functionality with a Bayesian spam filter. There is no need to run an external program. Spam Reader fully integrates into MS Outlook. Spam Reader analyzes each message when you receive it and puts it in the Spam folder if needed. SpamReader does not break existing Outlook filtering rules. The Bayesian spam filter is self-trainable. You can also tune it up for better accuracy.
Mehr…
Advanced Tracks Eraser
Version: 5.6.1 | Shareware (29,95 USD)
The complete solution for cleaning Internet activities and traces of your PC! It cleans up your browser's cache, cookies, history, recent document list and much more automatically! With Advanced Tracks Eraser FREE Plug-Ins you can clean the tracks of up to 50 popular applications, such as the recent viewed pictures history of ACDSee, play list RealOnePlayer and Windows Media Player, Office recent documents, Acrobat Reader, WinZip and much more!
Mehr…
XSpy Shield Gold
Version: 5.13.6.1028 | Shareware (24,95 USD)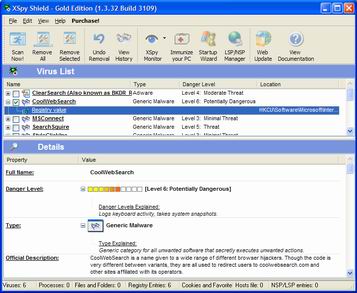 The program scans the Windows registry, active processes, cookies and entire file system. It also checks essential system and networking components. XSpy Shield can perform full system scan or check only user-defined locations. It uses extensive spyware definitions database that includes more than 12,000 signatures. The database is updated on a regular basis. The program provides detailed scan reports, shows the description, exact location and ot
Mehr…
Unlogger
Version: 2.3 | Shareware (19,95 USD)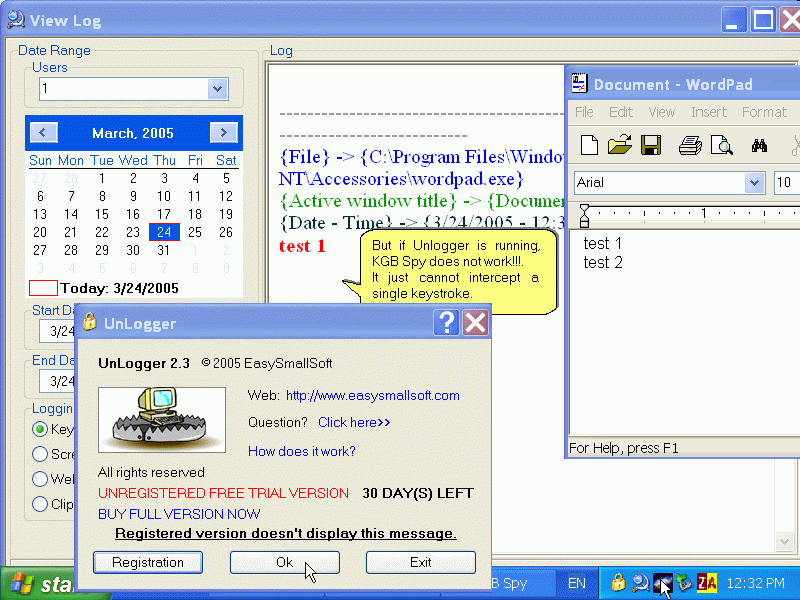 The only way to protect yourself from keyloggers is to prevent them from doing their treacherous job instead of searching for them on your disks. Despite their variety, all keyloggers use the same mechanism to monitor your keystrokes and text buffers. Blocking this mechanism offers you a brand new level of protection. Unlogger is a cost effective solution to block system mechanisms that are exploited by keyloggers.
Mehr…
My Privacy
Version: 4.0 | Freeware
Analysieren Sie Ihre Einnehmbarkeit! My Privacy ist eine Software, die die auf Ihrem Computer gespeicherten persönlichen Informationen auf Uneinnehmbarkeit für Hacker prüft. Die Software findet alle solche Informationen und schlägt unwiderrufliches Löschen vor. Außerdem prüft die Anwendung, wie gut Ihre Privatsphäre geschützt ist, und empfiehlt eine Verschärfung der Sicherheitsmaßnahmen. Gehen Sie auf Nummer sicher!
Mehr…
RegRun Security Suite Gold
Version: 6.7 | Shareware (49,95 USD)
RegRun Suite is a complete computer security software. RegRun Platinum includes 24 system utilities for protecting a computer against Rootkits/Trojans/Adware/Spyware components, increase Windows boot-up process speed, help in computer management. RegRun Suite is compatible with all known antiviral software and and may be used to improve security. RegRun works with all Microsoft Windows platforms: Windows 95/98/ME/NT4/2000/XP/2003/VISTA.
Mehr…