Kategorie Audio & Multimedia / Audio Datei-Player
ALL Media Player
Version: 2.1.1 | Freeware
All Media Player is an all-in-one multimedia player that plays most audio and video files as well as DVDs, audio CDs, VCDs, SVCDs, and various network and streaming protocols. Enjoy playback of all your favorite music, videos and DVD movies without the need to install any extra plugins, codec, or software.
Mehr…
Express Scribe Transkriptionssoftware Pro
Version: 8.07 | Vollversion (49,99 USD)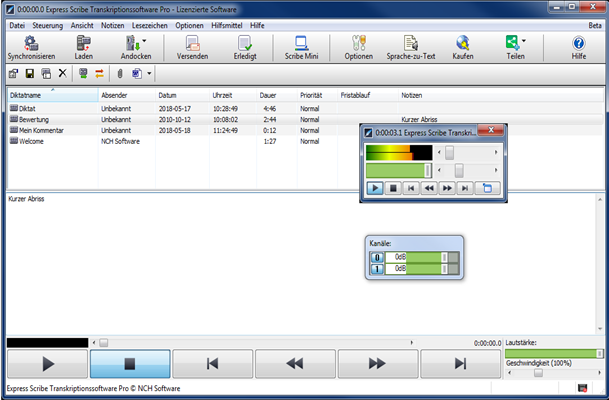 Die Express Scribe Transkriptionssoftware Pro enthaelt nuetzliche Funktionen fuer die Transkription, beispielsweise variable Wiedergabegschwindigkeiten, mehrkanalige Steuerung, Videowiedergabe, Dateiverwaltung und mehr. Express Scribe Pro unterstuetzt gaengige Audioformate wie MP3, WAV, MMA und DCT. Erhoehen Sie Ihre Tippgeschwindigkeit, indem Sie die Wiedergabe ueber Fussschalter steuern und Ihre Haende frei zum Tippen sind.
Mehr…
Nero Wave Editor
Version: 2017.15.0.6000 | Freeware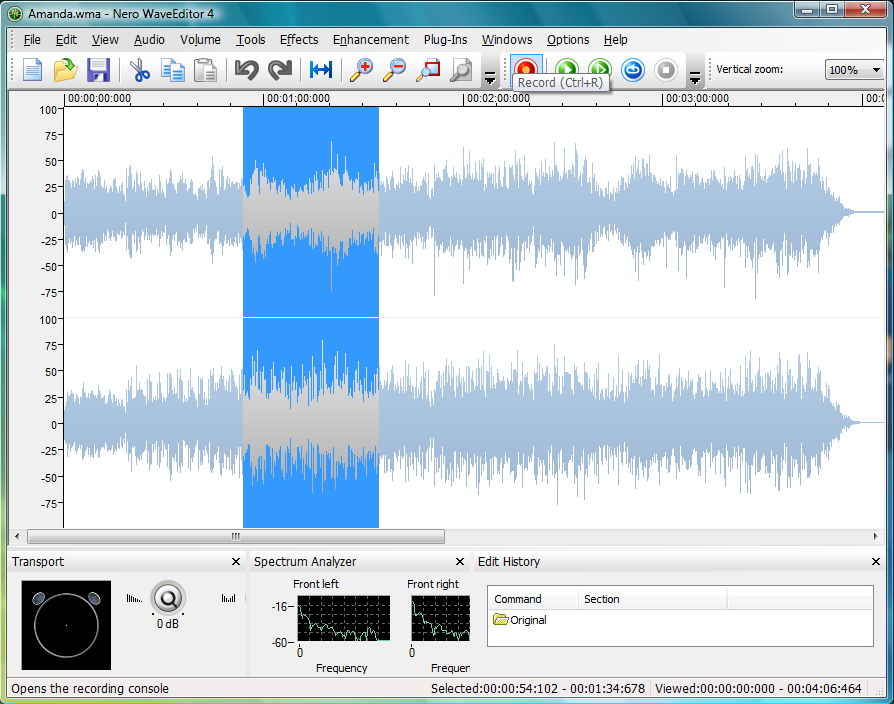 Mit Nero Wave Editor können Sie Musikstücke aufnehmen und die entsprechenden Audiodateien beispielsweise mit unterschiedlichen Filtern und Klangoptimierungsmethoden bearbeiten. Anschließend können Sie diese optimierten Audiodateien mit Nero Burning ROM oder Nero Express brennen. Mit Nero WaveEditor bearbeiten Sie die Audiodateien in Echtzeit und nicht-destruktiv, d.h. ohne die Originaldatei zu beschädigen.
Mehr…
Zulu DJ-Software
Version: 4.11 | Shareware (39,99 USD)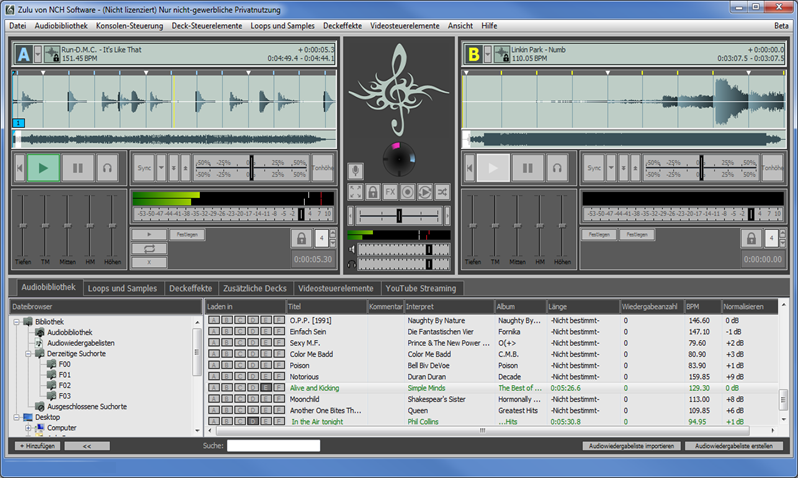 Die Zulu DJ-Software ist eine DJ-Loesung fuer Windows. Durch die automatische Taktermittlung ist das Mixen von Musik leicht und macht Spass. Man muss nur Titel in die Decks laden und die DJ-Software scannt sie automatisch. Dann werden die BPM zugewiesen und die Tempi angepasst, sodass zwei Lieder optimal synchronisiert werden. Mit dieser DJ-Software kann man Musik mixen und auch gleichzeitig Effekte anwenden.
Mehr…
1X-AMP - Virtual Audio Player
Version: 6.0.1 | Shareware
1X-AMP Virtueller Audio Player. Machen Sie Ihren PC zur virtuellen Stereoanlage mit einem Mediaplayer mit Skins wie z.B. eine Stereoanlage, Jukebox, Röhrenamp, Hifianlage, Delfin etc. 1X-AMP ist ein professioneller Audioplayer und Mediaplayer, welcher Ihre komplette Festplatte mit Audiodateien wie z.B. MP3, WAV und WMA Dateien verwaltet.
Mehr…
MEDIA Revolution
Version: 4.0.3 | Shareware
Durch seinen gewaltigen Funktionsumfang und die Unterstuetzung zahlreicher Medienformate ist MEDIA Revolution der einzige Player den Sie auf Ihrem PC wirklich brauchen! Neben dem Abspielen von Video- und Audio-Dateien sowie DVD's, einer kompletten Medienverwaltung, vielen nuetzlichen Helferlein fuer die taegliche Arbeit rundet der digitale Video Recorder das Produkt zu einem nahezu unerschoepflichen Multimedia-Baukasten ab.
Mehr…
MAGIX MP3 deluxe
Version: MX | Shareware (39,99 EUR)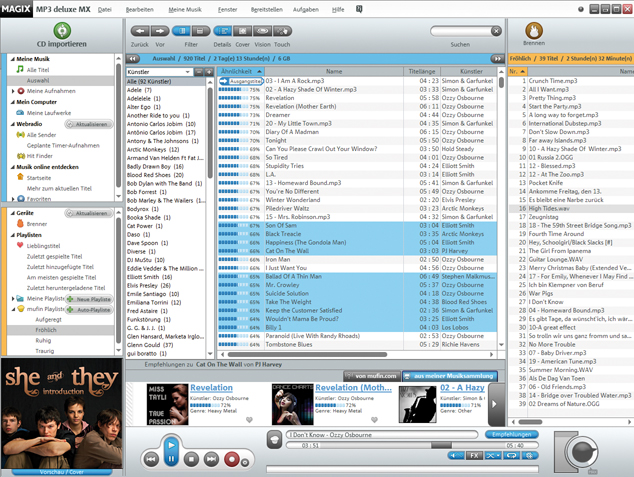 MAGIX MP3 deluxe MX ist das perfekte MP3-Programm für Ihre Musiksammlung! Entdecken Sie eine unglaubliche Flexibilität und Funktionsvielfalt, die kein anderes Musikprogramm bietet. Lassen Sie sich von neuer Musik überraschen und genießen Sie Ihre komplette CD-Sammlung und alle MP3s bequem auf dem PC. Dank blitzschneller Such- und Filterfunktion finden Sie innerhalb kürzester Zeit genau das, was Sie suchen!
Mehr…
Video Audio Player
Version: 1.0 | Freeware
Video Audio spieler kann video Audio multimedia akten wie wmv mp3 MPEG mpg m1v dat wma wav AIFF Au aif mittleres Midi RMI snd avi asf VCD etc. spielen. Der Spieler ist einfach zu verwenden, es hat kleine und Minischnittstelle.
Mehr…
JRiver Media Center
Version: 20.0.63 | Shareware (49,98 USD)
Complete media solution for massive libraries. Organize, play, tag all types of media files. Rip, Burn, serve to Xbox, PS3, UPnP, DLNA, TiVo. Audiophile quality, Ten foot mode, remote control, HD TV recording in real time. Customizable media views. 3D views. Supports iPod, cameras, 80+ media formats. Integration with Netflix, Facebook, Flickr, Audible, Amazon MP3, Google, Youtube, Wikipedia, Hulu, Last.FM, Twitter. Cover art lookup. Etc.
Mehr…
CoffeeCup Web Video Player
Version: 5.3 | Shareware
Now convert your movies to Flash and get them on the Web! CoffeeCup Web Video Player converts MPGs, AVIs, MOVs and WMVs to Flash quickly and easily. Just choose your videos and pick a player skin, and you'll be ready to upload your movies, clips, or favorite videos to your Website. With CoffeeCup Web Video Player, adding one or multiple movies to your Website has never been more simple.
Mehr…
CEREMU Media Browser
Version: 2.0 | Freeware
Browse your media files on all your folders. Preview and full screen view for videos/bitmaps. Supported formats : Video : divx, mp4, mpeg, wmv, mkv, avi, mpg, mv1, mv2, m2v, vob, mov, rm Sound : fla, flac, ofr, ogg, mka, vcd, spx, shn, mpp, mp+, mpc, mpx, mpa, mpga, ape, asf, wma, m4a, mp3, wave, wav, mp2, m2p, swa, aiff, aifc, aif, au, mid, vox, wma, ac3, ra Bitmap/pictures : png, jpg, gif, bmp, tif, psd, text
Mehr…
CoffeeCup Web JukeBox
Version: 4.6 | Shareware
Web JukeBox makes it easy to place your MP3 music collection on your Website. Included are dozens of cool skins to that will match any Website design. With just a few clicks, you can add your entire music collection of MP3s to your Website. Now you no longer need to embed a media player in your Webpage -- just paste the code created by our program into your existing Webpage, and presto!
Mehr…