Kategorie Netzwerk & Internet / Werbe-Blocker
Stop My Popups
Version: 12.0 | Shareware (19,95 USD)
Stop My Popups is an exciting software program that makes your Web surfing enjoyable again! It automatically kills all popups, before they get a chance to appear. It even blocks the gray Messenger ads that most popup blockers ignore. Stop My Popups runs quietly in the background, protecting your children and your PC from Web advertisements, porn windows you can't close, and virus downloads.
Mehr…
Anti-AD Guard PRO
Version: 2.1.2.7 | Shareware (29,95 USD)
Anti-AD Guard PRO is a banners filter program that blocks ads from being loaded by browsers, ICQ, MSN Messenger, MetaCafe, Kazaa, PalTalk and any other software you want. The product is user-friendly and very simple in use. It works right after the installation - there is no need to customize any addition settings.
Mehr…
Mister Popper Stopper
Version: 2.1 | Shareware (14,95 USD)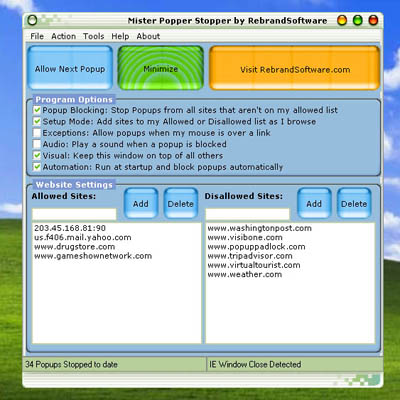 This popup stopper software monitors all open IE windows for popups.
Unique "Setup Mode" notifies you whenever a site tries to send a popup, and lets you block it or allow it with the click of a button.
Once you turn off Setup Mode, only popups from sites you have specifically allowed will be shown.
Mehr…
Popup Killer
Version: 1.1.1.1 | Shareware (17,99 EUR)
It is used for stopping all annoying pop-up ads windows when you surf the internet. It also blocks Windows Messenger in Windows XP/2000/NT which interfere with your program running. It is easy-use tool without any configuration. It runs automatically when Windows starts up each time, saves the bandwidth of your internet connection and your time.
Mehr…
SterJo YouTube Ad Blocker
Version: 1.2 | Freeware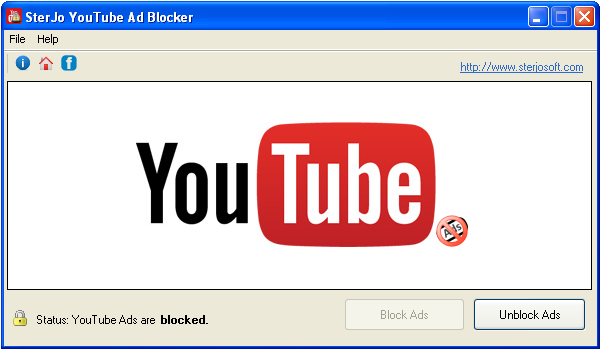 SterJo YoutTube Ad Blocker is very efficient tool for blocking annoying advertisements while playing youtube videos. This free ad blocker is compatible with any browser like Chrome, Mozilla, IE and etc. If you have ever wondered how to block youtube ads then you can't find more simpler way.
Mehr…
Adblock Plus for Internet Explorer
Version: 1.0 | Freeware
Das kostenlose Adblocking-Tool für Internet Explorer: Blockt lästige YouTube- und Facebook-Anzeigen, Banner und vieles mehr. 60 Millionen User genießen Internet ohne nervige Anzeigen ? werde zu einem von ihnen! Adblock Plus für Microsoft Internet Explorer ist im Browser integriert und funktioniert auf allen Windows-Versionen. Das Tool ist in weniger als einer Minute installiert und blockt nervige Werbung.
Mehr…
Ads Filter
Version: 1.2.77 | Shareware (19,95 USD)
Powerful content filter designed for MS Internet Explorer. It allows user to block unwanted adverts and other annoying content while browsing with IE. The Ads Filter prevents downloading of tons of ads and saves your internet traffic and improves the page load time. Our program keeps pages always clean, small and more informative. Uses simple user-configurable filters set.
Mehr…
Adguard Ad Blocker
Version: 6.0.226 | Shareware (19,95 USD)
Adguard is the program that blocks ads and pop-ups. Adguard ensures the effective protection from the internet advertising and removes banners from any programs, for example Skype or uTorent. Adguard works equally well in all the browsers by blocking pop-ups and banners, and that is why it stands out among other adblock browser plug-ins. Moreover Adguard protects you from malicious and phishing websites and ensures privacy protection.
Mehr…
SterJo Google Ad Blocker
Version: 1.2 | Freeware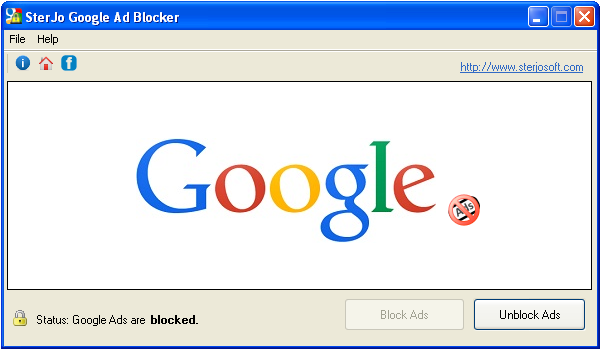 SterJo Google Ad Blocker is a free ad blocker that could block google ads on any website. Even today it is difficult to find a website without google ads, sometimes it is really crucial to distinguish the advertisement from the actual content.
Mehr…
Popup Sweeper
Version: 5.0.0.3 | Demo (29,99 USD)
Popup Sweeper enables blocking unsolicited and in-your-face floating popup ads. It is a powerful popup blocker that prevents new windows from automatically opening while you are browsing the internet. It also allows you to block advertising banners that can be very annoying and distract from the page's actual content, in addition to wasting useful bandwidth. It displays you an alert message indicating that a popup window is caught.
Mehr…
AdsCleaner
Version: 4.3.53 | Shareware (24,95 USD)
AdsCleaner is a perfect ad stopper and pop up blocker. It blocks banners by black list, by dimension and much more. It allows ?shrink? page exclude place occupy advertising. Online privacy tool. Advanced bookmark manager with powerful search engine. Adding comments for visited pages save you from reviewing the same web pages. Your surfing will be easy due to loading many pages by one click, translation and voicing web pages, management opened IE
Mehr…
FineBrowser
Version: 3.2.38 | Shareware (19,95 EUR)
Open multiple web pages in a single browser window. Block annoying pop-ups and clear all tracks of your online activities. Saves web pages into groups, and open them with a single click. Hint window for visited pages contains comments, screenshots, last view date and more. Bookmark manager. Picture archive. Translating web pages into various languages and web page voicing. Saving and loading lists of IE pages. URL aliases and Quick groups.
Mehr…