Kategorie Büro / Mathematik- & Wissenschaft
NLREG
Version: 6.2 | Demo (195,00 USD)
NLREG performs nonlinear regression and curve fitting. NLREG fits a mathematical function whose form you specify to a set of data values. Virtually any type of function can be fitted. NLREG includes a programming language similar to C that you use for describing the function to be fitted. Two dimensional line and three dimensional surface plots can be generated.
Mehr…
LITIO2 - 3D Sheet metal unfolding soft
Version: 2.0.5 | Shareware (78,00 USD)
LITIO ist ein Programm, das die abgewickelte Form verschiedener Blechkörper rechnet und zeichnet, wie zum Beispiel, Zylinder, Kegel, Rechtecke zu Zirkel (mit scharfen oder runden Ecken), Bogen, sich verzweigende Röhre, Hosenröhre, usw. LITIO ist für Klimaanlagen, Zyclone, Silos, Rohrleitungen, Füll-Trichter, usw. angemessen. Man kann die Abwicklungen direkt in AutoCAD R 2000 (und späteren Versionen) erzeugen (ohne DXF-Umwandlungen).
Mehr…
ZinsMath
Version: 4.01 | Shareware
Finanzmathematik
Mehr…
FindGraph
Version: 2.611 | Shareware (99,95 USD)
FindGraphn ist ein leistungsstarker und funktionsreicher Grapheditor und ein Tool für Digitalisierung und Näherung von 2D-Graphen für Fachleute, Wissenschaftler und Absolventen. Sie können gedruckte Graphen in XY-Daten für spätere Analyse und Manipulationen umwandeln. Das Programm enthält 10 allgemeine Näherungen (lineare Regression, Logistikfunktionen, neuronale Netze u.a.) und eine Bibliothek aus über 200 industriespezifischen Formeln.
Mehr…
DigitizeIt
Version: 2.3.2 | Shareware (49,00 USD)
DigitizeIt Software ermöglicht es Datenwerte aus Graphen und Diagrammen zu extrahieren. Das kann mit 3 einfachen Schritten erledigt werden: 1) Import des Graphen aus einer Datei oder eines Screenshots 2) Definieren eines Koordinatensystems. 3) Digitalisieren der Daten mittels automatischer Hilfen, z.B. Linienerkennung.
Mehr…
Cresotech Convert-It (German Edition)
Version: 3.00 | Shareware (15,00 USD)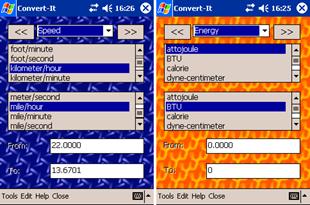 PDA-basiertes Tool zum Umrechnen von Einheiten der verschiedenen Maßsysteme problemlos ineinander. Es genügt, Pocket PC herauszunehmen und Convert-It zu starten, um seltsame und ungewöhnliche Einheiten in etwas brauchbares umzurechnen. Sie brauchen weder in dicken Folianten nachzuschlagen noch Zeit und Geld zu vergeuden, nach Antworten im Internet suchend. Erhalten Sie, was Sie brauchen, von Ihrem Pocket PC.
Mehr…
3D Grapher
Version: 1.21 | Shareware (24,95 USD)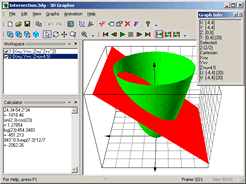 3D Grapher is a feature-rich yet easy-to-use graph plotting and data visualization software suitable for students, engineers and everybody who needs to work with 2D and 3D graphs. With 3D Grapher you can easily plot the equation and table-based graphs, zoom them, rotate, view at any angle and even animate. You can draw the unlimited number of graphs in one coordinate system to visualize and analyze the domains of functions and their intercepts.
Mehr…
PTC Mathcad Express
Version: 3.1 | Freeware
PTC Mathcad Express ist eine zeitlich unbegrenzt nutzbare, kostenlose Software für Konstruktionsberechnungen. Ihnen stehen die beliebtesten Funktionen von PTC Mathcad uneingeschränkt zur Verfügung, mit denen Sie wichtige Berechnungen lösen, dokumentieren, gemeinsam nutzen und wiederverwenden können.
Mehr…
Grab It
Version: XP | Demo (69,95 USD)
Grab It digitizes graphs or charts to obtain the original data. Data can be log, linear, date, or time. This is especially useful for accurately digitizing published data in open literature for comparison against your own data or improving accuracy when digitizing old data that isn't in an electronic format (old hardcopies of charts for instance). Free Demo.
Mehr…
NeuroXL Clusterizer
Version: 4.0.5 | Shareware (99,95 USD)
NeuroXL Clusterizer is a neural network data cluster analysis add-in for Microsoft Excel. NeuroXL Clusterizer is designed for clustering data in Microsoft Excel. Its ability to handle numerous, often-interrelated variables makes it an excellent "data mining" tool. NeuroXL Clusterizer can be applied to solve problems in numerous industries and disciplines, including finance, business, medicine, and research science.
Mehr…
NeuroXL Package
Version: 4.0.5 | Shareware (149,95 USD)
NeuroXL Package is a neural network toolkit for Microsoft Excel. It consists of NeuroXL Predictor and NeuroXL Clusterizer. NeuroXL Predictor is designed for forecasting and estimating numeric amounts such as sales, prices, etc. Its ability to discover non-linear relationships in input data makes it ideally suited for forecasting dynamic systems like the stock market. NeuroXL Clusterizer is designed for data cluster analysis in Microsoft Excel.
Mehr…
Eye4Software Hydromagic
Version: 6.0 | Shareware (1.249,00 EUR)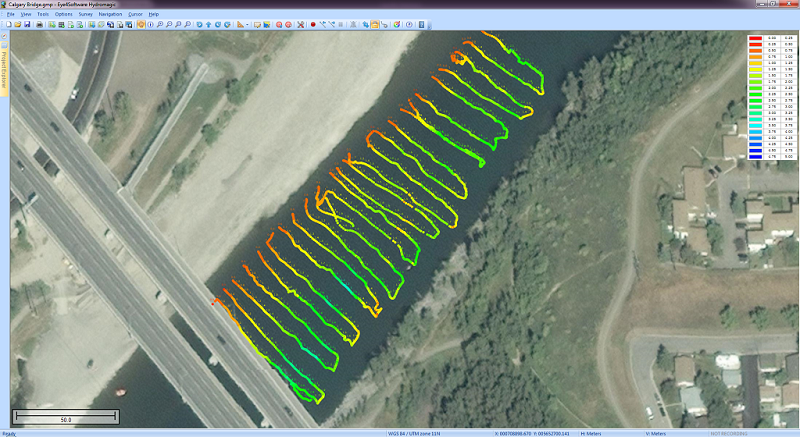 Hydrographic Survey Software for Windows, Load topographic or nautical maps, create singlebeam soundings, generate DTM's (Digital Terrain Models), generate depth contours, generate cross-sections, volume calculations and more. The software can be used with various map formats including: GeoTIFF, Microstation DGN, ARC/INFO, MapInfo MIF/MID, AutoCad DXF files, IHO S57/S63 Electronic Natutical Charts and ESRI shapefiles.
Mehr…