Kategorie Büro / Mathematik- & Wissenschaft
TRANSDAT
Version: 20.52 | Shareware (160,00 EUR)
TRANSDAT Koordinatentransformation unterstützt tausende Koordinatensysteme und Datumsübergänge, benutzer-definierte Systeme, INSPIRE, NTv2, EPSG, GPS, Kontinentaldrift, CSV, Shape, KML, GPX und andere Dateisysteme und mehr mit höchster Genauigkeit. Outdoor GPS-Empfang, Abbildung in Google Earth, Google Maps und OpenStreetMap, Meridiankonvergnez und Extra-Parameter, Polygonale Gültigkeitsbereiche in NTv2-Dateien, mehrsprachige Benutzeroberfläche.
Mehr…
Cresotech Convert-It (German Edition)
Version: 3.00 | Shareware (15,00 USD)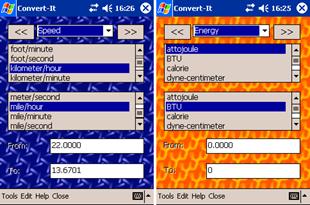 PDA-basiertes Tool zum Umrechnen von Einheiten der verschiedenen Maßsysteme problemlos ineinander. Es genügt, Pocket PC herauszunehmen und Convert-It zu starten, um seltsame und ungewöhnliche Einheiten in etwas brauchbares umzurechnen. Sie brauchen weder in dicken Folianten nachzuschlagen noch Zeit und Geld zu vergeuden, nach Antworten im Internet suchend. Erhalten Sie, was Sie brauchen, von Ihrem Pocket PC.
Mehr…
3D Grapher
Version: 1.21 | Shareware (24,95 USD)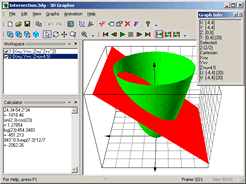 3D Grapher is a feature-rich yet easy-to-use graph plotting and data visualization software suitable for students, engineers and everybody who needs to work with 2D and 3D graphs. With 3D Grapher you can easily plot the equation and table-based graphs, zoom them, rotate, view at any angle and even animate. You can draw the unlimited number of graphs in one coordinate system to visualize and analyze the domains of functions and their intercepts.
Mehr…
PTC Mathcad Express
Version: 3.1 | Freeware
PTC Mathcad Express ist eine zeitlich unbegrenzt nutzbare, kostenlose Software für Konstruktionsberechnungen. Ihnen stehen die beliebtesten Funktionen von PTC Mathcad uneingeschränkt zur Verfügung, mit denen Sie wichtige Berechnungen lösen, dokumentieren, gemeinsam nutzen und wiederverwenden können.
Mehr…
Grab It
Version: XP | Demo (69,95 USD)
Grab It digitizes graphs or charts to obtain the original data. Data can be log, linear, date, or time. This is especially useful for accurately digitizing published data in open literature for comparison against your own data or improving accuracy when digitizing old data that isn't in an electronic format (old hardcopies of charts for instance). Free Demo.
Mehr…
NeuroXL Clusterizer
Version: 4.0.5 | Shareware (99,95 USD)
NeuroXL Clusterizer is a neural network data cluster analysis add-in for Microsoft Excel. NeuroXL Clusterizer is designed for clustering data in Microsoft Excel. Its ability to handle numerous, often-interrelated variables makes it an excellent "data mining" tool. NeuroXL Clusterizer can be applied to solve problems in numerous industries and disciplines, including finance, business, medicine, and research science.
Mehr…
NeuroXL Package
Version: 4.0.5 | Shareware (149,95 USD)
NeuroXL Package is a neural network toolkit for Microsoft Excel. It consists of NeuroXL Predictor and NeuroXL Clusterizer. NeuroXL Predictor is designed for forecasting and estimating numeric amounts such as sales, prices, etc. Its ability to discover non-linear relationships in input data makes it ideally suited for forecasting dynamic systems like the stock market. NeuroXL Clusterizer is designed for data cluster analysis in Microsoft Excel.
Mehr…
Eye4Software Hydromagic
Version: 6.0 | Shareware (1.249,00 EUR)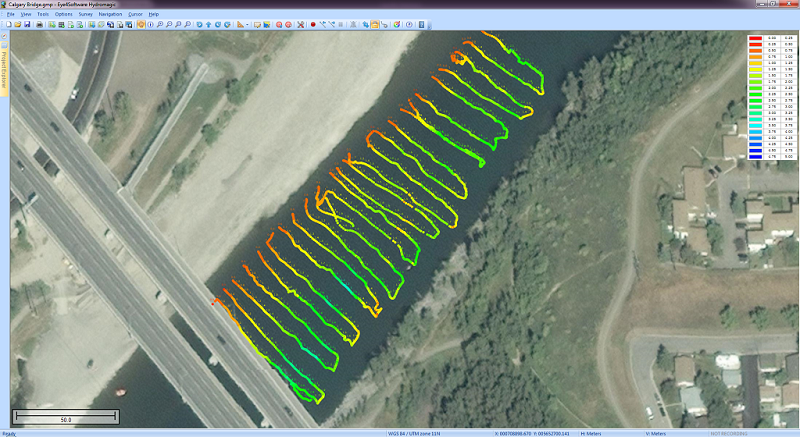 Hydrographic Survey Software for Windows, Load topographic or nautical maps, create singlebeam soundings, generate DTM's (Digital Terrain Models), generate depth contours, generate cross-sections, volume calculations and more. The software can be used with various map formats including: GeoTIFF, Microstation DGN, ARC/INFO, MapInfo MIF/MID, AutoCad DXF files, IHO S57/S63 Electronic Natutical Charts and ESRI shapefiles.
Mehr…
KaLiBat
Version: 1.50 | Shareware (250,00 EUR)
Graphical toolbox to calculate the linear heat loss coefficient of a 2D thermal bridge, according to the European standards EN10211 and EN13370. Treatment of a great number of cases by modification of materials, sizes, b coefficient of surrounding spaces, surface resistances. Calculation is performed by a finite volumes method with an automatic meshing. Accuracy is lower than 12 % for usual configurations.
Mehr…
Smart Chart Designer
Version: 1.4 | Shareware (39,99 USD)
Smart Chart Designer is comprehensive charting application that supports over 40 chart types. Multiple decoration settings meaning that literally hundreds of different styles and types are available for users. The legend can be flexible integrated to the chart area. The multi-line headers and rotated labels are supported. The chart layout (titles, fonts, colors, labels? escapement etc) can be stored in the file and reused with different data.
Mehr…
OpenOffice Math Password Recovery
Version: 1.0.0 | Shareware (29,95 EUR)
OpenOffice Math Password Recovery will stretch its helping hand to all forgetful users of OpenOffice Math who first set a very complicated password and then find themselves being unable to recall it. Instead of scratching their head in frustration, they can use OpenOffice Math Password Recovery and restore access to the documents in just a few mouse clicks. All types of passwords are recoverable, regardless of their length and complexity.
Mehr…
LaTexMng
Version: 2.0 | Shareware (50,00 USD)
LaTeX is a high-quality typesetting system, with features designed for the production of technical and scientific documentation. LaTeX is the de facto standard for the communication and publication of scientific documents.
LaTexMng is easy to use product of integrated development environment software for Windows. This application integrates all the tools, needed to the creation of LaTeX documents.
Mehr…