Kategorie Entwicklung / Quellcode-Editoren
HippoEDIT
Version: 1.50 | Shareware (39,95 EUR)
Der mächtiger und leichter in der Benutzung Texteditor, der hauptsächlich auf die erfahrenen Benutzer und die Programmentwickler orientiert ist. Er unterstützt die Vorführung der offenen Dokumente als Tabben, hat das eingebaute Internetbrowser, der Dateien/Projektbrowser, die Integration der externen Programme usw. HippoEDIT kommt mit den Syntaxbeleuchtung für C++, Java, Perl, PHP, HTML, XML usw. Die Benutzerschemen sind auch unterstützt.
Mehr…
VbsEdit
Version: 8 | Shareware (59,00 USD)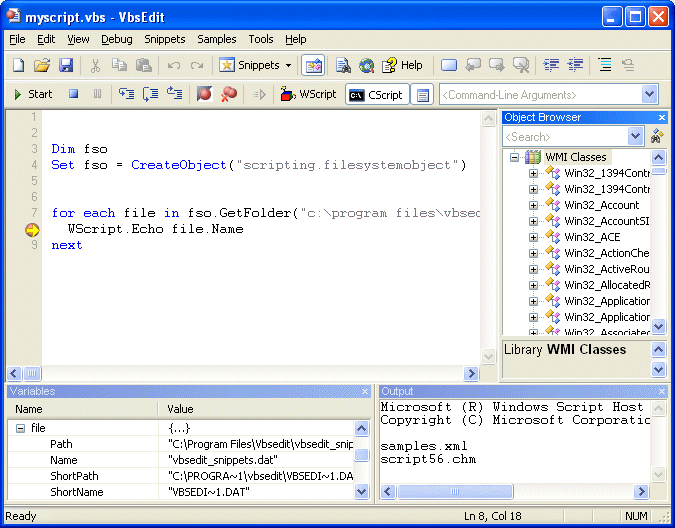 The award-winning VBScript editor that dramatically reduces the time you spend writing .VBS scripts. Features include Syntax coloring, Built-in debugger, Auto-capitalize and Auto-completion features (list object members, display parameters info, complete words), Dynamic help (If you press F1, help is provided for the word under the cursor), Code snippets, Tons of Samples scripts, Object and WMI browser, WMI code generator. Visit www.vbsedit.com
Mehr…
CNC Syntax Editor
Version: 3.1.8.206 | Shareware (40,00 EUR)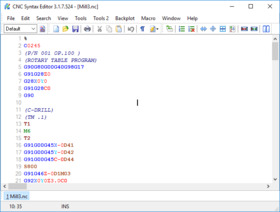 You can probably name several all-inclusive CNC editor tools, but it is still a problem to find a good CNC editor program. CNC Syntax Editor is a feature-packed G code editor, offering highlighting of program syntax. It has a comfortable and intuitive interface both for beginners and advanced programmers. It visually splits commands and coordinates into tabbed groups. Why waste time on lesser solutions? Try CNC Syntax Editor for FREE today!
Mehr…
Polystyle Source Code Formatter And Obfuscator
Version: 4.0 | Shareware (14,97 USD)
Automatically reformat other's code in your own style with just a point and click! Polystyle also has a java obfuscator, PHP obfuscator, Actionscript obfuscator and JSP obfuscator. Polystyle reformats HTML, C/C++, PHP, Javascript, CSS, C#, Java, Perl, JSP, Python, Delphi, Visual Basic, ASP, Actionscript and XML. Use the Graphical Styler to define your style using simple mouse clicks alone. Download your free trial today! Visit www.polystyle.com
Mehr…
Oceantiger's Editor
Version: 3.6 | Freeware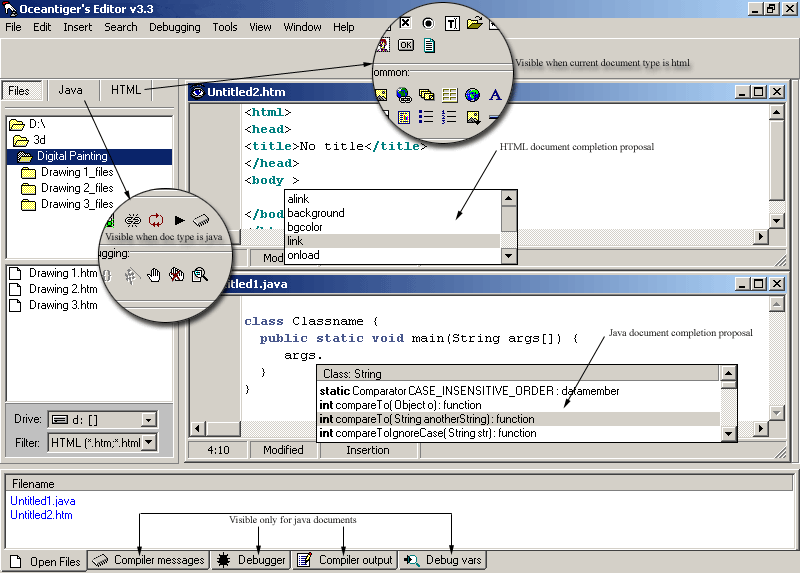 This sourcecode editor has builtin tools to generate html and java code, and additional tools to help in the writing of code, so that you can write more code in less time. It has predefined color highlighting for the java, html, perl, php, xml and css languages and possibility to define your own color highlighting languages. Other features in this program include: compile - debug and run java code, autosave, undo / redo, print preview.
Mehr…
DzSoft Perl Editor
Version: 5.8.9.8 | Shareware (49,00 USD)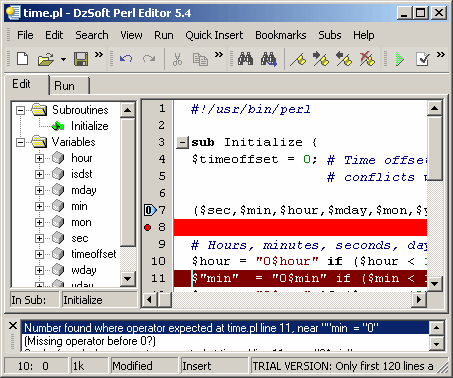 DzSoft Perl Editor ist ein sehr guter Editor um Perl Scripts für beliebige Aufgaben auf Ihrem Server zu erstellen und zu bearbeiten. In Verbindung mit Active Perl, einer Umsetzung von Perl für die Windows Plattform können Sie die Scripts direkt aus dem Editor heraus testen und Fehler finden. Die Syntax wird farbig hervorgehoben, häufig benutzter Code kann einfach aus einer Liste ausgewählt und eingefügt werden.
Mehr…
Boxer Text Editor
Version: 14.0.0 | Shareware (59,99 USD)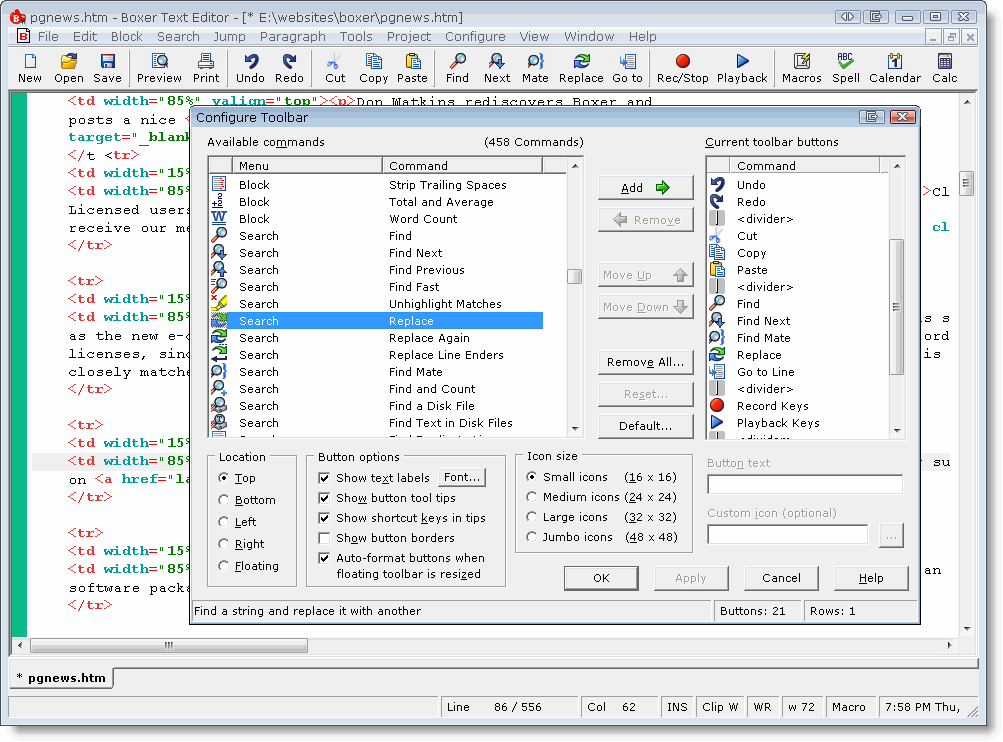 Work smarter with this versatile, full-featured Windows text editor. Boxer is extremely powerful, but remains easy to use for beginners and experienced users. This award-winning text editor features a powerful macro language, 2 GB file size limit, syntax highlighting and printing, project support, FTP, hex, HTML support, USB, column blocking, undo/redo, spell check, regular expression search/replace, extensive configurability and more.
Mehr…
EditPad Pro
Version: 7.2.3 | Shareware (49,95 USD)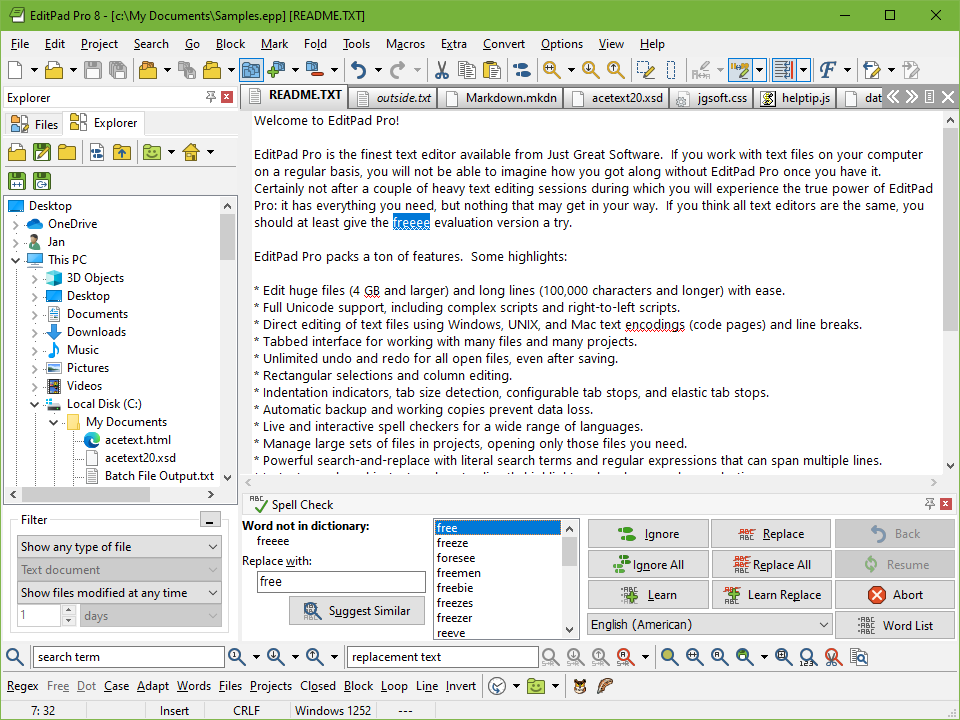 EditPad Pro is a powerful and versatile text editor or word processor, designed to make text editing as convenient as possible. Write and edit all your plain text files such as source code, scripts, web sites, logs, letters, memos, reports, articles, etc. Edit text more comfortably with the tabbed layout, live spell checking, column editing, etc. Code more easily with syntax coloring, regular expressions, code folding, keystroke macros, etc.
Mehr…
Edit4Win
Version: 3.32 | Shareware (14,95 EUR)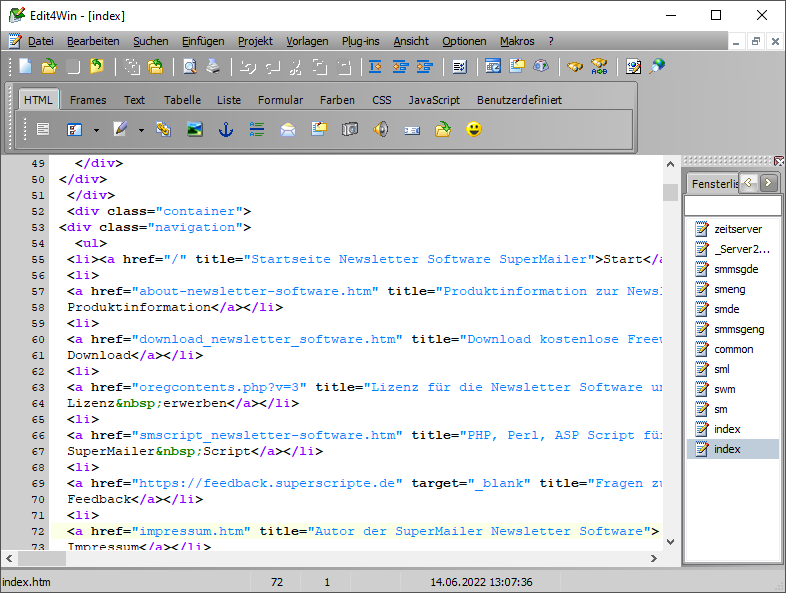 Edit4Win ist ein Text- und Programmiereditor. Es unterstützt Syntax-Hervorhebung für verschiedene Sprachen z.B. HTML, PHP. Mit Hilfe des integrierten WYSIWYG-Editors können einfach HTML-Dateien visuell bearbeitet werden. Edit4Win kann Dateien auf dem lokalen Datenträger oder direkt auf einem FTP-Server in verschiedenen Formaten öffnen und speichern. Zusätzlich enthält Edit4Win einen Hex-Editor und ermöglicht den Vergleich von Textdateien.
Mehr…
Batch RegEx Free
Version: 5.0.33 | Shareware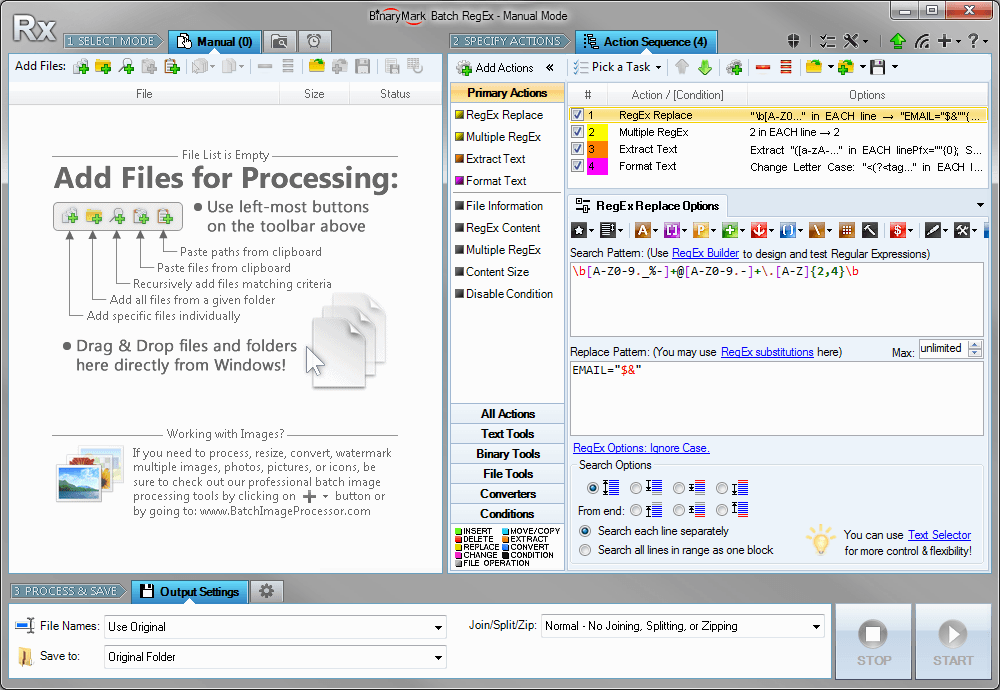 Replace, format, and extract text in multiple files using Regular Expressions. Perform GREP-like tasks, use RegEx substitutions, extract data! Built-in RegEx editors support color syntax highlighting and contextual tooltips making it easy to design patterns. Specialized RegEx tools like html/xml tag selector, line selector, or number selector help you make RegEx patterns faster. Integrated RegEx Builder helps with testing your RegEx patterns.
Mehr…
Batch File Replace Free
Version: 5.0.33 | Shareware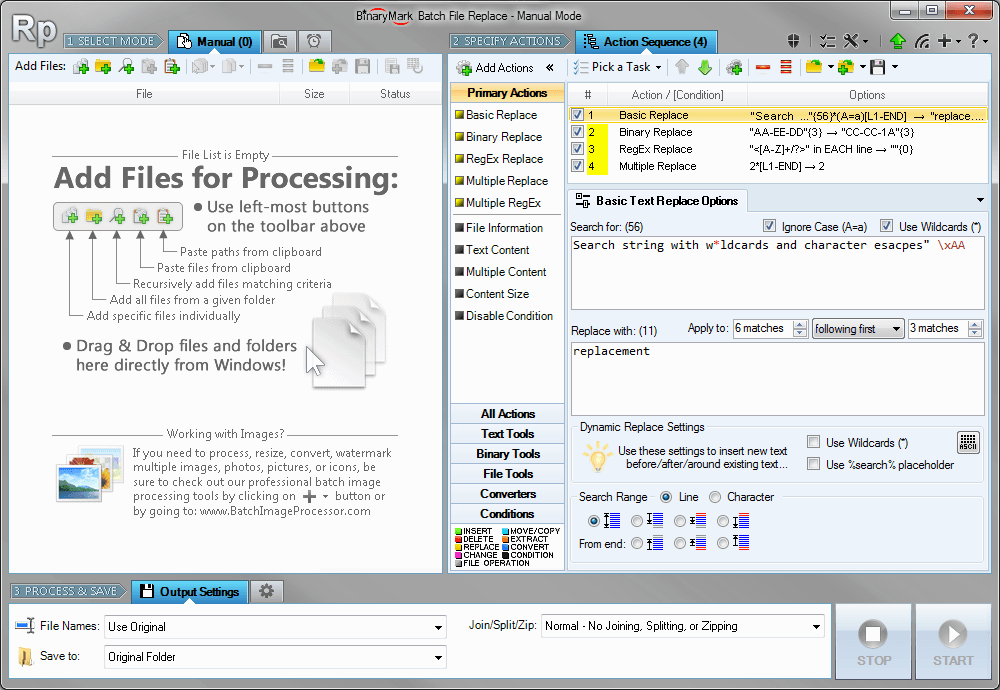 Search and replace text and raw bytes in multiple files. Includes multi-line text search & replace with wildcards, case-sensitivity, and match selection options. Full support for Regular Expressions with syntax highlighting and match substitutions. Built-in hex editor allows for easy entry of binary data to search & replace bytes. Enter search-replace pairs into a grid or import from file to perform multiple replacements.
Mehr…
Batch Text File Editor Free
Version: 5.0.33 | Shareware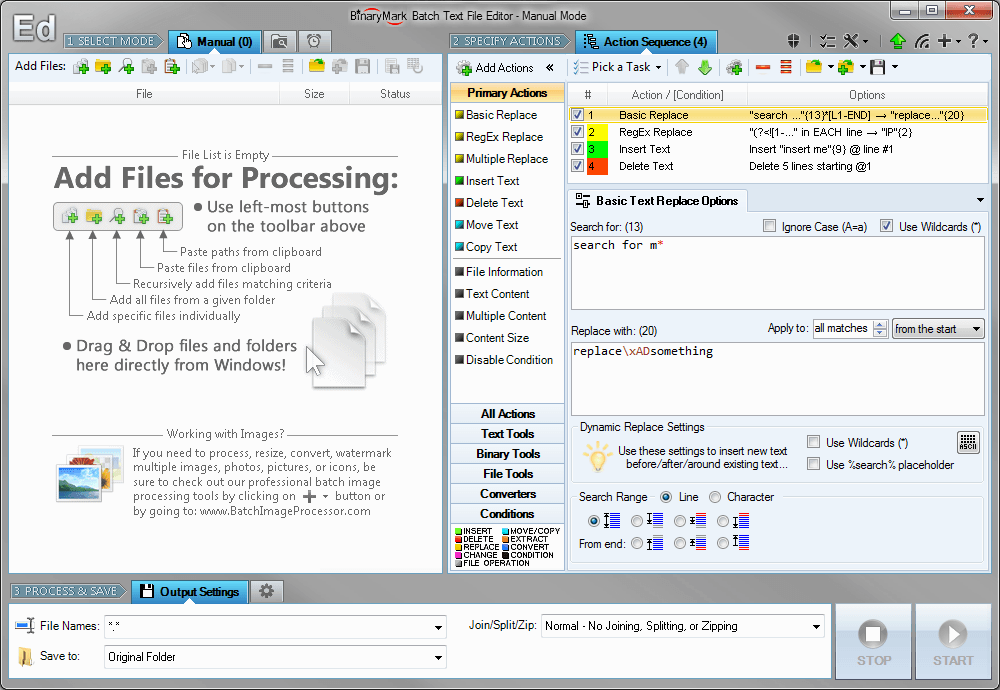 Batch-Notepad that can replace, insert, delete, copy, and move text in multiple files in bulk! Complete RegEx support with colored syntax highlighting and RegEx match substitutions. Multi-line replace lets you search for and replace text spanning multiple lines. Wildcards, case sensitivity, and match counting options can refine your search! Insert new text at specified line number, character position. Delete, copy, move specified text blocks.
Mehr…