Kategorie Sicherheit & Datenschutz / Heimliche Überwachung
Classroom Spy Professional
Version: 4.2.2 | Shareware (99,95 USD)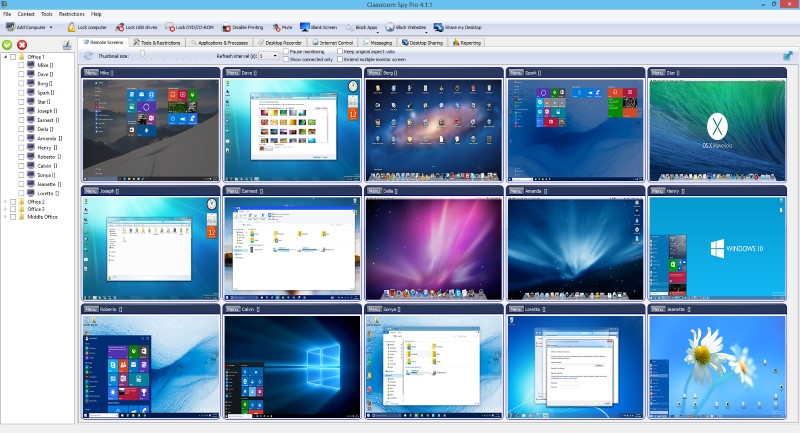 A simple and powerful classroom management software that allows you to see live screens of student computers or show you screen to students. You can take control of a remote computer by controlling the mouse and keyboard. Additionally you can also record student's screens. Several tools allow you to turn off, restart, hibernate.... remote computers with one click. Starting program on remote computers is easy.
Mehr…
Inside Keylogger
Version: 4.7 | Shareware (17,95 USD)
Inside Keylogger records all activities performed on a remote computer and sends reports to a specified email address. It provides a complete image of a machine, recording everything from keystrokes, to chat conversations, printing, application monitoring, internet activity, modified files/folders, clipboard operations and captures screenshots. Inside Keylogger runs stealthy, and has a password and hot key protection for enhanced security.
Mehr…
Wiretap Professional
Version: 6.0 | Shareware (49,95 USD)
Wiretap Professional Stealth PC monitoring software lets you capture and record virtually everything on a PC including: all keystrokes typed, passwords entered, incoming & outgoing emails, instant messages (AIM/ICQ/MSN/Yahoo), all websites visited, apps started and more! Screenshot feature let's you see exactly what the user's desktop looks like at any time! Plus, email or ftp the logs & screenshots to anywhere in the world. All in total stealth!
Mehr…
LanAgent Standard
Version: 4.3.15 | Shareware (49,90 USD)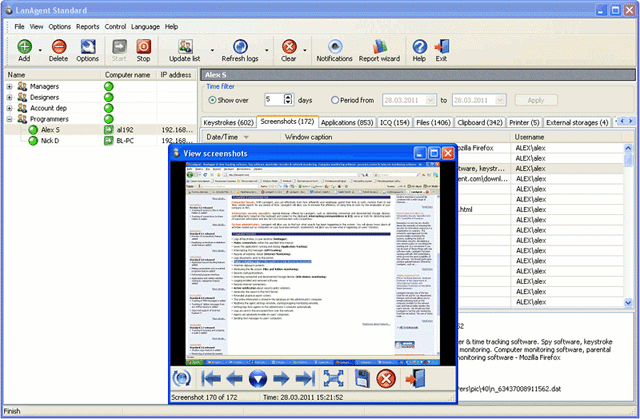 LanAgent ist ein leistungsstarkes Werkzeug, dass alle Handlungen eines entfernten Computerbenutzers kontrolliert. Das Programm registriert verschiedene Arten von Daten, die Ihnen auf Anfrage sofort zugesandt werden: betätigte Tasten; hergestellte Verbindungen; besuchte Websites; geöffnete Programme, Dateien oder Verzeichnisse; Zwischenablage-Inhalt usw. Stellt ausführliche Berichte über Tätigkeiten innerhalb bestimmter Zeitperioden zur Verfügung.
Mehr…
SpyMyPC PRO
Version: 5.6.21 | Shareware (49,95 USD)
An ideal spy software package to monitor online and offline computer activities. This computer monitoring software runs invisible and records what your employee, child or other users do on the computer. The completely invisible and hardly traceable key logger will tell you when, how and what they did on the Internet. The program can send you reports via e-mail. You will have access to all e-mail written by your kids and all their passwords.
Mehr…
SpyMyPC
Version: 5.0.3 | Demo (29,95 USD)
SpyMyPC Keylogger is a covert surveillance tool made for everybody! With this key logger you can receive their keystrokes, IM chats, websites, passwords by email. Covert remote surveillance - as easy as never before! Some applications of the keylogger: parental control; stealth monitoring of your spouse, internet friends etc. It is virtually undetectable. SpyMyPC Keylogger can be used locally and/or remotely. Monitor any PC from anywhere!
Mehr…
StatWin Professional
Version: 9.0 | Shareware (59,00 USD)
StatWin Professional lets you monitor and analyze all aspects of computer performance and user activity, such as system start and shutdown time, running processes and applications, visited websites, access to shared resources from LAN, printer usage. It can also capture keystrokes, mouse clicks and screenshots. Also the user can schedule time slots within which a user can run applications and also set the reaction to specific actions of the user.
Mehr…
Elite Keylogger
Version: 6.0 | Shareware (59,00 EUR)
Elite Keylogger will record all keystrokes typed, staying completely undetectable to users! Elite Keylogger lets you know what was typed (passwords, logins, addresses, names), in which applications, and who typed it. Thanks to Elite Keylogger you can easily protect your children from dangerous online relationships, learn what your spouse is searching for online, or know what your employees are doing on the Internet
Mehr…
Secure Clean PC
Version: 2.4 | Shareware (59,00 USD)
When you work on your computer it records the information traces of all your actions which may be used against you. When you log in next time, you don't need to type again the user names, passwords, credit card information, and so on. The information that you may consider as confidential is kept on your computer unprotected and may be recovered by people with some minimal computer knowledge. Remove unwanted evidence from PC for security!
Mehr…
Advanced Keylogger
Version: 1.7 | Shareware (34,95 EUR)
Advanced Keylogger is a completely stealth keylogger, that records every keystroke, including passwords and logins, to encrypted easy-to-understand logs and can send reports secretly to your email or any number of other e-mails, specified by you. Advanced Key Logger monitors Internet activity by logging all visited web-pages. It makes screenshots in a stealth mode, monitors text/graphics cut and copied to the clipboard and more.
Mehr…
Personal Inspector
Version: 6.20 | Shareware (49,00 USD)
Personal Inspector is an easy-to-use employee monitoring/parental control tool that monitors all computer activity and Internet use. It can automatically track visited web-sites addresses, record all keystrokes and passwords, save clipboard contents and take screenshots of the desktop and working application windows. All collected data is stored in a secret directory on the local computer and can be accessed anytime from this machine or via LAN.
Mehr…
Elite Keylogger
Version: 6.0 | Shareware (59,00 EUR)
Elite Keylogger will record all keystrokes typed, staying completely undetectable to users! Elite Keylogger lets you know what was typed (passwords, logins, addresses, names), in which applications, and who typed it. Thanks to Elite Keylogger you can easily protect your children from dangerous online relationships, learn what your spouse is searching for online, or know what your employees are doing on the Internet
Mehr…