Kategorie Audio & Multimedia / CD-Brenner
FinalBurner FREE
Version: 2.24.0.195 | Freeware
FinalBurner is a freeware alternative to expensive CD and DVD burners. Its users will benefit from the opportunity to create data, audio, and video disks and burn them onto any type of media, such as CD R/RW, DVD+R/RW, DVD-R/RW, DVD DL. No tedious or confusing configuration needed. You just select a few main settings and start burning. FinalBurner's artificial intelligence will find the perfect recording balance.
Mehr…
Complex Evolution
Version: 5.1.3 | Shareware (29,95 USD)
This slim application enables easy creation of all type CD/DVD/Blu-Ray/HD-DVD. Complex Evolution combines all the elements of professional CD recording, including a support for multi-session disks, creation of bootable disks, buffer underrun protection, test writing, optimal power calibration, etc. All this is delivered in one skinable user interface to please your eye.
Mehr…
Paragon Easy CD-DVD Recorder
Version: 3.0 | Freeware (24,95 USD)
Easy CD/DVD Recorder makes recording files and folders to CD/DVDs as simple, convenient and quick as possible. At 3 clicks you can burn all necessary data to CD/DVDs. You need to just select files and folders you would like to record and press the button "Start". Burning CDs and DVDs looks absolutely similar. No complex terms, no technical details, no need to look through many strange windows trying to understand what is what.
Mehr…
CommandBurner
Version: 3.5.0 | Freeware
CommandBurner is free CD/DVD burning software utility that can be executed from the command line, making it suitable for integration with programs, scripts and batch files. There is also a simple, user-friendly interface available. Users can access a comprehensive Help File via the command line or through the interface for instructions on how to use CommandBurner.
Mehr…
WMA WAV MP3 to Audio CD Maker
Version: 1.1.0 | Shareware (15,00 EUR)
WMA WAV MP3 to Audio CD Maker is an powerful and simple-to-use application that allows you to create standard Audio CDs from existing audio files. Burn your favorite WMA MP3 WAV and OGG songs to create customized audio CDs for your listening pleasure. You can then enjoy them in your portable CD player or car CD player. With No additional temporary disc space required!
Mehr…
Ultra MP3 to CD Burner
Version: 1.6.0 | Shareware (19,00 USD)
Ultra MP3 to CD Burner is a simple and easy-to-use Music CD burning software for Windows. With this burning program you can create high-quality audio CDs which is playable on your CD stereo. Ultra MP3 to CD Burner supports MP3 WAV WMA OGG audio format. supports CD-R, CD-RW disc, supports all CDRs. High-Speed burner engine inside and very easy to use.
Mehr…
JoyceCD
Version: 2.1 | Shareware (24,50 USD)
Are you tired of CD and DVD burning utilities that require a PhD in Computer Science to operate?
JoyceCD is a simple, common sense data, audio and photo CD burning utility that is free of annoying dialog windows and endless confirmation requests. In fact, this application is so simple - anyone can use it right away. In addition, the program features an image viewer, which comes in very handy and is very popular among the digital camera owners
Mehr…
CDH Media Wizard
Version: 11.0 | Shareware (39,95 USD)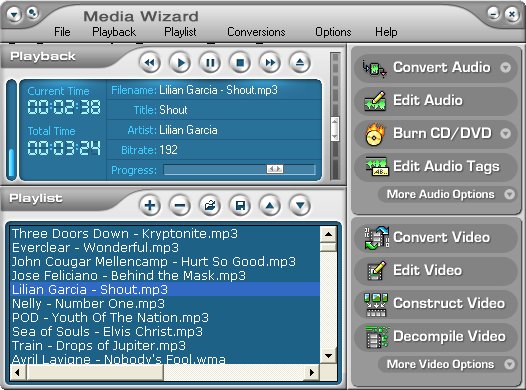 Powerful, yet easy to use, all-in-one audio and video converter, editor, recorder, audio/data CD/DVD burner, VCD burner, video constructing/decompiling/processing, playback, and much more! Supported conversions include: CD to WAV/MP3/WMA/OGG, WAV to MP3/WMA/OGG, MP3 to WAV/WMA/OGG, WMA to WAV/MP3/OGG, OGG to WAV/MP3/WMA, audio CD burning from WAV/MP3/WMA/OGG, WAV/MP3 Compression; and two-way conversions among MPEG-1, MPEG-2, AVI, WMV, FLIC, etc.
Mehr…
Express Burn Brennprogramm Mac
Version: 6.07 | Shareware (55,99 USD)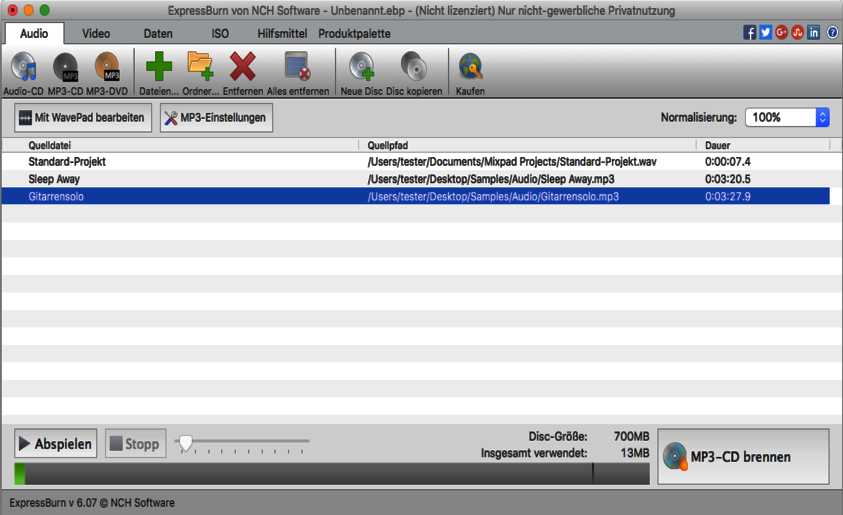 Mit Express Burn Plus für Mac OS X eine MP3- oder Audio-CD brennen und später auf einem Lesegerät für Discs oder CD-Player abspielen. Sie können Audio, Video und Daten auf Blu-Ray, DVD und CD brennen. Dieses Brennprogramm unterstützt eine Reihe an Formaten, einschließlich WAV, MP3, FLAC, WMA, OGG und viele mehr. Beim Brennen von Audio-CDs können Sie die Lautstärke normalisieren und Pausen zwischen den Titeln individuell anpassen.
Mehr…
Express Burn Kostenloses Disc-Brennprogramm
Version: 6.07 | Freeware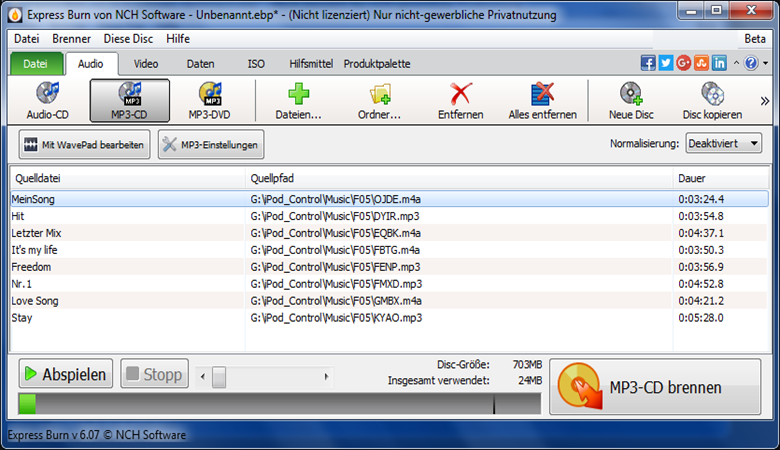 Die kostenlose Version von Express Burn ist ein extrem schnelles CD- und DVD-Brennprogramm. Sie können in Express Burn vor dem Brennen Kapitel zu DVDs hinzufügen oder die Audiopegel normalisieren. Dieses Brennprogramm unterstützt eine Reihe an Audioformaten, einschließlich WAV, MP3, FLAC, WMA und mehr.
Mehr…
ISO Workshop
Version: 7.4 | Freeware
ISO Workshop is a free application specifically designed to facilitate disc image management, conversion and burning operations. The program has a very simple user interface and enables you to extract specific files and folders from disc images, create disc backups by copying disc contents to an ISO or BIN image file, convert different disc image files into the ISO or BIN format and, of course, burn ISO and CUE images to blank discs.
Mehr…
True Burner
Version: 4.3 | Freeware
True Burner is a compact, easy to use and powerful burning software, which enables you to make and burn standard, multisession and bootable CD, DVD, Blu-ray Disc with various file systems, including ISO 9660 and UDF. With True Burner you can create Data and MP3 Discs, DVD-Video.
Mehr…