Kategorie Entwicklung / Debugging
USB Monitor Protocol Analyzer
Version: 6.43.00.4475 | Shareware (49,99 EUR)
Software USB Portsauganleger, Monitorwerkzeug mit Protokollanalysator und Datenlogger. Dieser Universalserienbus, der Dienstprogramm überwacht, kann die usb Vorrichtung Tätigkeit ausspionieren, gefangennehmen, ansehen, loggen, analysieren, prüfen, die Anschlußverkehrsauswertung mit Datenerfassung und Steuerung durchführt. Sie können dieses USB aquisition System als Anschluß, Modemdatenübertragungprojektor, Paketanalysator
Mehr…
Deleaker
Version: 3.0.10 | Shareware (99,00 USD)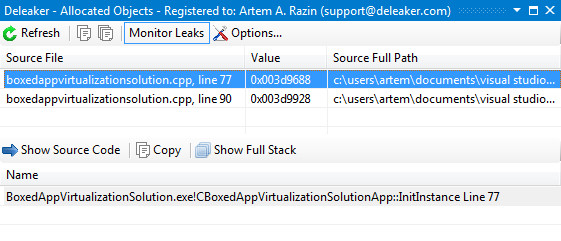 Deleaker is a helpful extension for Visual Studio 2005, 2008, 2010, 2012, 2013 that lets you detect resource leaks in memory, GDI objects, handles, etc. Deleaker provides a full stack for all detected objects and allows you to easily localize them in the source code. Deleaker is tightly integrated into the Visual Studio development environment and does not cause any appreciable slow down to your application.
Mehr…
Advanced USB Port Monitor
Version: 2.7.1.629 | Shareware (49,95 EUR)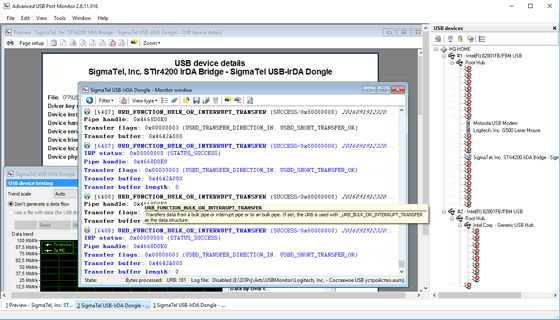 A USB Bus, Device and Protocol Analyzer with the robust functionality to capture and process USB traffic. It offers sophisticated viewing and searching to accurately and efficiently debug and test High (480Mbps), Full (12Mbps) and Low (1.5Mbps) speed USB devices. Advanced USB Port Monitor design enables users to use it with any USB device, extending beyond the lab environment with advanced user's tools.
Mehr…
Serial Monitor Protocol Analyzer
Version: 6.43.00.4475 | Shareware (49,99 EUR)
Schnittstellemonitor Software. Analysator des Protokolls Rs232 und Datenlogger. Dieses überwachendienstprogramm kann ausspionieren, gefangenzunehmen, anzusehen, zu loggen, analysiert, die Test-COM Tortätigkeit, die COM Portanschluß und Verkehrsauswer
Mehr…
RapidDriver
Version: 2.1.5.1 | Shareware (349,00 USD)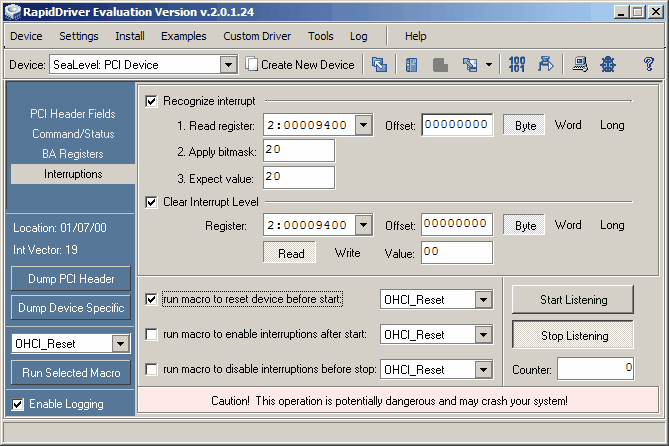 Hardware Developers: Insert your USB/PCI/ISA PnP device and perform various operations from GUI interface: read USB descriptors, perform USB pipes operations, read PCI registers, handle interruptions, control Parallel and Serial Ports. Software Developers: Create your own applications based on our classes and PnP USB/PCI/ISA drivers and distribute these applications without having to pay royalties.
Mehr…
Advanced Virtual COM Port
Version: 3.0 | Shareware (79,99 USD)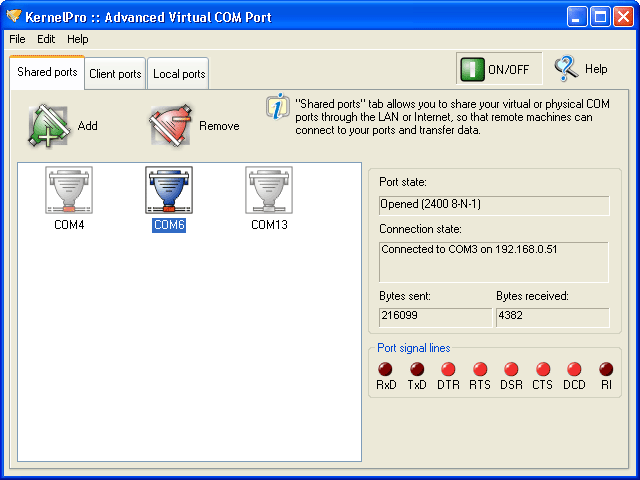 Advanced Virtual COM Port is the first software of its kind which includes both local and network virtual COM port functions. It can share your real COM ports or create virtual COM ports and connect them with a virtual null-modem cable locally or through the network. You can connect to a shared port and use it just like it is on your machine. Virtual serial ports created by the program look and work the same way real ones look and work.
Mehr…
Free Serial Port Monitor
Version: 3.31 | Freeware
Freier Schnittstellemonitor der Software, COM Rs232 Sauganleger mit Kommunikation Paket-Datenanalysator. Dieses überwachendienstprogramm kann ausspionieren, gefangenzunehmen, anzusehen, analysiert, die Test-COM Tortätigkeit, die COM Portanschluß und Verkehrsauswertung durchführt
Mehr…
Shell Reset
Version: 1.2.0.161 | Shareware (15,00 USD)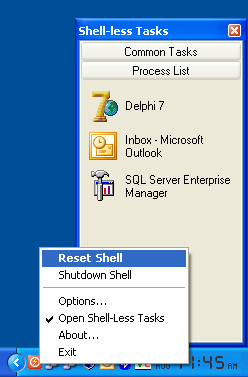 Debugging of Shell extensions is a simple process, but some things still made developers "unhappy":
* DLL's are locked by applications (for caching purposes) and you are unable to recompile your project
* You need to use Registry Editor to modify hidden Windows Shell setting
* Sometimes you don't have access to some Explorer features while debugging your Shell Extension
ShellReset utility solves these problems.
Mehr…
BB TestAssistant Pro
Version: 4.1.4.2665 | Shareware (144,20 EUR)
BB TestAssistant is a new type of program that aids software testing. It records video, sound, keystrokes and mouse activity on the target PC, making it into a movie that's easy to view and distribute. Improve communications by giving developers a visual record of exactly what happened. Makes perfect recordings with minimal impact on PC performance. Download now and see how easy it is to get started.
Mehr…
PE Explorer
Version: 1.99 R6 | Shareware (129,00 USD)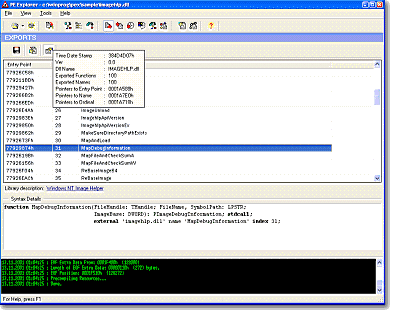 PE Explorer provides software engineers the necessary tools for disassembly and inspection of unknown binaries, modifying the properties of executable files and customizing and translating their resources. With PE Explorer, you can apply a professional approach to research and reverse engineering of win32 PE executables. PE Explorer comes with a Resource Editor, Exported/Imported API Function Viewer, API Function Syntax Lookup and a Disassembler.
Mehr…
TCP COM Bridge
Version: 1.6.0.728 | Shareware (39,95 EUR)
TCP COM Bridge is a utility program that works as an RS232-TCP/IP software converter and allows to forward data from a physical or virtual COM port to an Ethernet network. Using this program, you can turn any computer into a "serial device server." TCP COM Bridge lets you create a connection between two COM ports on two different computers, even via the Internet. This way, you can build distributed data collection systems using legacy software.
Mehr…
Test Management Software Zeta Test Management
Version: 4.0.12.0 | Freeware
Test Management Software for test plans, test cases with integrated test management environment that enables you to perform black-box tests, white-box tests, regression tests or change management tests of software applications. Zeta Test Management helps you to plan, perform, log, monitor and document the tests, and then to evaluate the test results. Test your software with test scripts that you created with Zeta Test Management.
Mehr…