Kategorie Grafik / Animation Tools
Mix-FX Flash Animations and Buttons
Version: 1.042 | Shareware (27,00 USD)
Mix-FX is a Flash TEXT EFFECT and flash BUTTON and BACKGROUND effect creator. With Mix-FX, you can create hundreds of different effects. Change sizes and colors and you have millions of possibilities! Load the effect you just created into Flash, into your PowerPoint presentation, directly onto your website, into your video editing software or for professional broadcasting. Putting animated effects on your website has never been easier.
Mehr…
CoffeeCup Animation Studio
Version: 2.3 | Shareware (39,00 USD)
Create animated graphics that demand the attention your website deserves. Build brand new ones from scratch, or open one you found to edit each frame and make your own adjustments. Open a wide variety of file types, including WIF: our very own vector format that makes creating frames way easier than ever before. Top that off with a built-in image editor for final touch-ups, and you've got the image animator that truly has it all.
Mehr…
CoffeeCup Flash Firestarter
Version: 7.3 | Shareware
CoffeeCup Firestarter is a fast and easy way to make Flash effects for your Website. It can create complex text and image effects with only a few clicks of the mouse. You can make splash pages, navigation systems, graphic logos, and much more. Firestarter has more than 50 built-in, ready-to-use effects, including assemble, explode, and fade; a collection of cool MP3 sounds; a built-in sound editor for fades, echo, and reverse; and more.
Mehr…
Reallusion Effect3D Studio
Version: 1.1 | Shareware (99,95 USD)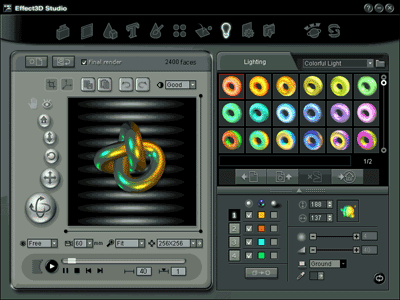 Create stunning 3D animated graphics from hundreds of backgrounds, 3D objects, rendering effects, material settings, and lighting and animation effects. Plus manually adjust various settings and parameters to achieve your desired result.
Create 3D text objects simply by typing in text, create 3D photo objects from your own 2D photos & images, import any 3D object in the popular 3DS format or select from the huge gallery of over 750 3D objects.
Mehr…
Reallusion Effect3D
Version: 1.1 | Shareware (39,95 USD)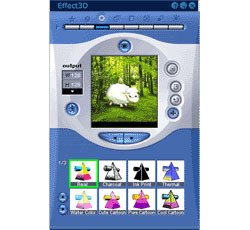 Effect3D is a powerful editing tool that lets you create professional looking 3D objects, add animation, and use a wide range of 3D effects. Effect3D's Power Wizard does the work for you, so whether you're a novice or a Webmaster you'll be producing stunning artwork in minutes.
Mehr…
Reallusion CrazyTalk Web Edition
Version: 3.5 | Shareware (79,95 USD)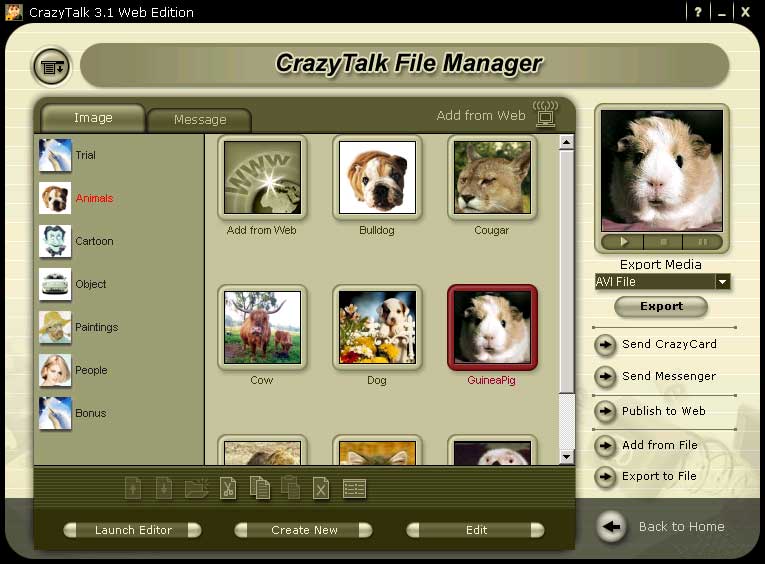 Make animated, speaking photos in minutes with CrazyTalk. Images are brought to life by displaying emotions and lip-synching with your own voice, imported audio or text messages. You can even apply different facial expressions to single words, sentences or the entire message to add more realism.
CrazyTalk Web Edition includes additional features for creating interactive content for your Web site. ActiveX, WMV, RM.
Mehr…
Animate Me!
Version: 2.2 | Shareware (27,00 USD)
Animate Me! creates GIF and AVI animations on the base of predefined effects (such as moving objects, small particles, running text, wave, shake, appearance, explosion, changing brightness). You define sequence and parameters of separate effects to get peerless animations quickly and easy. Animate Me! can optimize GIF to make it smaller and export animation to AVI- files. Batch mode and internationalization will make you work easier.
Mehr…
Active GIF Creator
Version: 4.2 | Shareware (39,00 USD)
Mit diesem Programm lassen sich komfortabel animierte GIF-Dateien erstellen, wie sie häufig im Internet Verwendung finden.
Dabei werden unter anderem folgende Features geboten:
- importierbare Dateitypen: BMP, JPEG, ICO, PCX, PSD und WMF
- integrierter Bild-Editor
- Import von Frames aus anderen GIF-Dateien
- viele Funktionen, um GIF-Frames zu ändern
- globale Parameter für GIF-Dateien
Mehr…
MakeGIF
Version: 2.5 | Shareware (23,00 USD)
MakeGIF creates animated GIFs from command line in batch mode. It is a visual command line processor. You can use pictures created by MS Paint, Adobe Photoshop etc. MakeGIF has optimization tools for making your GIFs smaller. You can add hidden signatures to your GIFs to protect them from unauthorized use on the Web and check presence of your signature. Also you can create GIFs with fixed sizes (for example, for mobile phone screens).
Mehr…
Panoramide
Version: 1.2 | Shareware (119,00 EUR)
Panoramide ist eine Software zum Erstellen von 3d-Animationen von realen Objekten, Personen und Landschaften. Keine speziellen Informatik-Kenntnisse notwendig. In nur wenigen Minuten haben Sie Ihre Animation erstellt. Kein Plug-in notwendig.
Mehr…
Advanced GIF Animator
Version: 4.6.12 | Shareware (29,95 USD)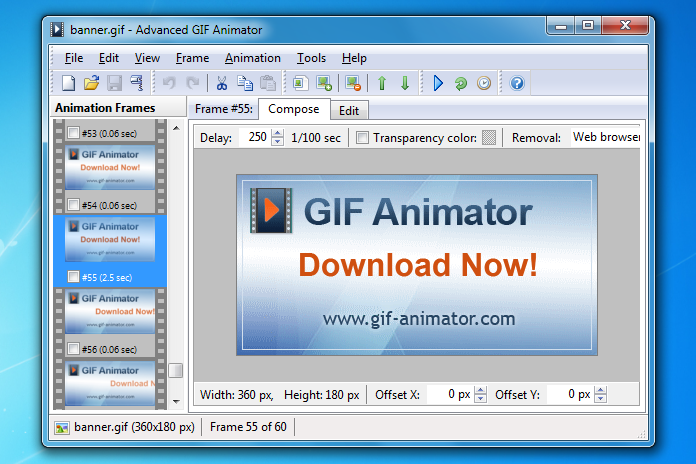 Advanced GIF Animator is a powerful animated GIF maker tool. With this outstanding software, you can create pictures, banners, buttons, and even movies. You can use the built-in image editor or any stand-alone graphics editor to create image files that will be assembled into a GIF animation. Key features: built-in image editor, palette optimization, image size reduction, and multi-language support.
Mehr…
AquaSoft DiaShow XP five
Version: 5.7.02 | Demo (29,90 EUR)
Professionelle Diashows und Fotoshows erstellen für DVD-Player und PC. Bilder drehen, überblenden, zoomen, animieren mit Kameraschwenks und Bewegungspfaden. Hochauflösende WMV-Ausgabe, Multicore-Unterstützung, Texteffekte mit Unicode, Timeline mit beliebig vielen Spuren. Der DiaShow-Master erstellt Diashows aus Themenvorlagen mit 3 Klicks und ist leicht zu bedienen.
Mehr…