Kategorie Grafik / Animation Tools
AVI Slide Show
Version: 1.7.17.17 | Shareware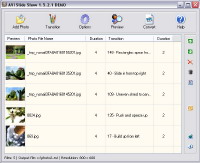 AVI Slide Show is an easy-to-use tool to convert digital photos to video and create stunning slide shows with transition effects.
The main features include:
- Convert digital photo to AVI file
- Provide dozens of transition effects (170+)
- Support photo format: JPEG (JPG), BMP, GIF, TIF, PCX, PNG, WMF, EMF, TGA, DCX, RAW (CRW, NEF ...), PSD
- Open compression system for video
- Output AVI file with higher resoluti than DVD
Mehr…
Easy 3D Objects
Version: 2.3 | Shareware (35,00 USD)
Easy 3D Objects is intended for creation of 3D GIF- animations, banners, illustrations for the Web and presentation materials. You can: use different types of objects: dummy cube, sprite, plane, disk, cube, frustum, sphere, cone, cylinder, annulus, torus, arrow line, space text, mirror; assign animation paths to objects; fill objects by color or texture; form group of objects; edits parameters of objects; save created project.
Mehr…
FaceMorpher
Version: 2.51 | Shareware (39,95 USD)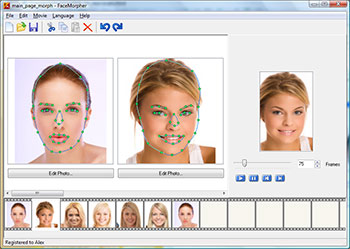 Morphing is the process of creating a smooth animated transition from one picture to another. FaceMorpher turns face morphing into real fun. The program guesses the basic spots automatically. You can tune up the spots if you wish. In most cases the automatically guessed spots produce animation that is perfectly acceptable for amateur videos or web graphics. Fast, simple, effortless and inexpensive. MORPH THEM ALL!!!
Mehr…
VirtFire
Version: 1.2 | Shareware (19,95 USD)
Make your web site or even a simple HTML page more attractive with a superb effect that makes your messages fly from the fire! You are able to use virtual fire for generating words and moving words in any direction! You don't need to know Java or HTML. You just customize the applet with the visual interfaces and you get what you need.
Mehr…
Nature Illusion Studio
Version: 3.60 | Shareware (24,95 USD)
Transform your vacation pictures into living nature sceneries with Nature Illusion Studio..Nature Illusion Studio allows you to apply various effects such as water, weather, animated objects, or sound effects on any image to emulate various natural phenomena..With the combination of both visual and sound effects, Nature Illusion Studio can produce very realistic animated nature scenes such as waterfalls, lakes, or seas.
Mehr…
Easy 3D Creator
Version: 3.0 Freeware | Freeware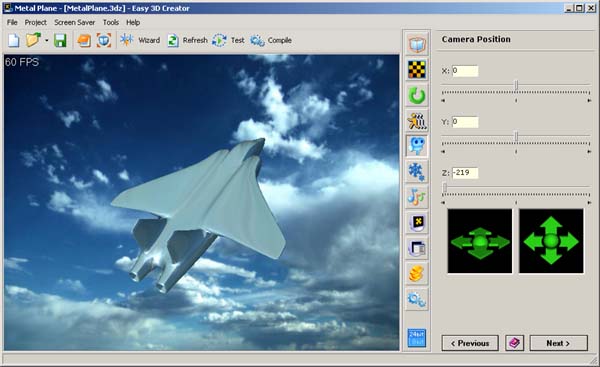 With Easy 3D Creator you can create stunning 3D screen savers in a few minutes with no programming. All you need is to set some parameters that determine your screen saver's appearance and behaviour in step-by-step mode, seeing the result immediately. The program can automatically wrap the screen saver into installer and prepare it for distribution. It can also generate sellable time-limited shareware screen savers.
Mehr…
3D Virtual Figure Drawing Studio Male
Version: 1.071 | Shareware
Makes learning Figure Drawing fun,easy and affordable. Developed by artists for artists.Leonardo da Vinci , Michealangelo, Donatello just to name a few. All of them started out by first mastering the basics of basic in drawing the human form. Figure Drawing! Virtual Figure Drawing Studio is developed by artist for artist just for this purpose. With thorough knowledge in this rare form of art, the developer has put in what is needed to ...
Mehr…
Easy GIF Animator
Version: 6.2 | Shareware (29,65 USD)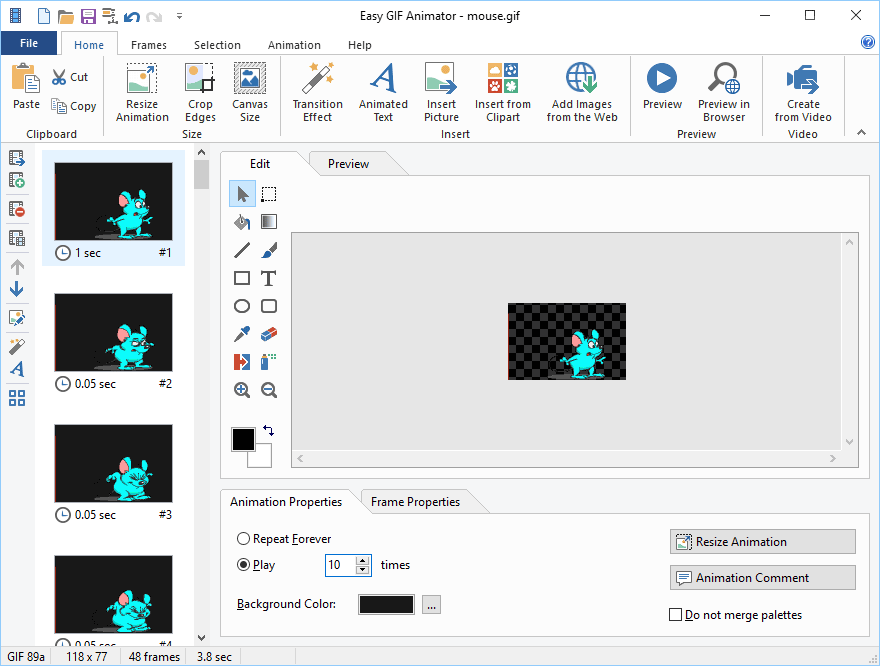 Easy GIF Animator is powerful yet very easy to use software for creating and editing animated GIF images. With this animated GIF editor you can easily create animated pictures, banners and buttons in no time. You can use special features to add stunning visual effects, reduce file size and prepare your animation for publishing on your web page. You can also create animated GIF from video files.
Mehr…
FaceMorpher Lite
Version: 2.5 | Freeware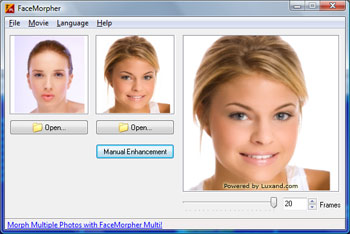 Imagine your home video enhanced with stunning effects. Filmed a wedding? Try to morph the bride into a little girl and vice versa, or morph the groom and the bride together to see how their kids will look. Amuse your friends morphing them into political celebrities, movie superstars or popular musicians. FaceMorpher is the first fully automated image morphing software on the market. No skills required! Simply load two images and play!
Mehr…
Magic ASCII Studio
Version: 2.2.288 | Shareware (29,95 USD)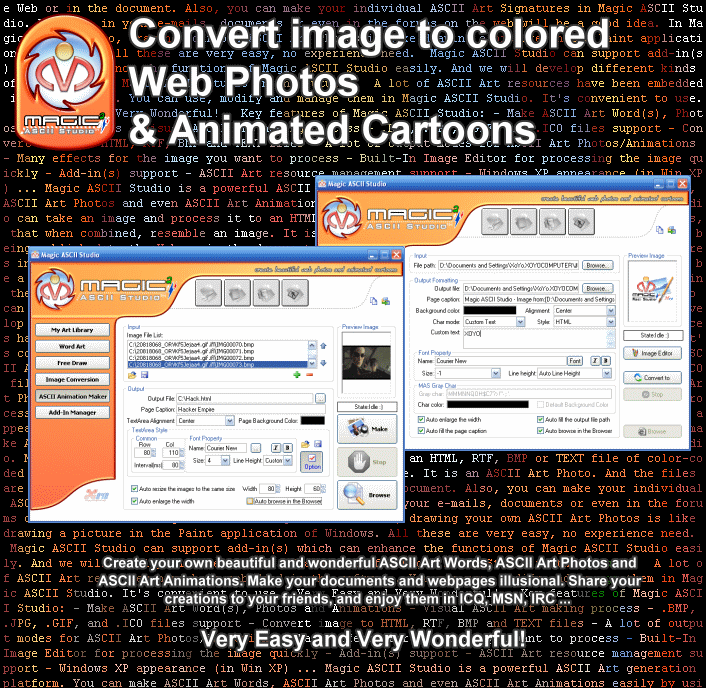 Magic ASCII Studio is a powerful ASCII Art generation platform. You can make ASCII Art Words, ASCII Art Photos and even ASCII Art Animations easily by using Magic ASCII Studio. Magic ASCII Studio can take an image and process it to an HTML, RTF, BMP or TEXT file of color-coded text characters, that when combined, resemble an image. In Magic ASCII Studio, drawing ASCII Art Photos is like drawing a picture in the Paint application of Windows.
Mehr…
DemoCharge
Version: 2005 | Shareware (49,95 USD)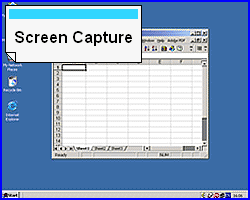 Create animated emails, documents and Help files by replacing static screenshots with GIF animations recorded by capturing your desktop. DemoCharge allows you to capture screen activity to create animated demos and content for the Web, emails, tutorials, presentations, training materials, product documentation, support forums, and knowledge base articles. After recording, generate the animated GIF demo (Flash MX and Java Applet in Pro version).
Mehr…
Mix-FX Flash Animations and Buttons
Version: 1.042 | Shareware (27,00 USD)
Mix-FX is a Flash TEXT EFFECT and flash BUTTON and BACKGROUND effect creator. With Mix-FX, you can create hundreds of different effects. Change sizes and colors and you have millions of possibilities! Load the effect you just created into Flash, into your PowerPoint presentation, directly onto your website, into your video editing software or for professional broadcasting. Putting animated effects on your website has never been easier.
Mehr…