Kategorie Sicherheit & Datenschutz / Sonstige
Protect Folders
Version: 1.0 | Shareware (39,95 USD)
Protect Folders ist ein Programm für private und geschäftliche Computeranwender , das Ihre Ordner mit Ihrem persönlichen Passwort schützt. Dabei ist der Zutritt zu den gesperrten Ordnern nur durch korrektes Passwort möglich. Protect Folders ist sehr benutzerfreundlich. Sie starten das Programm und klicken "Lock Folder", dann wählen Sie den zu schützenden Ordner und das Passwort. Protect Folders unterstützt Windows 7, Vista, XP, NT, 98, ME.
Mehr…
Password Generator for Windows
Version: 4.1 | Shareware (19,95 USD)
Ihre Passwörter sind schwach, wenn sie Ihre persönlichen Daten enthalten (zum Beispiel, Ihre Familienname oder Geburtsdatum). Solche Passwörter sind leicht genug zu erraten. Password Generator erstellt für Sie sichere Passwörter. Sie wählen die gewünschte Zahl der Zeichen und, welche Zeichen Ihr Passwort enthalten soll: große oder kleine Buchstaben oder Ziffern, oder deren Kombination. Password Generator unterstützt Windows Vista, XP, NT, 98.
Mehr…
SecuWipe for Smartphone
Version: 1.0 | Shareware (39,95 USD)
Erase data from your Smartphone. Wipe contacts, email, SMS, temporary files, browsing history, files and memory cards. The program employs different data sanitizing algorithms, including zero-filling, U.S. DoD 5220.22-M met hod, Bruce Schneier's algorithm, and Peter Gutmann's algorithm.
Mehr…
SecuWipe for Pocket PC
Version: 1.1 | Shareware (39,95 USD)
SecuWipe ist eine Softwarelösung, um nutzlose und private Dateien von Ihrem System zu entfernen und damit Ihre Privatsphäre auf dem Pocket PC zu schützen.
Mehr…
Falco Watcher
Version: 7.6 | Shareware (29,95 USD)
Digital video monitoring. Allows you to observe by WEB-Camera. You can save by motion detector then view it, convert to AVI file. Very useful when you are out of home and want to see for your childs.
Mehr…
DriveScrubber
Version: 3.9.4 | Shareware (29,95 USD)
Reformatting is not enough. Protect your personal information when you sell, donate, or recycle your computer. DriveScrubber permanently erases your hard drive data, exceeding government and military security standards and ensuring that your private files can?t fall into the wrong hands. Erase the entire hard drive, or wipe just the free space on your hard drive to delete file remnants but leave the operating system and applications intact.
Mehr…
Browser Defender
Version: 2.0 | Freeware
The Browser Defender toolbar allows you to surf safely by displaying site ratings as you browse the Internet.The toolbar also integrates with the search results provided by popular search engines such as Google and Yahoo! so you can see if it is safe to continue before you visit a site.
Mehr…
SurfSolo
Version: 2.0 | Freeware (79,00 EUR)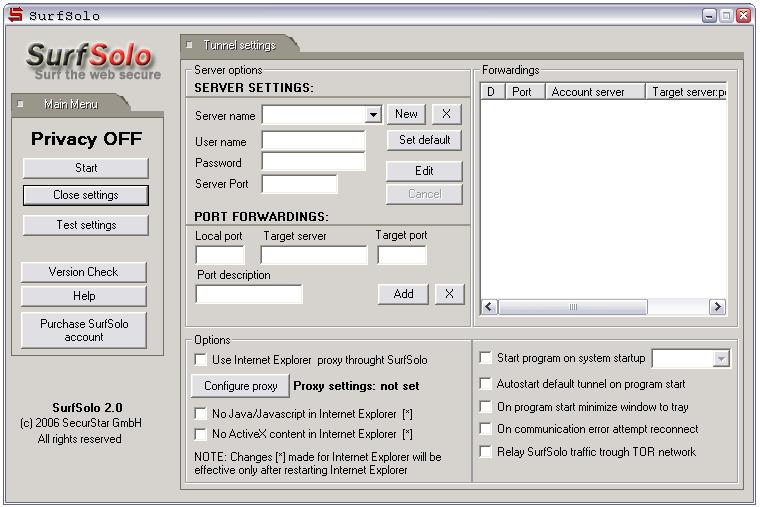 Powerful software that allows the user to get totally anonymous and at the same time protects the data exchange on the Internet.The software provides a direct encrypted link with one of the world wide SecurStar high bandwidth security proxy servers. What makes impossible any kind of IP identification. If someone tries to get you real IP number, it will only recognize Securstar server's IP number, never your's real IP number.
Mehr…
Fast Windows Hider
Version: 5.9.2 | Shareware (9,95 USD)
With Fast Windows Hider you can hide any activities instantly instead of closing or minimizing them. Make one click to completely hide certain activities even from the task bar as they have never been opened. Make one more click to restore them. Hide social networks, games, chats and any other windows you want to keep private.
Mehr…
Word 2007 Password
Version: 1.0.242 | Demo (49,00 USD)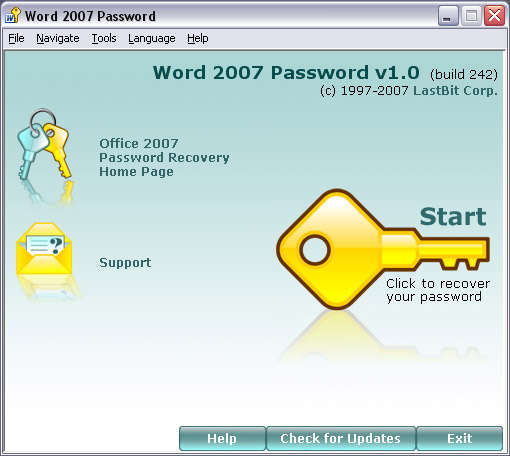 Password recovery tool to decrypt Word 2007 passwords to open. Passwords to open are extremely hard to break in Word 2007. To recover the password, a brute-force attack and a dictionary search must be used. You can use Word 2007 Password program for free to recover the password. If the password cannot be found, you pay nothing. If the password is found, the program informs you and prompts you to pay the Service Fee.
Mehr…
ADScribe
Version: 1.4 | Shareware (99,00 USD)
Leadum ADScribe ist ein Active Directory Dokumentationswerkzeug. ADScribe unterstützt eine grosse Auswahl von Dokumentationsstilen und Produktionsformaten (HTML, CHM, MS Word), Meister und Interface-Linienschnittstellen, alle AD Objektarten, ihre Details und die Eigenschaften, das kundenspezifische Dokumentationsprofil.
Mehr…
Schedule Password
Version: 10.0 | Demo (35,00 USD)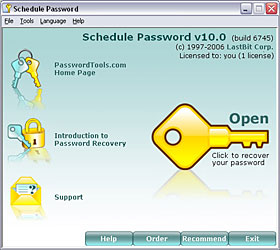 A program for recovering lost or forgotten passwords to files created with Microsoft Schedule. All passwords are recovered instantly.
Mehr…