Kategorie Sicherheit & Datenschutz / Sonstige
Lastbit MD5 Password Recovery
Version: 4.0.1135 | Demo (45,00 EUR)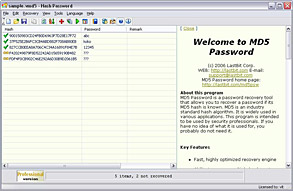 MD5 Password is a password recovery tool that can recover a password if you know its MD5 hash. MD5 Password features highly configurable and fast recovery engine that can process up to 32,000 hashes simultaneously. Key features are Smart Rainbow Tables Recovery, Cloud Password Recovery Service , GPU accelerated recovery, Distributed recovery.Brute-Force Attack, Dictionary Attack, Hybrid Dictionary Attack and Smart Force Attack are supported.
Mehr…
LastBit Money Password Recovery
Version: 12.0.9123 | Demo (45,00 USD)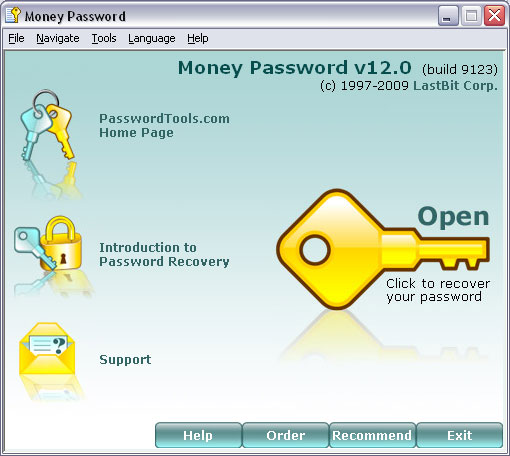 Money Password is a program to recover lost or forgotten passwords to MS Money files (*.mny, *.mbf). Instantly retrieves passwords for MS Money files version 2001 and earlier. MS Money 2002+ protection scheme was significantly improved, so universal recovery methods, such as Brute Force Attack and Dictionary Search, must be used to crack password.
Mehr…
LastBit ICQ Password Recovery
Version: 1.5.305 | Demo (25,00 USD)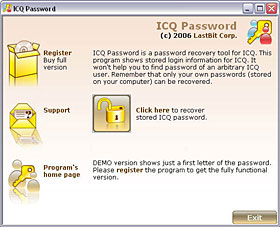 ICQ Password is a password recovery tool for ICQ. Whenever you lose or forget your password for ICQ, make a couple of clicks and you will get a list of all ICQ users on the computer. For each ICQ user, the program will display its nickname, UIN and password. The interface is simple and straightforward, no professional expertise is required.
Mehr…
LastBit QuickBooks Password Recovery
Version: 11.0.7828 | Demo (45,00 USD)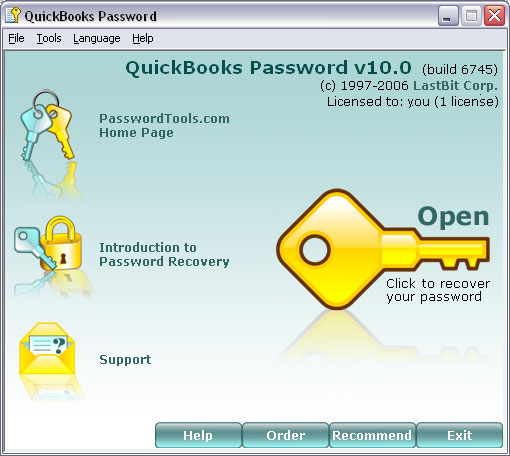 Password recovery tool for QuickBooks files (*.qbw, *.qba). QuickBooks Password resets the password to a known one and restores access to your password-protected file instantly. However the original password will remain unknown. Brute Force Attack or Dictionary Search must be used to find the original password.
Mehr…
LastBit Quicken Password Recovery
Version: 11.0.8050 | Demo (49,00 USD)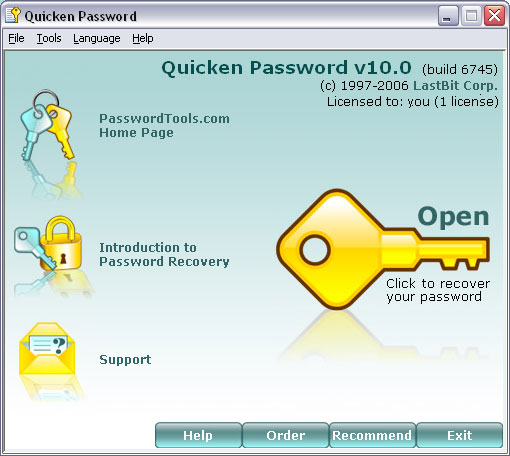 Complete password recovery solution for Quicken. There are two types of passwords used in Quicken: a password for opening a data file and a transaction password. You have to crack the password for opening the file first; then you can recover the transaction password. Brute Force Attack, Dictionary Search and Smart Force Attack methods must be used to decrypt password for opening the file. The transaction password is decrypted instantly.
Mehr…
Access Administrator Pro
Version: 5.104 | Shareware (49,00 USD)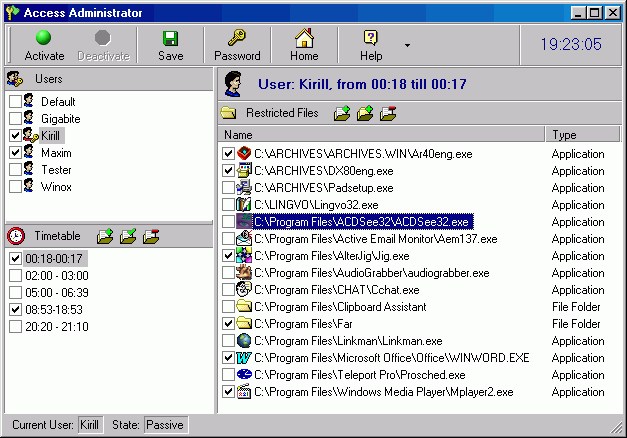 Der Access Administrator Pro sorgt für Sicherheit Ihrer Dateien. Schützen Sie diese komplett oder beschränken Sie den Zugriff auf diese (z.B. können Dateien nicht gelöscht oder geändert werden). User-Zugriffe können darüberhinaus gelogt werden. Die Pro-Version bietet im Vergleich zur Standard-Version noch weitere Features...
Mehr…
WinPassword
Version: 6.0.1509 | Demo (39,00 USD)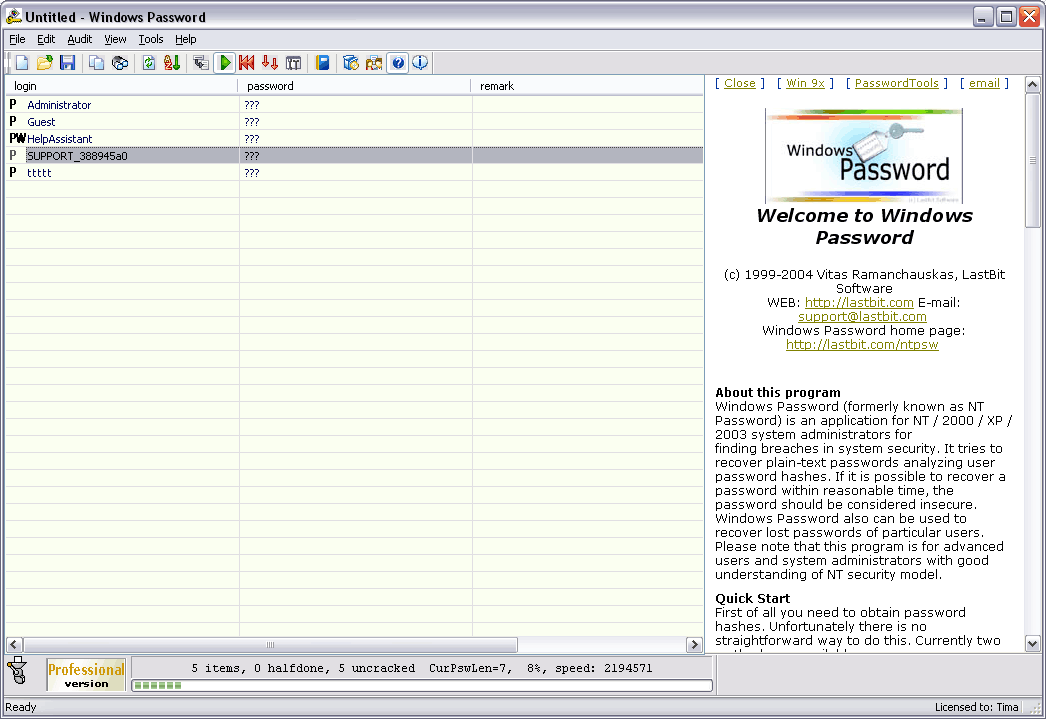 NT/2000/XP/2003 system administrators can use WinPassword to find breaches in system security. The program tries to break plain-text passwords examining user password hashes. If it is possible retrieve a password within reasonable time, the password should be considered insecure. WinPassword uses Smart Table Recovery (TM) based on precomputed recovery tables (rainbow tables) that allows retrieving long and complex passwords quickly.
Mehr…
OpenOffice Calc Password Recovery
Version: 1.0.6 | Shareware (29,95 EUR)
Calc Password Recovery will enable you to recover lost passwords and remove protection from spreadsheets created in OpenOffice Calc. The program supports all types of spreadsheets, recovers all types of passwords and removes all types of protection.
Mehr…
1st Security Agent Pro
Version: 10.0 | Shareware (69,00 USD)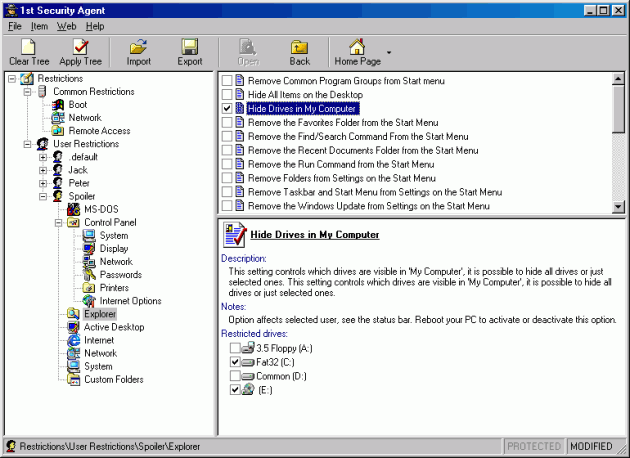 1st Security Agent Pro - kennwort-geschütztes Sicherheit Dienstprogramm für alles Windows. Zugang zur Steuerverkleidung einschränken, Anfangsmenüeinzelteile sperren, Antriebe verstecken, DOS, Aufladung Schlüssel, das Registerredigieren, taskbar, Aufgabe Manager sperren, und Netzzugang, desktop Ikonen des Fells, wenden Kennwortschutz an Windows an und sperren laufende Anwendungen...
Mehr…
TotalRecall
Version: 1.1 | Freeware
A lot of different information about a user's activity is kept within the personal computer. Usually the user does not know about its existence. TotalRecall is a free forensic analysis tools to reconstruct Internet Explorer and user's activity. TotalRecall investigates: MS IE activity, MS IE history, MS IE cookie, MS IE favorites and some user's activity (recent files and folders, not erased temporary files).
Mehr…
RecentCleaner
Version: 1.2 | Shareware (14,00 USD)
RecentCleaner is a personal privacy tool designed to clear recent files lists of various programs. Clearing recent file lists makes it impossible for an intruder to recover any trace of recently accessed files, making it really hard to quickly find private files. RecentCleaner is a plug-in based utility. It supports Word, Excel, PowerPoint, Front Page, Windows Recent, WinZip, WinRar.
Mehr…
Advanced Security Administrator
Version: 14.0 | Shareware (69,00 USD)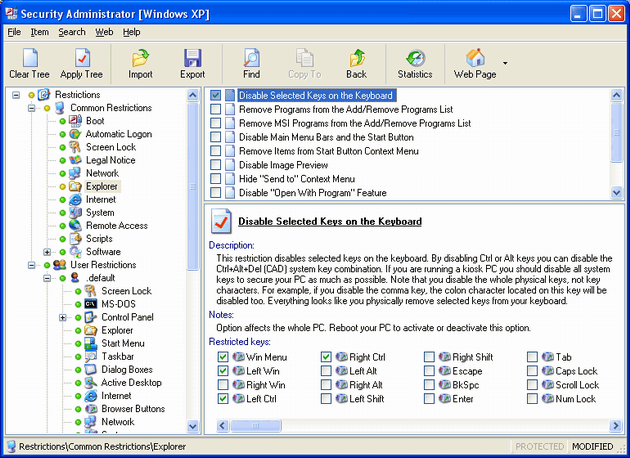 Der Advanced Security Administrator erlaubt das Festlegen von zahlreichen Restriktionen und Beschränkungen auf Benutzerbene. Der Administrator kann dabei festlegen, welche Benutzer einen PC nutzen dürfen und welche Zugangs-Level jeweils verliehen werden. Zahlreiche Rubriken erlauben das gezielte Festlegen von Rechten sowohl für das "kleine" Windows als auch die großen Brüder...
Mehr…