Kategorie Netzwerk & Internet / Netzwerk Monitoring
10-Strike Network Inventory Explorer
Version: 7.5 | Shareware (99,95 USD)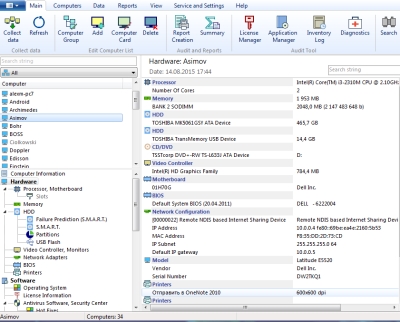 10-Strike Network Inventory Explorer verschafft perfekte Übersicht über Hardware und Software auf allen PCs innerhalb eines Netzwerks. Die Software wurde für Microsoft Windows Netzwerk-Administrator kreiert. Nun ist eine Inventarisierung kein Problem mehr! Alle PCs werden zu der Netzwerk-Datenbank hinzugefügt, Hardware- und Software-Konfigurationen der fernen Computer können angesehen und verfolgt werden.
Mehr…
Internet Administrator for Microsoft ISA Server
Version: 2.6 | Shareware (165,00 USD)
The "Internet Administrator for Microsoft ISA Server" is an integrated solution which allows to control and manage internet access and provides:
- all-round internet monitoring;
- incoming traffic, time and bandwidth control;
- access control to web sites, by protocols, time, queries, words, etc.;
- flexible and powerful content filtering;
- URL category database with more than 3 000 000 web sites;
Mehr…
OidView Pro MIB Browser
Version: 4.0 | Shareware (299,99 USD)
OidView is a MIB Browser and Expert System for SNMP Agent analysis and administration. Supports SNMPv1, SNMPv2c, and SNMPv3. Tools include MIB Browser, MIB Compiler, SNMP Trap Receiver Fault Management Module, OID Poller/Graph Utility, SNMP PDU Trace, Interface (IGRID) tool, Entity-MIB Mapper, and CISCO CLASS-BASED-QOS-MIB (Quality of Service) Browser.
Mehr…
IP Traffic Monitor
Version: 3.3 | Shareware (39,95 USD)
IP Traffic Monitor sits in your system tray and monitors all your network connections. The program shows extensive information about each connection: remote host IP, remote host name (if available), amounts of incoming and outgoing traffic, name of the process that initiated or accepted this connection, etc. It also draws pie chart diagrams showing where your traffic flows. In addition, it includes a built-in TCP packet sniffer.
Mehr…
LogonWatcher
Version: 2.3.1 | Shareware (49,00 USD)
This utility is used to show the names and logon times of users on the entire NT domain, and more ...
Mehr…
Network LookOut Administrator Pro
Version: 4.2.4 | Shareware (69,95 EUR)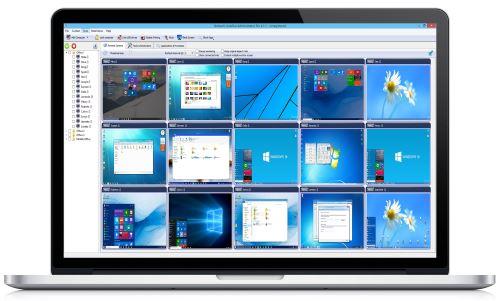 The Network LookOut Administrator Pro allows you to see live screens of remote computers. This way, you can always watch what users are doing on the remote computer. Additionally, you have the ability to take control of a remote computer by controlling the mouse and keyboard; this is especially useful when you need to assist the person who uses the remote computer. If you are an administrator, you can easily administer remote computers.
Mehr…
NetResident
Version: 2.1 | Shareware (299,00 USD)
NetResident is an advanced network content monitoring program that captures, stores, analyzes, and reconstructs network events such as e-mail messages, Web pages, downloaded files and instant messages. NetResident uses advanced monitoring technology to capture the required data from the network, saves it to a database, reconstructs it, and displays this content in an easy-to-understand format.
Mehr…
Shared Monitor
Version: 1.1 | Shareware (29,90 USD)
Shared Monitor is an advanced shared resource monitor and logger. The program sits in your system tray and constantly monitors all the Microsoft Network connections. It allows you to monitor active connections to your resources and browse the historical data. In addition, you can generate HTML reports, set alerts on specific events (for example, when a new computer connects to your resources) and run the program automatically on Windows start.
Mehr…
LanDiscovery
Version: 1.02 | Freeware
The program helps browsing your LAN, that consists of many computers.In the program you see the list of computers, present in the network, and the list of available 'shares' on specified computer.The first list is updated when the program is started; however, you can update it manually any time you need.After clicking on a computer the list of available shared folders is filled with data.You can see share name, type & comment here.
Mehr…
LANVisor
Version: 2016.01.199 | Demo (69,00 USD)
Mit LANVisor sehen Sie die Bildschirme der im lokalen Netzwerk verbundenen Computer. Sie können mit dem Programm sehen, was die Benutzer auf anderen Computern tun und gleichzeitig Screenshots davon machen. Das System hilft dem Vorgesetzten, die Angestellten im Blick zu behalten, die sich nicht an die täglichen Routinen halten, und es steigert die Produktivität.
Mehr…
10-Strike LANState
Version: 7.8 | Shareware (199,95 USD)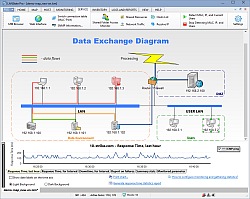 Monitor hosts, FTP, web, database servers, files, folders, free space, switches and UPS via SNMP with this network mapping and monitoring program. This network mapping NMS can discover and draw your LAN topology. LANState contains many tools for administrators and users such as shutting down and turning on remote computers, ping, name lookup, trace route, obtaining information on remote hosts, creating reports, watching SNMP data on switch, etc.
Mehr…
DeviceLock Plug and Play Auditor
Version: 5.72 | Freeware
DeviceLock Plug and Play Auditor is a non-intrusive clientless software solution that generates reports displaying the USB, FireWire and PCMCIA devices currently connected to computers in the network and those that were connected. Its multithreaded engine ensures fast, unobtrusive auditing of all activity on any computers in an organization. DeviceLock PnP Auditor stores, compares and filters the data it receives from all the computers.
Mehr…