Kategorie Netzwerk & Internet / Netzwerk Monitoring
Total Network Inventory
Version: 4.7.0 | Shareware (90,00 USD)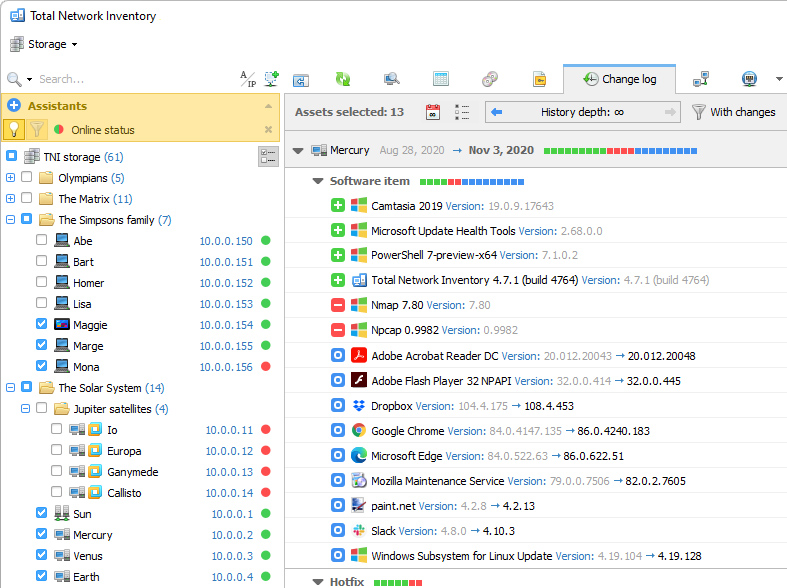 Total Network Inventory ist eine PC-Audit- und Netzwerk Inventarisierung-Software für Büro- und Großunternehmennetzwerke. Computer im Firmennetzwerk lagern, als ob Sie vor Ihnen säßen! Total Network Inventory fragt alle Computer und Notebooks im Netzwerk und berichtet die ganze Information über Betriebssystem, Service Packs, Hotfixes, Hardware, Software, ausgeführte Prozesse usw. auf entfernten Computer.
Mehr…
Antamedia HotSpot Software
Version: 6.1.2 | Freeware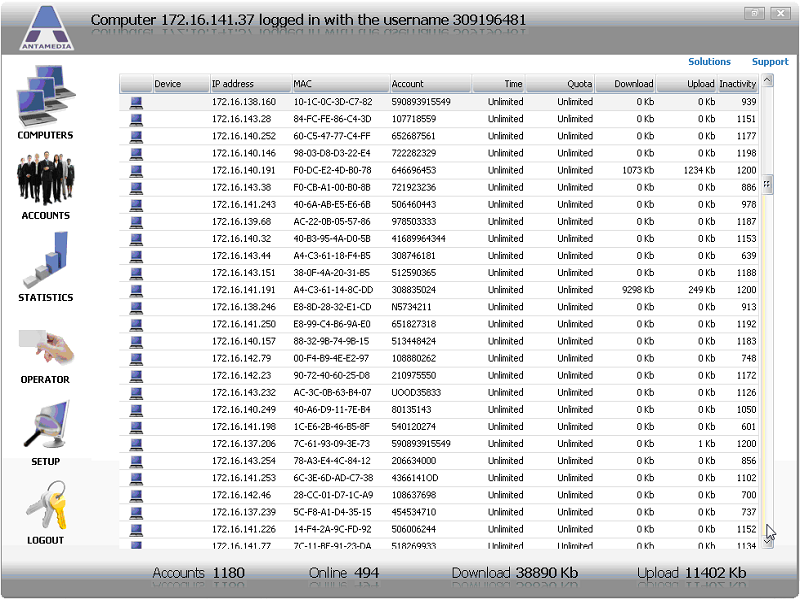 Hotspot software die Ihnen ohne Client-Software-Installationen bei der Kontrolle und Abrechnung Ihrer Kunden für die Internetnutzung hilft. Kunden werden an die Login-Seite weitergeleitet, um einen gültigen Benutzernamen und ein Passwort einzugeben. Sie eignet sich für ISPs, Hotspots, Flughäfen, Hotels, Internet- und Cybercafés. Aktivieren Sie Ihren Hotspot automatisch, indem Sie Zahlungen per Kreditkarte akzept
Mehr…
EtherSensor PCAP Edition
Version: 5.0.3 | Freeware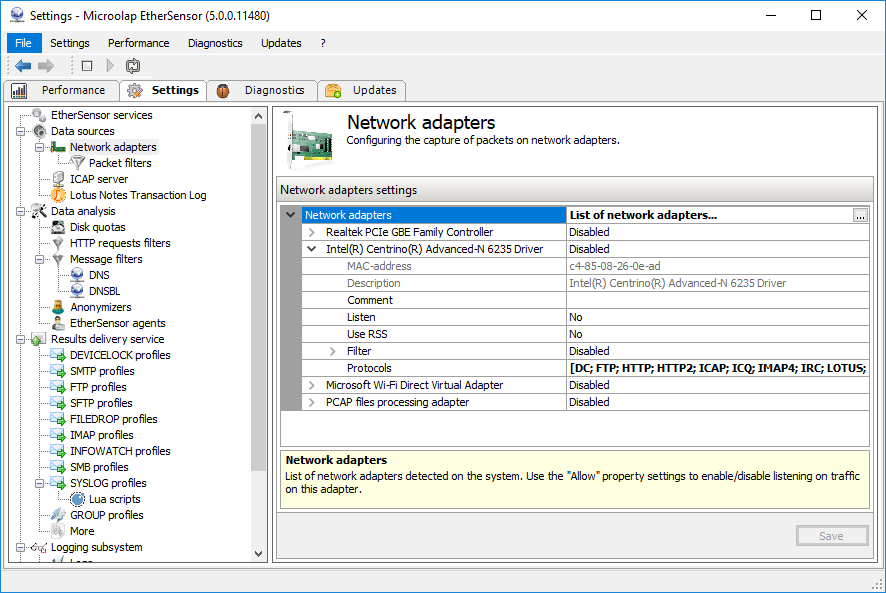 EtherSensor is a high-performance platform for extracting events and messages from network traffic in real time. The main properties of the EtherSensor are: Several thousand of Internet services known to EtherSensor; High performance: streamed processing over 20Gbps+ links; Delivery of events, messages and metadata to any subsystems of SOC, DLP, SIEM, UEBA, etc., as well as various Compliance Archiving/Enterprise Archiving and eDiscovery systems.
Mehr…
Remote Asset Tracker
Version: 1.7 | Shareware (80,00 EUR)
Remote Asset Tracker ist ein Ressourcenprüf- und Rechnerverwaltungssoftware gezielt für große und mittelständige Unternehmen. Sie ermöglicht volle administrative Kontrolle von Netzwerkressourcen mit Hardware- und Softwareüberprüfung, Geräteverwaltung, IT-Ressourcenmanagement und Lizenzverwaltung. Es gibt auch zu komplizierte Verfahren für IT-Ressourcenmanagement, für die fortgeschrittenen Benutzer wird es auch nicht zu simpel erscheinen.
Mehr…
PA Server Monitor
Version: 4.0 | Demo (99,00 USD)
PA Server Monitor is a Windows service that monitors the health and availability of Windows servers, network services (on Windows, Linux and other operating systems), and devices. No agents are needed to monitor remote servers. Also includes rich reporting on most monitored resources. PA Server Monitor can watch: Event logs, CPU, memory usage, free server disk space, changed files and directories, running Windows services, and much more.
Mehr…
10-Strike Network Inventory Explorer
Version: 7.5 | Shareware (99,95 USD)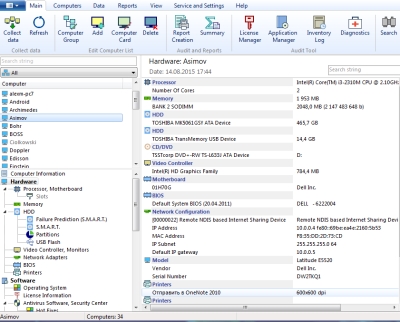 10-Strike Network Inventory Explorer verschafft perfekte Übersicht über Hardware und Software auf allen PCs innerhalb eines Netzwerks. Die Software wurde für Microsoft Windows Netzwerk-Administrator kreiert. Nun ist eine Inventarisierung kein Problem mehr! Alle PCs werden zu der Netzwerk-Datenbank hinzugefügt, Hardware- und Software-Konfigurationen der fernen Computer können angesehen und verfolgt werden.
Mehr…
Internet Administrator for Microsoft ISA Server
Version: 2.6 | Shareware (165,00 USD)
The "Internet Administrator for Microsoft ISA Server" is an integrated solution which allows to control and manage internet access and provides:
- all-round internet monitoring;
- incoming traffic, time and bandwidth control;
- access control to web sites, by protocols, time, queries, words, etc.;
- flexible and powerful content filtering;
- URL category database with more than 3 000 000 web sites;
Mehr…
OidView Pro MIB Browser
Version: 4.0 | Shareware (299,99 USD)
OidView is a MIB Browser and Expert System for SNMP Agent analysis and administration. Supports SNMPv1, SNMPv2c, and SNMPv3. Tools include MIB Browser, MIB Compiler, SNMP Trap Receiver Fault Management Module, OID Poller/Graph Utility, SNMP PDU Trace, Interface (IGRID) tool, Entity-MIB Mapper, and CISCO CLASS-BASED-QOS-MIB (Quality of Service) Browser.
Mehr…
LogonWatcher
Version: 2.3.1 | Shareware (49,00 USD)
This utility is used to show the names and logon times of users on the entire NT domain, and more ...
Mehr…
IP Traffic Monitor
Version: 3.3 | Shareware (39,95 USD)
IP Traffic Monitor sits in your system tray and monitors all your network connections. The program shows extensive information about each connection: remote host IP, remote host name (if available), amounts of incoming and outgoing traffic, name of the process that initiated or accepted this connection, etc. It also draws pie chart diagrams showing where your traffic flows. In addition, it includes a built-in TCP packet sniffer.
Mehr…
Network LookOut Administrator Pro
Version: 4.3.1 | Shareware (69,95 EUR)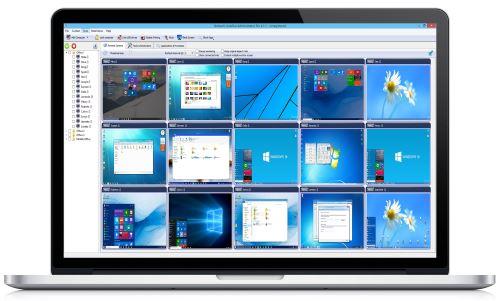 The Network LookOut Administrator Pro allows you to see live screens of remote computers. This way, you can always watch what users are doing on the remote computer. Additionally, you have the ability to take control of a remote computer by controlling the mouse and keyboard; this is especially useful when you need to assist the person who uses the remote computer. If you are an administrator, you can easily administer remote computers.
Mehr…
Shared Monitor
Version: 1.1 | Shareware (29,90 USD)
Shared Monitor is an advanced shared resource monitor and logger. The program sits in your system tray and constantly monitors all the Microsoft Network connections. It allows you to monitor active connections to your resources and browse the historical data. In addition, you can generate HTML reports, set alerts on specific events (for example, when a new computer connects to your resources) and run the program automatically on Windows start.
Mehr…