Kategorie Netzwerk & Internet / Netzwerk Monitoring
Wireless Snif
Version: 4.174 | Shareware (99,00 USD)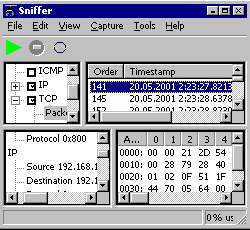 LAN and WLAN Sniffer. A program for low-level network packets capturing and analyzing in real-time. Includes: ICQ, AIM, IRC, MSN analyzers and ARP-spoofer. Allows to capture all network traffic even in switched LAN. Sniffer supports parsing of following protocols: IP, TCP, UDP and many others, Also includes: tcpdump, tcpflow, tcpstat.
Mehr…
Total Network Monitor
Version: 2.3.0 | Shareware (190,00 USD)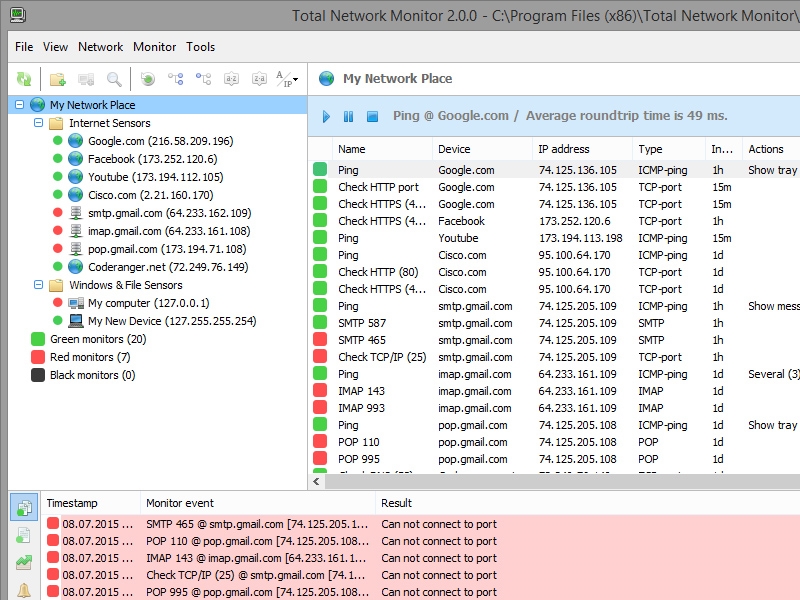 Total Network Monitor ist eine Software für langfristige Überwachung von der Leistungsfähigkeit von Ihrem Netzwerk, einzelnen Rechnern, Netzwerk und Systemtools, die Ihr Netzwerk ausmachen und strengstens überwacht werden sollen. Total Network Monitor benachrichtigt Sie im Notfall und bei unerwarteten Fehlern in vielen Wegen, bevor es Ihre Arbeit gefährden kann.
Mehr…
Komodia free SSL sniffer
Version: 2.1 | Freeware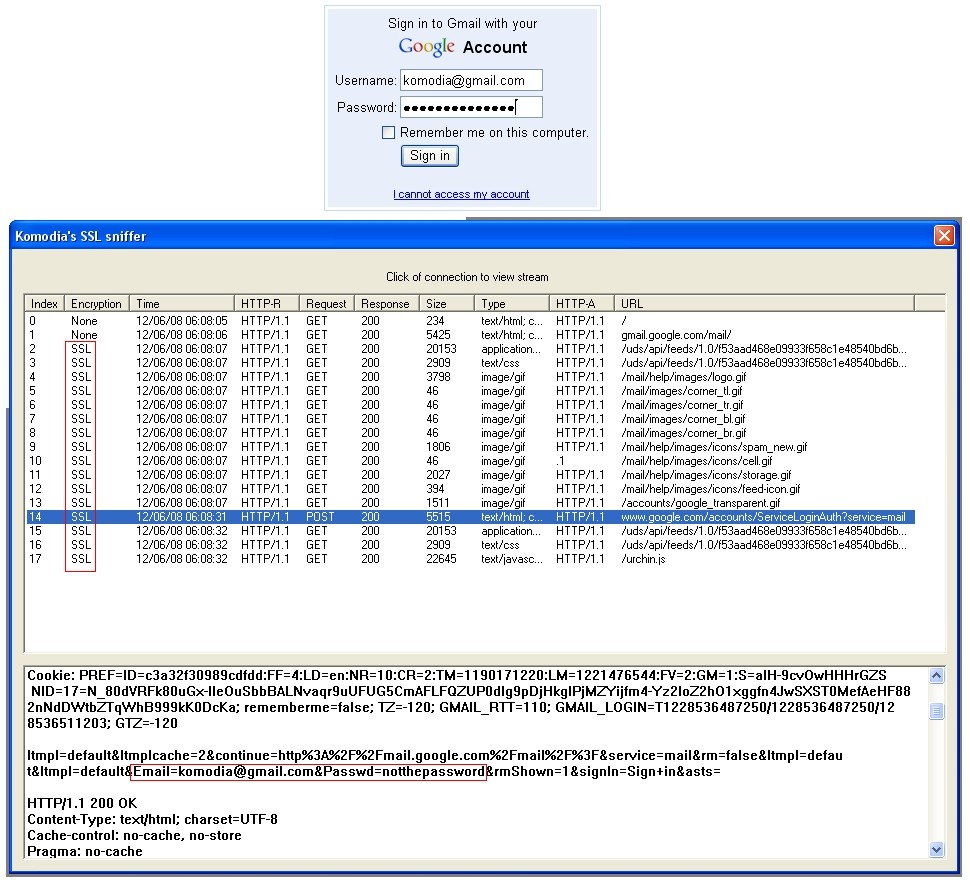 Free stream HTTP and HTTPS (SSL sniffer) sniffer for Internet Explorer 6.0/7.0 and Mozilla Firefox that allows you to sniff all traffic and see decrypted SSL traffic without using a proxy or alerting the browser. The sniffer is using Komodia's "SSL hijacker" which is an SDK for sniffing, intercepting and modiying SSL based traffic.
Mehr…
AggreGate Network Manager
Version: 5.11.03 | Shareware (1.200,00 USD)
AggreGate Network Manager is an umbrella IT management platform. It provides out-of-the-box monitoring for IP networks, servers, routers, applications, services, traffic and performance. Product features include network discovery, L2/L3 mapping, alerting, event correlation, root cause analysis, charting, reporting, dashboards, network inventory and asset management, distributed monitoring, and more.
Mehr…
Free PC Audit
Version: 3.4 | Freeware
Free PC Audit is a freeware system, hardware and software information tool. It extracts details of all components of the PC, shows installed software with version and product key. Free PC Audit does not require installation and can be used as a portable application. It can be run from a removable storage device such as a CD-ROM drive, USB flash drive, flash card, or floppy disk.
Mehr…
Sentry-go Monitoring System
Version: 6.4 | Shareware (180,00 USD)
Sentry-go is a low cost, expandable, network-efficient monitoring solution for Windows. Simply purchase the monitoring components you need for your server to build a customized monitoring solution. As your server's role changes, so can you your monitoring solution. Monitoring options include services, processes, web & FTP sites, TCP/IP ports, event logs, log files, performance, connectivity, printing, files/directories, SQL Server etc.
Mehr…
SAEAUT SNMP OPC Server Enhanced
Version: 3.02.0.0 | Shareware (1.399,00 EUR)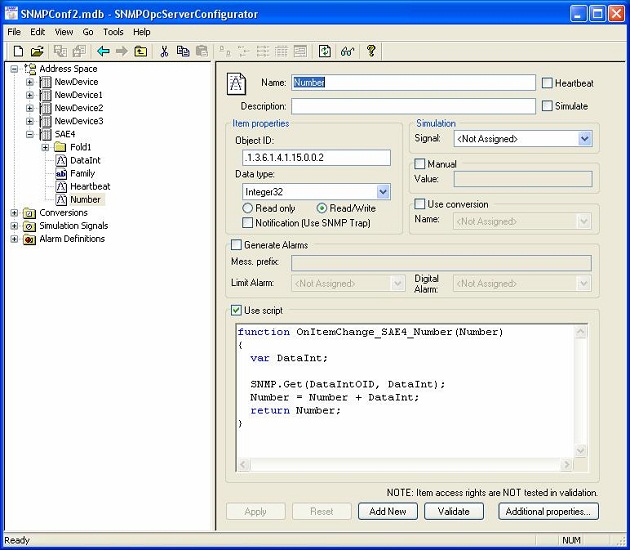 SNMP network management integration with SCADA and HMI using OPC and Web Services. Implemented: OPC DA 3.0, 2.05,1.0, OPC XML DA, OPC Alarms and Events Version 1.1 and 1.0, SNMPv2c, SNMPv1, JScript pre-processing, using ICMP ping to manage devices without running SNMP agent and displaying of round trip time as one OPC variable. Auto Discover Networked Devices. MIB import on line, Import from csv-files.
Mehr…
Free IP Tools
Version: 4.2 | Freeware
Free IP Tools ist eine bequeme Art, alle wichtigen Netzwerkprogramme zusammen zu halten. Zwölf wesentliche Netzwerkprogramme sind innerhalb einer einzigen benutzerfreundlichen Anwendung vorhanden. Anpassbare ping und traceroute, kluger port scanner, Remote-Host monitor, Email Adresse Prüfer, SNMP Gerätscanner, Editor für Systemdateien, IP Schwarzlisteprüfer, NetBIOS Scanner und mehr! Beseitigen Sie Netzwerkprobleme mit der freien Sammlung!
Mehr…
LizardSystems Remote Process Explorer
Version: 5.1.0 | Freeware
Manage remote processes and control remote computers. Remote Process Explorer replaces Windows Task Manager with a much more advanced version. Remote Process Explorer allows monitoring all local and remote processes through a single user interface, accessing vital information about processes such as Process ID, Parent PID, CPU, Memory Usage, Priority, Handles, Threads, and much more, in real-time.
Mehr…
Enterprise Permission Reporter
Version: 3.5.1.1 | Demo (599,00 EUR)
EPR v3.5 kombiniert Basisreports, die Ihnen die komplette Liste der zugriffsberechtigten Benutzer ausgibt mit Delta-reports, die nur noch die Änderungen zwischen zwei Basisreports enthalten. Damit ist Übersichtlichkeit und Einfachheit gewährleistet, die im Detail aber genau das ausgeben, was beobachtet werden muss: what has changed . . .
Mehr…
NetStat Agent
Version: 3.5 | Shareware (29,00 EUR)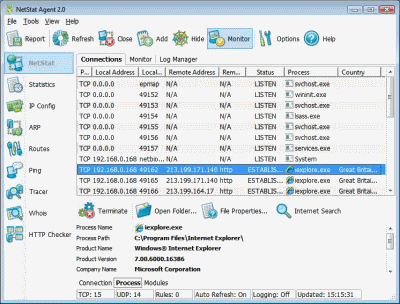 NetStat Agent is a powerful and easy-to-use network toolkit for monitoring and diagnosing. It includes all useful network tools like netstat, ping, traceroute, ipconfig, dns query (nslookup), whois, arp, route and http checker. It provides you with the ability to retrieve all available information about your network configuration.
Mehr…
Total Network Inventory (JP)
Version: 1.6.7 | Shareware (95,00 USD)
Inventory computers on a network in a few minutes with Total Network Inventory! Total Network Inventory is a PC Audit and Network Inventory software for office and large scale enterprise networks. Total Network Inventory interrogates all computers on a network and reports back with complete information about OS, service packs, hotfixes, hardware, software, running processes, etc. on remote computers.
Mehr…