Kategorie Netzwerk & Internet / Netzwerk Monitoring
ProxyInspector Standard edition
Version: 3.8.2324 | Shareware (299,00 EUR)
ProxyInspector is a perfect solution for Internet usage analysis and reporting. It ensures effective Internet usage monitoring, so your corporate network will never be a distraction for your employees. ProxyInspector retrieves information from log files and gives a comprehensive and comprehensible diagram report on most active workstations, accessed websites, general traffic distribution among sites, protocols, days of week and times of the day.
Mehr…
Free WMI Monitor
Version: 1.0.1 | Freeware
Setting up WMI monitoring for your Windows servers and apps can be time consuming and tedious. Ready to take the guesswork out of determining which WMI counters to use for applications like Microsoft Active Directory and SharePoint? Want to look like an application expert without sifting through boring WMI tutorials? SolarWinds free WMI Monitor is the answer.
Mehr…
Zamzom wireless network tool
Version: 01.07.09 | Freeware
Helping to protect wireless networks and maintain computer security, new freeware tool by Zamzom allows users to detect all computer names, Mac and IP addresses utilizing a single wireless network. Within seconds, Zamzom reveals all computers -- both authorized and unauthorized -- who have access to any given wireless network.
Mehr…
ProtoMon
Version: 2.5 Build 463 | Shareware (499,00 USD)
ProtoMon is an easy-to-use network monitoring tool that will automatically check your servers and notify you if some of them are down. The following network protocols are supported: ICMP, HTTP(S), FTP(S), POP3(S), IMAP(S), SMTP(S), Telnet(SSH) and SFTP. If a server is not available, ProtoMon will perform some of these actions: display a pop-up notification window, play a sound, send a notification e-mail message.
Mehr…
Axence nVision Pro
Version: 8.5.2.21100 | Demo (390,00 EUR)
Axence nVision 8 Pro bietet alles, was Sie benötigen, um Ihr Netz effektiv zu verwalten. Die Andwendung besteht aus den folgenden funktionalen Modulen, die in beliebigen Kombinationen installiert und in einer Konsole verwaltet werden können: proaktive Überwachung und Visualisierung des Netzes, Hardware- und Software-Inventarisierung (Lizenzaudit, Anlagevermögen), Schutz gegen Datenlecks und technische Fernunterstützung. 30-tägige Testversion.
Mehr…
Network Monitoring Probe
Version: 1.1.2.3 | Shareware (112,00 EUR)
Network Monitoring Probe ist eine Software für langfristige Überwachung von der Leistungsfähigkeit von Ihrem Netzwerk, einzelnen Rechnern, Netzwerk und Systemtools, die Ihr Netzwerk ausmachen und strengstens überwacht werden sollen. Network Monitoring Probe benachrichtigt Sie im Notfall und bei unerwarteten Fehlern in vielen Wegen, bevor es Ihre Arbeit gefährden kann.
Mehr…
10-Strike Network Monitor
Version: 4.14 | Shareware (149,95 USD)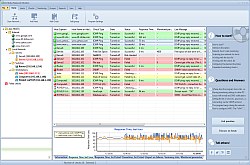 Programm zur Überwachung des Status von Netzwerkgeräten. Es ermöglicht Ihnen, online Daten zur zeitlichen Verfügbarkeit eines Geräts zu erhalten. Dadurch ist eine umgehende Reaktion auf verschiedene Ereignisse gewährleistet. Die Funktionalität des Programms basiert auf periodischem Polling der verfügbaren Geräte. Dies geschieht durch Zusendung eines ICMP-Pakests (Ping), Verbindungsherstellung zum erforderlichen TCP-Anschluss über das Netzwerk...
Mehr…
SolarWinds IP Address Tracker
Version: 1.0.1 | Freeware
Does managing your IP address space with spreadsheets remind you of a visit to the dentist? Necessary, but usually painful? As if keeping the network running in tip-top condition wasn't enough, you have to spend precious time wading through home-grown IP address tools to track down conflicting addresses and to see which ones are free. Well, no more - you can finally ditch your spreadsheet (and even start to enjoy IP address management)!
Mehr…
SolarWinds Free IP SLA Monitor
Version: 1.0.1 | Freeware
IP SLA Monitor enables IP SLA on Cisco routers and switches, configures the path-specific operation details, and displays the resulting real-time performance information in an easy-to-read dashboard. IP SLA Monitor's intuitive interface allows you to easily monitor common IP SLA operations, including UDP echo, ICMP path echo (ping), TCP connect, DNS resolution, and HTTP.
Mehr…
NEWT Professional Network Inventory
Version: 2.5.317 | Shareware (195,00 USD)
Netzwarenbestand & PC, der Lösung revidiert, Scans Ihres gesamten Netzes in den Minuten, in den nicht Stunden oder in den Tagen erlaubend. Während andere Lösungen vollständige Vertreterentwicklung oder lediglich agentless Methoden verkrüppelt durch Fernregister- und WMI Misconfigurationausgaben erfordern, verwendet NEWT hoch entwickelte Techniken, um Konfigurationsdaten mit minimaler Bemühung zu erfassen und extrem - niedrige Netzbandbreite.
Mehr…
NetStat Agent Portable
Version: 3.5 | Shareware (29,00 EUR)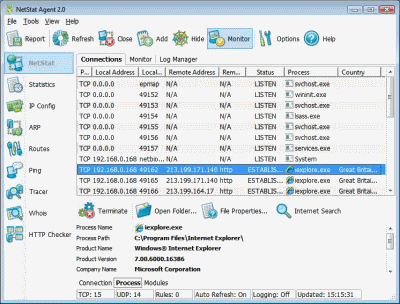 NetStat Agent makes diagnosing network connections and troubleshooting connection problems a snap. Combining and enhancing a number of functions provided by the command-line utilities, NetStat Agent gathers all information about the network and connection configuration in one place. You will never need to go back to using netstat, arp, ipconfig, ping, traceroute, nslookup or whois tools from the command line!
Mehr…
NBMonitor Network Bandwidth Monitor
Version: 1.6.3 | Shareware (17,50 USD)
NBMonitor tracks your internet bandwidth (upload and downloads) usage, monitors all your Internet, it shows all the active connections you have to the Internet at any given moment and also the volume of traffic flowing through them. NBMonitor displays real-time details about your network connections and network adapter's bandwidth usage.
Mehr…