Kategorie Büro / PIMS & Kalender
MemoMaster
Version: 4.1.5 | Freeware
MemoMaster ist eine Text- und Kalkulationsverwaltung. Die Gliederung erfolgt in der bewährten Baumstruktur. In so genannten Memos können neben Dokumenten, Tabellen, Formularfeldern, Bildern auch Links zu anderen Memos, E-Mails, Webseiten und Dateien eingefügt werden. Die Memo-Recherche kann nach allen Inhalten, Datum oder mehreren Suchbegriffen suchen und filtern. Alle neuen Funktionen der Vers. 3: www.jbsoftware.de/memomaster/NeueFunktionen.htm
Mehr…
VueMinder Lite
Version: 2017.01 | Freeware
Leicht organisieren Sie Ihre Termine und erhalten Erinnerungen mit einem kostenlosen Kalender-Programm. Google Kalender können Sie Ihren Computer synchronisieren und sogar der Zugriff während offline geschaltet werden. Sie können auch auf andere Online-Kalender, wie Sport Zeitpläne oder Wetterberichte abonnieren. Eine Kalender integriert sich in den Windows-Desktop und bietet einen sofortigen Überblick über anstehende Veranstaltungen.
Mehr…
ToDoPilot
Version: 1.5 | Shareware (19,95 USD)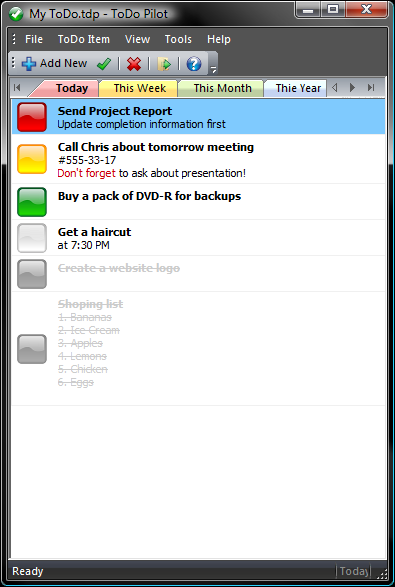 Too many things to remember? Try ToDoPilot! The tiny organizer makes it simple to enter, organize and view tasks on your computer. No need to download bulkware or learn complex planners! ToDoPilot has everything you need to never forget about your planned activities or special events.
Mehr…
3D AddressBook
Version: 2.0 | Shareware (29,99 USD)
3D AddressBook is a fun, intuitive and easy to use address book software, which gives both 3D and 2D data presentation. The software has plenty of visual and sound effects, such as an explosion on deleting records, zooming the records in selection, as well as 4 hours of ambient music. You can chose among 30+ ready to use address templates, or easily create a customized address book to fit your needs.
Mehr…
CodeTwo NetCalendars
Version: 2.1.0 | Freeware
CodeTwo NetCalendars is a group calendar dedicated to those who would like to streamline the management of appointments in the company as well as improve the general workflow. The application enables multiple users to work jointly in shared calendars located on different computers in the local network or the Internet. The users can see and work on several calendars at one time displayed in one view. The application is compatibile with Outlook.
Mehr…
OxySync
Version: 1.1.0 | Demo (9,95 EUR)
OxySync ist eine Lösung für das Telefon, Ihre persönliche Information im Mobiltelefon, Smartphone und PC zu synchronisieren. Die Anwendung bietet Synchronisierung der Kontakte eines Mobiltelefons mit Microsoft Outlook und Microsoft Exchange Server an. Hauptsächlich hängt die Dauer des Synchronisierungsvorgangs von der Zahl Kontakte, die Sie haben, ab und nimmt gewöhnlich nur einige Minuten.
Mehr…
OrgCalendar (WEB)
Version: 2.5 | Shareware (14,95 USD)
A fully-functional scheduling WEB-application. The easy way for any organization to have a Internet-calendar within minutes! You simply place the OrgCalendar onto a your web site - and that's it. Calendar management is implemented at two levels: Admin Area and Public Area.The OrgCalendar gives you a customizable Resource Navigator, new Date Navigator, control over the events overlapping and a mechanism for sharing events.
Mehr…
LeaderTask PDA Organizer
Version: 2.0.9 | Shareware (19,95 USD)
Arbeiten Sie effektiver und genießen Sie mehr denn je Freizeit mit LeaderTask! Vergessen Sie die traditionellen Aufgabenplaner. Sie sind okay, wenn Sie für die Arbeit leben. Sie sind toll, wenn Sie einfach nur Dinge planen und an sie erinnert werden wollen. Haben Sie ein Leben! Versuchen Sie den Organizer der neuen Generation, der Ihnen hilft, so effizient Ihre Arbeit zu planen, dass Sie mehr Freizeit denn je haben werden.
Mehr…
123 Sync Client for ACT and Outlook
Version: 13.8 | Shareware (97,50 USD)
Synchronize ACT! with Outlook 1-way or 2-ways. Excellent product to synchronize data with with Blackberry, Palm, iPho since every cellular device interfaces with Outlook. In addition, synchronize notes/calendar/tasks and much more. Special PDA enhancements include addition of names/phone numbers on the subject line for Calendar and Tasks to make it easy to find and process on PDAs. Also, anything added on the PDA/Outlook is also synched back.
Mehr…
teamfahrt
Version: 1 | Demo (4,95 EUR)
teamfahrt - Die faire Auswertung für Ihre Fahrgemeinschaft. Verwaltung von bis zu 10 Teilnehmern. Faires und flexibles Punktesystem. Übersichtliche Auswertung. Jederzeit ist klar erkennbar, wer als Fahrer im Rückstand liegt. Feiertage werden automatisch im immerwährenden Kalender angezeigt. Überträge aus dem Vorjahr werden automatisch übernommen. Systemvoraussetzung: ab Microsoft Excel 97. www.teamsoftware.net
Mehr…
Danica Patrick 2009 Calendar for Windows
Version: 1.3.9.507 | Demo (9,95 USD)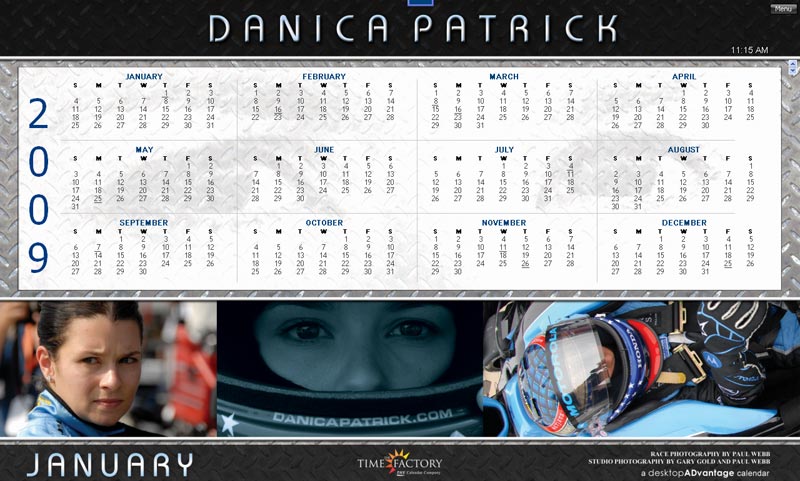 This stunningly produced calendar features Indy Racing League star Danica Patrick. It's packed with lots high quality photographs and graphics that capture Danica in action both on and off the track. This is a full featured award winning calendar program and the only software calendar you'll need all year long.
Mehr…
Boat Organizer Deluxe
Version: 4.11 | Shareware (75,00 USD)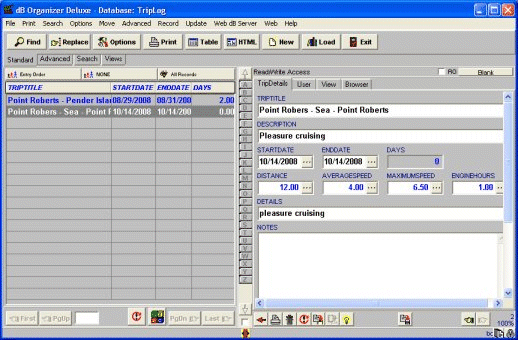 Complete program that will help you organize your wine cellar collections. ORGANIZER DELUXE brings together flexible data inventory features: Search, Replace, Sort, Table / Browser Viewers, Report / Label Wizards, HTML Generator Wizard, Backup, Scanner Support, Full Customization. DESIGNER DELUXE (included) allows you to easily create your customized wine organizers.
Mehr…