Kategorie Büro / PIMS & Kalender
My Notes Center
Version: 1.5.3 | Shareware (24,95 USD)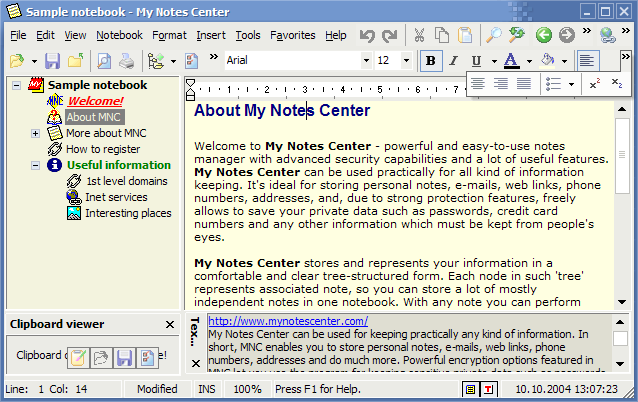 Elektronischer Organizer mit flexibler Gestaltung. Verwalten Sie Ihre Notizen, e-Mails, Web-Links, Telefonnummern, Adressen, Projekte und Kreditkarteninformationen übersichtlich in mit einzigen Programm. Die Einfachheit eines Texteditors mit den Leistungen einer Textverarbeitung und der Flexibilität einer Baumstruktur. Selbst Druckfunktionen, Passwortschutz und Datenkompression sind enthalten.
Mehr…
Project-Eo Multi Diary - Day Edition
Version: 1.0.2 | Shareware (99,00 USD)
Multi Diary is a lot more than just a diary or PIM - it is an invaluable business tool, it can be used for creating and managing appointments for multiple people (Doctors, Hairdressers, Garages, Tradesmen, IT Support, Delivery Services salespeople etc).Booking and recording Resource useage ( Meeting Rooms, Computers, Plant and Machinery etc). Time Recording for Billing (PR, Accountants, Lawyers, Tradesmen) and Day to Day Project Management.
Mehr…
Outlook Task
Version: 1.1 | Shareware (40,00 USD)
With Outlook Task program you can create the set of tasks you need - you can list tasks related to some project, category, person, due date or even to a keyword. Using a wide variety of parameters, it's easy to obtain a summary of tasks for today or this week. Outlook Task is a great way to manage large numbers of tasks in the Task folder by having a list of the most relevant tasks readily available.
Mehr…
DayMate
Version: 7.3 | Shareware (19,95 USD)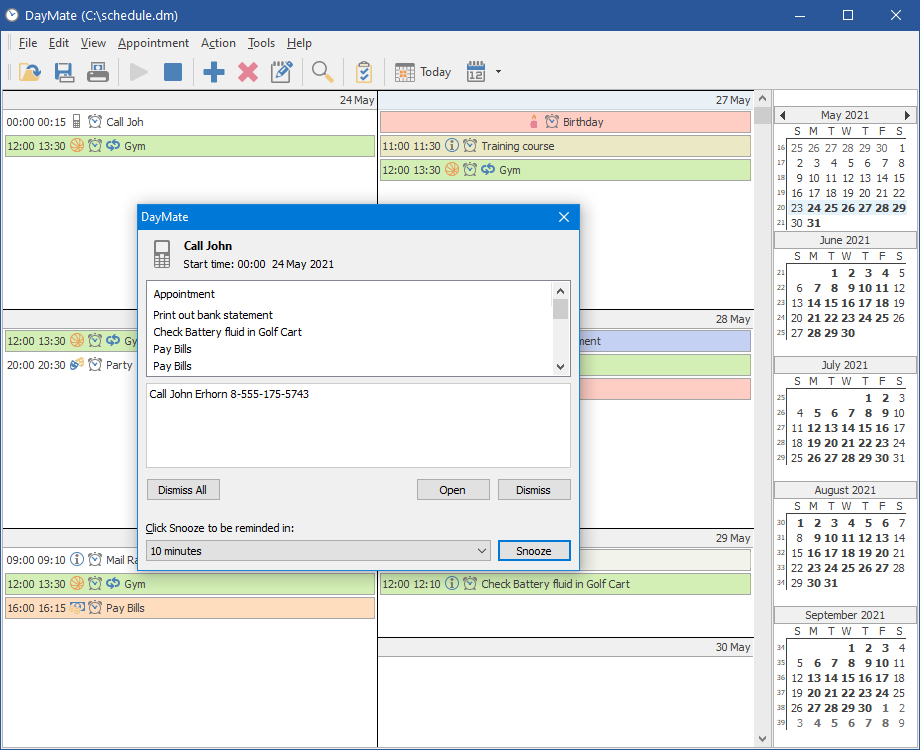 DayMate is a versatile intuitive day planner. This profesionally developed and well designed application allows to create and schedule reminders than can pop up messages with optional sound effects; start applications or open documents check for new e-mail, dial phone numbers and more. DayMate runs in the background and makes it nearly impossible to forget birthdays, anniversaries, holidays, appointments, meetings, and other important events.
Mehr…
delight address Freeware
Version: 6.0 | Shareware (77,42 EUR)
Schlankes und flexibles Adressverwaltungspaket für alle die schnellen und umfassenden Zugriff auf ihre Adressdaten ohne CRM-Funktionalität benötigen. Mit Serienbriefen, Adresslisten, Etiketten, Vorlagen, Importschnittstellen, Zuordnungen, Bilder, Notizen, selbst definierbaren Adressfelder und vielem Mehr.
Mehr…
Wandkalender-Drucker
Version: 5.3 | Shareware (19,90 EUR)
+ Druckt vollautomatisch einseitige Kalenderblätter + Sofortige Druckvorschau in beliebiger Vergrößerung + Einfaches Setzen von Eigenschaften + Einer bis beliebig viele Monate auf dem Blatt + Laden und Speichern aller Einstellungen + Hintergrundbild und -färbung + Kopf- und Fußtext, Arbeitstagestatistik & Legende + Angabe von KW, jul.Datum, Feiertagsnamen, Mondphasen + Extratage wie z.B. Geburtstage + Bereichsmarkierung + u.v.m.
Mehr…
Info Angel
Version: 4.2 | Shareware (29,95 USD)
Personal information manager (PIM) that combines a notebook, an address book, and organizer into a single interface. You can manage your daily notes, create a database of personal and professional contacts, organize your time and much more.
Mehr…
My Schedule
Version: 1.75 | Shareware (29,99 USD)
If you're tired of fancy-looking PC calendars overwhelmed with features you don't need, then try My Schedule for free! This all-in-one printable calendar, reminder, planner, and scheduler will help you plan all of your events on a daily, weekly, monthly, or yearly basis. No more missed dates or appointments, you now can get a reminder each time you have an upcoming event in your schedule. Plus there's a bonus of an entire list of US holidays!
Mehr…
Maple
Version: 8.5 | Shareware (31,95 USD)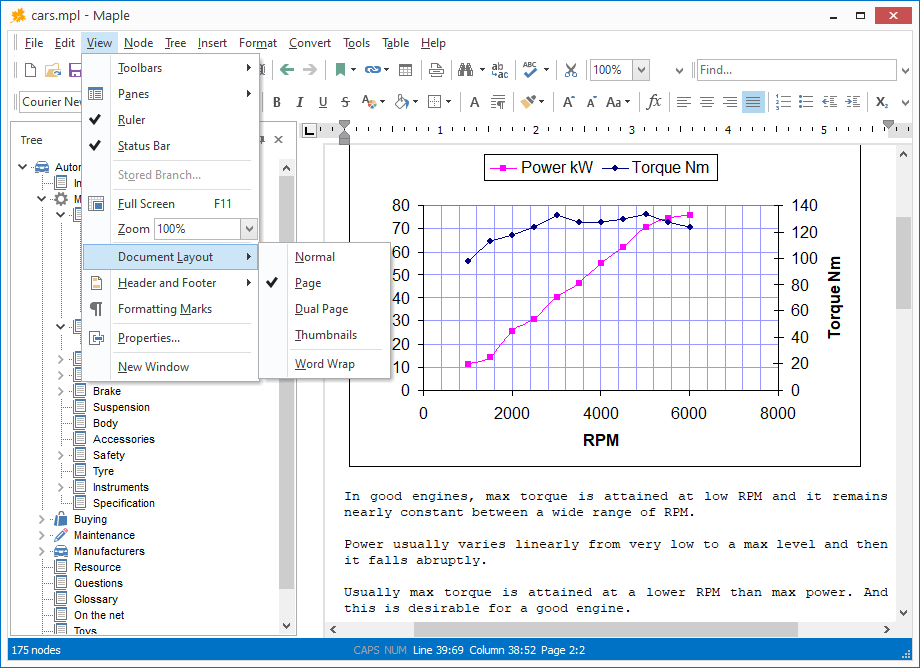 Maple is the flagship of the tree outline managers for power users. It enables you to create hierarchical trees for storing information such as documents, notes, and images. You can create unlimited nodes and sub-nodes and assign any document to each node. You can easily create a backup copies of your trees with a backup system and encrypt confidential documents. It supports rich text formatting as well as drag-and-drop.
Mehr…
iMagic Tour Reservation
Version: 1.15 | Shareware (199,00 USD)
iMagic Tour Reservation - tour reservation software that is affordable and simple to use. iMagic Tour Reservation was developed for the needs of small to medium tour management. The program has reservation, tour management, billing, accounting, and statistics capabilities.
Mehr…
DD Personalplanung / Personalplaner
Version: 2.15.0 | Shareware (446,25 EUR)
Sie suchen eine professionelle Lösung für Ihre Personaleinsatzplanung? Mit dem DD Personalplaner erhalten Sie eine flexible, branchenunabhängige Softwarelösung, mit der Sie Ihre Personalplanung übersichtlich und effektiv gestalten können. Der DD Personalplaner erleichtert Ihnen die Dienstplanung bzw. Erstellung von Arbeitsplänen Ihrer Mitarbeiter und verschafft Ihnen jederzeit die Übersicht über Arbeitszeiten, Überstunden und Urlaub.
Mehr…
Power Notes
Version: 3.69 | Shareware (21,95 USD)
Power Notes ist ein einfaches Termin- und Notizenverwaltungsprogramm mit einer leistungsf?higen Erinnerungsfunktion.
Mehr…