Kategorie Entwicklung / Delphi
ShellBrowser Delphi Components
Version: 10.4 | Shareware (124,95 USD)
Die ShellBrowser Komponenten geben einem Delphi Programmierer einfachen Zugriff auf die Shell Funktionalität von Windows. Die Komponenten TJamShellList, TJamShellTree und TJamShellCombo sehen aus und verhalten sich exakt wie die entsprechenden Teile des Windows-Explorer. Für jedes Objekt des Dateisystems können alle Komponenten das Explorer Kontextmenü, den Eigenschaften-Dialog, ein Thumbnail oder das korrekte Icon anzeigen.
Mehr…
Gantt Control VCL
Version: 3.0 | Demo (599,00 EUR)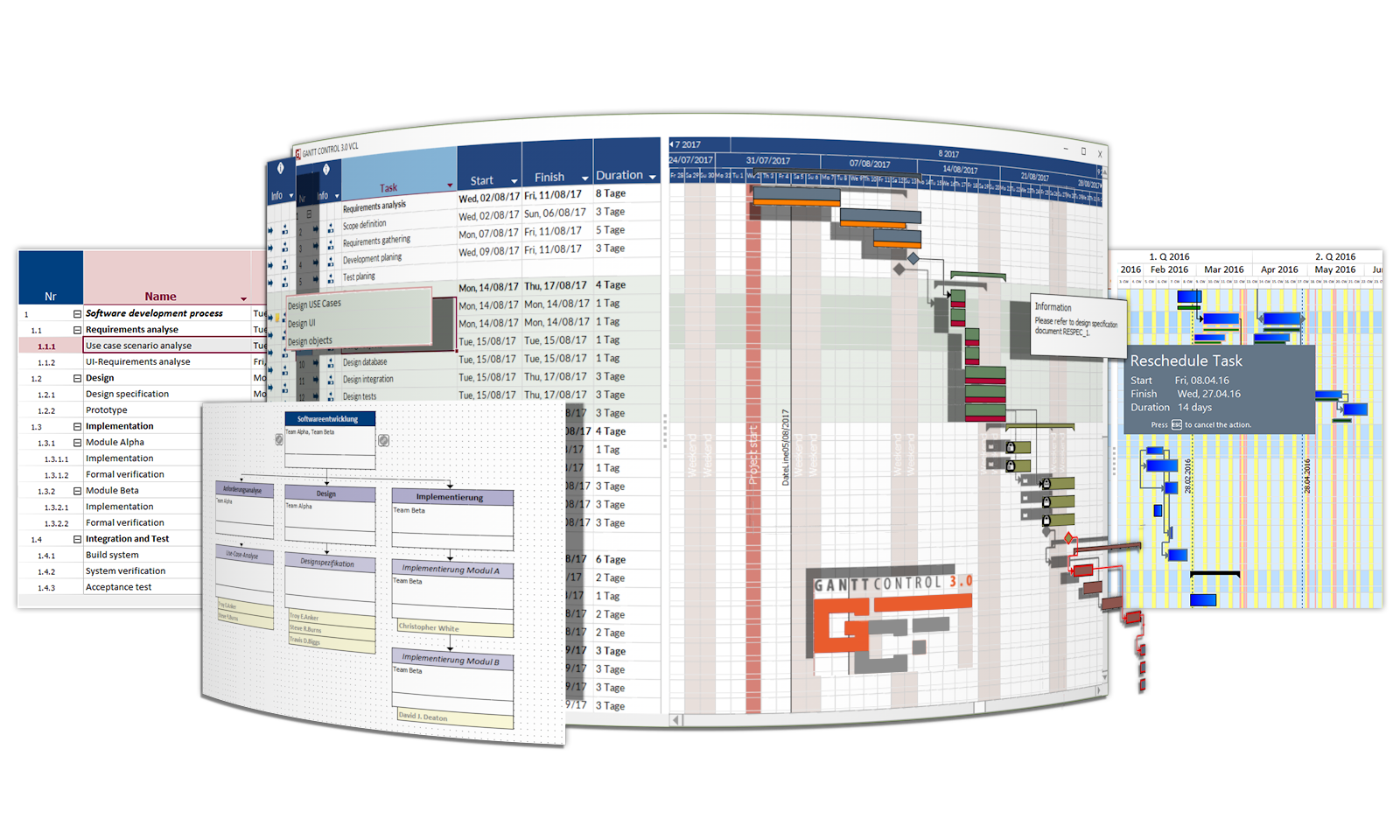 Mit Gantt Control VCL 3.0 kann man Aufgaben, Vorgänge und Aktivitäten in eigenen Softwareanwendungen darstellen und bearbeiten. Kernkomponenten sind ein Gantt-Diagramm, ein Struktur- und Netzdiagramm, die Tabellenansicht sowie eine Druckvorschau. GANTT CONTROL 3.0 VCL ist zu folgenden Entwicklungsplattformen kompatibel: Delphi XE4, Delphi XE5, Delphi XE6, Delphi XE7, Delphi XE8, Delphi 10 Seattle, Delphi 10.1 Berlin und Delphi 10.2 Tokyo.
Mehr…
FastCube
Version: 2.2 | Shareware (249,00 USD)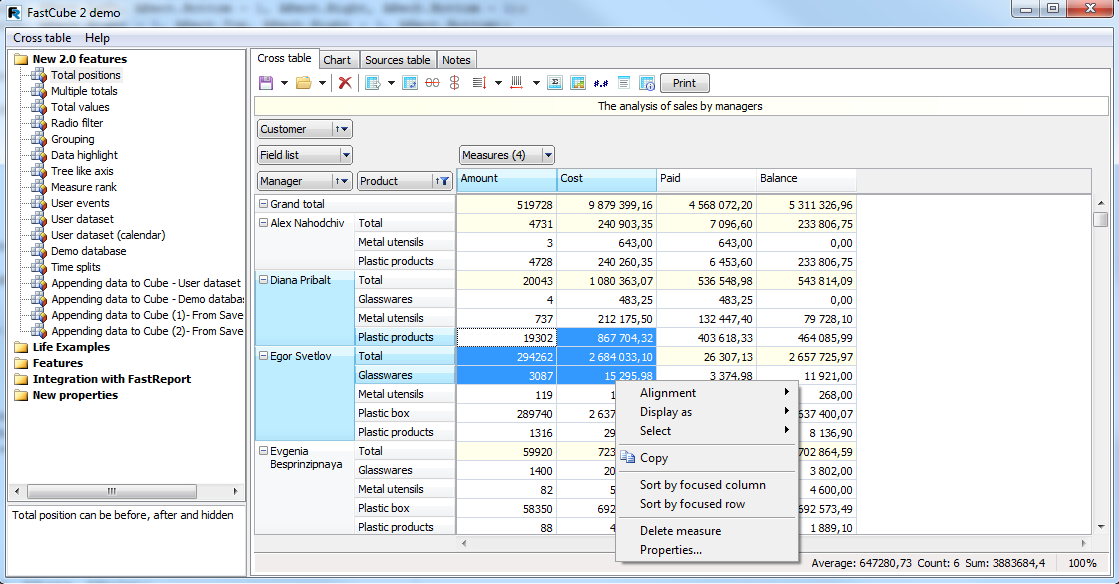 FastCube gehört zu der Klasse Desktop OLAP.Die FastCube Komponenten werden in das Interface Ihrer Anwendungen integriert. Bei der Verwendung von FastCube durch den Endnutzer, sind seinerseits keinerlei Programmiererqualifikationen notwendig. FastCube wird in Form der Komponenten für Delphi oder Lazarus geliefert. Die Verbindung zu Datenbanken wird nicht nur über Standardkomponenten ADO und BDE ermöglicht,
Mehr…
VSTO Support for Delphi Prism Wizard
Version: 1.0 | Freeware
Develop VSTO-based COM add-ins for MS Office using Delphi Prism exactly in the same way as you do it using VB.NET and C#. The VSTO Support for Delphi Prism Wizard gives you an opportunity to benefit from all advanced features of VSTO, including its programming and deployment models, Ribbon designer, MSI-based setup projects, Outlook form regions and Office Task panes. It supports Excel, Outlook, Word, PowerPoint, Project, Visio and InfoPath.
Mehr…
novaPDF SDK
Version: 8.9.950 | Shareware (899,00 USD)
novaPDF SDK is a PDF software development kit that can be used by software developers to include the ability to create PDF files in their own applications. It contains a COM interface for customizing novaPDF options, a silent installer for novaPDF that can be distributed with your software, novaPDF SDK documentation and code samples. Get the latest version from http://www.novapdf.com/pdf-sdk.html
Mehr…
AidAim Single File System
Version: 5.00 | Shareware (195,00 USD)

Stores files/folders in one OS file. Flexible on-the-fly compression. Transparent strong Rijndael encryption. Huge files support: more than 4 GB even on FAT-32. Full compatibility with standard Borland and WinAPI functions operating with files and folders. TFileStream interface to deal with files transparently stored within a single file. Progress indication for potentially slow operations. Recovering physically damaged files.
Mehr…
AidAim SQLMemTable
Version: 8.00 | Freeware

In-Memory SQL Datenbank-Engine
Mehr…
PostgresDAC
Version: 3.2.1 | Shareware (134,95 USD)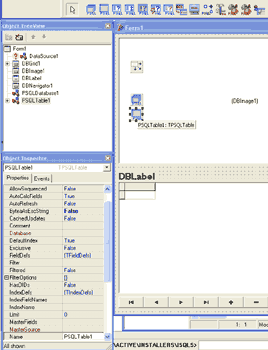 PostgresDAC is a PostgreSQL BDE replacement for Delphi and BCB. It allows you to create Delphi/BCB5 applications with direct access to PostgreSQL DB without BDE and ODBC. Migration friendly Interface of PostgresDAC is BDE-like and TDataSet compatible. TDBImageEx component for JPEG images in BLOBs support included in package for free (with sources). Royalty-free.
Mehr…
Accuracer Database System VCL
Version: 9.00 | Shareware (155,00 USD)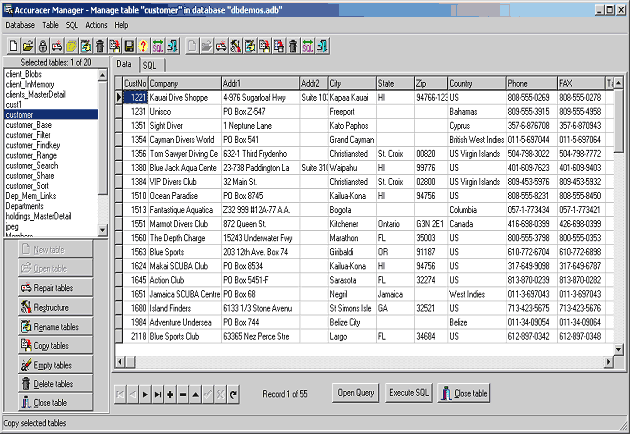 Kompakten Eingebettet Single-file Multi-User (file-server und Klienten-Server) SQL Datenbank-Engine, Ersatz für die BDE für Kylix, Delphi und C++Builder.
Mehr…
Active Query Builder Delphi VCL Edition
Version: 1.13 | Freeware (195,00 USD)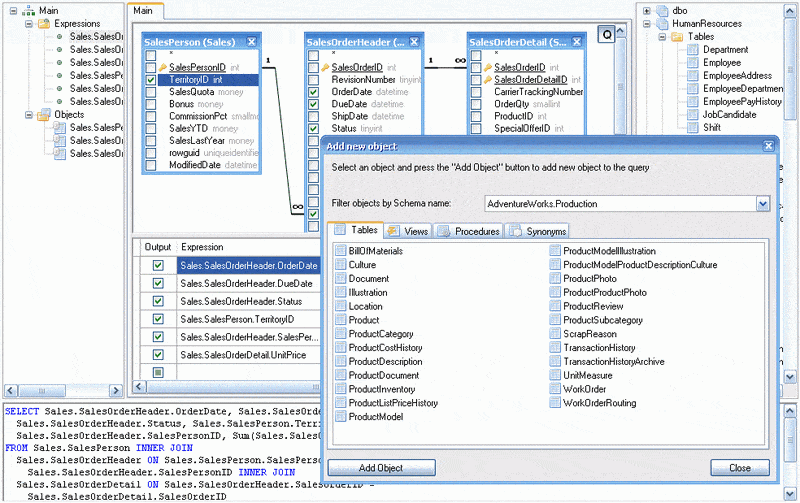 Active Query Builder VCL Edition ist eine VCL-Komponente zur visuellen Erstellung von SQL-Abfragen. Seine Benutzerschnittstelle erinnert an MS Access, so dass sie den meisten Datenbankbenutzern bereits vertraut sein mag. AQB ist ein echter bidirektionaler SQL-Abfragegenerator, der visuelle Abfrageerstellung mit direkter Bearbeitung des SQL-Texts vereint. Er dient als stabiler Assistent bei Analyse und Programmbearbeitung von SQL-Abfragen.
Mehr…
AidAim CryptoPressStream
Version: 6.00 | Shareware (255,00 USD)

CryptoPressStream is a streaming compression and encryption library. It provides transparent access to data stored in stream objects which are 100% compatible with TStream and have advanced functionality like progress event, Load/Save, and Lock/Unlock multi-thread methods. CryptoPressStream includes TCPSManager thread-safe component that provides an easiest setting of compression and encryption parameters, and contains a list of opened streams.
Mehr…
AidAim MsgCommunicator
Version: 6.00 | Shareware (295,00 USD)

Delphi / C++Builder messenger SDK for the easy creation of custom client/server (as well as peer-to-peer) instant messaging (IM) applications like ICQ, MSN, Jaber, AIM with data compression, strong encryption and advanced networking technologies to send/receive binary buffers, streams, and string messages. MsgCommunicator also includes messenger functionality to work with special objects like Users database, User Info, User's Contact Lists, etc.
Mehr…