Kategorie Spiele & Unterhaltung / Action
Chicken Invaders 2 Christmas Edition
Version: 2.90 | Shareware (14,95 EUR)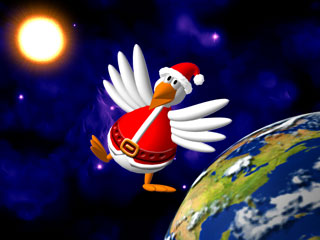 The chickens are back with their usual plans of world domination, and this time they're taking over Christmas! Forget all about Christmas Turkey and step up to Christmas Chicken in this festive edition of Chicken Invaders 2. Advance through waves of invading chickens, avoiding falling eggs and collecting power-ups to boost your spaceship's firepower. Fast-paced arcade action for one or two players.
Mehr…
Island Wars 2 Xmas
Version: 2.74 | Shareware (14,95 EUR)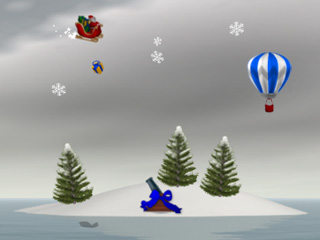 Ah, the South Pacific seas... although it's Christmas time, those two little islands are still fighting over their Christmas trees! Hop in your sled and bomb the enemy island, or use your cannon to protect your own. Engage in aerial dogfights while collecting bonuses to defeat 10 opposing islands and 50 invasion waves. Features 6 gametypes, 7 mutators, 10 gameplay parameters, 5 skill levels, bonuses, worldwide high scores. 1 or 2 players.
Mehr…
Scudden Death 2
Version: 1.35 | Shareware (3,00 USD)
A real-time 2D war game. You can play singleplayer missions and multiplayer splitscreen. The game has got 75 predefined missions, and you can even add additional levels and missions created by yourself or others, and generate random missions on the fly, using the in-game mission generator. The game features units like soldiers, planes, helicopters, cars, tanks, boats, submarines, turrets, radars, civilians, and more.
Mehr…
Xoid
Version: 1.05 | Shareware (13,00 EUR)
You are running the ship of the Community of Resistance, which is moving along the game field. Your aim is to cut off the bigger part of the screen . 80%. In order to do this you need to choose those parts of the field, which are not occupied with the enemies, and then cut this piece off by pressing .space. button. Avoid any contacts with the enemies and mine.
Mehr…
Bombardix
Version: 1.2 | Shareware (18,95 USD)
Bombardix is the main character of this awesome game. The objective of the game is quite simple: to kill bosses on each world and to score as many points as many points as possible. You have to kill all monsters in the game field and find a door to complete the current level and proceed to the next one. Many different bonuses will help you on your way: Extra Life, Extra Bomb, Extra Explosion, Time-Fuse, Monster Freeze, Armageddon, etc.
Mehr…
BattleMan
Version: 1.2 | Shareware (14,00 USD)
BattleMan is a clone of the good old Battle City game. You must destroy all the enemy tanks on the city to pass to the next stage. Also you have to protect the staff.
Game features:
- 3 enemy tanks types
- 50 game stages
- 5 original bonuses
- high-quality sprite animation of characters
- original soundtrack
Mehr…
FunBoy
Version: 1.1 | Shareware (12,50 USD)
Remake of a popular classic game, Pacman, in which you must eat all the pills on the maze to pass on to the next level.
Breathtaking action, 50 levels, beautiful graphics, fine music and sound.
Fun game for all the family.
Mehr…
Star Defender
Version: 1.1 | Shareware (14,00 USD)
Vertical scrolling space shooter. Advanced clone of Space Invaders. 
You are a test pilot flying the Tornado.
Your ship is controlled by your mouse. The ship is limited to movement in the lower line of the play area.
To fire, press the left mouse button. If you have rockets - press the right mouse button. Tornado can have up to 5 levels of power-ups. Each level gives you both more life and a more powerful weapon.
Mehr…
sCARface RagingRacing
Version: 1.0 | Shareware (12,00 USD)
Raging Racing is a vehicular racing game in a virtualcity, including city landmarks, traffic, pedestrians, changing weather conditions, interactive objects (cranes, trash cans, mailboxes, litter, flying birds).Two types of scenarios, including Explore / roam, Circuit, plus intelligent track generation, provide hours of gameplay. No fixed tracks to restrict you,find shortcuts and routes through the city. Furious action with agressives opponants.
Mehr…
Blade Master
Version: 1.0 | Shareware (14,99 USD)
Blade Master is a perfect side scrolling platform shooter with a brilliant blend of realistic graphics, blistering game play, an original soundtrack and an absorbing storyline. Your weapon is Blade. Your aim is to save the world. There are a total of 3 large military missions for Sergeant Dan Hart, that give you an opportunity to taste the flavor of real struggle.Try this game and get pumped!
Mehr…
1-abc.net Powerdart
Version: 1.10 | Freeware
Den Pfeil in die Mitte geschossen - und schon gibt's Punkte! Im guten, alten Arcade-Style kombiniert 1-abc.net Powerdart maximalen Spielspa? mit einem Minimum an Downloadgr??e, Festplattenplatz und Installationszeit. Es sieht aus wie Windows? XP, aber es f?hlt sich an wie die fr?hen 80er Jahre. 1- oder 2-Spieler-Spa? - Vorsicht, Suchtgefahr! :-)
Neu in 1.10: Zahlreiche interne Verbesserungen, neue Dartscheibe und speicherbare High-Score-Liste!
Mehr…
1-abc.net Powerpong
Version: 1.20 | Freeware
Ein weiterer Spiel l?ngst vergangener Zeit im aktuellen Gewand von 1-abc.net! Wer vermisst sie nicht, die Zeit, die man vor 20 Jahren mit solchen Spielen verbracht hat? Nun ist der Klassiker wieder da - und all die Zeit ohne wirklichen Spa?, Action und Einfachheit beim Computerspielen ist vergessen! :-) Inklusive speicherbarer High-Score-Liste!
Mehr…