Kategorie System Utilities / Systemwartung
WinXP Manager
Version: 8.0.1 | Shareware (39,95 USD)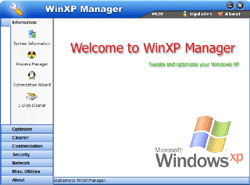 All-in-One utility to optimize, tweak, tune up and clean up your Windows XP. It bundles more than 30 different utilities in one! Get access to hundreds of hidden options to improve system's performance and security, clean registry, junk files and defrag Registry, optimize network to speed connection, uninstall program smartly, mange startup items, and many other miscellaneous utilities. It is an excellent companion for windows XP.
Mehr…
hardware sensors monitor
Version: 4.5.4.2 | Shareware (24,00 USD)
Hardware sensors monitor used to track system temperatures, voltages and cooling fans. Also program is able to monitor and display SATA/IDE HDD S.M.A.R.T. values. By quickly catching an overheated computer, you can prevent disasters such as system instability or damage. The program is resource friendly, resides quietly in the system tray, and continually monitors the various parameters. Remote access to data via PerfMon, WMI, SNMP is supported.
Mehr…
Innovative System Optimizer
Version: 4.0 | Shareware (19,50 EUR)
Innovative System Optimizer 4 is an easy way to keep your PC running fast and error free. Just click a single button and several optimizations will be applied automatically to every major component of Windows, such as the disk, the registry and the memory, improving each component's performance and making your computer run faster. After the optimization you will notice that your PC responds a lot faster to your commands.
Mehr…
Driver Genius
Version: 17.0.0.138 | Shareware (25,99 EUR)
Driver Genius is a powerful driver manager for Windows that can backup, restore and update your drivers automatically in several mouse clicks!
Mehr…
AbpMon
Version: 9.0.0.70 | Shareware
AbpMon v.9.0 for All Windows can "Free RAM" on demand, Show Different Low Resources Alerts, Reboot, Restart, Shutdown System. It graphically shows in real time most popular system wide information about Windows in compact resizable Bar window and SysTray Icon. This information includes usage of CPU, Virtual Memory, Swap File, Memory, data rates for File, Network Server, network Client, DialUp and VPN Input and Output operations.
Mehr…
XP Konfig
Version: 1.6.1 | Freeware
XPKonfig ermöglicht das zentrale Setzen von Systemeinstellungen, die z. T. nur über die Registry erfolgen können.
Ausführliche Erläuterungen und die Möglichkeit der direkten Verzweigung in den entsprechenden Registryeintrag
bieten Interessierten wichtige Informationen. Die aktuellen Systemeinstellungen können ausgedruckt oder als
HTML-Report angezeigt werden. Über eine REG-Datei können Sie die alle Einstellungen schnell wiederherstellen.
Mehr…
RAM Saver Pro
Version: 17.7 | Shareware (29,99 USD)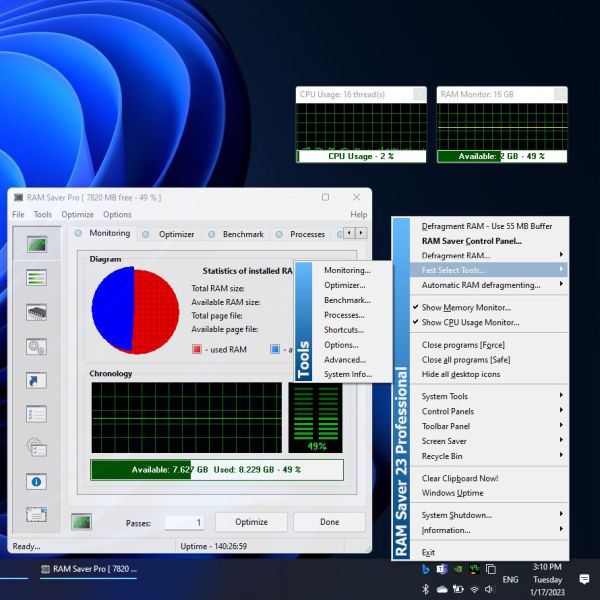 Easy-to-use RAM optimizer tool that will keep your computer running faster. It increases the operation system performance by making more memory available for your applications. Defragments system memory, increasing the efficiency of your CPU and motherboard caches. It also recovers memory leaks from corrupted applications, and it temporarily flushes unused libraries to disk.
Mehr…
ACMP
Version: 3.8 | Freeware
Clientmanagement für alle
Mehr…
ActiveExit XP
Version: 3.22 | Shareware (29,95 USD)
ActiveExit for Windows XP/2000-2005/x64 - a set of tools to control Windows exit. It can logoff users automatically after a period of inactivity, or when the allowed time of using the computer ends. It can shut down the computer even if the computer is locked, or if no user is logged on. It can run a program automatically before exiting Windows. Free for 30 days. http://www.winability.com
Mehr…
CloneMaster
Version: 5.07 | Shareware (39,95 USD)
CloneMaster säubert Ihr Festplatte von doppelten Dateien, die nur Platz verschwenden. Er sucht nach ECHTEN doppelten Dateien (Byte für Byte) und listet sie Ihnen auf. Clonemaster findet Duplikate in verschiedenen Pfaden, Backuplaufwerken, Festplatten-, Floppy-, USB-Sticks, Jaz-, ZIP-, CDROM-, DVD-, abgebildeten Netzwerklaufwerken, usw.
Mehr…
WinTools.net Classic
Version: 17.6 | Shareware (19,99 USD)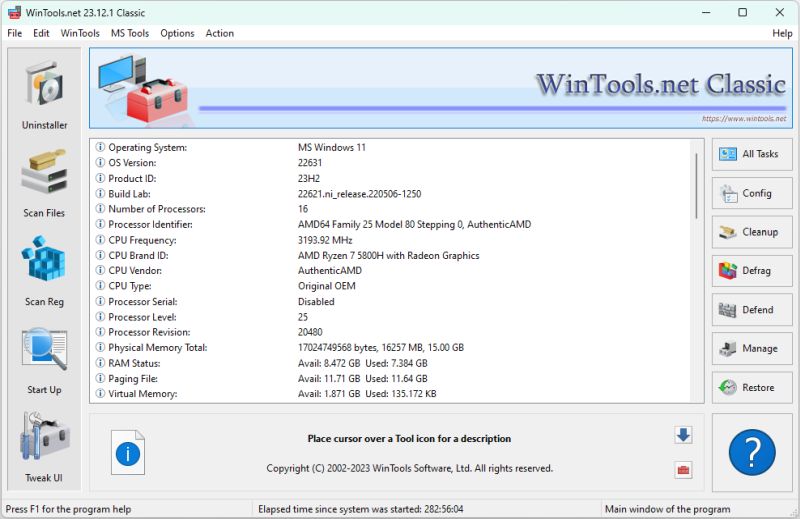 WinTools.net is a suite of tools for increasing operating system performance. WinTools.net cleanly removes unwanted software from disk drives and dead references from the Windows registry. WinTools.net puts you in control of the Windows start up process, memory monitoring and gives you the power to customize desktop and system settings to fit your needs.
Mehr…
System Sentry
Version: 3.0.0.1 | Shareware (29,95 USD)
If you're having problems with General Protection Errors, screen freezes, program hang-ups, programs performing incorrectly, and other errors, System Sentry may be able to repair the problem so it does not reoccur. System Sentry finds all corrupted, replaced,
added, incorrect versions, and date changes of your system files and replaces them for you. This helps avoid the unnecessary and frustrating task of reinstalling Windows
Mehr…