Kategorie System Utilities / Systemwartung
Advanced System Optimizer
Version: 3.0 | Shareware (29,95 USD)
Advanced System Optimizer 3 has tools for improving PC's performance. It has One Click PC care which can speed up and tune up a PC with Single Click of mouse. The new features include Spyware Protector, Driver Updater, Game Optimizer, PC fixer and a Backup tool. We also improvised Secure Delete, File Encryption, Search Duplicate Files, Registry Optimizer and System Cleaner. So is why it`s trusted by millions of users since past 8 years.
Mehr…
HDD-Booster
Version: 1.2 | Freeware
Kennen Sie das Problem von immer langsamer werdenden Festplatten und sich nahezu selbstständig verflüchtigendem Speicherplatz? HDD-Booster schafft Abhilfe! Grafische Auswertungen stellen die Auslastung Ihrer Festplatten und Speichermedien optisch dar und unterstützen Sie bei der Suche nach den großen Speicherfressern. Die ausgereifte Duplikatsuche ermöglicht zudem das Identifizieren von Dateidubletten.
Mehr…
Flash Cookie Cleaner
Version: 2.0 | Freeware
Find, view, and clean Flash cookies with Flash Cookie Cleaner, a freeware application from ConsumerSoft. Awarded the Top Software Award from Downloadtube.com. Flash Cookies are small bits of data saved by websites you visit, similar to browser cookies.
Mehr…
Auslogics Task Manager
Version: 2.2.1 | Freeware
Auslogics Task Manager shows how much CPU, RAM, Disk Usage or Internet bandwidth is used by the processes running on your computer. The program will also show you the services and open files; you will be able to see which programs keep which files open. It can also help you to find trojans hiding in legitimate processes, such as explorer.exe.
Mehr…
Smart Toolbar Remover
Version: 2.3 | Freeware
Fed up with toolbars installing themselves on your computer? Does your browser take ages to load? Is your browsing interrupted by intrusive pop-ups and cluttered screen space? This could be because you have too many toolbars. Smart Toolbar Remover quickly removes unwanted toolbars - with just a single click you can remove any toolbar you like.
Mehr…
Windows Garbage Collector
Version: 2.00 | Shareware (17,95 EUR)
Windows Garbage Collector is a decent little tool that has the potential to clean quite a bit from your system. It offers you an expanded selection of cleanup choices including Temp Setup Files, Downloaded Program Files, Temp Internet Files, Debug Dump Files, Office Setup Files, old Chkdsk files, Recycle Bin, Temp Remote Desktop Files, Setup Log Files, Temp Files, WebClient temp files, Catalog files. You can even compress least-used files with it
Mehr…
MAGIX PC Check & Tuning
Version: 2012 | Shareware (29,99 EUR)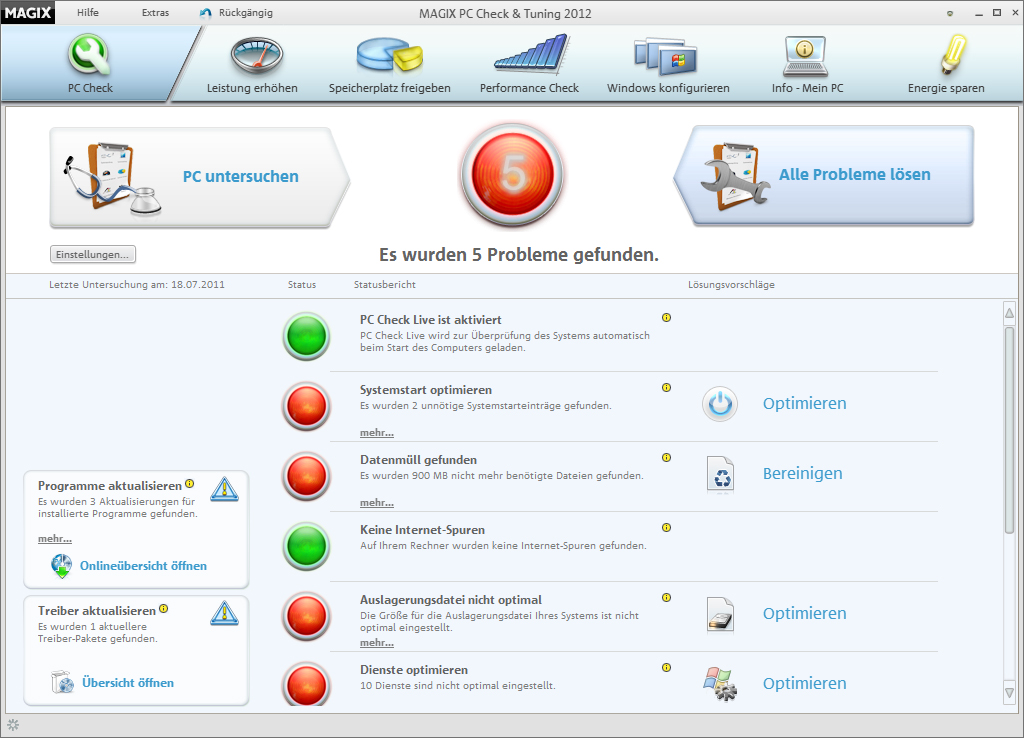 Die zuverlässige Lösung für die Wartung und Beschleunigung Ihres Rechners. Die automatische Optimierung sorgt dafür, dass systembedingte Probleme und Schwachstellen in einem Schritt erkannt und gelöst werden. Zugleich hält die integrierte Aktualisierung von Software und Treibern den Computer dauerhaft auf dem neuesten Stand. So ermöglicht das Programm entspanntes Arbeiten, schnelles Surfen, rasante PC-Spiele oder flüssige Multimedia-Anwendungen.
Mehr…
Exchange EDB Email Recovery
Version: 8.7 | Shareware (200,00 EUR)
Enstella Exchange EDB Email Recovery Software is the best method to re-solves all corruptions problems & issues of Exchange EDB emails and also convert single selective emails from Exchange EDB file to PST, MSG, EML and HTML file formats without facing any corruptions errors. It is very exclusive tool to restore emails from Exchange to Outlook and save all restored database of Exchange EDB to PST.
Mehr…
Advanced SystemCare Pro
Version: 3.4.1 | Shareware (19,95 EUR)
Advanced SystemCare sorgt für ein sauberes System, bei dem sowohl die Registry, die RAM-Auslastung und auch die anderen typischen Prozessbremsen für die PC-Nutzung optimiert sind. Hierfür widmet sich Advanced SystemCare zuallererst dem eingelagerten Datenmüll, der zumeist in Form von temporären Daten auftritt.
Mehr…
WinTools.net Home Edition
Version: 9.2 | Shareware (29,95 EUR)
Der Schwerpunkt der Anwendung liegt auf der Prävention von langsamen und korrupten Systemen. So sorgt beispielsweise ein Datenmüllbereiniger für kontinuierlich leere Temp-Ordner, die für die meisten Anwendungen überflüssige Daten enthalten.
Mehr…
BootRacer
Version: 6.50.0.450 | Freeware
BootRacer saves your time by taking control over startup programs. You can easily disable the startup of any program without any risk to your PC, because BootRacer is completely safe. And most importantly, BootRacer makes it easy to revert any changes you make, by giving you up to 1,000 undo steps. Also you can customize the initiation order of startup programs and monitors your boot time changes.
Mehr…
Driver Detective
Version: 7.1 | Demo (24,95 EUR)
Driver Detective analysiert die auf dem Rechner installierten Hardware-Komponenten wie Drucker, Scanner, Grafikkarten usw. und durchsucht die umfangreiche Datenbank nach aktuellsten Treibern. Automatisch werden diese herunter geladen und installiert. Sparen Sie sich lästiges Suchen und halten Sie Ihre Hardware mit den dazugehörigen Treibern topaktuell.
Mehr…