Kategorie System Utilities / Systemwartung
System Mechanic Free
Version: 18.7.3 | Freeware
System Mechanic Free mit 7 effizienten Tools für die fortschrittliche PC-Optimierung, Reparatur und Wartung. Exklusive patentierte Technologien beheben anhaltende Registry-Probleme, defragmentieren Laufwerke, entfernen überflüssige Dateien und tunen Geschwindigkeit und Stabilität. Die preisgekrönte Lösung wird seit 1998 von mehr 40 Millionen Menschen genutzt, um weltweit mehr als 75 Millionen Computer zu reparieren, zu reinigen und zu warten.
Mehr…
STOR2RRD
Version: 2.52.0 | Freeware
Free storage, SAN and LAN performance and capacity monitoring for EMC VMAX VPLEX XtremIO Isilon DataDomain VNX VNXe Unity, IBM DS8000 FlashSystem Storwize V7000 SVC XIV A9000, Hitachi HUS VSP VSP-G HUS-VM AMS, HPE 3PAR XP7 MSA P2000 StoreOnce Nimble, NetApp FAS E-series, INFINIDAT Infinibox, Huawei OceanStor, PureStorage, Fujitsu ETERNUS, Dell Compellent, DataCore SANsymphony, Lenovo ThinkSystem DS Series V Series S Series, BNA, Brocade, Cisco
Mehr…
System Mechanic Professional
Version: 19 | Shareware (69,95 USD)
System Mechanic Pro mit patentierter Technologie zur Wiederherstellung von Geschwindigkeit, Leistung und Stabilität. Behebt Fehler, fördert die Leistung, schützt vor Infektionen und beugt proaktiv Problemen vor. Diese Lösung aus einer Hand ergänzt die Windows Wartung durch Online-Backup, Dateiwiederherstellung, sicheres Löschen und dreifachen Hochleistungsschutz vor Viren, die Sie nicht aufhalten können.
Mehr…
Mirekusoft Install Monitor
Version: 4.2.986.1 | Shareware (24,99 USD)
Install Monitor is a complete solution for solving the issue of PC performance and reliability. Unlike uninstallers, system optimizers, and registry cleaners that target symptoms, Install Monitor targets the problem directly with intelligent monitoring. This creates a protective layer that allows you to manage or completely remove changes made by programs. It's the #1 way smart PC users keep their system fast and clean. Take control of your PC!
Mehr…
DateiCommander
Version: 20.0.24 | Shareware (34,95 EUR)
Seit Jahren ist der DateiCommander f
Mehr…
Nero TuneItUp Free
Version: 2.8.0.84 | Freeware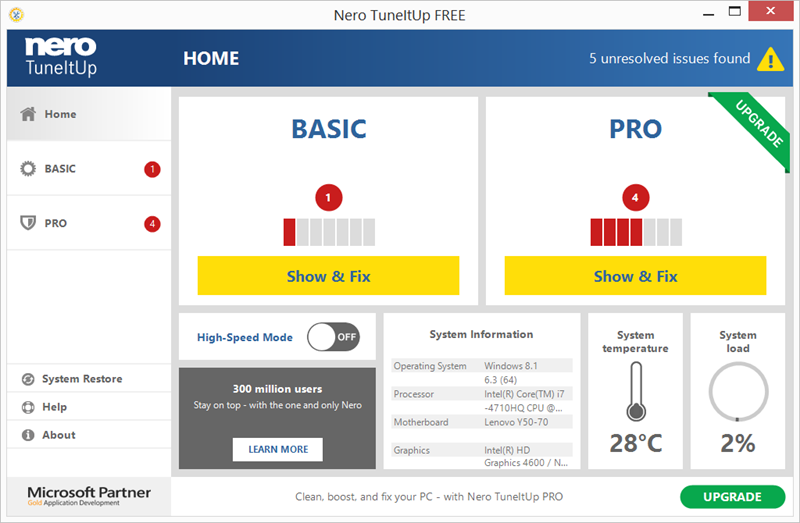 Die kostenfreie Version Nero TuneItUp FREE bringt sieben Hauptfunktionen mit, mit denen müde Rechnersysteme wieder schneller und sicherer laufen. Dazu zählt der Registry-Cleaner, der die Windows®-Registry auf Stabilitätsfehler untersucht, gefundene Mängel repariert und so das Abstürzen des Laptops oder PCs verhindert. Der Deinstallationsassistent zeigt außerdem unnötige und besonders ressourcenhungrige Programme an.
Mehr…
BackProtection Festplattenreiniger
Version: 12.0 | Shareware (9,99 EUR)
Im Laufe der Zeit belegen diese Dateien immer mehr Festplattenspeicher. Hier schafft der "BackProtection Festplattenreiniger" Abhilfe. Mit wenigen Klicks bereinigt er Ihre Festplatte und jedes beliebige andere Laufwerk von temporären und verwaisten Dateien, sowie auf Wunsch die Caches Ihrer Webbrowser.
Mehr…
BackProtection Premium
Version: 2019 | Freeware
BackProtection gibt wertvollen Speicherplatz auf Ihrer Festplatte frei und steigert die Performance Ihres PCs. Löschen Sie sensible Daten sicher, wodurch eine Wiederherstellung mit Recovery-Tools nahezu unmöglich wird. Sie haben wichtige Daten auf einer CD oder DVD gespeichert, die aber zerkratzt ist? Sichern Sie sie mit der Datenrettung. Auch sind Dateimanagement-Funktionen, z. B. zur Dateisuche oder zum Ermitteln von MD5-Prüfsummen, enthalten.
Mehr…
Save PST File Office 365
Version: 1.0 | Vollversion (19,00 USD)
To save PST file Office 365 backup to different file formats like- PST, PDF, MSG, MBOX, EML and EMLX. Office 365 backup software perform batch function that is available for bulk save PST file Office 365 backup.
Mehr…
Export Exchange Mailbox
Version: 5.5 | Shareware (199,00 USD)
Export exchange mailbox from 2016, 2013, 2010 to PST Outlook file by downloading result-oriented SysInspire Export exchange database Tool that repair damaged, corrupted exchange database, mailboxes and export exchange mailbox EDB to PST, MSG, EML, EMLX and MBOX format. Export exchange database to PST from offline Exchange EDB.
Mehr…
Soft Organizer
Version: 7.15 | Freeware
A very easy to use and functional program manager for Windows XP-10 that search and deletes traces uninstalled applications may have left in the system, tracks installing of programs for future complete removal, and monitors applications for newer versions available for download. The built-in rating system allows a user to find and filter out low-quality or low-ranked applications.
Mehr…
SpeedItup Free Pro
Version: 2.01 | Freeware
SpeedItup Free Pro, Secure and Speed up your PC for free.
Mehr…