Kategorie System Utilities / Systemwartung
Vista Manager
Version: 4.1.6 | Shareware (39,95 USD)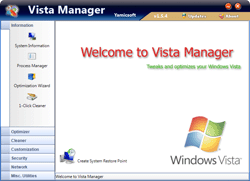 An all-in-one utility to tweak, optimize, tune and clean up Windows Vista. It includes over thirty different utilities! Get access to hundreds of hidden options to improve system's performance and security, clean registry, junk files and defrag Registry, tune up Vista boot menu, uninstall program smartly, mange startup items, and many other miscellaneous utilities. It is an excellent companion for windows Vista.
Mehr…
Uninstall Tool
Version: 3.5.3 | Shareware (24,95 USD)
Quick, powerful and reliable alternative to standard Windows Add/Remove Program. It's a fast, secure and convenient way to remove unneeded applications and improve your computer efficiency. The program can also remove System and Hidden applications, programs that could not be removed by Add/Remove Program! Uninstall Tool also removes programs, that automatically run at system startup - a great option to get complete control on your computer.
Mehr…
FireDaemon Session 0 Viewer
Version: 1.3.0 | Shareware (15,00 USD)
FireDaemon Session 0 Viewer is an application for Microsoft Windows that allows you to easily switch back and forth between your logged in Windows desktop session and Session 0, controlling applications running typically as a service on that session. The product also enables interactive services, gives the user the ability to steal Session 0 control from another and kick users off Session 0.
Mehr…
ipCompiler
Version: 19.0.5 | Demo (49,95 EUR)
IPCompiler ist ein System- und Netzwerk- Diagnose-/Management Tool. Es ist in der Lage, eine vollständige Diagnose bzw. Inventur Ihrer eingesetzten Hard-/Software und Netzwerkprotokolle und Dienste durchzuführen (Remote und Lokal). Weiterhin ist ein erweiterter Taskmanager integriert. Die gesamte WMI Funktionalität stellt Ihnen IPCompiler zur Verfügung. Sie müssen sich keine aufwendigen Befehle merken - alle Info´s erhalten Sie auf Knopfdruck.
Mehr…
Magic Speed
Version: 3.7 | Freeware
Ihr PC startet und läuft langsam? Magic Speed beschleunigt den PC und erhöht seine Effektivität in 5 Schritten. Zum Softwarepaket gehören Startverwaltung, Behebung von Registrierungsfehlern, Diskreinigung und Speicherverwaltung. Es ist kostenlos und erfordert keine spezielle Kenntnisse! Magic Speed analysiert beim Starten geladene Anwendungen. Dank dem neuen täglich aktualisierten Antivirus-Modul erfolgen bei Überprüfung Virus- und Spywareteste.
Mehr…
12G-Complete
Version: 9.70 | Shareware (34,99 USD)
These power tools for Windows optimize and automate your daily tasks. They backup documents, clean up temporary files, and protect your privacy.
Mehr…
DiskCheckup
Version: 3.2.1000 | Shareware (15,00 USD)
DiskCheckup measures the performance and 'health' of your S.M.A.R.T. enabled hard disk drive. It compares current hard disk attributes to values determined by the manufacturer of the HDD. It can track changes to the attributes over time and make a extrapolated 'prediction' as to the failure date of the HDD. It can be command line driven and can be configured to send alerts by email. Free for personal use, $US 15.00 for commercial use.
Mehr…
Network Info Requester
Version: 1.1.240 | Freeware
Network Information Requester is very simple utility. You need to launch it and all information will be collected automaticly, without any attention. It takes about a second to collect the information about network settings for the each installed network adapter.
Also you able the save this information to the HTML file. It's a very handy when you need to troubleshoot network settings or find a problem at remote computer.
Mehr…
Hard Drive NTFS Partition Recovery
Version: 3.0.1.5 | Shareware (69,00 USD)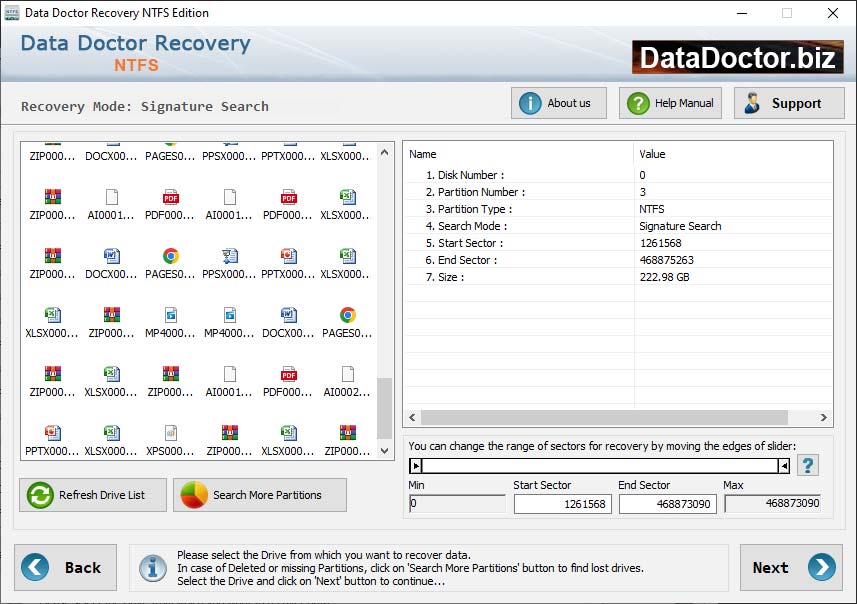 Windows hard disk drive deleted formatted NTFS partition data recovery software recover restore damaged lost partitioned volume MBR master boot record root directory MFT master file table boot sector. Retrieval utility rescue XP NT 2003 2000 98 ntfs file system corrupted files folders. Data restoration tool retrieve undelete not detected inaccessible disk due to hardware malfunction virus attacks boot failure support SCSI ATA SATA IDE EIDE USB
Mehr…
DriverMax
Version: 9.32 | Freeware
Treiberaktualisierung für jedes Hardwaregerät! DriverMax ist die beste Wahl für Ihr Windows-Betriebssystem. Er findet und lädt die letzten durch Ihren PC gebrauchten Treiberversionen herunter. DriverMax durchsucht die Hardwaregeräte Ihres PCs, findet die beste Treiberversion für jedes Gerät, und wenn Sie so wählen, können Sie die Treiber herunterladen und aktualisieren. Er kann auch Treiber für unbekannte Geräte finden, die Windows nicht erkennt.
Mehr…
BurnInTest Professional
Version: 8.1.1022 | Shareware (79,00 USD)
Fast, easy-to-use utility that simultaneously exercises all the major components of a PC, to test for endurance and reliability. Tests include CPU, RAM, Disk, Blu-Ray, Video, CD, DVD, Printer, Sound, Network, video playback and cyclic rebooting. Results can be saved to disk, printed or exported as a GIF. Also, user configurable errors and logging detail, a temperature monitoring interface, timed test runs, cyclic rebooting and online help.
Mehr…
Arrange Startup
Version: 3.7 | Shareware (29,95 USD)
Erinnern Sie sich an den Tag, wo Sie Ihren neuen PC gekauft haben? Er war blitzschnell. Nach einem Jahr intensiver Benutzung bemerken Sie aber, dass Ihr PC seriöse Leistungsprobleme hat. Viele Programme werden beim Rechnerstart geladen, was die Leistung bedeutend verringert. Ein Teil davon sind notwendige Systemprogramme, andere sind es nicht, und die meisten können Sie aus der Startup-Liste mit Arrange Startup entfernen!
Mehr…