Kategorie Desktop / Sonstige
KeyFreeze
Version: 1.0 | Freeware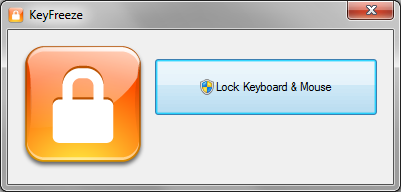 KeyFreeze blocks your keyboard and mouse so your kids can safely watch cartoons or have a Skype videochat with their grandparents. Simple as that - keyboard blocker & mouse blocker for Windows.
Mehr…
Halftone Search
Version: 1.5.0 | Shareware (29,00 USD)
This program extends the Google Desktop (GD) and Windows Desktop Search (WDS) functionality by providing a native Windows interface and allowing GD to access more file formats. The interface enhancements include search terms highlighting, on-the-fly compressed files extraction. Additionally, the program adds support for searching in compressed archives, MS Help files, WEB archives, and more.
Mehr…
Animated Weather Widget
Version: 2.3 | Freeware
Animated Weather for Android smartphones is easily the best Android weather widget available. View the weather forecasts and current weather conditions in style on your mobile phone using this powerful little application. Weather conditions are displayed in beautifully animated 3D complete with colorful background sceneries. Accurate and reliable forecasts can be provided virtually anywhere in the world with support for over 50,000 locations.
Mehr…
Wallpaper4U
Version: 3.41 | Cardware
Wallpaper Manager zum Setzen des Wallpapers, zufälliges Wallpaper per Timer-Funktion und Windows-Start, verschiedenste Dateiformate lesbar, Abspeichern von Listen, eingebaute Bildvorschau, alle Anzeige-Modi vorhanden, Suchfunktion, Hinzufügen ganzer Verzeichnisbäume und einfache automatisierte Namensgebung, Thumbnails, Filterung der Darstellung, Prioritätssystem, adaptive Skalierung, Abgleich der DB mit Verzeichnis
Mehr…
TIO Tools Pro
Version: 2.21 | Shareware (15,00 EUR)
(werbefreie Pro-Version) Schnellstartleiste für Ihre Programme und Dateien welche sich automatsich am Bildschirmrand ein-/ausblendet. Zusätzliche Utilities: Calc Convert, Clipboardviewer, Colorpicker, Stoppuhr, Bildschirmlupe.
Mehr…
Wallpaper Scout
Version: 1.50 | Shareware (29,00 USD)
Create flash wallpaper installer and re-distribute it to your web-site visitors, your customers, colleagues or friends. You can customize title, publisher, web-site url, to set custom options for flash movie used in wallpaper, automatically reverts to previous wallpaper when de-installing flash wallpaper.
Take a look at step by step tutorial on our web-site that will teach you how to build your own flash wallpaper installer in a few minutes.
Mehr…
Surpriise
Version: 1.3 | Freeware
Surpriise is a joke program, incredible desktop entertainment, which brings a lot of fun to your kids, and the entire family or friends. This cute absolutely free program is a little gift for you, your friends and relatives. Available for Windows XP/2003/Vista.
Mehr…
Desktop Christmas Tree
Version: 1.6 | Freeware
If you have started redecorating your apartment for Christmas and New Year,
you may want to do the same to your computer desktop.
Get free Christmas tree for your desktop.
Mehr…
Halloween for Desktop
Version: 1.1 | Freeware
Looking for a real treat this Halloween? This program makes a good way to costume your computer for Halloween. Halloween spirit on your desktop. This is a wonderful Halloween! Happy Halloween !
Mehr…
Desktop Xmas Tree
Version: 1.3 | Freeware
Desktop Xmas Tree is a small, digital Tannenbaum for your desktop. It can optionally stay on top and you can adjust transparency - a mouseover hint reveals how many days are left till Christmas.
Mehr…
Advent
Version: 1.6.0.2 | Freeware
Advent, Advent, ein Lichtlein brennt. Erst eins, dann zwei... der virtuelle Adventskranz entzündet seine Kerzen je nach Woche selbst. Das Advent screen-mate ist ein graphisches Desktopprogramm. Es entzünden sich automatisch je nach Adventswoche ein bis vier Kerzen und verbreiten auf dem Bildschirm eine weihnachtliche Stimmung.
Mehr…
Crawler Weather
Version: 4.2.5.2 | Freeware
Get current weather information for forecasts, maps, storms and traffic news for your hometown or anywhere else in the world. View graphic forecast, radar, maps and more! Free customizable Crawler Toolbar that has terrific plugins is also available for download. Get MP3 player, Internet radio streams, screensavers, wallpapers, RSS, ecards, download manager and more! No Spyware or Adware!
Mehr…