Kategorie Grafik / Icon Tools
Sib Icon Catalog
Version: 2013.2 | Freeware
Durchsuchen Sie Hunderte von Stock Icon-Sets und suchen unter Tausenden von Icons in wenigen Minuten. Sib Icon Catalog macht es leicht zu finden und zu kaufen lizenzfreien Icons mit pünktliche Lieferung garantieren. Mit Durchsuchen können Sie sofort eine Vorschau einzelnen Symbole und ganze Icon-Sammlungen ohne Wasserzeichen.
Mehr…
Image2Ico
Version: 2.3 | Shareware (12,50 USD)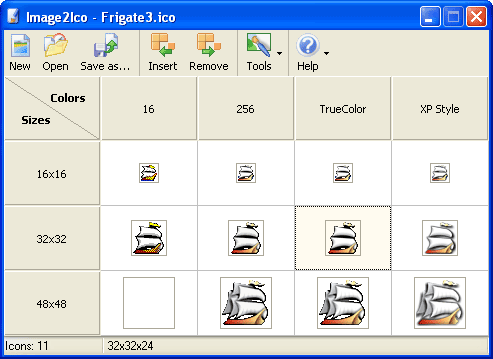 Image2Ico is a powerful and easy-to-use utility for converting images to ico. It supports a lot of image formats including bmp, dib, rle, gif, jpg, jpeg, jpe, ico, png, wmf. You can create icons of any size (16x16, 32x32, 48x48, 256x256, etc.). Image2Ico reads and writes 16 colors, 256 colors, TrueColor and 32bpp (XP-Style) icons and has a built-in image processing. Download the free trial copy now to see how it works.
Mehr…
Falco Icon Studio
Version: 13.6 | Freeware
Falco Icon Editor is a Graphics Tool to create, edit and export icons. Create professional looking icons with ease.
Mehr…
IconXpert
Version: 1.2.4 | Freeware
Ein praktisches Tool für Software-Entwickler die viel mit Symbolen/Icons hantieren müssen. Das Programm bietet folgende Features: * Anzeige von PNG, BMP,ICO,DLL,ICL,EXE Dateien * Schnelles durchstöbern ihrer Icon-Archive in DLL oder Verzeichnissen * Kopieren der Icons oder der Icon-Dateinamen in die Zwischenablage * Umwandeln in BMP, ICO und PNG * Viele weitere nützliche Features
Mehr…
SID Icon InDepth
Version: 7.3.3.3000 | Shareware
A fantastic program that allows you to capture, create and edit icons and cursors. The program also allows you to Extract icon from any file or folder, Import icons from images and files, and Export icons in a custom size and color depth. You can drag and drop any files to the Program for open, Store the most recent files opened before and Select Regions to Import from .bmp, .jpg, .gif, or .wmf image files greater than 64X64 pixels.
Mehr…
SoftOrbits Icon Maker
Version: 1.0.29 | Shareware (29,95 USD)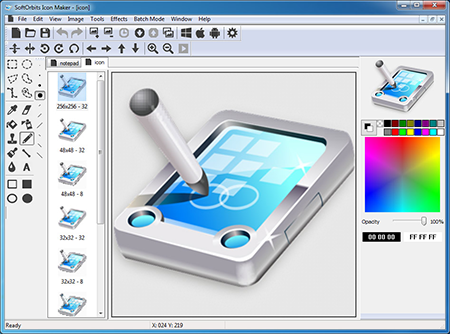 A powerful but simple icon maker is SoftOrbits Icon Maker. This software is able to create icons in different formats and sizes. You can create icon for Android, and Mac. It has the full graphic editing tools set and various color and shape effects, providing no limits for creativity. This icon maker generates brand new static or animated icons as well as creates small icon images from existing files.
Mehr…
IconChanger
Version: 3.8 | Shareware (24,95 USD)
Icon Changer is a software application that makes changing icons on the desktop fun and easy. It's a hassle-free way to personalize your desktop without having to open up any computer manuals. Simply click the icon you want to change, point at the one you like and that's all. Change icons to make navigation easier, to group similar applications together, or merely to customize and spice up your desktop. Try it!
Mehr…
FlatIconMaker
Version: 1.3.5 | Shareware (39,95 USD)
FlatIconMaker is an powerful, flexible icon drawing software, easy to create flat icon, outline icon, glyph icon or photorealistic icon. Vector Drawing: Advanced vector drawing environment that allows to freely change the icon outline. Powerful Ttool: 30 standard drawing tools include Rectangle, Ellipse, Pencil, Bezier, Polygon, Transfer, Riper, Clone, Color Pick, Color Fill, Text and more.
Mehr…
Magic Sprayer
Version: 1.6 | Freeware
Magic Sprayer is for drawing tolerant objects and gradient/primitives. Powerful tools include eraser and sprayer. Eraser creates transparent points, and sprayer draws transparent lines. With these tools you can quickly and easily edit pictures! The Magic Sprayer is also for automatic drawing of gradient primitives. Circles with 2 colors, triangles with 3 colors and rectangles with 4 colors are included.
Mehr…
Icon Butler
Version: 1.600 | Shareware (9,90 EUR)
Der IconButler bietet verschiedene Funktionen der Icon-Verwaltung an. Grundlage ist die 'Icon-Library'. In einer solchen Datei können Icons platzsparend abgelegt werden. Ausser Icons mit 16 Farben werden auch Icons mit 256 Farben und Icons mit 16x16 Bildpunkten verwaltet. Ausserdem können Icons aus dem Programm heraus bearbeitet und aus Dateien (*.EXE, *.DLL) extrahiert werden.
Mehr…
EZ Extract Resource
Version: 3.5 | Shareware
EZ Extract Resource is a tool that can scan specified directories or single files on your computer and extract icons, bitmaps, glyphs (button images), and cursors, sounds etc from programs and DLL, OCX, etc.EZ Extract Resource save these images or videos, sounds as regular files. And can also manage and process these files for you.Try it out..
Mehr…
Mojicon Dispenser
Version: 2.0 | Adware
Mojicon is a free & safe interactive plugin that allows you to access & pick from thousands of unique characters designed by some of todays hottest character artists. Add 1000's of fun characters to your I M/ Email. Works with all major Email clients and instant messenger applications. 100% Spyware / Adware FREE. Visit Mojizu.com to upload and use your own characters with Mojicon.
Mehr…