Kategorie Heim & Hobby / Astrologie | Biorhythmus | Mystik
My Zodiac Calendar
Version: 1.0 | Shareware (24,90 USD)
With this program you can play with astrology and do serious calendaring at the same time. It shows the horoscope sign, moon phase and position of planets for a selected date while keeping track of your appointments, tasks, reminders and quick notes.
Mehr…
Biorhythms Calculator Amateur
Version: 2.0.32 | Freeware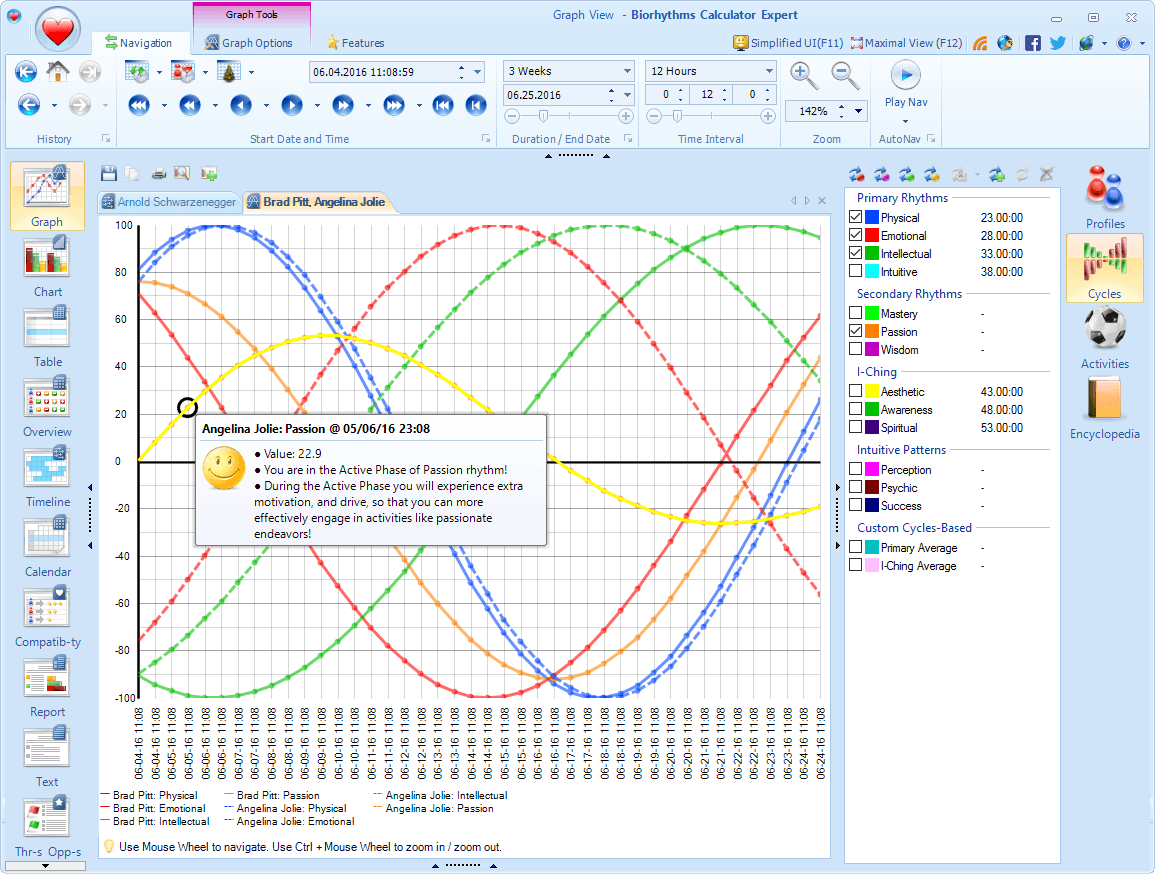 Get complete picture of your biorhythms and see how compatible you are in various areas with your loved ones, relatives, and friends by seeing a total of 15 built-in rhythms: Primary, I-Ching, Secondary, and Intuitive Patterns, as well as user-defined rhythms, by visualizing them like never before in 9 fully customizable and interactive views including: Graph, Table, Calendar, Timeline, Compatibility - all with full clipboard and printing support
Mehr…
Desktop Lunar Calendar
Version: 1.69 | Shareware (19,95 USD)
Desktop Lunar Calendar is simple, fun and easy to use calendar. It is accurate anywhere in the world. It has two parts: image of the current moon's phase and compact, harmonic moon calendar. The 4 main quarter phases - Full, New, First Quarter, and Last Quarter - are marked on the calendar.
You can change color of the calendar, size of the moon's image, time's format and more, download now!
Mehr…
Baby Gender Calculator
Version: 1.44 | Shareware (8,70 USD)
This is Windows software, simple for installation and usage that for affordable price provides in one place: Prediction of period for conceiving a child of wanted gender; Determination of fertile days (Ovulation Calendar); Calculation of delivery term and Determination of the date of child's conceiving. Printing, saving, external editing, e-mailing the reports and parents' data saving are enabled.
Mehr…
Become Happy
Version: 4.6 | Shareware (24,90 EUR)
Increase your happiness by having this universal software affect your endorphin hormone (hormone of happiness). Become Happy slightly changes look and feel of your desktop, of all windows opened and all the music and sound playing, affecting your endorphin-hormone (the natural body's painkiller) release. This leads to mood elevation, better health, and, finally, to becoming more happy !
Mehr…
PC-BIO2000
Version: 4.0 | Freeware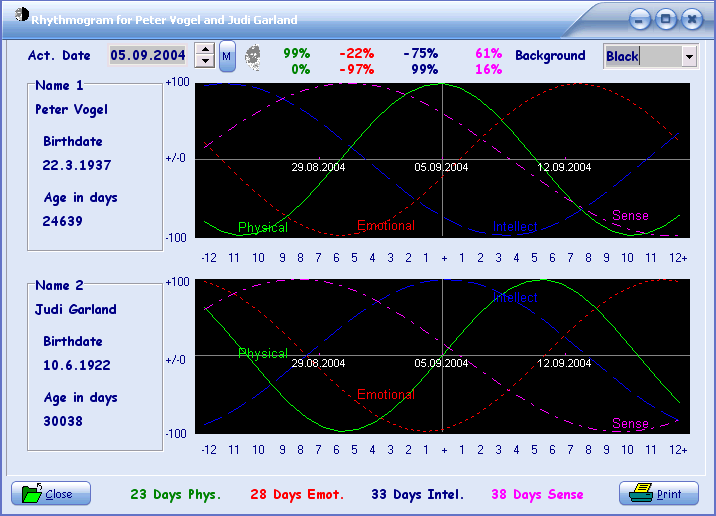 PC-Biorhythmus32 für Windows9x/2K/Me/NT/XP/Vista/Win7 mehrsprachig mit Sternzeichen, Body-Mass-Index, Edelsteintherapie,Mondphase,Time-Planer-Format, Allergieberatung, Erste Hilfe, Notrufnummern, Pollenkalender, umfangreicher Hilfe und Onlinehandbuch usw.70 verschiedene Layouts (5 intern 65 extern).
Mehr…
Zango Astrology
Version: 1.00 | Freeware
Zango Astrology - a crystal ball for your desktop! Know the Future, be prepared ... and have a lot of Fun! Application does not consume PC resources and will not slow it down. Enjoy it - it is FREE!
Mehr…