Kategorie Netzwerk & Internet / Browser
UpdatePatrol- Automatic Web Page Watcher
Version: 3.2 | Shareware (49,95 EUR)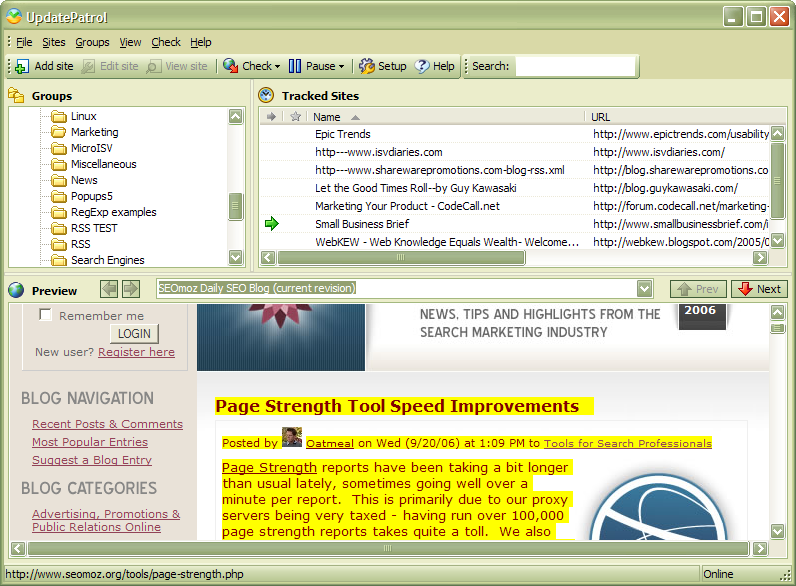 Silently watch web pages for updates ... Watch pages with changes highlighted in the built-in browser ... Receive alerts by email, desktop popup or sound ... Check web pages for changes as often as you like .. Easily import your existing bookmarks ... Improves your productivity by working silently and unattended ... Dynamic content like page counters and dates can be ignored ... No limits on number of pages ... EASY to use unlike our competitors.
Mehr…
Dr. Regener Private Session 4 IE
Version: 3.0 | Shareware (15,00 EUR)
Die meisten Surfspuren sind nützlich! Sie erleichtern das Navigieren und beschleunigen den Seitenaufbau erheblich. Doch viele Spurenvernichter löschen radikal.
Im Gegensatz dazu löscht eine "private Sitzung" nur Spuren von fragwürdigen Seiten - ohne nützliche Daten zu vernichten.
Einfach "private Sitzung" starten, wenn es gefährlich werden könnte.
Dateishredder und andere Sicherheitsfunktionen komplettieren das Programm.
Mehr…
Link Commander
Version: 4.5.1.1172 | Shareware
Erstellen Sie Ihre eigene Browser unabhängige Link Zusammenstellungen mit Spaß! Quälen Sie sich nicht mit öden Link Beschreibungen! Erhalten Sie sie direkt aus den Ursprungs-Web-Seiten! Finden Sie schneller den je gesuchte Links dank dem flexiblen Sortierungssystem und gestuften Suchoptionen! Vereinfachen Sie das Einfügen neuer Links, mit dem Echtzeit-Monitoring der Webseiten und der Internet Adressen! Genießen Sie die Arbeit mit Link Commander!
Mehr…
Space Navigator
Version: 1 | Freeware
Ein schöner Browser(skin) für Weltraum- und Raumfahrt Fans mit coolen links... mit BrowserBob erstellt. Nutzt die Betriebssystemkomponenten des Internet Explorer - ist also sicher und macht Spass. Völlig kostenlos, ohne Werbung - just for fun... Die Navigation ist etwas ganz besonderes - wer auch einen coolen Browser aus eigenen Bildern machen will kann das kinderleicht mit BrowserBob Freeware tun, auch andere Beispiele gibt's zum Download.
Mehr…
AdsGone Popup Killer ad Blocker
Version: 5.0.6 | Shareware (19,95 USD)
Finally, a Solution to the Web's Most Hazardous and Disruptive Problems: Blocks popups, banners, flash ads, messenger service ads, and detects spyware that serves ads. Blocks ads in Kazaa, Morpheus, Gator, ICQ, MSN, AIM, or Trillian. Thousands of people all over the world are already experiencing the power of AdsGone Popup Killer and banner ad stopper software.
Mehr…
Globus VPN Browser
Version: 1.0.0.45 | Freeware
The connection masks the IP address of the host computer with the one of the server. This way you can connect to any website protected from IP tracing, as the server will keep your personal data private.Reliable and fast Internet browser that supports VPN encryption Globus VPN Browser provides you with a fast and intuitive way to browse the Internet, whilst keeping you protected from IP tracing and personal data collection using VPN connections
Mehr…
NetMarks Manager
Version: 3.0 | Shareware (24,00 USD)
NetMarks lets you store and easily manage thousands of web bookmarks. NetMarks Manager integrates with Internet Explorer and Firefox, and supports other browsers. Take notes about a bookmark, use the powerful search engine, preview sites, highlight favorites, view as web pages, synchronize with websites, import/export, manage duplicates and much more. NetMarks is an easy-to-use tool for anyone from the home web surfer to professionals.
Mehr…
Auscomp Smart Login
Version: 5.0.2 | Shareware (24,95 USD)
Installs directly into MS IE and remembers passwords and login IDs, as well as automatically filling in Web Forms.
Secure - 448 bit Blowfish encryption algorithm (better that what some of the banks use).
Safe & Simple to use. Only 1 Master Password to remember!
Securely manage all your Online Banking, Mail, Web site administration, Subscriptions, Purchases etc...
Mehr…
ArmorSurf
Version: 1.4.2.2 | Freeware
FREE all-in-one private web browser, encrypted file manager, downloader, and media player. ArmorSurf protects and encrypts user files, cookies, browsing history and activity so no traces are left on a computer. ArmorSurf lets you download and keep any type of content, including streaming Flash files. GUARANTEED 100% Spyware Free.
Mehr…
Create IE toolbar online
Version: 1.2 | Shareware (19,00 USD)
Get the marketing weapon that companies like Google, eBay, Yahoo and others use to drive people back to their website. Create your own fully customizable toolbars in a matter of seconds.
- increase traffic;
- improve accessibility to your site;
- maximize your branding;
Google, Yahoo, eBay, Altavista have built their toolbars. Don't let your competitors get their toolbars in your target market first.
Mehr…
iNetAdviser
Version: 4.5.40 | Shareware (44,95 EUR)
Makes it easy to avoid visiting the same web pages with its handy highlighting feature. Just hover your mouse over a link to see your personal comments, page screenshots and more! iNetAdviser combines the functionality of a multi-window browser, an advanced bookmarker and picture saver. Block annoying pop-up and banner ads. Clear all tracks of your online activities. Web pages translating and voicing, quick groups and URL aliases and much more
Mehr…
Visual Explorer Ultimate
Version: 3.2 | Freeware
Visual Explorer Ultimate is the ultimate, full featured web browser with support for Internet Explorer favorites and add-ons. Easily remove private data, surf securely with the safety (phishing) filter, block unwanted ads and pop-ups, perform instant Google searches with a single click, download and convert web page videos, print web pages exactly how they appear on screen. Customize with themes, skins and keyboard shortcuts.
Mehr…