Kategorie Netzwerk & Internet / Remote Computing
Webcam for Remote Desktop
Version: 2.7.12 | Shareware (99,95 USD)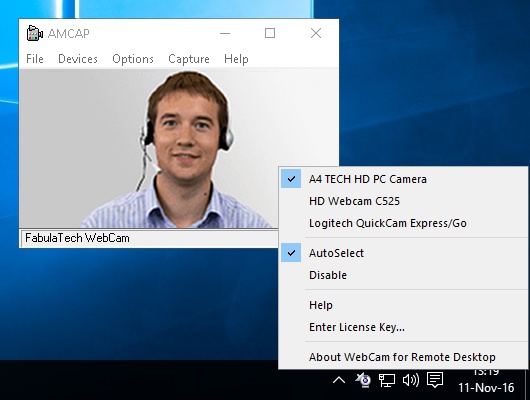 Webcam for Remote Desktop is software by FabulaTech, that redirects a web camera from local computer to remote desktop session. It is effected out by creating a virtual webcam on the remote side, which gets video stream from the webcam plugged to user's local computer. For sure you will find Webcam for Remote Desktop very helpful when you use Skype, Yahoo! Messenger, Google Talk, ICQ and many other applications in RDP or Citrix environment!
Mehr…
Scanner for Remote Desktop
Version: 1.7.4 | Shareware (99,00 USD)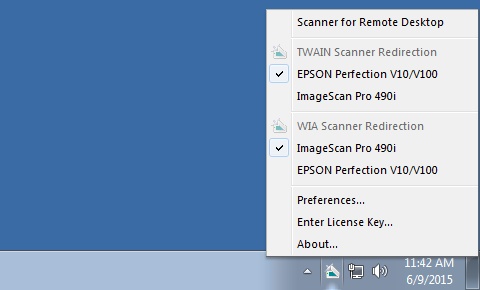 Scanner for Remote Desktop creates a virtual scanner on the server and allows driver free scanning via any application in a remote session using a local scanner. The scanners are isolated within each individual session, so you don't need to scroll through a long list of scanners in the scan dialog to find the one plugged into your workstation! The program supports 3 color modes and 3 resolutions, scanning on more than 10 standard paper sizes.
Mehr…
Ericom Blaze
Version: 1.4.8 | Demo (69,00 USD)
Blaze is a breakthrough stand-alone software speed up remote desktop traffic by 10x across WAN/LAN, including WiFi, ADSL, 3G & GPRS networks. Blaze provides users super quick access to apps w/high graphic content, as PDF, PPT, 2D applications & Flash. Delivering the best user experience for the allocated network bandwidth, Blaze helps IT Admins break through a significant barrier to scalable deployments of SBC, VDI & thin-client computing.
Mehr…
Scanique
Version: 1.00 | Shareware (44,95 EUR)
Share a scanner over the network just like you share a printer! With fully networked operation and automatic document feeder support, Scanique greatly improves productivity and makes your life easier. Scanique can share most TWAIN and WIA scanners, even if they are not equipped with a network interface. With Scanique, you can scan documents into a wide range of image formats, including the ability to scan directly into multi-page PDF files.
Mehr…
EMCO WakeOnLan Free
Version: 1.4.4 | Freeware
A free visual Wake on LAN (WOL) tool for networks of any size used to wake up remote PCs. By means of this tool, the centralized WOL command can be initiated with just one mouse click. All required operations are automated - you should only select target PCs. In particular, you don't need to bother about detecting and entering the remote PCs MAC addresses. The application retrieves MAC addresses automatically using four MAC detection mechanisms.
Mehr…
EMCO Remote Installer Professional
Version: 5.2.12 | Shareware (69,00 USD)
This remote software deployment tool is designed to install and uninstall Windows software on remote PCs through a local network. You can use it to install and uninstall EXE setups, MSI packages and MSP patches remotely in a silent mode. Software can be installed to and uninstalled from multiple remote PCs at the same time. The application also allows you to audit Windows software installed on remote PCs and track software inventory changes.
Mehr…
EMCO WakeOnLan Professional
Version: 1.4.4 | Shareware (179,00 USD)
An advanced visual Wake on LAN (WOL) tool ready to operate in large-scale networks to power up remote PCs. All Wake on LAN operations are completely automated and can be executed both on demand and on schedule. The application can automatically detect MAC addresses of remote PCs. WOL tasks scheduling is really easy and allows you to schedule tasks for one-time or recurrent execution. All scheduled tasks can be managed through an intuitive UI.
Mehr…
Remote Desktop Screenshot
Version: 2.0 | Shareware (39,00 USD)
Remote Desktop Screenshot allows you to capture remote desktop screenshots. You can see all users' desktops at once. With built-in scheduler you can set time for update screenshots for all computers or for certain computers.
Mehr…
Remote Control PC
Version: 5.4 | Freeware
Remote Control PC ist ein Muss für alle Netzwerkadmins, die sich Fernwartung beschäftigen. Alles was zum erfolgreichen Verwalten nötig ist, ist eine Internet-Verbindung. Mithilfe des Programms können Remote-PCs auf dem lokalen Bildschirm dargestellt und per Maus und Tastatur aus der Ferne kontrolliert werden.
Mehr…
Instant Housecall
Version: 6.0 | Freeware (41,00 USD)
Remote support for IT Pros and MSPs. Brand the UI, splash screen and desktop icons. Automatically repair computers with Remote d7. Drag-and-drop file transfer, reboot into safe mode and more. Unattended access and on-demand. View and control any PC and Mac through firewalls.
Mehr…
S3 Browser
Version: 6.5.9 | Freeware
S3 Browser is a free client interface for Amazon S3 Service. Amazon S3 provides a simple web services interface that can be used to store and retrieve any amount of data, at any time, from anywhere on the web. S3 Browser will help you: Organize your Amazon S3 buckets and files; Create public URLs to share the files; Browse, create, delete Amazon S3 buckets; Upload and download files to and from Amazon S3.
Mehr…
AnyDNS Client
Version: 3.0 | Freeware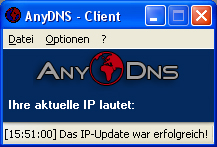 Geben Sie dynamischen IP-Adressen einen festen Namen und nutzen Sie diesen Universalnamen für diverse Anwendungsfälle. AnyDNS funktioniert für alle Einwahlen: Modem, ISDN und natürlich DSL.
Mehr…