Dealseeker
Version: 1.0.6 | Freeware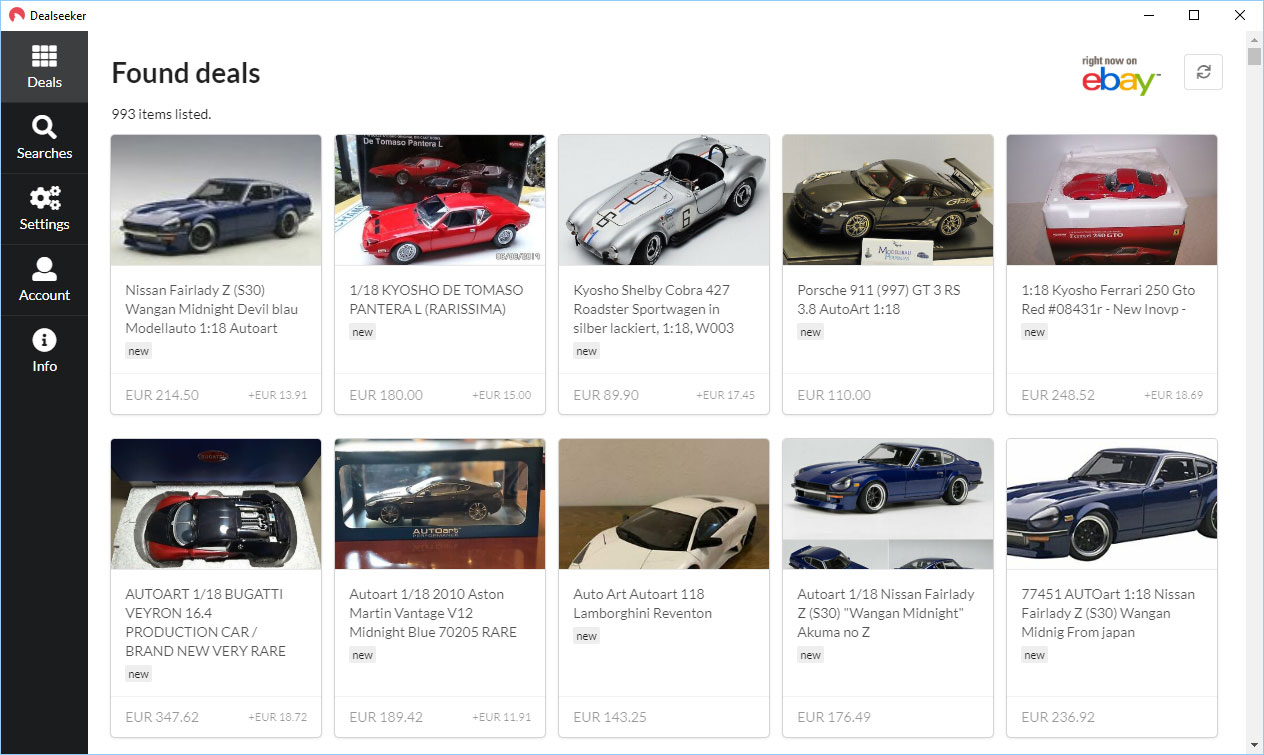 Dealseeker for eBay will show you a summary of all new items that you are interested in on eBay in a single click. Run multiple saved eBay searches in seconds and check all results in a snap or let Dealseeker run in the background through the day and get a notification whenever a new item that matches your search is listed. Don't miss a rare item or deal again. Check eBay every day in a single click!
Mehr…
Easy Button & Menu Maker
Version: 5.2 | Shareware (29,95 USD)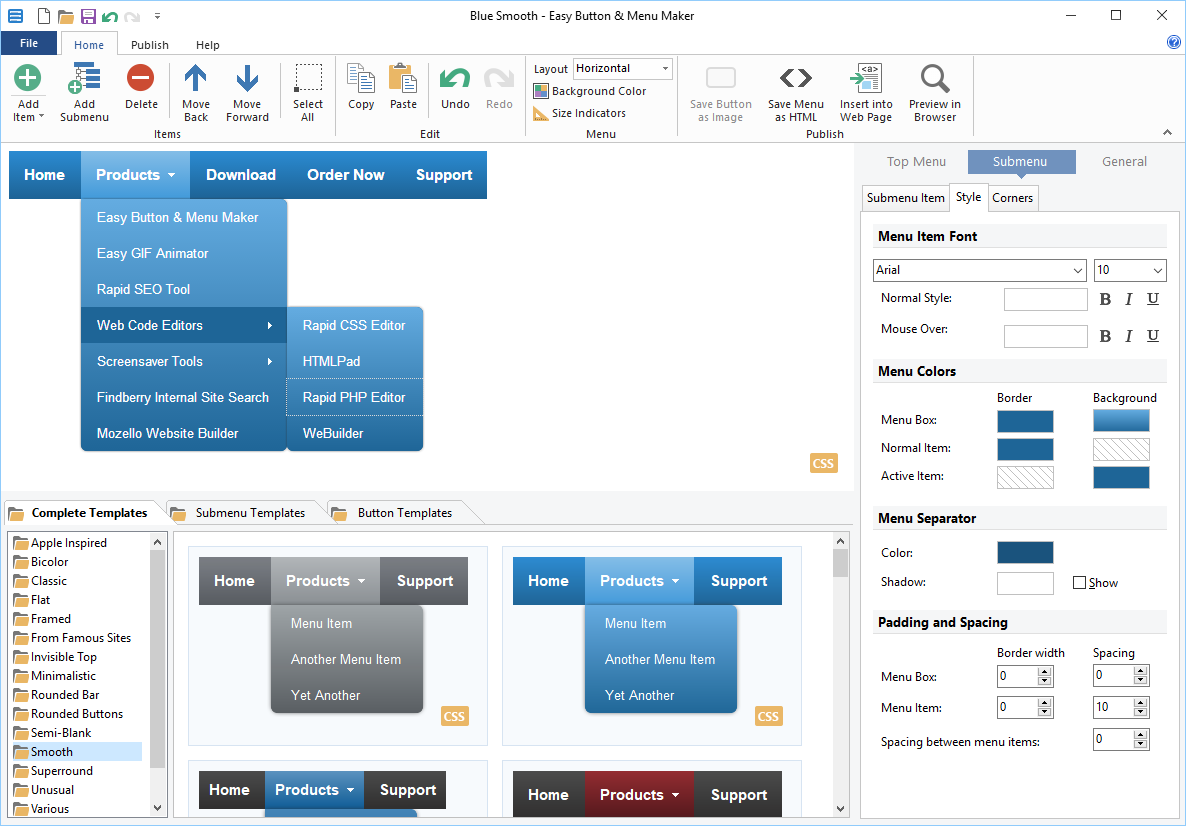 Easily create beautiful, responsive drop-down menus and sophisticated buttons for your website. Over 200 elegant design templates are available, including flat and glossy styles. Unlike most other menu tools, Easy Button & Menu Maker provides direct visual menu editor, so it is much easier and pleasant to work with. Menus created with Easy Button & Menu Maker are quick, compact and work on all modern web browsers, touch devices and smartphones.
Mehr…
Easy CSS Menu
Version: 5.0 | Freeware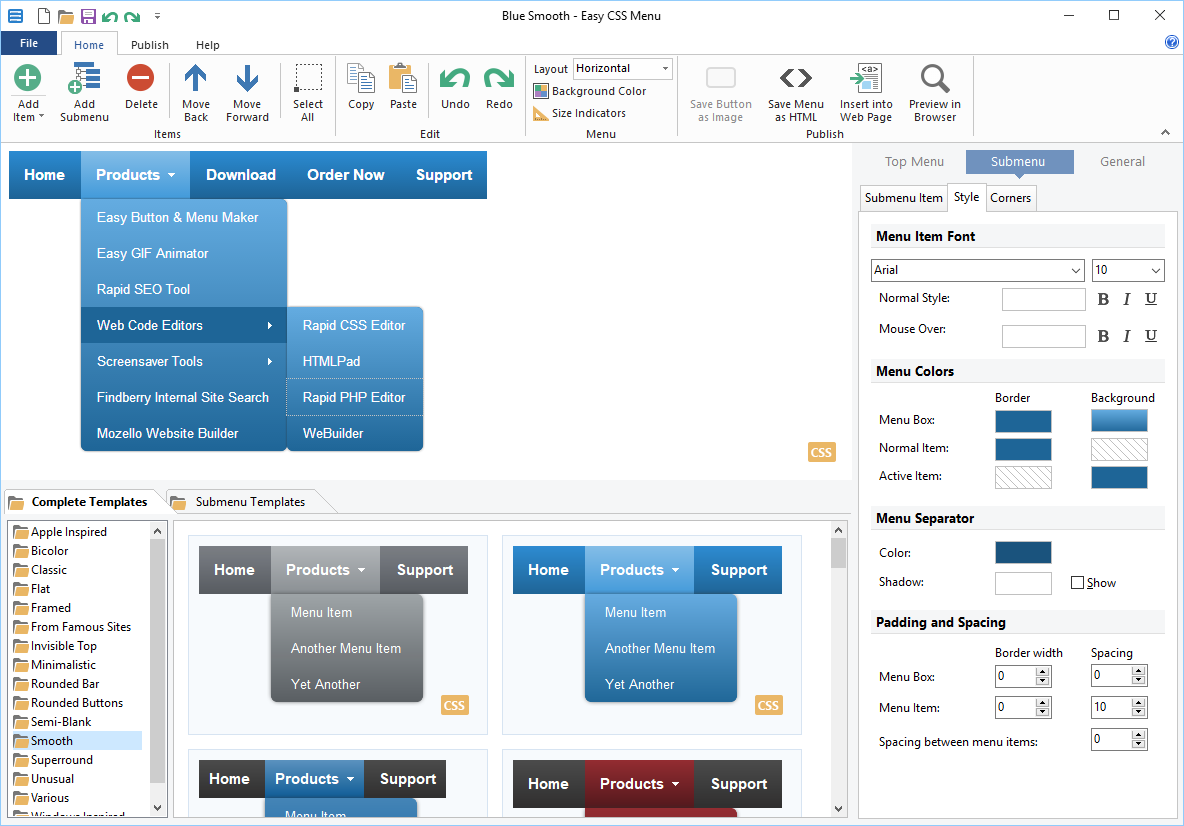 Easily create fantastic mobile-ready CSS-based drop down menus for your website. Many elegant menu templates are available, including modern flat and classic glossy styles. Menus created with Easy CSS Menu Maker are very quick, compact and compatible with both modern and popular, but old web browsers. The menus created with Easy CSS Menu will also work on mobile and touch devices. What is more, they are search engine and SEO friendly.
Mehr…
Easy GIF Animator
Version: 7.3 | Shareware (29,65 USD)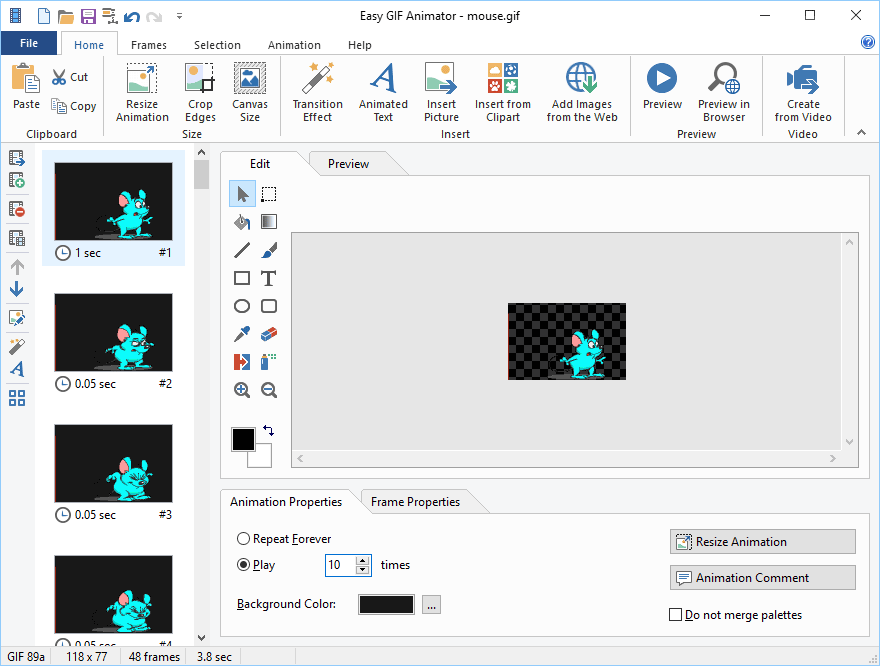 Easy GIF Animator is a powerful yet very easy to use software for creating animated pictures, banners, buttons and GIF videos. With this animated GIF editor you can easily create animated pictures. You can also create animated GIFs from video files. You get extensive animation editing features, animation effects, unmatched image quality and file size reduction.
Mehr…
Free CSS Toolbox
Version: 1.2 | Freeware
Free CSS Toolbox is a freeware productivity software for web developers who work with CSS code. Free CSS Toolbox includes a number of tools for fast-tracking and enhancing the development of style sheet code, such as an advanced CSS Formatter, CSS Validator and CSS Code Compressor. If you develop websites that use CSS, the Free CSS Toolbox can help you save time and increase productivity without any cost.
Mehr…
HTMLPad 2020
Version: 16.0 | Shareware (59,95 USD)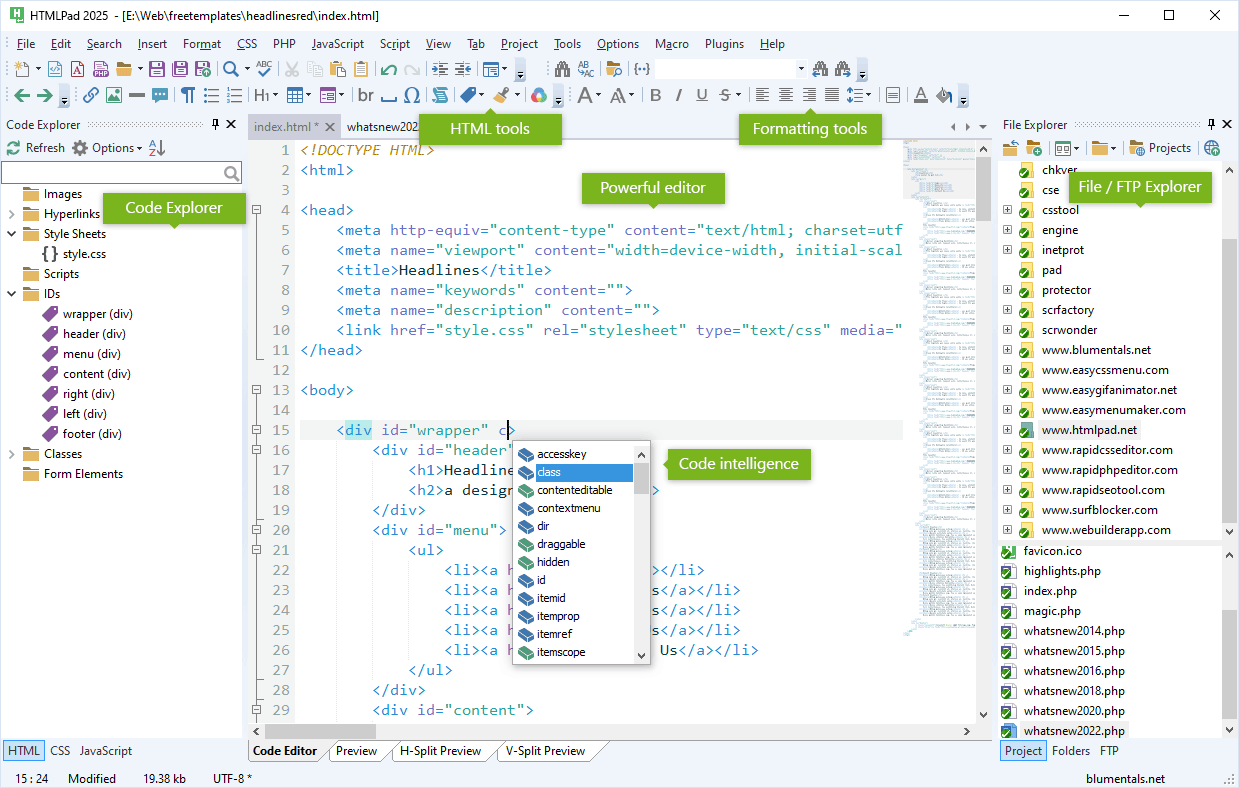 HTMLPad is an intelligent all-in-one HTML, CSS and JavaScript editor that will help you code faster and become more productive. Packed with powerful tools and features, HTMLPad enables you to create, edit, validate, reuse, navigate and deploy your HTML, CSS and JavaScript code faster and easier than ever. HTMLPad includes full-blown CSS studio and a powerful JavaScript editing capabilities offering you the best package on the market today.
Mehr…
iNet Protector
Version: 4.7 | Shareware (29,85 USD)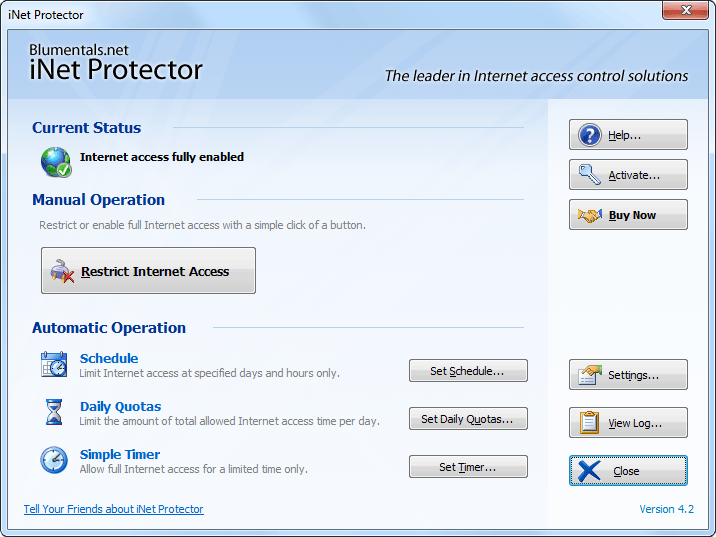 With iNet Protector you can restrict Internet access at specified times or on demand. You can disable connection completely or limit Internet to work with allowed programs and services only. In order to fully enable Internet access, user defined password must be entered. You can easily schedule Internet availability. Timer allows you to disable Internet connection after specified amount of time. Ideal tool for parents and businesses.
Mehr…
Perfect Privacy
Version: 2.0 | Shareware (9,85 USD)
With Perfect Privacy you can easily eliminate your Internet and offline computer usage traces, such as history lists, address bar drop downs, cache, accessed document lists and other tracks that are stored to your computer as you use it. You can eliminate all traces or specify a selection. Cleanup can be done with a single click; it can be also executed automatically at specified intervals and on specified events. Can be run invisible.
Mehr…
Program Protector
Version: 4.11 | Shareware (29,95 USD)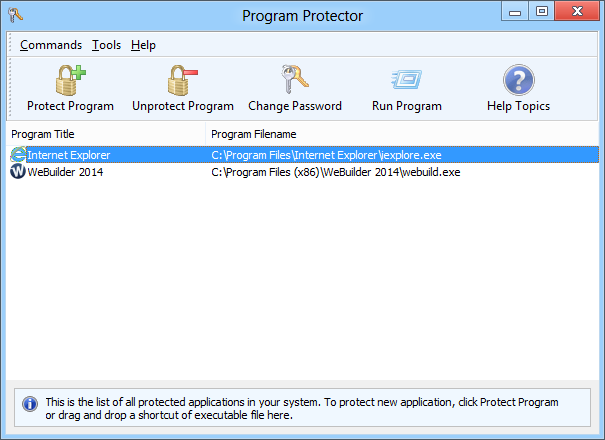 Program Protector ist das weltweit führende Tool um Programme mit einem Passwort zu schützen. Sie können leicht jede Windows-Anwendung mit einem Passwort-Schutz versehen. Program Protector ist einfach zu bedienen und benötigt keine bestimmten Computer-Kenntnisse. Sie können Programme mit einigen Klicks mit einem Passwort schützen.
Mehr…
Rapid CSS 2018
Version: 15.0 | Shareware (49,95 USD)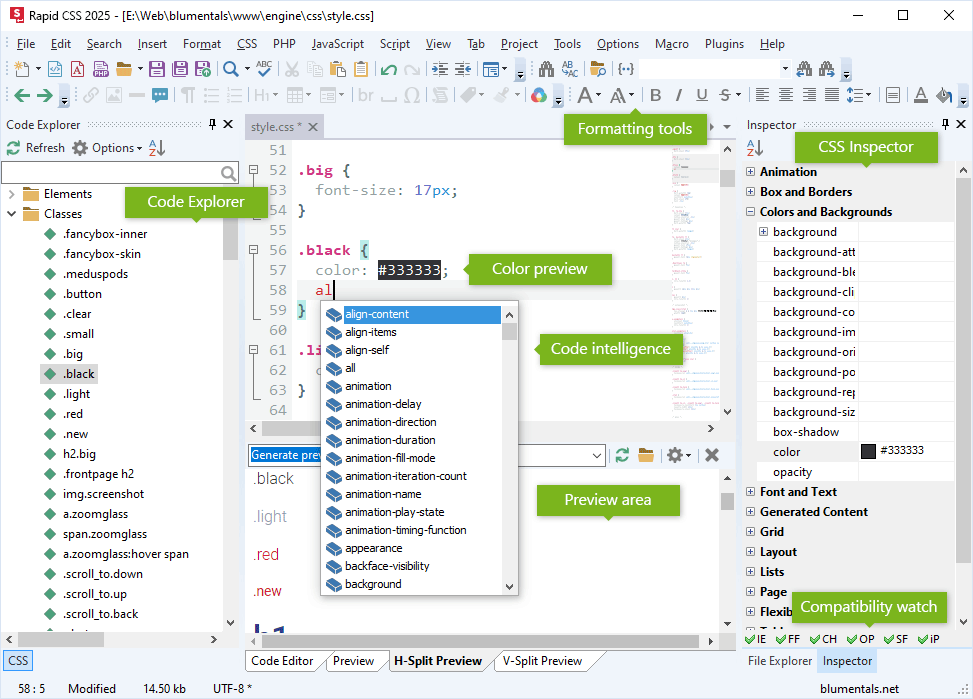 Rapid CSS is simply a CSS editor that helps you code faster. Rapid CSS editor makes it easy to design, create, edit and deploy modern CSS-based websites. Coding is a breeze thanks to many intelligent features such as auto completion, code inspector, CSS formatter, CSS validator, CSS wizards, CSS prefixer and built-in instant multi-browser preview with integrated X-Ray. Supports Unicode and, of course, the latest HTML5 and CSS3 standards.
Mehr…
Rapid PHP 2018
Version: 15.5 | Shareware (69,95 USD)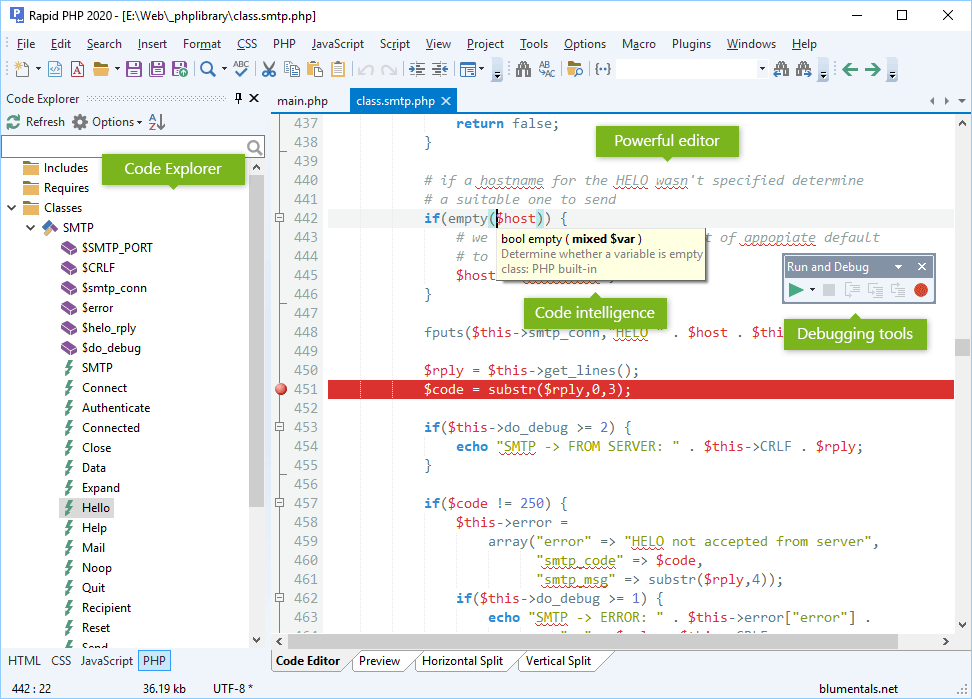 Quick, lightweight and very powerful PHP editor that combines features of a fully-packed PHP IDE with unmatched performance. Rapid PHP is the most complete all-in-one software for coding PHP, HTML, CSS, JavaScript and other web development languages with tools for debugging, validating, reusing, navigating and formatting your code. Features include code intelligence, PHP debugger, (S)FTP connectivity, UTF-8 support, code templates and more.
Mehr…
Rapid SEO Tool
Version: 2.7 | Shareware (69,96 USD)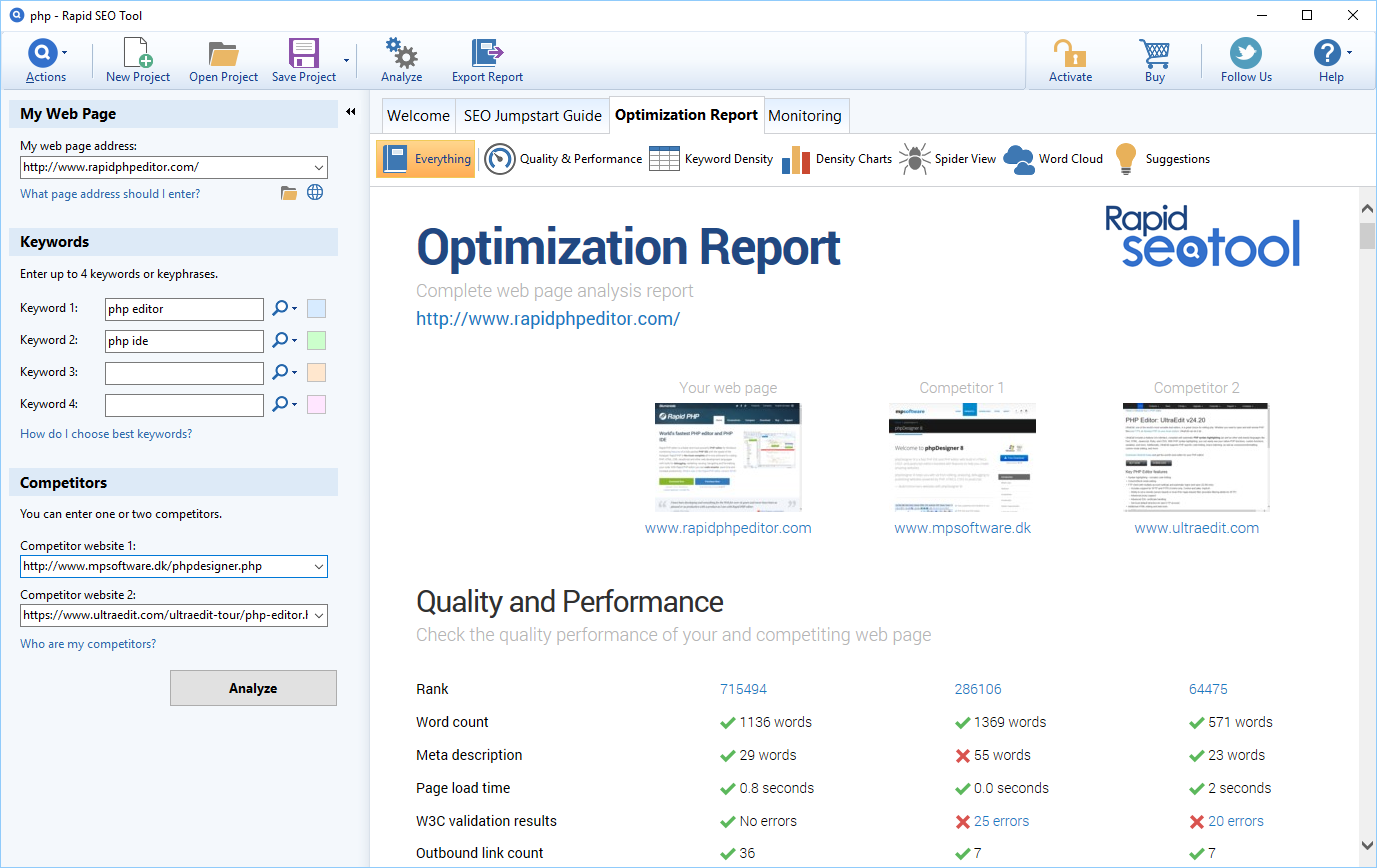 Unique search engine optimization and position monitoring software designed to ease the task of improving web page position on search results. It will literally look at your web page code and suggest what should be improved to get better results. You don't even have to be an SEO professional. Rapid SEO Tool is the first side-by-side SEO software that will compare your SEO efforts against your competitors and suggest how to overtake them.
Mehr…