Kategorie Audio & Multimedia / Audio Datei-Player
Codec Pack - Advanced
Version: 8.0.1 | Freeware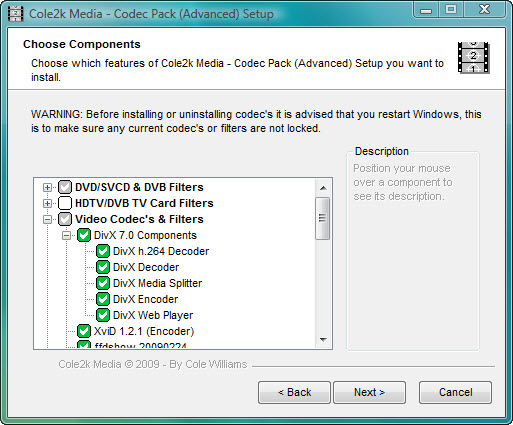 The Cole2k Media Advanced Codec Pack features a collection of codecs and filters for encoding/decoding a large variety of video/audio formats. Support for formats includes DivX 6, DivX Media, XviD, 3ivx, MP4, h.264, x264, AVC, Nero Digital, MPEG-2, AC3, DTS, AAC, APE, FLAC, MPC, OFR, TTA, OGG, Vorbis, WavPack, MP3, and ATRAC3. Windows MCE (Media Center Edition) is fully supported.
Mehr…
@MAX Tray Player
Version: 2.5b | Shareware

Do you like to listen to background music when working with other Windows applications? Then @MAX Tray Player is for you. The program inserts control buttons right into your Windows tray. You don't even have to open the main program window to control the player. While it is lightning fast and has a low impact on system resources, @MAX Tray Player is still a powerful and feature-rich media center. Moreover, it's FREE!
Mehr…
Silverjuke
Version: 16.5.3 | Shareware (29,00 EUR)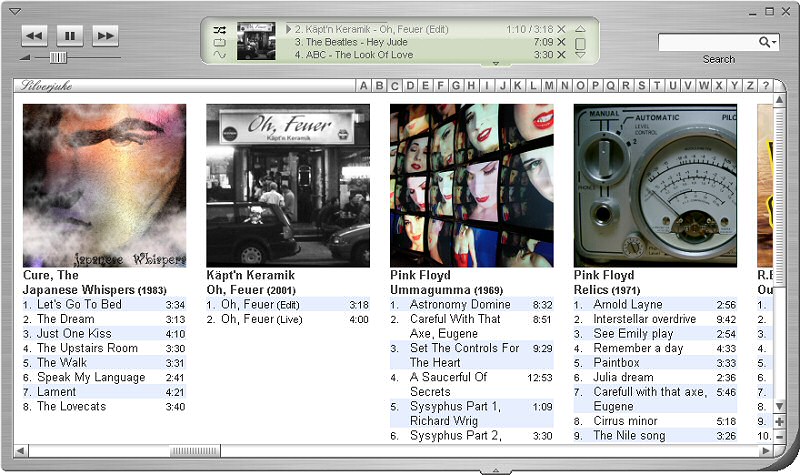 Silverjuke ist mehr als nur ein Music-Player, der so einfach wie die Jukebox in der Bar nebenan funktioniert. Das Programm bietet Alben-Erzeugung, Cover-Verwaltung, einen Kiosk-Modus, eine virtuelle Tastatur, Suchfunktionen, Karaoke-Support und mehr. Viele Funktionen von Silverjuke sind so sonst nur in einer "echten" Musikbox zu finden. Weitere Informationen finden Sie auf unserer Internetseite.
Mehr…
Sprintbit Playlist Manager
Version: 7.6 | Shareware (20,00 EUR)
Playlist Manager ist ein leistungsfähiges playlist Schöpfer, Manager mit Multimedia-Playern. Sie können schnell und einfach erstellen Playlist in den Formaten: M3U, ASX WAX WVX WMX WPL B4S PPL SMP PLS XSPF ZPL PLA. Sie können die Wiedergabe-Listen für Lesezeichen und Scheduling-Systemen. Es enthält Statistik-Wiedergabe, Playlists Konverter, Direct Playlist Creator, Playlists Datenbank, Internet-Radio-und Datei-Suchmaschine.
Mehr…
Moodmixer
Version: 1.17 | Shareware (11,59 EUR)
Stellen Sie sich vor, es gäbe eine Maschine, die automatisch die eigene Musik so abspielt als hätte man sie selbst ausgesucht, die Lieblingstitel öfter spielt als andere, die die vorhandene Musik immer wieder neu durchmischt und was gestern gelaufen ist läuft heute nicht zur gleichen Zeit. Das winamp 2.x/5.x plugin kann all das und noch mehr: Massenändern/-bewerten,Dateinamensplitter,schnelle Suche nach allem,Exportfunktion etc. Mp3,ogg und wma
Mehr…
AlbumPlayer
Version: 5.3e | Shareware (39,00 USD)
Play and Organise Albums. Playing is done by just browsing through your covers. Manage playlists by drag and drop albums or tracks. Covers can be ordered on all kind of attributes but custom collections are possible too. The albums are added by disk search or wizard, the song titles and covers are automatically grabbed from the internet. Includes Equalizer and Uses Replay Gain values for normalization. ASIO support.
Mehr…
Collectorz.com MP3 Collector
Version: 2.3.1 | Shareware (39,95 EUR)
Catalog your MP3, Ogg Orbis, WMA, APE, FLAC and WAV files automatically by scanning your harddisk(s) and CD-ROMs. Edit ID3v1, ID3v2, Vorbis, WMA and APE tags in batch or manual mode. Rename your files automatically using tag data. Creating playlists in .M3U or .PLS formats. Browse your audio file collection by artist, album, genre, location, etc... Sort and group your list on any field. Export track lists to HTML, CSV or XML.
Mehr…
world TVRT Special Edition
Version: 7.02 | Freeware
Mehr die Gernsehkanäle als 1750 und 9600 Radiostationen absolut frei erhalten (unentgeltlich)
Mehr…
Ace Media Player
Version: 2.8.398 | Shareware
Ace Media Player adheres to the K.I.S.S philosophy - Keep it simple, stupid. No mind-boggling menus in this software, yet it's powerful enough to support popular media formats with a clean and intuitive user interface. So easy! Supported media formats include: mkv, mp4, flv, ts, tp, vob, wmv, mpg, avi, mov, rmvb and many more. Auto-upgrade system keeps you up-to-date with cutting edge media technology and fashion. See for yourself!
Mehr…
Zulu DJ-Programm Mac
Version: 3.65 | Freeware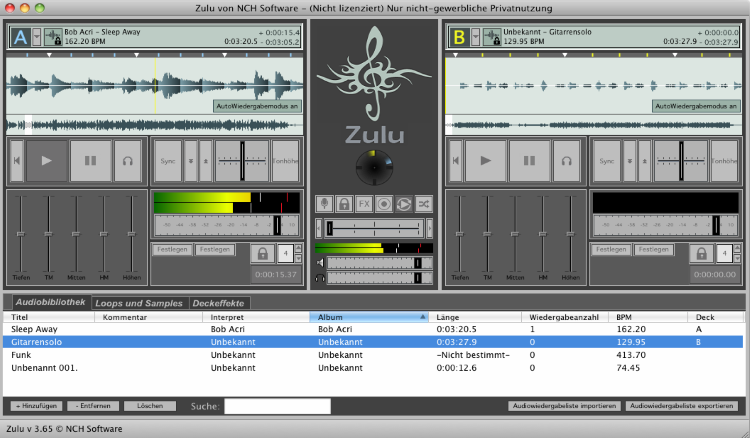 Zulu ist ein DJ-Programm für Mac. Musik, Audio und MP3s live mixen. Sobald ein Track in ein Deck geladen wurde, tastet Zulu die Datei automatisch ab, weist ihr einen BPM zu und ändert für die perfekte Synchronisation das Tempo im zweiten Deck. Musik mit Drag-and-drop in das Programm ziehen und das nächste Lied über Kopfhörer via einer zweiten Audioausgabe anhören.
Mehr…
Express Scribe Transkription für Mac
Version: 5.83 | Shareware (40,00 USD)
Express Scribe ist ein Programm zur Transkription für Schreibkräfte mit Mac OS X. Enthält variable Wiedergabegeschwindigkeiten, Fußschalter-Steuerung und Integration von Sprache-zu-Text-Modulen. Außerdem können Audiodateien automatisch über E-Mails, FTP oder ein Netzwerk geladen werden. Unterstützt WAV, MP3, AIF und viele mehr. Man kann auch herkömmliche tragbare Rekorder andocken und das Audio übertragen oder Audio von CD importieren.
Mehr…
Falco Halotea Free
Version: 3.7 | Freeware
Mirolit Halotea is a unique application for sound atmosphere creation and relaxation. It was created for people who have a stressful and intense job, small children, want inner balance and want to sleep peacefully. It's well known that sounds can either stimulate a person's nervous system or calm it down. Just pick a suitable sound theme, turn on the volume, and enjoy pleasant and relaxing sounds of nature.
Mehr…