Kategorie Audio & Multimedia / Audio Datei-Player
GUZLE2
Version: 2.0 | Shareware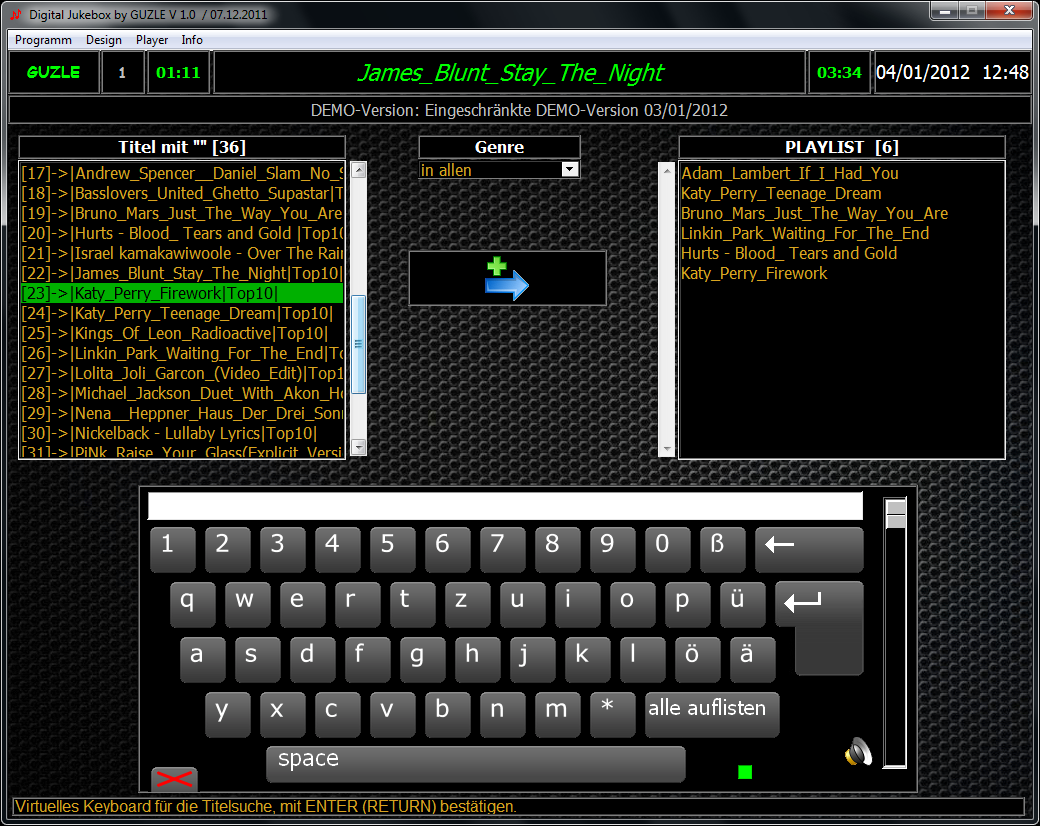 GUZLE ist eine Digitale Jukebox die es Ihnen ermöglicht, Ihren Gästen die Musikwahl des Abends selbst zu gestalten. Sie selbst müssen sich nicht mehr um die "Unterhaltung" zu sorgen und haben viel mehr Zeit für andere Dinge. Nie mehr komische Sprüche von Ihren Gästen, über das angeblich falsch gewählte Musikprogramm.
Mehr…
HQ Audio Player
Version: 7.4 | Freeware
HQ Audio Player-An audio player for your PC. The program has a pleasant, intuitive interface that allows for quick navigation. Supports popular music formats such as MP3 and WAV. Runs on all versions of Windows. Key Features: * Built-in equalizer * Playlists * Beautiful design * Easy and friendly interface
Mehr…
Chameleon Volume Pro
Version: 1.0.0.132.290 | Shareware (12,00 USD)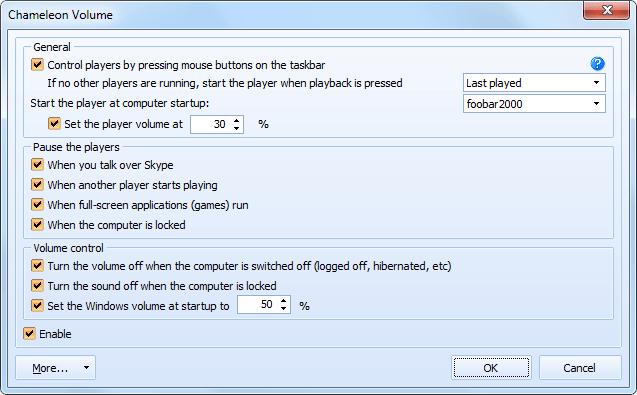 Chameleon Volume synchronizes the work between media players and Skype and also controls the volume. Doesn't it annoy you when you receive a call via Skype while you are listening to music and you have to find and stop the player? You do not have to do it yourself anymore, Chameleon Volume will pause it and resume playback after the call is over
Mehr…
Angel's Vox
Version: 1.7 | Shareware (29,95 USD)
Angel's Vox is the very first media player designed specifically for audiobook enthusiasts. It saves a volume level, playback speed, last played track, and position for each audio book in the library. Calculates time played stats, has a sleep timer feature. Like other audio players, Angel's Vox can be integrated into the Windows Explorer shell for quick access to its major functions. 30-days trial version is available for you to try.
Mehr…
Free Audio to Flash Converter
Version: 5.0.9 | Freeware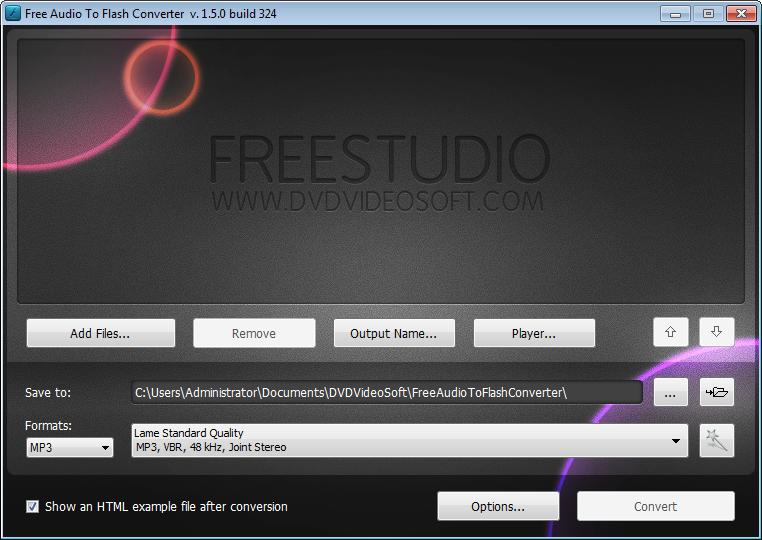 Free Audio to Flash Converter konvertiert Audiodateien in Flash MP3 für Ihre Website oder Ihr Blog. Sie können einen kompletten "Flash MP3 Player" nur mit einem Mausklick hinzufügen. Das Programm ist mit dem New Button Player ausgestattet. Sie können eine der verfügbaren Voreinstellungen auswählen, ändern oder ganz neue mit dem Voreinstellungseditor erstellen. Das Programm enthält keine Spy- oder Adware. Es ist komplett kostenlos!
Mehr…
Open Subtitles MKV Player
Version: 4.7 | Freeware

OpenSubtitles MKV Player öffnet Mediendateien wie DivX, mkv, wmv, avi, Xvid, DVD, MP3, MP4, VOB, 3GP, FLAC, Flash, QuickTime. Laden Sie den Player herunter und genießen Sie eine neue Art, Filme auf dem PC zu schauen. Der kostenlose Medienkonverter unterstützt die Konvertierung aktueller Formate, wie x264 oder mkv, in Formate, die Ihr DVD/DivX-Player, PSP, iPod, iPhone oder Mobiltelefon abspielen kann.
Mehr…
The FTW Transcriber
Version: 2.4.1 | Adware
FREE transcription software! Plays a huge range of file types; plays video files (mpeg, wmv, flv, etc) with visuals displayed; adds time stamps automatically; plays files either on your local drive or on remote servers without downloading first; can be used with hotkeys or foot pedals; and much more.
Mehr…
CrystalWolf Free Audio Player
Version: 1.7 | Freeware
CrystalWolf Free Audio Player ist ein kostenloser Softwarespieler, der alle populären Audioformate unterstützt, einschließlich MP3, OGG Vorbis, WMA, FLAC, APE, AAC, M4a usw. Man braucht keine zusätzlichen Plugins. Erleben Sie hohe Qualität des Tons zusammen mit dem einfachen, intuitiven Interface. Ziehen Sie Ihre Musikordner ins Programm, um die ganze Sammlung abzuspielen, ohne Rücksicht auf ihre Größe oder Formate.
Mehr…
Pedalware Foot Pedal Software
Version: 1.00 | Freeware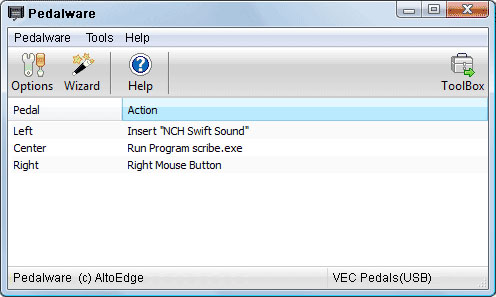 Pedalware is free foot pedal software that controls a computer from a foot pedal including: word processors, games, media players, transcription, dictation, audio, voice recorder, etc. You can also set your footpedal to work like the buttons on your mouse or as particular keys on your keyboard. Pedable is also great for people who are typing the same phrases over and over since it lets you insert custom text simply by pressing your footpedal.
Mehr…
NexTune Nexus for Mac
Version: 3.0 | Freeware
Get the most powerful playlisting tool ever. Create custom playlists in seconds. Get song recommendations for playlists. Send playlists to friends.
Mehr…
NexTune Nexus
Version: 3.0 | Freeware
Get the most powerful playlisting tool ever. Create custom playlists in seconds. Get song recommendations for playlists. Send playlists to friends.
Mehr…
OtsTurntables Free
Version: 1.00.048 | Freeware
OtsTurntables Free is a 100% FREE (no spyware, no banner ads), virtual set of professional mixing turntables empowering music lovers, aspiring DJs and pros to scratch, adjust tempo and pitch, play backwards, and mix MP3s, WAVs, Ots files and CDs. DJ your next party like a pro, or just enjoy listening to your MP3s mixed professionally at home with Auto DJ. You'll love the built-in Dynamics Processor saving you juggling that volume knob ever again.
Mehr…