Kategorie Audio & Multimedia / Audio Datei-Recorder
RecordPad Pro Audio-Recorder Mac
Version: 6.01 | Shareware (49,99 USD)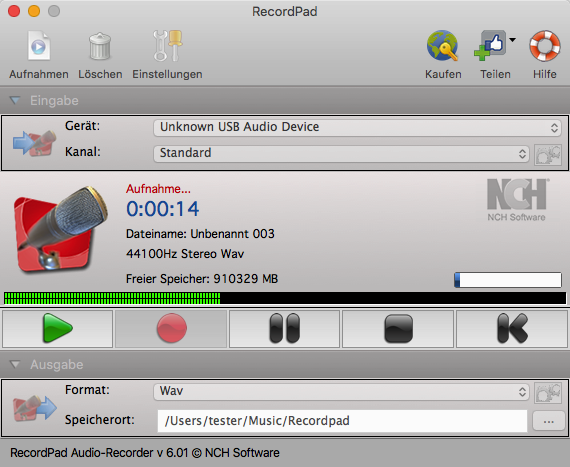 RecordPad Pro ist ein Audio-Recorder für Mac OS X. Mit ihm einfach Audio aufnehmen und zu Präsentationen hinzufügen, ein Hörbuch erstellen oder auch eine Nachricht aufnehmen. Sie können Audionotizen, Nachrichten, Ansagen und mehr aufnehmen. Die Tonaufnahmen dann später nach Format, Datum, Länge oder Größe suchen und abspielen.
Mehr…
MSRS Gerichts- und Konferenzrekorder
Version: 4.13 | Shareware (187,68 EUR)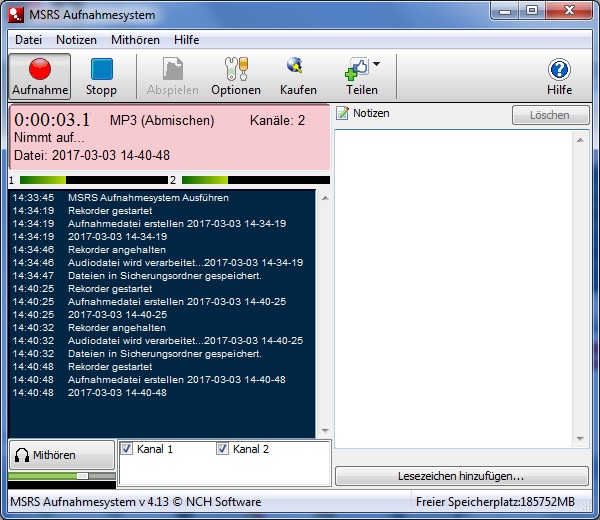 MSRS ist ein leistungsstarkes Mehrkanal-Sprachrekorderprogramm, das speziell für die Aufzeichnung von Konferenzen, Gerichtsverhandlungen und ähnlichen Foren mit mehreren Rednern entwickelt wurde. Mit MSRS können bis zu 32 separate Audiokanäle aufgenommen werden und die Aufnahmen dann zur Transkription oder Archivierung via Internet, E-Mail oder Computernetzwerk versandt werden.
Mehr…
Web Dictate Online Dictation Software
Version: 2.13 | Shareware (71,74 EUR)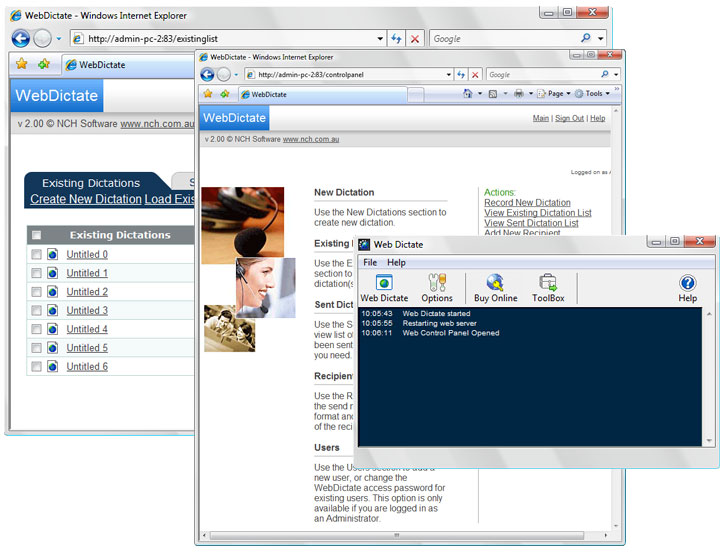 Web Dictate is a dictation system that lets you record, edit and manage dictation over the internet. You, and other users, log into a server running Web Dictate to record dictation with any ordinary web browser. You can save or edit your dictations online. When you have finished recording just click send and the recording will be sent to your typist immediately by email.
Mehr…
ACA Audio Recorder
Version: 4.20 | Shareware (29,95 USD)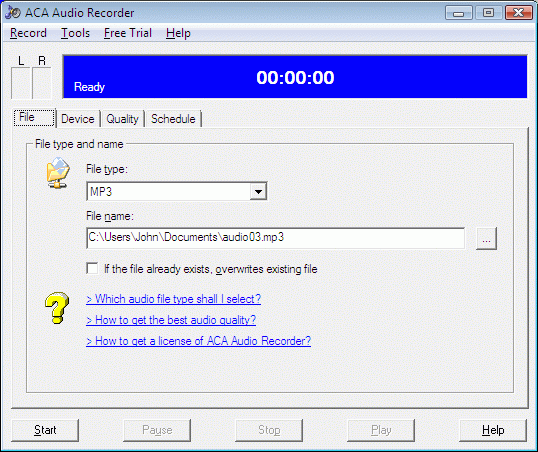 <a href=http://www.acasystems.com/en/audiorecorder/>ACA Audio Recorder is a real-time audio recording software</a>, it records sound from your favorite video game, Internet broadcasts, or programs like RealPlayer. It can also record conventional audio from CD, microphone, and other input line on a sound card, you can save it to WAV, AVI & MP3 format. It supports for scheduled recording, you can specify a time to auto start/stop the recording task
Mehr…
TwistedWave
Version: 1.17.4 | Shareware (79,90 USD)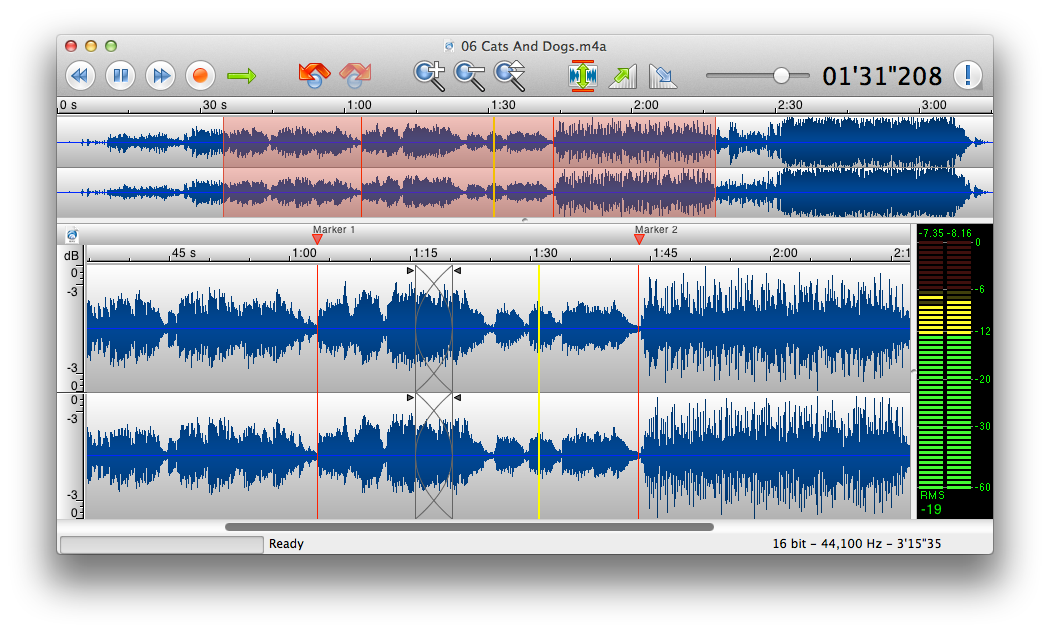 TwistedWave is a very easy to use and powerful audio editor. It supports Audio Unit plug-ins and many file formats, including wav, aiff, caf, mp3, mp4, FLAC, Ogg/Vorbis. Good multichannel support: you can apply Audio Units to a selection of channels. Unlimited undo and redo which works instantly. Zooming in and moving around the waveform is very fast, even with very large files. All the effects are applied in the background, saving a lot of time.
Mehr…
Express Dictate Diktat-Rekorder
Version: 5.67 | Shareware (57,96 EUR)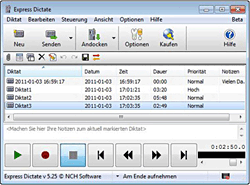 Express Dictate ist ein professioneller, digitaler Diktatrekorder, mit welchem Sie Diktate am PC aufnehmen und automatisch an eine Schreibkraft versenden können. Enthält sprachaktivierte Aufnahme, variable Aufnahmemodi (Überschreiben, Einfügen, Anhängen), Verschlüsselung und die Fähigkeit, via E-Mail, FTP, LAN oder Befehlszeile zu versenden. Das Diktieren kann über ein tragbares Gerät oder Fußschalter gesteuert werden.
Mehr…
StationRipper
Version: 2.98.5 | Shareware (19,99 USD)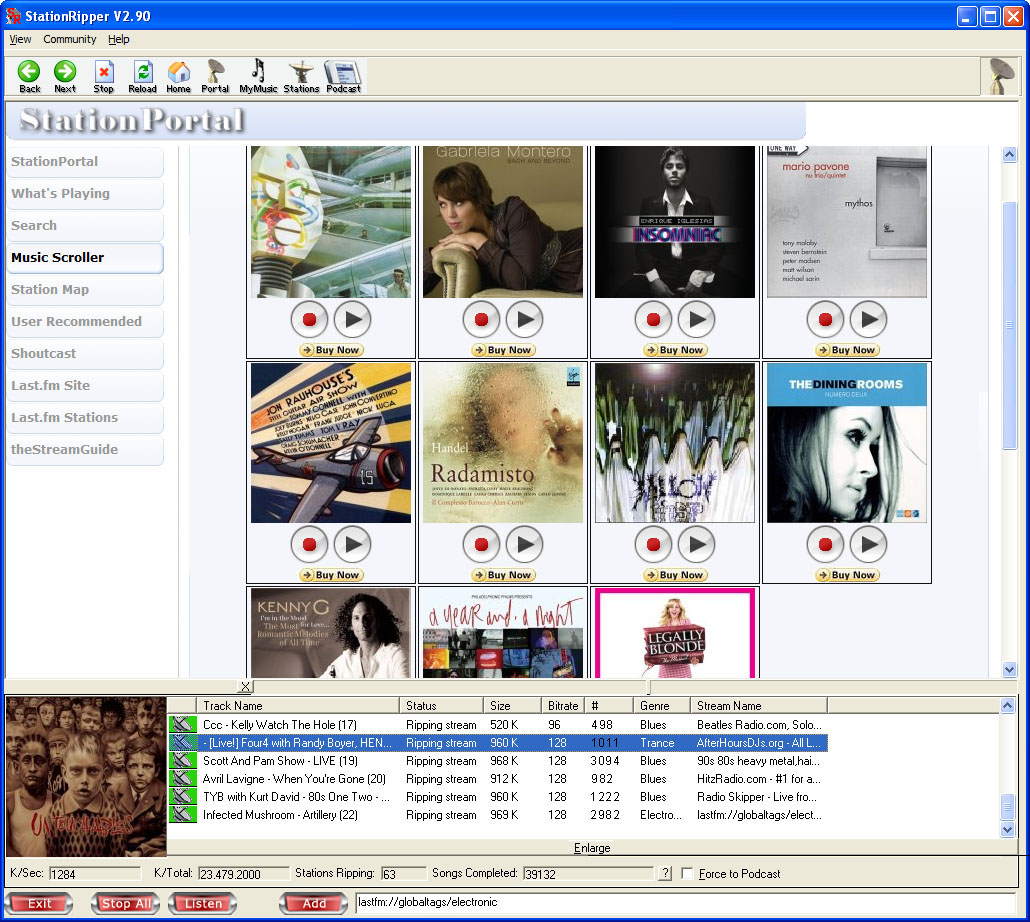 StationRipper allows you to Record Internet Radio Stations. Users on broadband connections regularly report 3,000-6,000 new songs can be downloaded every 24 hours with the registered version. Record Shoutcast, Last.fm, Pandora.com, AOL Radio.com, Slacker.com, and Podcasts. Choose from over 12,000 radio stations, thousands of Last.fm stations. Record up to 600 stations at once, listen to what you are recording, and search for music.
Mehr…
Freecorder Toolbar
Version: 3.05 | Freeware
Freecorder Toolbar is a revolutionary new browser-based audio recording program, combining state of the art recording technology, ease-of-use, and some great browser enhancements. It can record what you hear from your PC speakers or from the microphone or line-in inputs on your PC. All your recordings are saved as MP3 or WAV files. Freecorder supports all Windows versions including Windows Vista. And best of all, it's 100% FREE! Get it now!
Mehr…
Free Audio Recorder
Version: 6.6.8 | Freeware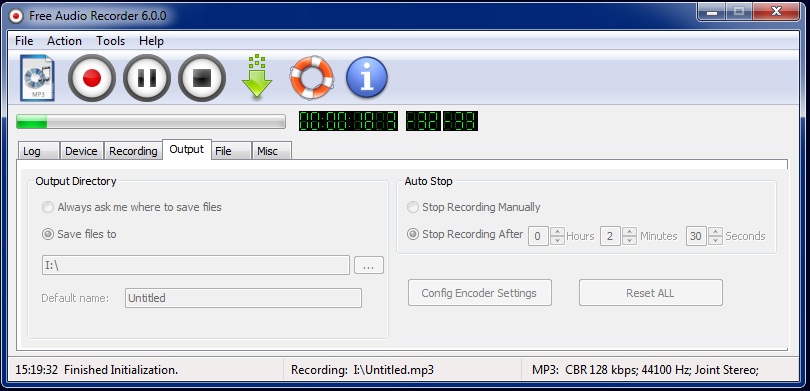 Free Audio Recorder is a powerful audio recording software, with it you can easily record various sound input to WAV, MP3 and OGG. As a voice recorder, it can also record human voice from microphone.
Mehr…
Sonarca Sound Recorder Free
Version: 5.0.0 | Freeware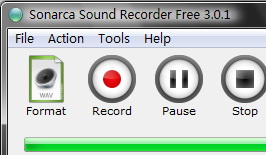 Sonarca Sound Recorder Free is a CD quality free sound recorder, it is your wise choice for online stream recording.
Mehr…
MCRS (Multi-Channel Sound Recording System)
Version: 3.9.9.4 | Shareware (49,95 USD)
Abyssmedia Multi-Channel Sound Recording System (MCRS) designed for recording audio infromation from multiple sources simultaneously and automatically. The sound recording software can record up to 32 channels and compress records for archiving. It can be used for Conference recordings, Telephone line monitoring, Radio station logging and Other specialized applications...
Mehr…
Leawo Musik Recorder for Win
Version: V2.0.0.0 | Shareware (19,95 EUR)
Der Leawo Musik Recorder ist die beste Audio-Aufnahme-Software für Musikliebhaber, um alle Arten von Audio und Musik unter Windows aufzunehmen. Er kann Audiosignale vom Mikrofon und allen anderen eingebauten Audioquellen aufnehmen. Natürlich ist er auch in der Lage, die Aufnahmen in die lokalen Musikbibliothek aufzunehmen.
Mehr…