Kategorie Audio & Multimedia / Audio Encoder | Decoder (Filter: Freeware)
SAM Broadcaster Cloud
Version: 2018.10 | Freeware
Betreibe Dein eigenes Webradio mit SAM Broadcaster Cloud - Leistungsstarke Cloud-basierte Webradio-Sendelösung als Gesamtpaket. Automatisierter Sendeplan, anpassbare Web Widgets und Player, Live Source Switching, Multi DJ, Multi Sender, automatisches Failover und mehr. 24/7 auf Sendung dank Automatisierung. Beobachte in Echtzeit wie viele Hörer Du hast und wie Deine Online-Beliebtheit zunimmt. Wie ein Profi senden innerhalb von 10 Minuten!
Mehr…
MP3 to YouTube Converter
Version: 1.0 | Freeware
This program allows you to convert your MP3 audio to YouTube video. Just open your MP3, add photos or video file, and you will receive stunning, 100% YouTube-compatible video. Then upload it to your YouTube account, and your visitors will be impressed. There are two kinds of YouTube video for your choise. The first video is a SlideShow video. Do make it, you have to open MP3 files, add photos or images, and choose desired quality of the video.
Mehr…
Free Music Converter
Version: 3.81 | Freeware
This free program is created to help you convert music to all popular audio formats. You can convert the following formats (input formats): MP3, AAC, APE, OFR, OGG, RA, CDA, FLAC, M4A, WAV, MPA, WV, TTA, AC3, WMA, MPC, MID, MKA, MP2, DTS. You can choose the following formats for output: MP3, OGG, WAV, AAC, AC3, AIFF, AMR, FLAC, M4A, MP2, WMA. Plus you can convert video to music (extract audio tracks from your movies).
Mehr…
Free M4a to MP3 Converter
Version: 9.2 | Freeware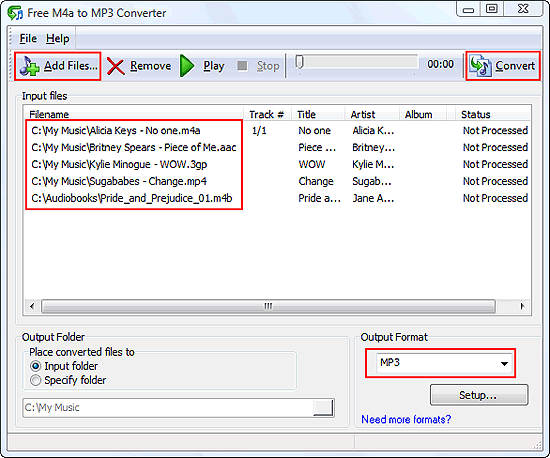 Free M4a to MP3 Converter ist eine kostenlose und eng gezielte Anwendung mit einem intuitiven Interface, die Ihnen es erlaubt, M4a und AAC in MP3/WAV zu konvertieren und auch mit dem eingebauten Spieler zu wiedergeben. Die Software unterstützt ID3-Tag Übergabe beim Konvertieren und kommt (derzeit) mit 11 Sprachen, die Sie freilich umschalten können. Das Programm unterstützt auch M4b Hörbücher, die Sie auch in MP3 umwandeln können.
Mehr…
Free Video Utility
Version: 3.2 | Freeware
Free Video Utility is a powerful Windows application that lets you take control of the videos that you enjoy watching online. This product allows you to easily download videos from YouTube. Quickly download your favorite videos and convert them to play on your iPod, PSP, Zune, 3GP mobile phone, Apple TV, iphone, and other mobile devices.
Mehr…
Online Audio Converter
Version: 1.3 | Freeware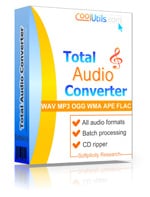 Convert WAV, MP3, WMA, MP4, OGG, AAC absolutely free. Find the safe audio converter! You convert audio online; no need to install anything on your pc. Your mp3 player does not support OGG? Convert it to MP3! Online Audio Converter will convert your tracks, change bit rate, channels or sample rate. All is done in 3 clicks. You browse for your file, select target format and get the resulting new audio. It is fast, simple and safe. Try it now!
Mehr…
Clip to MP3 Converter
Version: 1.0 | Freeware
With this program you can easily extract music tracks from YouTube clips, video files and DVD movies. In addition to MP3 format, you can convert video clips to FLAC, WAV, MKA, WAV, AC3, AAC, WMA, OGG, AU. Clip to MP3 Converter also has several editing tools. You can trim and merge music, edit tags and configure advanced parameters, such as bitrate, sample rate, number of channels and codec.
Mehr…
YouTube Music Converter
Version: 1.1 | Freeware
With this program you can easily extract music from YouTube video clips. Just copy the address, paste into the program, download it and convert. You can convert to any popular audio format, including MP3, FLAC, M4A, MID, MKA, WV, TTA, AAC, WAV, OGG. The program is very easy-to-use, because the interface is divided onto two separate windows - the first is Downloader, and the second is Converter.
Mehr…
Clone2Go Audio Converter Free Version
Version: 2.5.0 | Freeware
Clone2Go Free Audio Converter is a powerful tool in audio extraction and conversion. With this tool, you can easily extract the unprotected sound tracks from video clips such as AVI, WMV and MPEG and convert the audio to different formats as you like such as WAV, WMA, OGG, MP3 and AAC, which can be played by your portable devices such as MP4 player, iPod, iPhone, Sony PSP, Microsoft Zune, Mobile Phone (e.g. Nokia N-Series), Pocket PC etc.
Mehr…
Shuangs Audio Joiner
Version: 2.5 | Freeware
Shuangs Audio Joiner is a free audio file join tool. It can combine WAV, MP3 and WMA which are in various formats, frequencies and tracks into a file.
Mehr…