Kategorie Audio & Multimedia / CD-Brenner (Filter: Freeware)
Express Burn Kostenloses Disc-Brennprogramm
Version: 7.04 | Freeware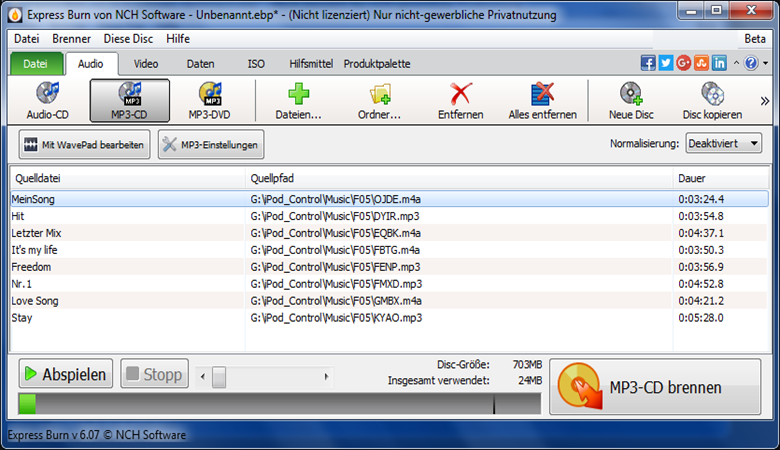 Die kostenlose Version von Express Burn ist ein extrem schnelles CD- und DVD-Brennprogramm. Sie k
Mehr…
CommandBurner
Version: 3.5.0 | Freeware
CommandBurner is free CD/DVD burning software utility that can be executed from the command line, making it suitable for integration with programs, scripts and batch files. There is also a simple, user-friendly interface available. Users can access a comprehensive Help File via the command line or through the interface for instructions on how to use CommandBurner.
Mehr…
ISO Workshop
Version: 7.6 | Freeware
ISO Workshop is a free application specifically designed to facilitate disc image management, conversion and burning operations. The program has a very simple user interface and enables you to extract specific files and folders from disc images, create disc backups by copying disc contents to an ISO or BIN image file, convert different disc image files into the ISO or BIN format and, of course, burn ISO and CUE images to blank discs.
Mehr…
True Burner
Version: 4.5 | Freeware
True Burner is a compact, easy to use and powerful burning software, which enables you to make and burn standard, multisession and bootable CD, DVD, Blu-ray Disc with various file systems, including ISO 9660 and UDF. With True Burner you can create Data and MP3 Discs, DVD-Video.
Mehr…
Easy Disc Burner
Version: 5.3.9.655 | Freeware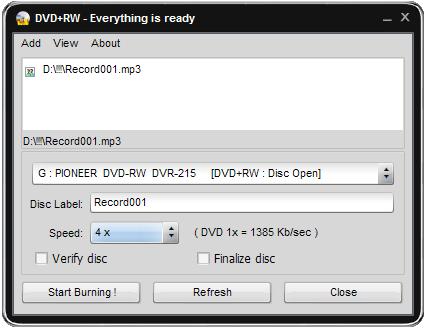 Soft4Boost Easy Disc Burner ein Zauberer-styled-Dienstprogramm, mit dem Sie Video-Dateien von Ihrem personlichen Computer-Datentrager gebrannt werden konnen: CD, DVD, Blu-Ray. Es unterstutzt breite Palette von Medien-Typ - CD-R/RW, DVD + /-R, DVD + /-RW, DVD-RAM und die neuesten Blu-ray-Technologie BD-R und BD-RE, und breite Palette von CD / DVD-Laufwerke .
Mehr…
BurnAware Free
Version: 10.4 | Freeware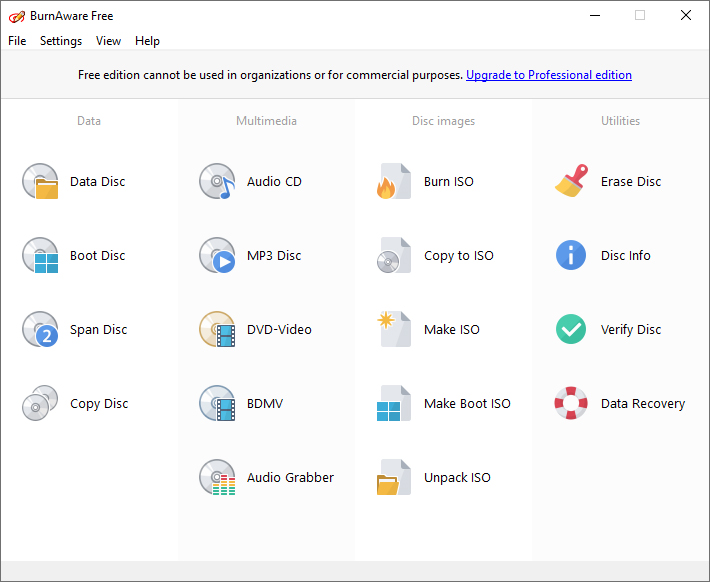 BurnAware Free is a full-fledged, easy-to-use, free burning software which allows users to write all types of files such as digital photos, pictures, archives, images, documents, music and videos to CDs, DVDs and Blu-ray Discs. With BurnAware Free, you also will be able to create bootable or multisession discs, high-quality Audio CDs and Video DVDs, make and burn disc images, copy and backup discs.
Mehr…
Passcape ISO Burner
Version: 1.3.0 | Freeware
Passcape ISO Burner 1.3 ist eine Lösung, die auch unerfahrenen Nutzern erlaubt, aus ISO-Images bootfähige CDs, DVDs oder USB-Laufwerke zu erstellen. Dieses Programm ist eine seltene Kombination aus drei Vorteilen: einfach, effizient und kostenlos! Die Benutzeroberfläche im Assistent-Stil ist übersichtlich, der Vorgang fast vollständig automatisiert. Passcape ISO Burner muss nicht installiert werden und trägt nichts in die Windows-Registry ein.
Mehr…
Free Audio CD Burner
Version: 1.5.6 | Freeware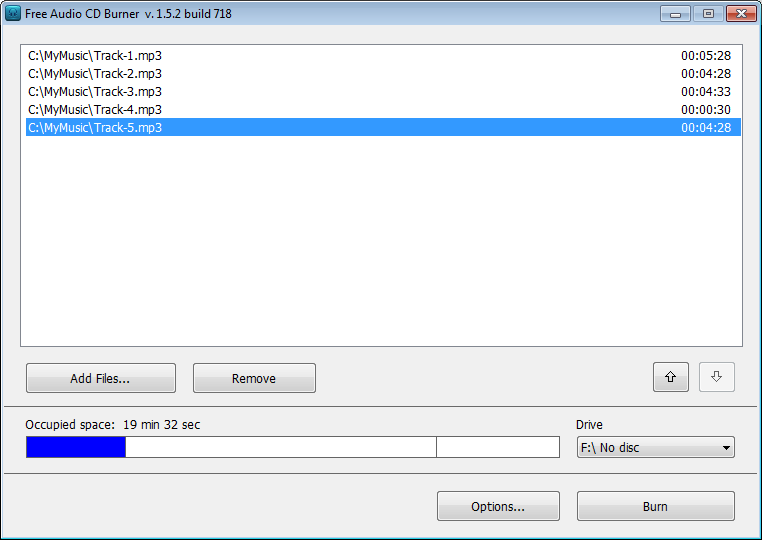 Der kostenlose Audio CD Brenner erstellt CDs von wav, .mp3, .wma-Dateien, damit sie auf jedem Recorder mit dem CD-Player abgespielt werden können. Audio-Eigenscheften: - schreibt Audio CDs von .wav, .mp3, .wma-Dateien; - dekodiert und schreibt komprimierte Audioformate im Fluge; - einfache Audiotrackhandhabung lässt das personalisierte Audio in der Liste registrieren. Unterstützt Windows XP/Vista/7.
Mehr…
Z-DataDVD
Version: 4.6 | Freeware
Z-DataDVD brennt komplette Verzeichnisse, zum Transport, zur Sicherung oder als Backup auf DVD+R/W, DVD+R, DVD-R, DVD-R/W, DVD-RAM, Dual Layer, CDR, CDR/W und Blu-Ray (BD-R). Das Programm hat eine einfach zu bedienende Programmoberfläche und kann auch über Kommandozeilen-Parameter gesteuert werden. Das ermöglicht ein zeitgesteuertes Brennen mittels des Windows Taskplaners oder mittels Z-Cron. Kein Limit beim brennen von CD/DVD....
Mehr…
Paragon Easy CD-DVD Recorder
Version: 3.0 | Freeware (24,95 USD)
Easy CD/DVD Recorder makes recording files and folders to CD/DVDs as simple, convenient and quick as possible. At 3 clicks you can burn all necessary data to CD/DVDs. You need to just select files and folders you would like to record and press the button "Start". Burning CDs and DVDs looks absolutely similar. No complex terms, no technical details, no need to look through many strange windows trying to understand what is what.
Mehr…
daBurner
Version: 1.01 | Freeware
DaBurner is a free CD-DVD burning software. DaBurner is also the world's easiest CD-DVD burner tool - burn a disk with just two clicks! No complicated burning options, no "mediacenters", "backup", no bells and whistles. It's just a fast, leightweight and portable burner software (runs from a USB drive without installation) for your everyday burning needs. DaBurner makes CD-DVD burning a simple procedure!
Mehr…
FinalBurner FREE
Version: 2.24.0.195 | Freeware
FinalBurner is a freeware alternative to expensive CD and DVD burners. Its users will benefit from the opportunity to create data, audio, and video disks and burn them onto any type of media, such as CD R/RW, DVD+R/RW, DVD-R/RW, DVD DL. No tedious or confusing configuration needed. You just select a few main settings and start burning. FinalBurner's artificial intelligence will find the perfect recording balance.
Mehr…