Kategorie Audio & Multimedia / CD-Brenner
Clone My CD
Version: 1.2 | Shareware (29,00 USD)
Clone My CD can copy all your CD disks to blank CDs, including MP3 music, audio CD, documents, games, photos, and any other CDs you might have. Clone My CD can make multiple copies of any CD disk and supports direct disk to disk copying. It makes true copies without any quality loss, you can copy your CD to blank CD or copy several CDs to one DVD. Clone My CD supports all known drives and all kinds of CD media.
Mehr…
Quick-Burn
Version: 1.2.587 | Shareware (19,95 USD)
Do you want to create Audio CD's fast? Without a lot of options you don't really need?
Then you need Quick-Burn! A plain and simple, but powerfull program that does what you want: Write Audio CD's from WAVE and MP3 files! No need to convert MP3 to your harddisk first, QuickBurn directly writes MP3 files to Audio CD's!
Just Drag'n'Drop the files you want to burn, eventually re-organize the tracks, press the Write button, and that's it!
Mehr…
Audio & Data Music CD Burner
Version: 1.40 | Shareware (19,99 USD)
Audio and Data Music CD Burner enables you to create custom audio and data music CD compilations from MP3 , WAV and WMA files that can be played anywhere, in any standard home or car stereo, portable CD player and your PC. Supports burn-proof, on-the-fly recording, powerful file search engines or browse your hard disk for music files, creat multi-session disc, supports high write speeds, playlist supports, built-in music player and more
Mehr…
Ashampoo DVD Theme Pack 1
Version: 1.20 | Freeware (14,99 EUR)
Ashampoo Burning Studio und Ashampoo Movie Shrink & Burn 3 brennen problemlos und kinderleicht Filme in vielen Formaten auf eine klassische Video-DVD, die sich anschließend auch im eigenen Heimkino abspielen lässt. Viele Vorlagen für die Gestaltung eines professionellen DVD-Menüs liegen den Programmen bereits von Hause aus bei.
Mehr…
MAGIX Speed
Version: 3 | Shareware (69,99 EUR)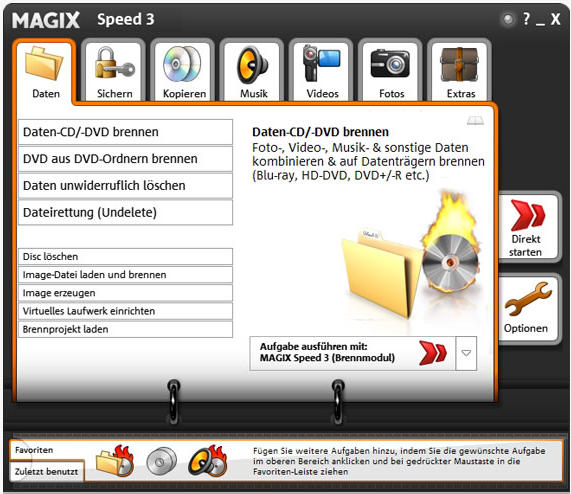 MAGIX Speed 3 bietet alles, was Sie für das Brennen, Kopieren und Sichern von Videos, Fotos, Musik und Daten benötigen. Keine unnötigen Programme, keine unverständlichen Menüs, sondern nur das Wesentliche. Ein Brennprogramm wie es sein soll ? schnell, zuverlässig und leicht bedienbar. Verlassen Sie sich auf eine zuverlässige Brenn-Suite, die höchste Qualität bietet und komfortable Erweiterungen für die Sicherung Ihrer eigenen Dateien und Ordner
Mehr…
Ashampoo Burning Studio 10 Theme Pack
Version: 1.0.0 | Shareware (14,99 EUR)
Ashampoo Burning Studio 10 Theme Pack bietet Ihnen kreative DVD- und Blu-ray Disc Menü-Vorlagen für viele Anlässe. Verwenden Sie hochwertige Motive und neue Designs für Disc-Etiketten, Hüllen und Booklets sowie für tolle, grafische Logos oder Untertitel, die Sie zu Ihren Filmen und Dia-Shows hinzufügen können.
Mehr…
Xilisoft Audio Maker
Version: 3.0.35.0314 | Shareware (37,00 EUR)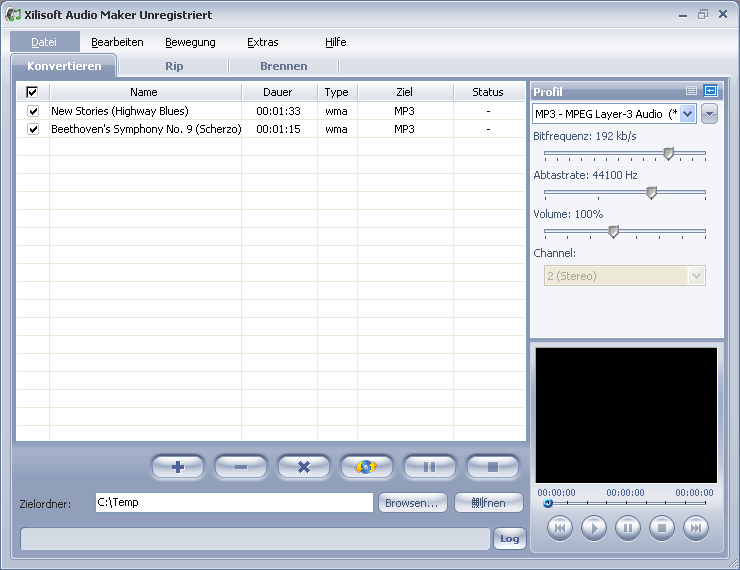 Xilisoft Audio Maker ist ein mehrfunktionaler Audio-Werkzeug,was die Funktionen von Audio Converter,CD Ripper u. CD Brenner enthält.Damit können Sie einfach Audio-Dateien zwischen alle Formate konvertieren,wie z.B.MP3 in WAV,WAA in MP3 konvertieren,und Sie können auch CD in MP3,M4A,WAV,WMA,MP4,OGG,AAC usw.,mittlerweile,er kann populäre Video u. Audio-Formate AVI, MPEG, WMV, MP4, 3GP, MP3, WMA, WAV, M4A, OGG in Audio CD brennen.
Mehr…
Xilisoft ISO Pro
Version: 1.0.9.0112 | Shareware (24,95 EUR)
Xilisoft ISO Pro, ein ausgezeichneter ISO Creator für ISO-Erstellen und ISO-Bearbeiten, kann alle Dateien wie Dokumente, Programme und Multimedia-Dateien in ISO umwandeln, z.B. AVI in ISO umwandeln. Mit dem ISO Creator können Sie sowohl ISO-Dateien öffnen u. bearbeiten als auch ISO-Dateien auf die Festplatte extrahieren. Der ISO Creator bietet die optimierte Speicherstruktur an, um ISO-Images für Sparen von mehreren Plätzen zu erstellen.
Mehr…
Blaze DVD Copy
Version: 4.3 | Shareware (49,95 USD)
Blaze DVD Copy is a DVD movie copy utility with easy usage and fast copy speed. You can copy all of your DVD movie collections. Just one click the mouse, you will replicate/archive your favorite DVD movies. Perfect 1:1 copy, the copied disc works well with most popular home DVD players.
Mehr…
Easy Burning
Version: 2.03a | Freeware
EASY Burning is the easiest way to backup your files in a cdr(w). Integrated to the shell (send to) or used as a normal application, EASY Burning works with any CD writer. .Write a folder and files, pictures and what ever you want. Easy to use. Create Data CD from a folder. Backup your MP3 collection. Integrated into Shell. send to Integrated into Desktop. Designed for Windows 98, Me, 2000, XP. Multissession support. A special DVD on my site
Mehr…
ABF CD Blaster
Version: 1.8 | Shareware (24,95 USD)
This amazing program combines CD-Burner and CD-Ripper in one. You can easily extract CD tracks from audio CD as well as record your own music CD (standard Audio CD or MP3 based data CD). It supports popular audio formats (mp3, ogg, wav), can get CD disc information from FreeDB, has a built-in audio player and other great features.
Mehr…
Feurio! CD-Cover Converter
Version: 0.99 | Freeware
Wer gern mit dem Audio-CD-Brenn-Programm Feurio! arbeitet, der kennt das vielleicht: Man möchte die komplette Titelliste eines Projektes in ein Dokument (Word-Datei, Textdatei etc.) einfügen. Dies ermöglicht der Feurio! CD-Cover Converter. Dieses kleine Programm konvertiert eine Feurio! CD-Cover-Datei in eine ANSI Textdatei. Weiterhin können die Interpreten und Titel noch in der Groß-/Kleinschreibung beeinflusst werden.
Mehr…