Tansee iPod Photo Transfer
Dieses Programm wird Ihnen präsentiert von:
Tansee, Inc.
JjRd
84093 Utah
USA Minor Outlying Islands
| | |
| --- | --- |
| Kategorie: | Audio & Multimedia / Midi |
| Version: | 3.0 |
| Release-Datum: | 01.06.2006 |
| Größe: | 876 KB |
| Betriebssystem: | Win 98 / 2000 / XP |
| Sprachen: | Englisch |
| Downloads: | 1 im August / 559 insgesamt |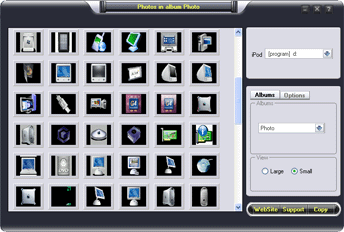 Tansee iPod transfer photo is the ultimate backup, recovery and sharing tool for your iPod Photos. Recover your souvenirs in just a few clicks and share them on other's computers. Tansee iPod transfer photo lets you backup copy, download and transfer you iPod photos on any computer.Tansee iPod Transfer Photo is a sound of blessing for frustrated Apple's iTune users who can't copy photos from iPod to pc desktop or laptop since iTune blocks iPod-to-computer photos transfer. Apple had integrated all your photos into an .ithmb file which user can not access the content, Tansee iPod Transfer Photo utilizes iPod's internal database to display your iPod's photos instantly.
With Tansee iPod Transfer Photo, iPod users can transfer iPod photos to PC easily. Tansee iPod Transfer Photo had many special settings for your personal iPod photo backup, you can customize browser style, backup file format(such as .BMP or .JPEG) and so on. We had also realize iPod auto detection feature, whenever you plug your iPod to the computer, Tansee iPod Transfer Photo could display all the iPod photos instantly. From now on, you can backup all your iPod photos to any computer. Try it, you will find more!
Tansee iPod Transfer is fully compatible with all existing iPods including iPod, iPod Photo, iPod mini, iPod shuffle, iPod nano and iPod video.

Hier können Sie die Update-Infos für dieses Programm abonnieren. Sie erhalten dann zukünftig eine Benachrichtigung per Email, sobald ein Update zu diesem Programm eingetragen wurde.
Um die Update-Infos zu abonnieren, tragen Sie nachfolgend Ihre E-Mail-Adresse ein. Sie erhalten dann eine E-Mail mit einem Link, über den Sie das Abo bestätigen müssen.
Sie können die Update-Infos jederzeit wieder abbestellen. Hierzu finden Sie am Ende jeder E-Mail mit Update-Infos einen entsprechenden Link.
Dieser Service ist für Sie vollkommen kostenlos.

Kommentare zu Tansee iPod Photo Transfer
Bisher gibt es keine Kommentare zu diesem Programm.
Selbst einen Kommentar schreiben