Kategorie Audio & Multimedia / MP3 (Filter: Shareware)
WavePad Masters Edition
Version: 9.05 | Shareware (69,95 USD)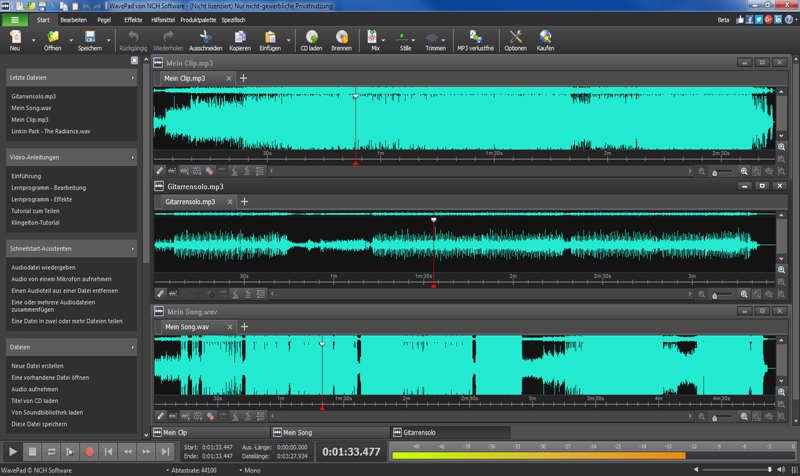 Die WavePad Masters Edition ist ein Musikbearbeitungsprogramm fuer Windows. Audio, Sprache und Musik schneiden, aufnehmen und bearbeiten. Sie koennen Teile der Aufnahmen ausschneiden, kopieren und einfuegen und wenn noetig, Effekte wie Echo, Verstaerkung und mehr hinzufuegen. Mit der WavePad Masters Edition koennen Sie professionell klingende Audiodateien erstellen und bearbeiten und diese dann vielseitig nutzen.
Mehr…
Audials One
Version: 2019 | Shareware (49,90 EUR)
Musik, Radios, TV, Filme & Videos finden, aufnehmen, runterladen, konvertieren &
Mehr…
Audials Moviebox
Version: 2019 | Shareware (24,90 USD)
+++Filme, Fernsehen, Video-Streaming und DVDs aufnehmen, konvertieren &
Mehr…
Audials Tunebite Premium
Version: 2019 | Shareware (24,90 EUR)
++Musik Streaming Rekorder mit doppelter Geschwindigkeit + Audio Konverter++ Aufnahme/Mitschnitt aller Audio-Streams in jedes Audio-Format f
Mehr…
Audials Radiotracker
Version: 2019 | Shareware (24,90 EUR)
Gezielt Radios mitschneiden. Alle Radios, Musik und Podcasts
Mehr…
Audials Tunebite Platinum
Version: 2019 | Shareware (39,90 EUR)
Universal Streaming-Rekorder Musik, Filme + TV, Filme und DVDs legal und ohne Werbung aufnehmen, Autotagging f??r Filme & TV Serien, gesch??tzte Musik konvertieren und ??berall genie??en, Universalkonverter PC, Smartphone, Tablet, Apple, Internetvideo-Downloader + Video zu MP3 + Deutsches Internet TV + DVD-Kopierer+ Playlist Media-Player + CD/DVD-Brenner + Medienverwaltung+ verbesserte Videothek +Cloud-Manager + ID3-Editor
Mehr…
Waver
Version: 2.95 | Shareware (29,95 USD)
Waver converts WAV/MP3 files to WAV or MP3 using all processors in the system. Windows audio codecs are used for WAV/MP3 to WAV conversion. Waver both reads and writes MP3 files. It is also capable of writing WAV encoded MP3 files using LAME and Blade encoders. You can up or downsample your files, change the number of channels and the format all in one step. Waver can also batch convert your sound files.
Mehr…
MP3Coder
Version: 1.65 | Shareware (16,00 EUR)
MP3Coder is a powerful handy explicit WAV to MP3 encoder.The program supports WAV and MP3 formats, all constant and variable bitrates (8-320 bps). ID3v1 editor, flexible system of settings for creating name of the MP3 file, FreeDB - are at your disposal. There are Presets for those who don't want to delve into subtleties of MP3 formats. Possibility of creating your native interface language if you haven't found it among numerous other ones.
Mehr…
MP3Man
Version: 1.02 | Shareware (10,00 EUR)
MP3Man ist ein Programm das den Rio Manager von Diamond voll ersetzt. MP3Man kann zus?tzlich beliebige Dateien Downloaden. Au?erdem bietet MP3Man auch einen Upload aller. Dadurch kann der Rio Player auch zum Transport beliebiger Daten zwischen PC's verwendet werden. Es k?nnen auch Playlisten erstellt und verwaltet werden. Jetzt auch mit Unterst?tzung des Rio SE und einer Version f?r NT/W2000.
Mehr…
Ultra Tag Editor
Version: 2.4.4 | Shareware (19,95 USD)
Organize music file collections, properly label each file and get assistance in preparing mp3 files for subsequent CD burning with Ultra Tag Editor. It generates tags from file names, renames files based on tag information, supports CDDB, and copies tag information from one file format to another. The program comes packed with features, like exporting tracks information to HTML, XLS and CSV files and a built-in mp3 player with volume control.
Mehr…
Leawo TunesCopy for Win
Version: V1.0 | Shareware (19,95 EUR)
Ein professionelles iTunes DRM-Entfernungsprogramm, das DRM von iTunes Videos, Filme und TV-Shows entfernt, sowie ein All-in-One iTunes DRM-Medienkonverter, das iTunes M4V zu DRM-freies MP4-Video konvertiert.
Mehr…
ACXtractor
Version: 3.20 | Shareware (19,99 USD)
ACXtractor ist ein schneller, professioneller und benutzerfreundlicher CD Ripper f?r Windows XP/ 2k/ NT/ ME/ 9x (auch bekannt als: Audio Grabber, Digital Audio Extraction). Sie k?nnen Ihre AUDIO-CDs sehr einfach auslesen und als WAV, MP3 oder OGG speichern.
Einige weitere Funktionen: freedb Support, CD Player, einfache Auswahl und Vorh?ren eines Teilst?cks, navigieren mit einem Slider, CD Info editieren, mehrere Songs hintereinand auslesen.
Mehr…