Direct WAV MP3 Splitter
Dieses Programm wird Ihnen präsentiert von:
PistonSoft
Lesya Kurbasa Str. 3, #34
03148 Kyiv
Ukraine
| | |
| --- | --- |
| Kategorie: | Audio & Multimedia / Multimedia Creation Tools |
| Version: | 3.0 |
| Release-Datum: | 08.05.2014 |
| Größe: | 2,51 MB |
| Betriebssystem: | Win 98 / ME / 2000 / XP / Vista |
| Anforderungen: | Direct X 8.0 or above |
| Sprachen: | Englisch |
| Downloads: | 156 im Mai / 495 insgesamt |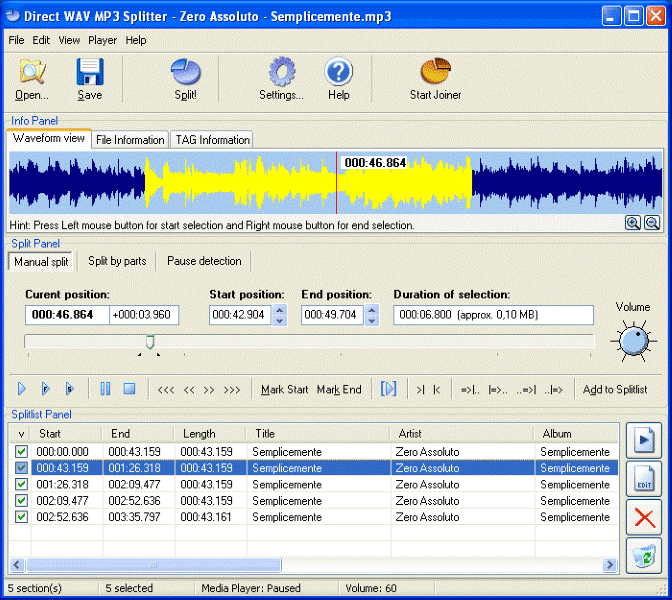 A user-friendly tool for splitting up large MP3 and WAV files, Direct WAV MP3 Splitter is a fully-featured solution that gets the job done quickly and without loss of quality. Files are also split without recompression. Aside from its MP3 split ability, the software is also a WAV splitter for extra versatility. The most powerful and useful feature of the program is its ability to detect pauses and silences in the track. The silence detection allows the software to automatically split up the audio files when it detects pauses between tracks. This is particularly useful when working with MP3 or WAV recordings of old media such as cassette tapes or records. Tracks can also be split up at file size intervals or time intervals. Files of any size are supported and audio can also be played within the program before splitting. There is also a visual audio graphics representation available of the audio files. In addition, CUE files and own file format are also supported. To find out more or download a trial version of the software, visit the site at http://www.pistonsoft.com/mp3-splitter.html.
Hier können Sie die Update-Infos für dieses Programm abonnieren. Sie erhalten dann zukünftig eine Benachrichtigung per Email, sobald ein Update zu diesem Programm eingetragen wurde.
Um die Update-Infos zu abonnieren, tragen Sie nachfolgend Ihre E-Mail-Adresse ein. Sie erhalten dann eine E-Mail mit einem Link, über den Sie das Abo bestätigen müssen.
Sie können die Update-Infos jederzeit wieder abbestellen. Hierzu finden Sie am Ende jeder E-Mail mit Update-Infos einen entsprechenden Link.
Dieser Service ist für Sie vollkommen kostenlos.
Kommentare zu Direct WAV MP3 Splitter
xepelkjg aus xepelkjg schrieb am 26.05.2013:
http://wholesalecoachoutletstores.com
http://coachoutletstoreonliness.com
http://lunettesraybanfrr.com
http://cheapcoachpurseoutlets.com
http://coachoutletcouponus.com
http://coachonlineoutletus.com

dsivekuq aus dsivekuq schrieb am 26.05.2013:
[url=http://coachonlineoutletus.com]coach outlet coupon[/url]
[url=http://coachfactoryoutletonlines.com]coach outlet[/url]
[url=http://coachoutletstoreonliness.com]coach factory outlet[/url]
[url=http://coachoutletcouponus.com]coachoutletcouponus.com[/url]
[url=http://wholesalecoachoutletstores.com]coach factory outlet online[/url]
[url=http://lunettes3dfr.com]lunettes chanel[/url]
[url=http://lunettescarrerafr.com]lunettescarrerafr[/url]
[url=http://lunettesraybanfrr.com]lunettes chanel[/url]
[url=http://cheapcoachpurseoutlets.com]coach outlet store[/url]

Mehr Kommentare / Selbst einen Kommentar schreiben