Kategorie Audio & Multimedia / Multimedia Creation Tools
Podcast Studio
Version: 1.1.0.0 | Shareware (17,95 EUR)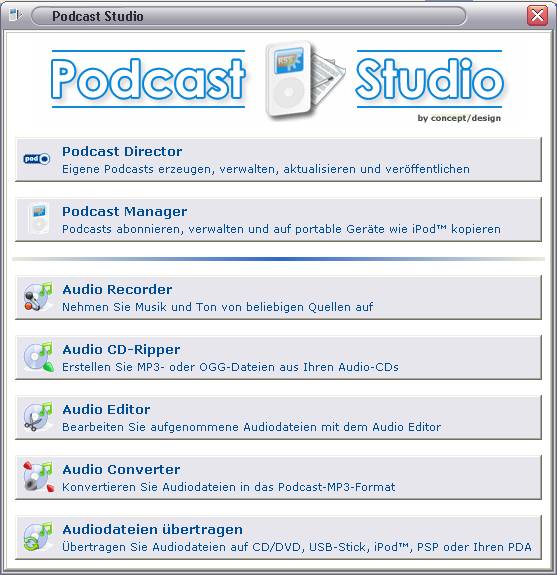 Mit dem Podcast Studio ist es möglich, bequem eigene Podcasts zu erstellen. Nehmen Sie eigene Dateien mit dem Audio Recorder auf, erstellen Sie Podcasts mit dem Podcast Director. Aber was nutzen die besten Podcasts, wenn sie niemand kennt? Damit Ihr Podcast bekannt wird, hilft der Podcast Publisher bei der Veröffentlichung in Podcast Archiven. Der Podcast Manager ist ein vollwertigen Podcast Client und kopiert Podcasts auf USB-Stick, iPod etc.
Mehr…
1st Autorun Express
Version: 3.2 | Shareware (49,95 USD)
Mit 1st AutoRun Express erstellen Sie, geführt von einem Assistenten, problemlos selbststartende CDs für Präsentationen u.ä.
Mehr…
Direct MP3 Splitter and Joiner
Version: 3.0 | Shareware (29,95 USD)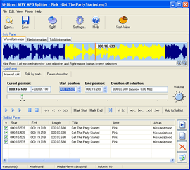 Direct MP3 Splitter Joiner ist ein einfaches Tool, dass es Ihnen auch ohne Technikwissen erlaubt Sounddateien (MP3, wav) zu verbinden, splitten oder teils auch zu editieren, wie zB Dateien zu k?rzen oder Stille auszuschneiden. ID3 Tags und MP3 Dateien mit variabler Bitrate werden auch unterst?tzt. Das Programm hat eine automatische Funktion zum Erkennen von Pausen, was sich gut eignet, um aufgenommene Streaming Audiodateien in Songs zu teilen
Mehr…
Direct WAV MP3 Splitter
Version: 3.0 | Shareware (19,95 USD)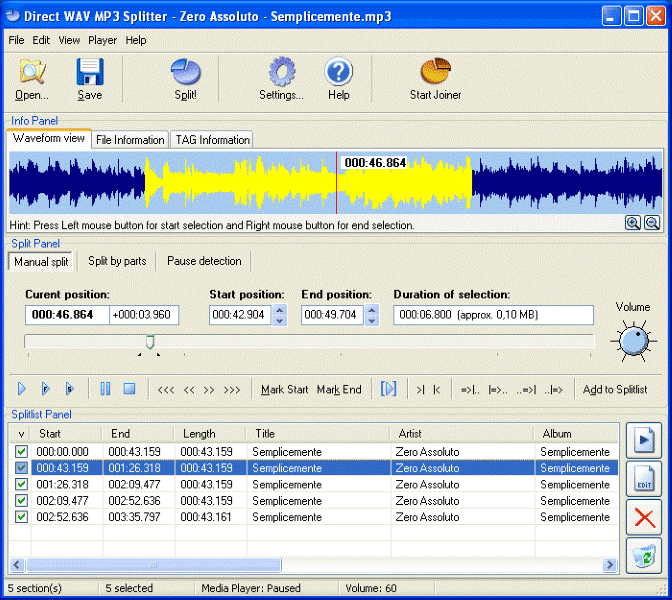 If you often record audio from old types of media such as records or cassette tapes, the tracks are going to be in a single file. To split them up, you can use Direct WAV MP3 Splitter, a WAV cutter and MP3 cutter utility that uses silence detection to separate a single audio file of any size into separate files with no loss of quality. There are many other configurable options as well as a built-in player.
Mehr…
MP3 Joiner
Version: 1.3.1.5 | Shareware (19,99 USD)
MP3 Joiner is an easy-to-use tool for joining several MP3 files into bigger MP3 format. MP3 Joiner is fast and robust without recompression. MP3 Joiner also supports to drag and drop files. Only the MP3 files which have same parameters can be joined with the MP3 Joiner.
Mehr…
WAV Splitter
Version: 1.4.0.3 | Shareware (17,99 EUR)
WAV Splitter is an easy-to-use tool for splitting large WAV file into smaller ones. With the build-in WAV player, you can pre-listen the WAV file, set start time and end time, split or cut any section of the WAV file you want. WAV Splittert also splits equal parts either by size or by time.
Mehr…
Show.kit
Version: 2.06 | Shareware (31,95 EUR)
Show.kit is a multi-template multimedia authoring tool for one-click HTML and Flash websites building, along with slide-shows, intros and preloaders. Show.kit has a user-friendly interface, professionally made Flash templates and numerous features for their customization, such as image editor, text processor, MP3 support, automatic FTP upload etc. Show.kit proves to be an effective solution for everyone to build Flash web output in 30 minutes.
Mehr…
onlineTV
Version: 13.17.9.21 | Freeware (18,95 EUR)
Mit onlineTV hast Du Zugriff auf hunderte Musikvideos, TV Livestreams, Radiosender, Webcams und mehr. Wähle aus hunderten von Musikvideo's Dein Lieblingslied. Höre Deinen Lokalsender wie z.B. NDR2 oder FFH direkt über den Computer. Lies die aktuellen Nachrichten Deiner Tageszeitung ... von jedem Punkt der Erde aus! Empfange Fernsehsender und zeichne das Programm auf Wunsch mit. onlineTV ... hier hast Du es zuerst gesehen!
Mehr…
MP3 Splitter
Version: 3.2.9.8 | Shareware (17,99 EUR)
MP3 Splitter ist ein Werkzeug, um MP3-Dateien in kleinere Bestandteile schneiden. MP3 schneiden kann auch Dateien, entweder nach Größe oder nach Dauer, in gleich große Teile schneiden.
Mehr…
Audio Mid Recorder
Version: 5.35 | Shareware (29,95 USD)
Audio Mid Recorder is a powerful real-time sound recorder from any resource such as Mid, MP3, WAV, WMA, RM, OGG,VQF, CD, DVD, MPEG, AVI, MOV, GAME, FLASH, Streaming Audio on Internet... , even from all peripheral equipment such as Microphone, Cassette Tape, TV, Radio, Electronic Organ, Video Tape, CD Player, DVD Player, PS2, Xbox ... , it offering professional recording features for saving as mp3,wav,wma,ogg formats.
Mehr…
Playlist Creator
Version: 3.6.2 | Freeware
Mit Playlist Creator können Playlisten einfach und schnell erstellt werden. Die Erstellung einer Playlist geschieht in sekundenschnelle! Das Programm unterstützt die leistungsstarke MediaInfo Library. Somit kann ein zuverlässiges Auslesen von Tags in Kombination mit einer sehr hohen Verarbeitungsgeschwindigkeit gewährleistet werden. Außerdem: Drag&Drop vom Windows Explorer, benutzerdefinierte Dateitypen, PLS-/M3U-Playlisten.
Mehr…
DVD PixPlay
Version: 8.0 | Shareware (49,50 USD)
DVD PixPlay allows you to create slide show disks from images, videos and music and write them directly to a CD or DVD for playback on your television using a DVD Player. DVD PixPlay makes it easy to share your images with your friends and family, particularly those who do not have a computer. And they are as easy to use as a normal DVD!
Mehr…