MagicScore Maestro
Dieses Programm wird Ihnen präsentiert von:
MagicScore Music Software
Dzerghinskiy block 7/101
91042 Lugansk
Ukraine
| | |
| --- | --- |
| E-Mail: | dgalaxy [at] dgalaxy [dot] net |
| Telefon: | +38-0642-62-43-96 |
| Telefax: | +38-0642-62-43-96 |
| Website: | www.musicaleditor.com |
| | |
| --- | --- |
| Kategorie: | Audio & Multimedia / Musik Komponierer |
| Version: | 5.4 |
| Release-Datum: | 29.01.2009 |
| Größe: | 4,25 MB |
| Betriebssystem: | Win 98 / ME / 2000 / XP / Vista |
| Anforderungen: | 64 MB RAM |
| Sprachen: | Deutsch, Englisch |
| Downloads: | 0 im November / 686 insgesamt |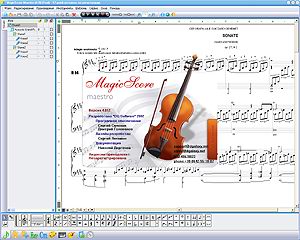 MagicScore Maestro - professional music notation software, offering the most advanced capabilities for working with music. It lets you precisely tune up the notes' sounds and their timing features, process the effects and the dynamics. In this program, you may use both general and extended sets of musical symbols and as well create your own symbols, terms and chords for complex compositions with a peculiar or a non-standard grammatical solution.
Special tools such as: virtual piano, virtual fingerboard for six and seven-string guitars, notes performance editor, real-time notes play-back editor and the navigator let you easily and efficiently record and work with both single pieces and large musical compositions.
The basic features of the Maestro version are as follows:
Automatic spell-checking of entered information;
Extensive editing capabilities (copy, paste, delete, transpose both single notes and selected blocks);
Note entry using the virtual piano;
Score entry using the Chord Builder;
Capability to bind comments, links, and other appearance elements to all score elements;
Adjustment of volume, balance, and effects for each track (of an instrument's score);
Reading from MIDI files and writing to MIDI files;
Play-back of the entered notes both by a single instrument and by the entire orchestra;
Printing scores, including previewing the scores;
Drag & Drop support;
Capability to cancel the running operation;
Score recording from a MIDI device.
Extended functional capabilities of the Maestro version:
Export of images to graphic files (BMP, JPEG, GIF);
Control of texts orientation on the page (the text may be displayed at any angle);
Calculation of notes volume - based on the dynamic symbols placed on the staff;
Calculation of the effects play-back (Arpeggio, Gruppetto, Vorschlag, Trillare) ? based on the staff's symbols;
Real-time notes play-back editor for changing the position and the duration of notes.
With MagicScore you can use classic or ja

Hier können Sie die Update-Infos für dieses Programm abonnieren. Sie erhalten dann zukünftig eine Benachrichtigung per Email, sobald ein Update zu diesem Programm eingetragen wurde.
Um die Update-Infos zu abonnieren, tragen Sie nachfolgend Ihre E-Mail-Adresse ein. Sie erhalten dann eine E-Mail mit einem Link, über den Sie das Abo bestätigen müssen.
Sie können die Update-Infos jederzeit wieder abbestellen. Hierzu finden Sie am Ende jeder E-Mail mit Update-Infos einen entsprechenden Link.
Dieser Service ist für Sie vollkommen kostenlos.

Kommentare zu MagicScore Maestro
Bisher gibt es keine Kommentare zu diesem Programm.
Selbst einen Kommentar schreiben