Virtual Music Composer
Dieses Programm wird Ihnen präsentiert von:
LvB's X
PO Box 629
71000 Sarajevo

| | |
| --- | --- |
| E-Mail: | pad [at] lvbsx [dot] com |
| Telefon: | +387 61 217 402 |
| Telefax: | +387 61 217 402 |
| Website: | www.lvbsx.com |
| | |
| --- | --- |
| Kategorie: | Audio & Multimedia / Musik Komponierer |
| Version: | 3.0 |
| Release-Datum: | 01.10.2007 |
| Größe: | 37,67 MB |
| Betriebssystem: | Win 2000 / XP / 2003 / Vista |
| Anforderungen: | display 1024 x 768 |
| Sprachen: | Englisch |
| Downloads: | 0 im November / 523 insgesamt |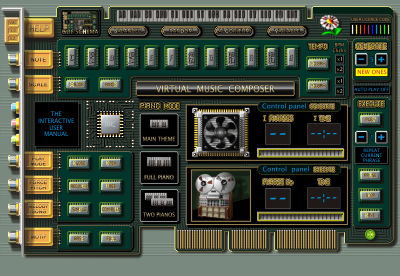 Making music with a computer is easier than ever and offers many advantages. The use of Virtual Music Composer is based on listening to musical phrases created by this software. Program is designed to help you to make your own music: it does not require any prior knowledge of composing or programming. By providing a visual-based and easy-to-use interface it simplifies work without regard to the user's skill level. The graphical user interface refers not so much to the standard musical terminology as much to the general description of program's features. By this way, the use of Virtual Music Composer is suitable for newcomers to the art of composing music as well as to the professionals. Just having a piano certainly does not make you into a pianist, as just having this software does not make you a composer. In order to take the most advantage of Virtual Music Composer, the playing of any musical instrument is not necessary but recommended or, at least, it is convenient. Virtual Music Composer does not replace the human factor: it's just an endless source of inspiration for making music 24 hours a day, 7 days a week. So, it is more and more important to make a distinction between "making music on a computer" and "composing music with a computer" software. Programs from the family "Making music with a computer", commonly, include features such as editing, sampling, sequencing, recording, mixing... Programs from the family "composing music with a computer" include only "computer generated music" feature. PRO version is free for educational, research and review's purposes.
Hier können Sie die Update-Infos für dieses Programm abonnieren. Sie erhalten dann zukünftig eine Benachrichtigung per Email, sobald ein Update zu diesem Programm eingetragen wurde.
Um die Update-Infos zu abonnieren, tragen Sie nachfolgend Ihre E-Mail-Adresse ein. Sie erhalten dann eine E-Mail mit einem Link, über den Sie das Abo bestätigen müssen.
Sie können die Update-Infos jederzeit wieder abbestellen. Hierzu finden Sie am Ende jeder E-Mail mit Update-Infos einen entsprechenden Link.
Dieser Service ist für Sie vollkommen kostenlos.
Kommentare zu Virtual Music Composer
Bisher gibt es keine Kommentare zu diesem Programm.
Selbst einen Kommentar schreiben