Kategorie Audio & Multimedia / Sonstige (Filter: Freeware)
Oxygen FM Manager
Version: 2.0 | Freeware
Mit Oxygen FM Manager können Sie FM Radio in Nokia Handys verwalten. Das Programm läßt FM Stationen zum PC herunterladen, ändern, und zurück ins Handy mit ein paar Mausklicks kopieren. Sie können eigene FM Einstellungen verfassen, sie auf dem PC speichern und zurück ins Handy überspielen. Oxygen FM Manager ermöglicht den Eingang zu der Liste von Oxygen Online FM Stationen, die Daten über FM Stationen der ganzen Welt enthält.
Mehr…
Rainbow piano
Version: 01 | Freeware
Rainbow piano for kids The Rainbow piano game is specially designed for small kids. Actually, it's one of the best online music games for kids colorful, simple, educative, and fun. This free online music flash game offers new possibilities of teaching music to small kids. Usually, remembering and recognizing notes is a big problem for small kids during piano lessons. Children get bored, confused, and don't understand what they should do. Many
Mehr…
OtsAV Free
Version: 1.77.001 | Freeware
OtsAV Free is the free edition in the OtsAV professional suite of products which are designed for DJs, Radio and TV Stations, Solution Providers, Businesses and AV Enthusiasts. Automated beat-mixing and intelligent fade-mixing, coupled with a broadcast quality Dynamics Processor, provides you with high quality sound with a professional polish. Mix and beat mix video content at broadcast quality (50/60 motion updates), and play karaoke CD+G.
Mehr…
Online ABC drum_machine
Version: 1 | Freeware
Virtual Drum machine online flash game. Play drums with a mouse or keyboard. Drum kit for online playing. You can record your melody and play it. You can see how to easy to create a drum melody. Why not to create drum melody and enjoy drums bit offline. This flash is free and fun. Learn to play drums with free online lessons. Play drums with a mouse or keyboard. Virtual Drums - play drums online cymbals and all drums equipment. Learn to play dru
Mehr…
Online ABC notepair
Version: 1 | Freeware
Online music free note pair game The tiles below hide ** pairs of pictures, all mixed up. Your task is to find all the pairs. Click on the tiles, pair by pair, to open the images. If you find a correct pair, the images will stay uncovered. If you miss, they will flip back. Let's see how much time you need to open all of the pairs! Note pair game for kids Click on a card to turn it over. Try to find the second card that matches the first. If the
Mehr…
Online ABC guitar machine
Version: 1 | Freeware
Free music flash games note, piano, guitar, drums Music piano and guitar online flash games. Piano music machine free online game you can compose melody and play it. Try compose melody. This is very easy. Free flash games Puzzles, logic Guitar music machine and mind online flash games. Sonic kids game. Find a way to priz. ear training Guitar chords machine with sound. Cards online games. If you were thinking about getting into playing a guitar,
Mehr…
Online ABC piano machine
Version: 1 | Freeware
Play a Piano. Play the piano using your mouse or your computer's keyboard. Piano/Keyboard. Piano/Keyboard - . Students are given many opportunities to play for recitals and other functions. Accompanists work with other faculty and students to present concerts and recitals. As you play the piano, you'll hear them. All the tones are created from mathematical equations. Listen and repeat music. free online music flash game. This educational games fo
Mehr…
Media Catalog Studio Lite
Version: 5.9 | Freeware
Ist Ihre Sammlung von Musik- und Video Dateien zu groß geworden? Kommen Sie mit ihr nicht mehr zurecht? Dieses Problem löst Media Catalog Studio, ein Hilfsprogramm das Media Dateien und CDs ordnet und verfolgt. Dieses Programm findet Media Dateien auf allen Speichermedien (Festplatten, Floppies, externe Lauwerke, CDs usw.). Es werden MP3, M4a, WMA, APE, OGG, MPC, AAC, AVI, MPEG, WMV und Audio CD Dateien unterstützt. Das Programm ist kostenlos!
Mehr…
AllFrames MP3 Tagger
Version: 2.01 | Freeware
Der AllFrames Tagger macht ALLE im ID3v2 Tag befindlichen Frames und deren Informationen sichtbar. Umgekehrt können unendlich viele neue Frames hinzugefügt werden, private und vordefinierte, um zusätzliche Informationen wie Urls, Bewertungen, BPM etc. zu speichern. Die meisten der zusätzlichen Commentfelder und privaten Text und Url- felder können von den meisten Tagprogrammen nicht angezeigt werden.
Mehr…
VirtualDVR
Version: 4.20 | Freeware (20,00 EUR)
Mit VirtualDVR kann ein PC als automatisierter Videorecorder eingesetzt werden.
Das Programm fungiert dabei als intelligente und relativ autonome Steuerungseinheit.
Key Features:
- kann Rechner zwecks Aufnahme selbst ein/ausschalten
- Schnittstellen zu TV-Genial, NxTvEPG, TV Movie, DVB
- Autoaufnahme m?glich
- Aufnahme durch VDub, VirtualVCR o.?. (Steuerung mittels einfacher Scripts)
- automatisch aktualisierte Aufnahmedatenbank
Mehr…
Mp3tag
Version: 2.84a | Freeware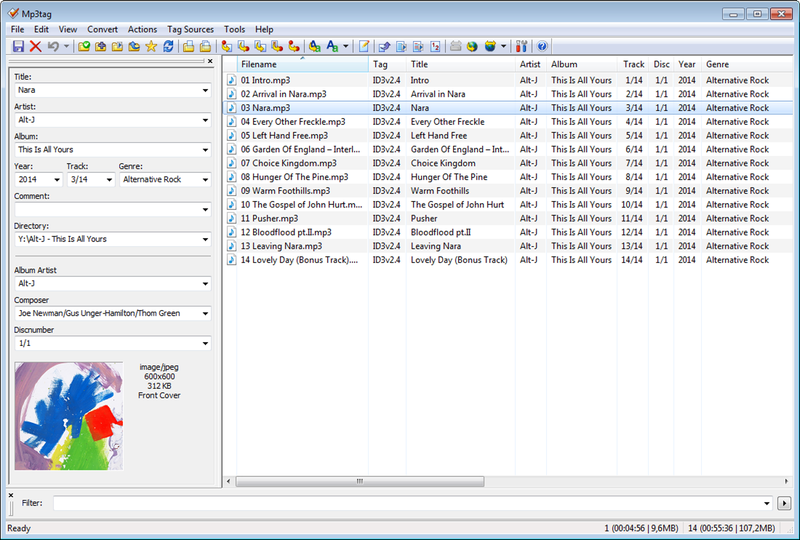 Mp3tag bietet die Möglichkeit ID3/MP4/OGG/APE/FLAC/WMA-Informationen auf äußerst komfortable Weise zu editieren. Dabei ist meistens keinerlei Eingabe mehr nötig, da Mp3tag über eine Anbindung an die Online-Datenbanken verfügt. Über Konverter können Sie Dateien auf Basis der Tags umbenennen. Darüber hinaus bietet Mp3tag eine allgemeine Exportschnittstelle, über die Dateiinformationen in beliebige Dateiformate exportiert werden können.
Mehr…
eBooksWriter LITE
Version: 2016.33 | Freeware
Build ebooks with ease with this professional all-in-one tool. Not just a compiler! Edit, protect and pack a compact self installing EXE with one click, AEH (EBooksReader), MOBI EPUB (Kindle iPad etc). Several protections available: clipboard copy disabling; password(s) for different groups of pages; different passwords for diff users; expiry date.. Full editor. Frames, hot spots, audio, video, text/keyword search, 5000+ features... Free LITE.
Mehr…