Kategorie Audio & Multimedia / Video Tools (Filter: Freeware)
PhotoStage Diashow-Programm
Version: 6.03 | Freeware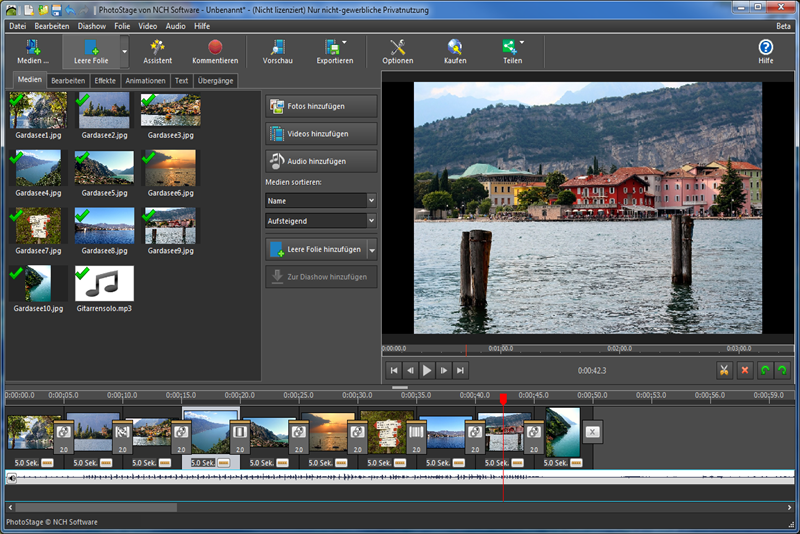 Mit PhotoStage kostenlos aus Digitalfotos, Videos und Musik eine Diashow erstellen. Man kann Effekte, Animationen, und Uebergaenge anwenden. Die Diashow kann dann beispielsweise auf DVD gebrannt oder zu YouTube hochgeladen werden. Fuegen Sie Musik, Kommentare oder Beschriftungen hinzu, um Ihre Diashow noch weiter zu optimieren. Unterstuetzte Formate beinhalten u.a. AVI, MPEG, WMV, DIVX, BMP, GIF, JPG, usw. sowie Audioformate.
Mehr…
VideoPad Video-Editor kostenlos
Version: 6.26 | Freeware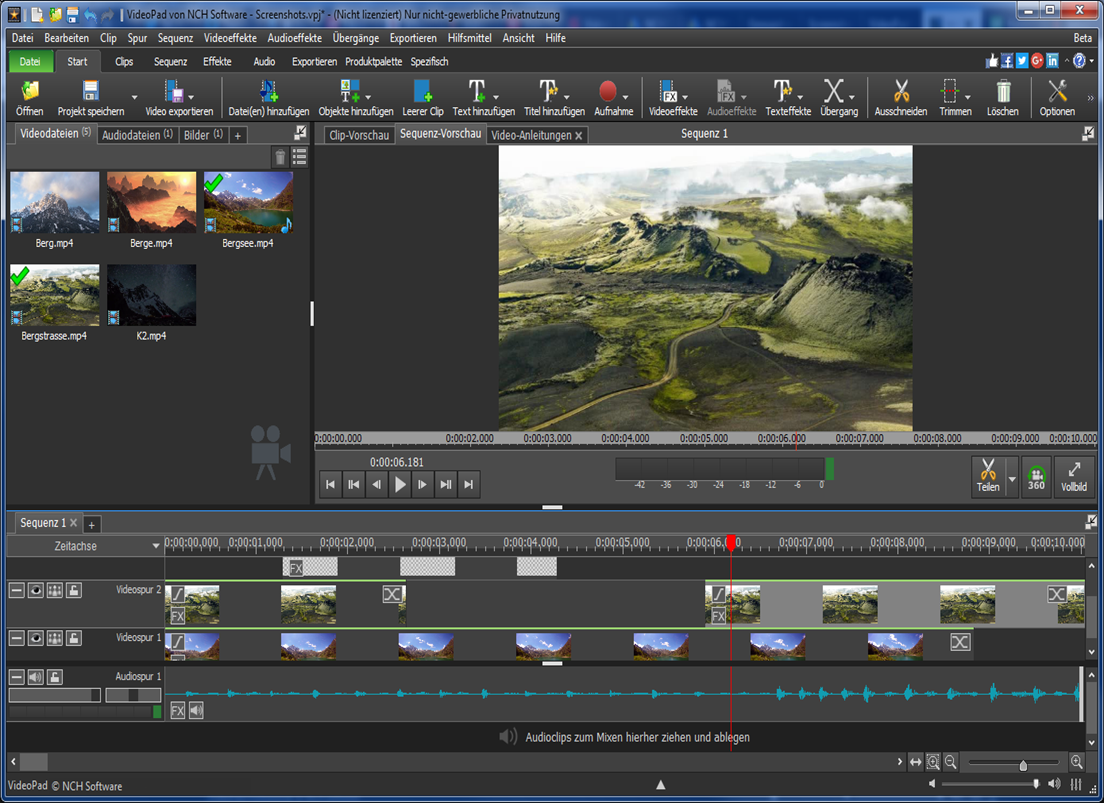 Mit dem kostenlosen Videobearbeitungsprogramm VideoPad koennen Sie zur leichten Videobearbeitung Dateien per Drag-and-Drop hinzufuegen. Dann mit Effekten, Uebergaengen, Geschwindigkeitsanpassungen und mehr arbeiten. Ausserdem koennen Sie Video von verschiedenen Quellen aufnehmen, einschliesslich DV-Kamera, VHS, Webcam oder RAW-Dateien. Fertige Videos dann auf DVD brennen, online teilen oder auf Videoseiten posten.
Mehr…
Free YouTube Uploader
Version: 4.0.5.827 | Freeware
Free YouTube Uploader ist die PC Desktop Anwendung, um Video auf YouTube ohne Verwendung der originalen YouTube-Bedienoberfläche hochzuladen. Wenn Sie oft Videos hochladen, dann wird Ihnen dieses Programm eine gute Hilfe sein, weil es einen Batch-Modus unterstützt. Unterstützte OS: Windows XP/Vista/7. Das Programm enthält keine Spyware oder Adware. Es ist kostenlos und sicher zu installieren und zu benutzen.
Mehr…
SWF & FLV Player for Mac
Version: 3.5 | Freeware
Based on the standard Adobe Flash player for Mac OS X, SWF & FLV Player by Eltima Software offers advanced and unique features that allow you to play, rewind, fast-forward and preview SWF and FLV files frame-by-frame, and also create and manage playlists, zoom movies in and out, fit to current window size or restore to original one, set playback quality, control Flash security, check SWF file's comprehensive information and lots more.
Mehr…
Kate`s Video Joiner
Version: 4.285 | Freeware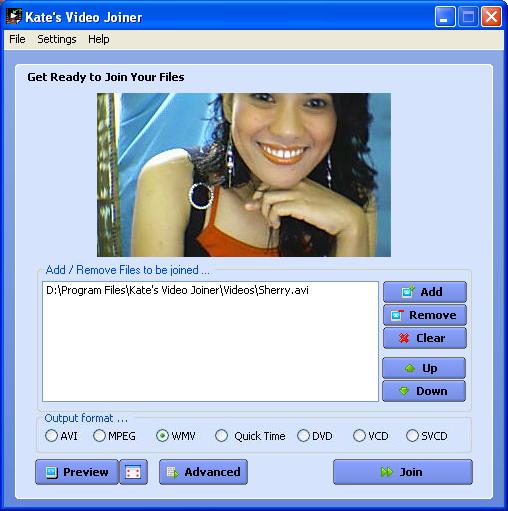 Joins multiple videos of same or different format and save it as single video. Supports AVI, WMV, MOV , DIVX, ASF, 3GP, MP4, MPEG1, MPEG2, VCD-PAL ,VCD-NTSC, SVCD-PAL, SVCD-NTSC, DVD-PAL, DVD-NTSC and other formats.
Mehr…
Kate`s Video Converter
Version: 4.722 | Freeware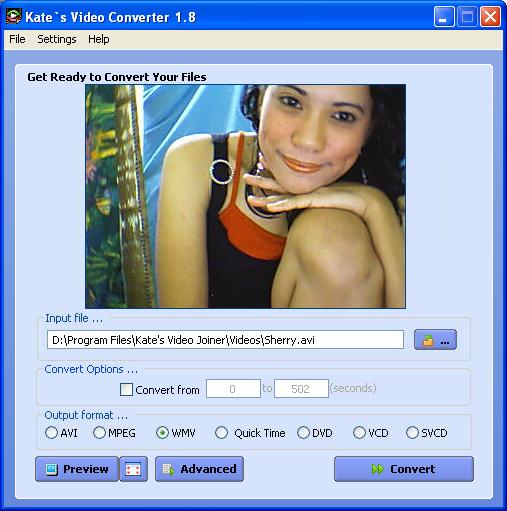 Video converter which can convert video file between all popular video formats including AVI, WMV, MOV , DIVX, ASF, 3GP, MP4, MPEG1, MPEG2, VCD-PAL ,VCD-NTSC, SVCD-PAL, SVCD-NTSC, DVD-PAL, DVD-NTSC and other formats.
Mehr…
Free Video to MP3 Converter
Version: 5.0.9 | Freeware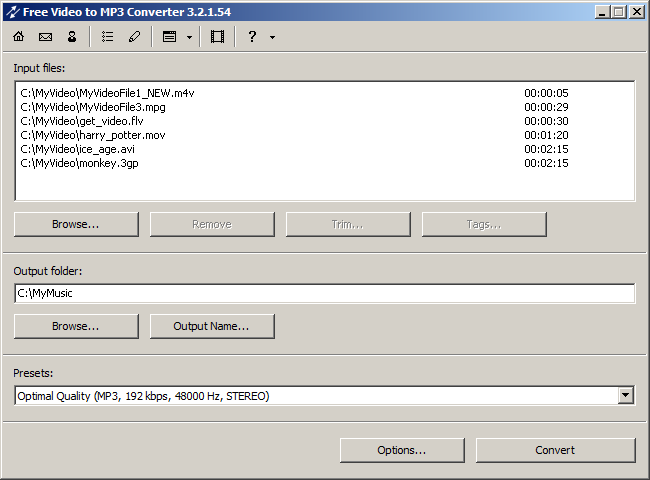 Verwenden Sie Free Video to MP3 Converter, um Audio von Videos zu extrahieren (*.avi, *mpg, *.mpg, *.mp4, *.wmv, *.asf, *.mov, *.qt, *.3gp, *.3g2, *.amv, *.flv) und als MP3 zu speichern. Erstellen Sie die beste Qualität der MP3s mit Einstellungen ?Extreme/Insane Quality?. Batch-Umwandlung. Voreinstellungseditor. Free Video to MP3 Converter enthält keine Spyware oder Adware. Er ist kostenlos und gefahrlos zu installieren und zu benutzen.
Mehr…
Tansee iPod News
Version: 1.0 | Freeware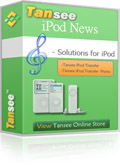 Read news and current affairs on your iPod everyday. Put the world's hottest news into your iPod every morning, enjoy your iPod news on the way to office. This autumn, time to change your iPod reading style.
Mehr…
CamControl (Mobotix)
Version: 1.001 | Freeware
Cam Control ist ein Steuerungsprogramm für Mobotix Kameras welche über keine Absolutpositionierungsschnittstelle verfügen. Zunächst fahren Sie mit Hilfe der manuellen Steuerung den Referenzpunkt der Kamera an. Der Referenzpunkt ist die maximale linksseitige Schwenkposition. Nach der Positionierung setzen Sie die virtuelle X,Y-Position auf
Null. Danach können Sie einen beliebigen Punkt anfahren und in die Beobachtunngsliste übernehmen.
Mehr…
Cinematheca
Version: 1.0 | Freeware
You can use Cinematheca to maintain your own movie collection and also view a list of movies in your friend's collections. It is easy to see if your friend has a new movie and ask him or her to let you see it. You can view your friends' collections even when they are offline. The software allows you to rate movies and share these ratings with your friends, search your collection and your friends' collections, and group movies into virtual folders
Mehr…
Freecorder
Version: 8.0 | Freeware
Freecorder 8 is a FREE, revolutionary browser-based video/audio recording and conversion program that allows you to save and convert ANY streaming video - it includes a video downloader, a screen recorder, even a torrent downloader. Create MP3s from ANYTHING you hear on your PC and convert your saved files to the most popular formats. All these powerful tools are easily accessible right in your browser where you need them. Give it a try today!
Mehr…
X-VCD Player
Version: 2.0 | Freeware
DVD PixPlay allows you to create VCD slide shows from images, videos and music and write them directly to a CD. VCD's can then be played on your television using a DVD Player. VCD's make it easy to share your images with your friends and family, particularly those who do not have a computer. And they are as easy to use as a normal DVD!
Mehr…