Kategorie Audio & Multimedia / Wave (Filter: Shareware)
Audio/Video To Wav Converter
Version: 1.0.0 | Shareware (17,99 EUR)
Audio/Video To Wav Converter ist ein einfaches Werkzeug f??1r das Umwandeln fast aller Arten Audio und videoakten in eine wav akte. Mit errichten-in den Multimedia Spieler, k?nnen Sie preview die Mittel einordnen, gesetzte Anla?zeit und Endenzeit, wandeln jeden Audioabschnitt der Akte ohne Qualit?tsverlust um.
Mehr…
Wave Recorder
Version: V2.40 | Shareware (20,00 EUR)
Der Wave-Recorder wurde f?r die zeitgesteuerte Aufnahme von Rundfunksendungen ?ber die Soundkarte eines PC's entwickelt.
Mehr…
Leawo iTransfer for Mac
Version: V1.9.0.0 | Shareware (19,95 EUR)
- Dateien zwischen iOS-Geräte, iTunes und Mac-Computer übertragen;
- iPhone, iPad und iPod-Dateien auf Mac-Computer wiederherstellen;
- Nutzer dabei helfen, das Sync von iTunes loszuwerden;
- iPhone, iPad und iPod als Flash-Laufwerke verwende;
- Die Playlists von iTunes-Bibliothek und iOS-Geräte verwalten.
Mehr…
VSynth
Version: 2.1 | Shareware (36,00 EUR)
Das Programm verwandelt den Computer mit Soundkarte in einen leistungsfähigen Synthesizer. Sie benötigen bis auf die Soundkarte und einer midifähigen- Klaviertastatur keine zusätzliche Hardware. Der Computer übernimmt die komplette Berechnung des Klanges.
Durch den Aufbau von Modulen, die beliebig miteinander verknüpft werden können, sowie das Zusammenfassen von Modulen zu Macros, erlaubt es extrem flexible Klänge zu gestalten.
Mehr…
Boilsoft Audio Converter for Mac
Version: 1.01 | Shareware (29,95 USD)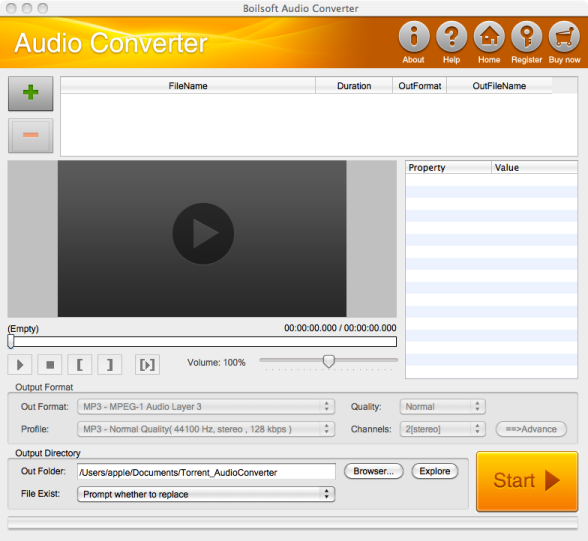 Boilsoft Audio Converter for Mac is one of the best sound converter and CD burner programs running on Mac OS X. This audio converter can enable you to extract audio from any videos on Mac and convert between popular audio format including AAC, AC3, AIFF, AU, FLAC, M4A, MKA, M4R, MP2, MP3, OGG, WAV, and etc. With this Mac sound converter, you can also select and convert specific part of whole video by setting start time and end time accurately.
Mehr…
RaVeN Mixer
Version: 1.0.0.0 | Shareware (14,95 EUR)
RaVeN Mixer is convenient instrument for control sound on you computer.
Mixer features:
Raven Mixer allow use hot keys for control sound settings
Raven Mixer allow simultaneously see all possible sound settings.
Raven Mixer allow get detail information about you sound card, witch installed in your computer
You can change program interface using skins
Raven Mixer can completely replace standad sound mixer program.
Mehr…
DVD to Apple TV Converter Tool
Version: 2.3.3 | Shareware (29,95 USD)
DVD to Apple TV Converter is the easiest-to-use and fastest DVD to Apple TV converter software for Apple Apple TV on the market. It can convert almost all kinds of DVD to Apple TV format. It is also a powerful DVD to Apple TV converter due to the conversion speed is far faster than real-time. You will enjoy your favorite DVDs on your Apple TV as a DVD Player. Now you can get this DVD to Apple TV Converter at a very competitive price!
Mehr…
DVD Demuxer
Version: 1.0 | Shareware
DVD Demuxer is designed for decompilation of total DVD on all data streams by pushing the only button.Output files of DVD Demuxer are well structured and named, so you have visual information about disposition data in source DVD. Later you can use these files separately in any of DVD authoring program.DVD Demuxer is ideal match in case of total decompilation or extraction of any data from DVD.
Mehr…
Flac Ripper
Version: 4.0.0 | Shareware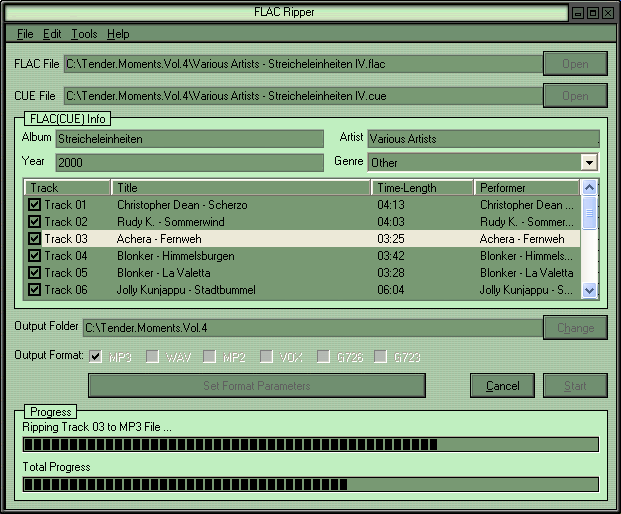 Flac Ripper ist eine Musik-CD-Image FLAC (FLAC + CUE-Datei) Ripper zu teilen FLAC große Musik-CD-Image (FLAC + CUE-Datei), um MP3-Dateien oder andere Audio-Dateien mit Format WAV, FLAC, VOX, G726 und G723. Features: 1. Kompatibel mit Windows 95/98/ME/NT/2000/XP/2003/Vista/Windows 7. 2. Unterstützt die Ausgabe von MP3, WAV, FLAC, VOX, G726, G723-Format. 3. Unterstützt MP3 ID3v1 und ID3v2-Tag. 4. Unterstützt anpassbare Ausgabe MP3 Bitrate.
Mehr…
MP3 Navigator
Version: 2.42 | Shareware (14,00 USD)
MP3 Navigator ist einfach zu bedienendes Tool, das Ihnen eine schnellen Zugriff auf Ihre MP3-Daten auf Ihrer Festplatte ermöglicht, ohne einen Blick von Ihren Desktop zu wenden. MP3 Navigator scannt Ihre ganzen Festplatten nach MP3s und WAVE-Dateien und listet sie in einem Traybar-Menü kategorisch, nach Genre, Künstler, Album-Name und Jahr, bereit, um sie mit einem MP3-Player Ihrer Wahl zu starten.
Mehr…
Gitarrero Beginner
Version: 1.0 | Shareware (24,00)
Die Software-Gitarrenschule für Anfänger; im Selbststudium oder im Gitarrenunterricht;
mit Videos, Audios, Midis, Fotos; Akkorde, Rhythmen, Liedbegleitung, Songs; DEMO-Download;
Online-Bestellung
Mehr…
AVS Audio Utilities
Version: 2.4 | Shareware (29,95 USD)
AVS Audio Utilities includes four wizard-styled applications (Audio Recorder, Audio CD Grabber, Audio Converter and Audio CD Writer) and advanced and powerful, professional, full-featured digital Audio Editor. You can use it to record your own music or voice, edit it, mix with other audio, add different effects, grabb audio CDs, convert audio files from one format to another, burn audio CDs and much more.
Mehr…