Kategorie Büro / Buchhaltung & Finanzen (Filter: Freeware)
Einkommensteuerberechnung
Version: 1.0 | Freeware
Software-basierter Einkommenssteuer-Rechner für den PC. Wir stellen für Sie drei Versionen zur Verfügung: Eigenständige Anwendung, Excel-Datei (Microsoft Excel 2000 Arbeitsblatt) - Standardversion, Excel-Datei (Microsoft Excel 2000 Arbeitsblatt) - Spezialversion für Gewerbetreibende (berücksichtigt die Einkommensteuerermässigung für Gewerbetreibende).
Mehr…
Express Accounting
Version: 2.0 | Freeware
CompuEx Express Accounting - Free Edition - Version 2.0, Fully functional, commercial-grade, FREE accounting software, A Single Company, Single User, Single Currency Small Business Management and Accounting Software, offers a comprehensive suite of integrated financial accounting and operations management modules.
Mehr…
BS1 Accounting
Version: 2017.8 | Freeware
Kostenlose Buchhaltungssoftware: Hauptbuch, Kreditoren, Debitoren, Inventar, Sales Analysis und Kontenabstimmung. Anpassung und Source-Code zur Verfügung.
Mehr…
SuccessControl CRM Basic-Free-Version
Version: 5.0.0 | Freeware
SuccessControl CRM beinhaltet ein komfortables Programm zur Kunden- und Adressverwaltung. Enthalten ist neben der Kundenverwaltung ein Rechnungsprogramm mit Artikelverwaltung, ein Kassenbuch sowie eine Offene-Posten- und Mahnverwaltung. Dank integrierten Marketing Newsletter- und Projekt-Tool mit DMS minimieren Sie den Aufwand für alle täglich anfallenden Aufgaben im Büro. Und das alles bei einfachster Handhabung! http://www.successcontrol.de
Mehr…
FGS - Cash Book (XP, Vista, Win7, Win8)
Version: 6.0 | Freeware
Simple to record information about cash receipts and payments. For all currencies in the world. Create different books (cashbook, household, my wife...). Recurring reservations can be accepted. Automatic or manual document numbering. Maintenance of forgotten documents possible. Comfortable entry date. Cash remaining stock with warning of funds minus. Backup, password, evaluation tool, export function in Excel and text file, extensive helpfile.
Mehr…
MMS Kassenbuch
Version: 8.0 | Freeware
Kostenloses Kassenbuchprogramm. Schnittstelle zum Datenexport nach DATEV (etwa f?r Steuerberater) vorhanden. Komfortable und schnelle Erfassung, auch geeignet f?r DATEV-gew?hnte Buchf?hrungshelfer.
Mehr…
Power Kasse
Version: 2.6 | Freeware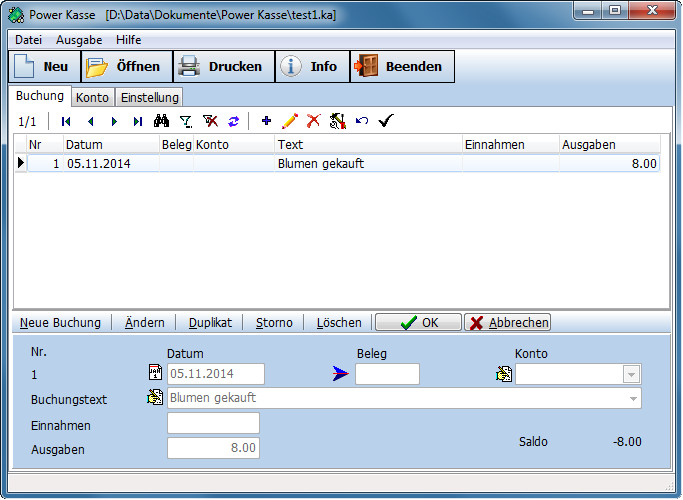 Mit diesem Programm haben Sie ihre Finanzen im Griff. Einfach und schnell können Ein- und Ausgaben erfasst werden. Kontoübersicht und grafische Auswertung.
Mehr…
EasyCash&Tax
Version: 2.22 | Freeware
EasyCash&Tax wurde für Menschen geschrieben, die mit Buchhalter-Logik und -Jargon wenig anfangen können und die Minimalanforderungen der Steuergesetzgebung mit dem gesunden Menschenverstand und vor allem mit möglichst wenig Zeitaufwand bewältigen wollen.
Mehr…
HS ESt Mini
Version: 5.70 | Freeware
Das Programm zeigt in einem kleinen Fenster die Einkommensteuer-Grund- und Splittigtabellen über 19 Jahre von 1995 bis zum Jahr 2013. Bis 2001 können die Berechnungen wahlweise in DM oder EUR erfolgen. Das Fenster läßt sich verdoppeln und immer im Vordergrund halten.
Mehr…
Proposal and Contract Template
Version: 1.10 | Freeware
This free building invoice template is in Microsoft Excel spreadsheet format. The template offers an intuitive blank proposal and contract form that is printable and highly customizable. The contract form includes required fields for a construction company to present the proposal or contract to a customer. The template has only one column on the invoice body, all subtotals and totals are manually editable.
Mehr…
Auto Repair Invoice Template
Version: 1.30 | Freeware
If you are running small auto body repair business, collision repair business or mobile refinisher business, you don't need a fully featured invoicing system for your automotive services, such as Excel Invoice Manager. This free invoice template, created from the default invoice template included in EIM, provides free an invoicing software program for your electronic invoicing needs. Filling in the blank invoice form is as easy as 1-2-3.
Mehr…
Consulting Invoice Template
Version: 1.30 | Freeware
If you are a small home-based business, contractor, consultant, and freelancer and need more professional looking invoicing and billing, this free consulting invoice template is for you. This is a completely free Microsoft Excel-based invoice template that is not locked by password. The invoice template includes all the usual fields required by consulting business to ensure it looks professional and meets all of your commercial and business needs
Mehr…