Kategorie Büro / Datenbanken & Tools (Filter: Freeware)
Data Puppy Lite (64-bit)
Version: 1.0 | Freeware
Data Puppy Lite is a database migration tool for Oracle, MySQL, SQL Server & PostgreSQL that demonstrates the basic capabilities of Cirro's full blown and highly scalable database migration product.
Mehr…
TOAD for DB2
Version: 6.0 | Freeware
TOAD for DB2 is a database development solution that provides productivity features/functions for rapidly creating and executing queries, facilitating database object management, developing SQL code, and accessing DB2 expertise instantly. Toad Developers have access to a community of users, peers, and experts.
Mehr…
TOAD for Oracle Freeware
Version: 8.5 | Freeware
Toad® for Oracle is a comprehensive database tool for development and administration that enables you to perform daily tasks efficiently and accurately. It has grown over the past 10 years into the most widely-used tool of its kind. Our online community, www.toadworld.com, gives you access to resources and expertise. Whether you are a Developer, DBA or Analyst, there is a Toad for Oracle edition built for you.
Mehr…
Toad for MySQL
Version: 7.3.1 | Freeware
Toad for MySQL empowers MySQL developers and administrators develop code more efficiently. It also provides utilities to compare, extract and search for objects, manage projects, import/export data and administer the database. Toad for MySQL increases developer productivity and offers access to a solid community of experts and peers for interactive support.
Mehr…
ScimoreDB Distributed
Version: 4.0 | Freeware
Royalty free fully featured SQL database engine with nearly 1 million installations worldwide. Use as embedded, like MS access, or as large clustered, like Oracle/DB2, distributed database. ScimoreDB embedded, server or distributed databases has been optimized for MS Windows and .NET to deliver optimal database performance.
Mehr…
HDS-Online
Version: 1.1 | Freeware
Mit HDS-Online ist es von allen PC's mit Internetanschluss möglich, Daten zu bearbeiten, auszuwerten und zu drucken. So entsteht die Möglichkeit eines ortsunabhängigen Datenabgleiches bzw. -.austausches in Echtzeit. Sie benötigen nur die HDS Benutzeroberfläche mit Username & Pin zur Identifikation im HDS Datenbanksystem!
Dazu gibt es eine Installationsanleitung u. die benötigten php Dateien für die Konfiguration der Datenbank auf Ihrem Webspace!
Mehr…
Exportizer
Version: 6.1.5 | Freeware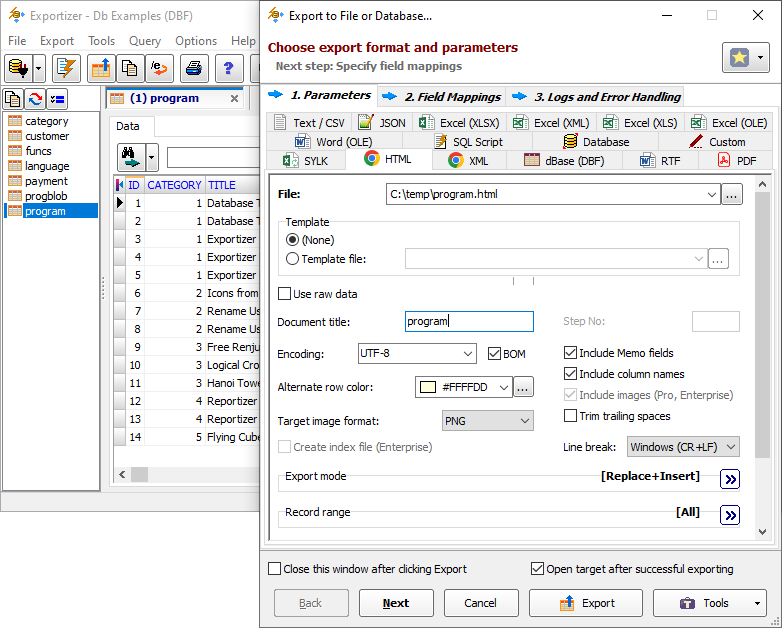 Exportizer is a free database export tool. It allows to export open table to file, clipboard, or printer. Can convert DB, DBF, text, CSV to text, CSV, XLS, RTF, XML, HTML, DBF, PDF, DOC, SQL. Many options ensure full control over output. There are several useful functions for data manipulating and bookmarking.
Mehr…
Freejahreskalender 2016
Version: 2016 | Freeware
Mit dem Programm erstellen Sie Kalender für 2016 in dem die Feiertage bereits eingetragen sind. Nachträglich kann man für die einzelnen Tage persönliche Eingaben vornehmen. Die Kalender-Kopfdaten können mit den persönlichen Daten des Benutzers ausgefüllt werden. Für die einzelnen Ferientermine Ihres Bundeslandes stehen ebenfalls Eingabemöglichkeiten zur Verfügung. In der neuen Version können zusätzlich Bildkalender gedruckt werden.
Mehr…
Octagon Contact CRM
Version: 15 | Freeware (129,00 EUR)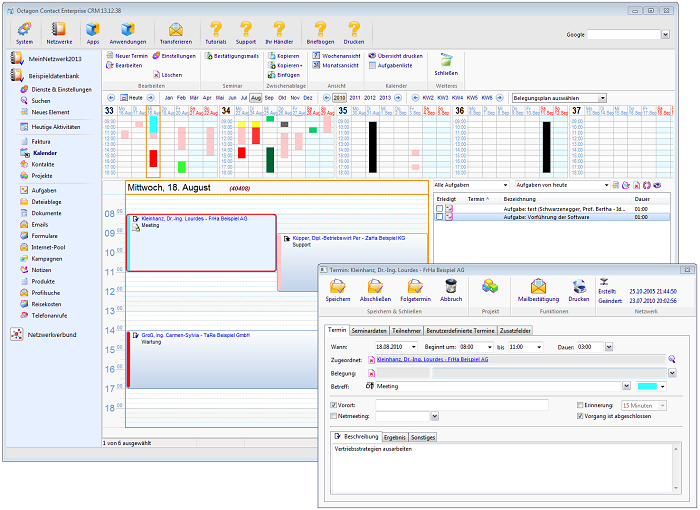 Octagon verwaltet Ihre Adressen, Termine und Aufgaben bzw. kleine Projekte im Büro und zu Hause. Erstellen Sie Dokumente und lassen Sie Briefe mit Adresse und Anrede automatisch erstellen. Und damit nichts vergessen geht, können Sie alles auf Wiedervorlage setzen. Den Schriftverkehr (Mails/Dokumente/Briefe usw.) haben Sie immer griffbereit. Die komfortable Synchronisation sorgt für mobilen Einsatz. Enthält außerdem eine Faktura.
Mehr…
Office-CallCenter
Version: 2014 | Freeware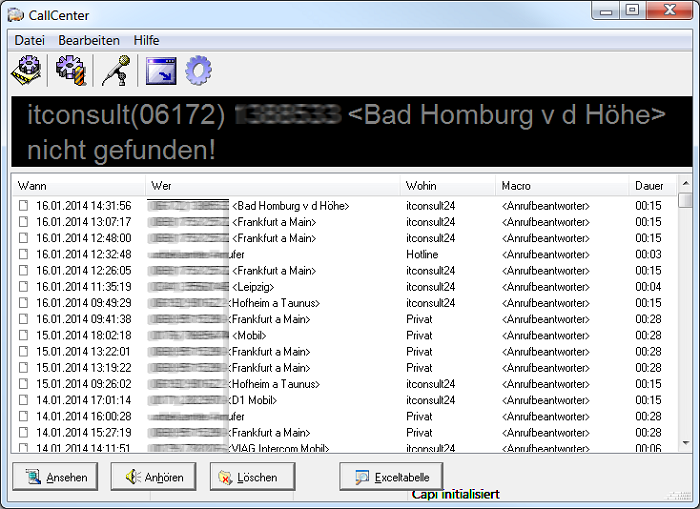 Der CallCenter ist ein Anrufbeantworter der durch seine umfangreichen Makrofunktionen interaktive Eingaben des Anrufers ermöglicht. Die Makros bzw. Anrufbeantworterfunktionen können individuell nach Zeitraum und Anrufer eingestellt werden. Sie können bestimmten Anrufern ganz individuelle Ansagen oder Informationen zum Abruf zur Verfügung stellen. Nachrichten können über die Fernabfrage und die Daten als Exceltabelle bearbeitet werden.
Mehr…
Alle meine Adressen (AmA)
Version: 2.0 | Freeware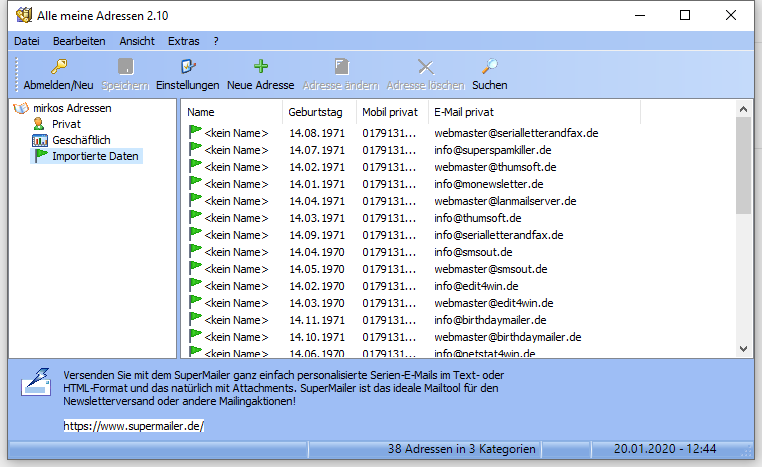 Mit Alle meine Adressen können Sie oft benutze Adressen, Telefonnummern, Geburtstage und Bankverbindungen an einem Ort speichern. Die Adressen können in Kategorien eingeordnet werden, so dass Sie nicht den Überblick verlieren. Alle Daten werden in einer verschlüsselten Datei gespeichert (6 verschiedene Verschlüsselungsalgorithmen sind integriert), so dass Ihre Adressen sicher abgelegt sind.
Mehr…
Address List Validator
Version: 1.0.1.2 | Freeware
Address Validator (USPS address verification, international address validation): a free, easy-to-use tool from http://www.address-validator.net to check any U.S., Canadian or international address (free for 100 addresses): + Verify U.S. and Canadian addresses (USPS/CASS certified) + Validate international addresses in 240+ countries worldwide + Address correction, standardization and re-formatting according to international standards.
Mehr…