SmartVizor Variable Barcode Batch Printing Software
Dieses Programm wird Ihnen präsentiert von:
Uccsoft Inc.
22525 SE
98027 Issaquah
United States
| | |
| --- | --- |
| E-Mail: | support [at] uccsoft [dot] com |
| Telefon: | 00-000-0000000 |
| Telefax: | 00-000-0000000 |
| Website: | www.uccsoft.com |
| | |
| --- | --- |
| Kategorie: | Büro / Inventar & Barcoding |
| Version: | 25 |
| Release-Datum: | 25.10.2017 |
| Größe: | 56 MB |
| Betriebssystem: | Win 98 / XP / Vista |
| Anforderungen: | Windows |
| Sprachen: | Deutsch, Englisch |
| Downloads: | 0 im Januar / 110 insgesamt |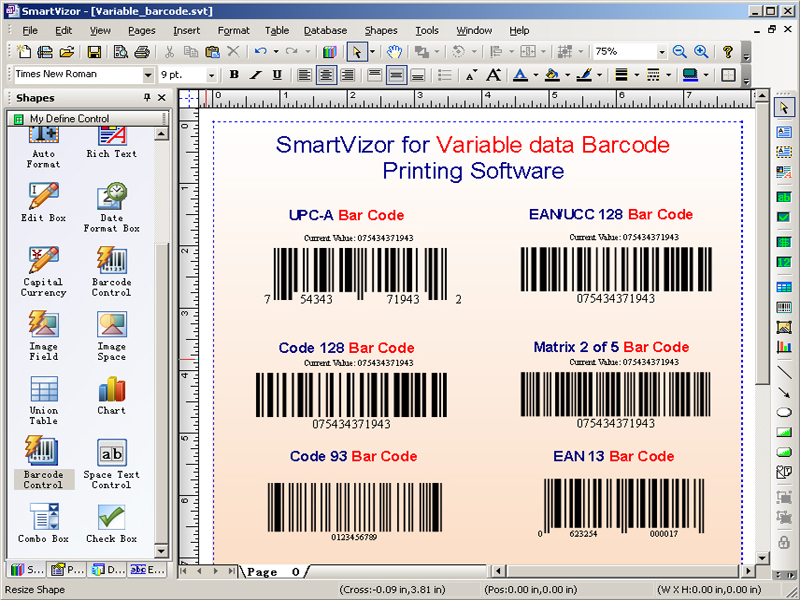 SmartVizor is a stand alone,powerful and extremely easy to use variable barcode print application. SmartVizor Suite is a software solution for creating personalized communications and professional one to one documents. It is one of the least expensive full-featured variable barcode print solutions available today.
Because SmartVizor's graphical user interface (GUI) functions as an easy-to-use design tool. You can use SmartVizor itself to design the boilerplate for your documents quickly and easily.With SmartVizor Suite, merge any design with any database and print on any printer.
Any Printer: SmartVizor supports any printer in the Windows operating system.
Any Database: SmartVizor can get data from almost any database format. such as Microsoft Excel, Microsoft Access, Microsoft FoxPro, delimited ASCII (.csv, .txt), MySQL, Oracle, SQL Server, IBM DB2. SmartVizor also provides ODBC support, so you can connect directly to your database and use SQL statements if you want to.
Any Barcode: SmartVizor supports supporting over 50 symbologies including Code 128, Data Matrix, USPS OneCode, EAN-128, UPC/EAN, ITF, QR Code, Code 16k, PDF417, MicroPDF417, LOGMARS, Maxicode, GS1 DataBar, Aztec, Composite Symbols and more.
Any Design: You can use any application to create boilerplate documents. This is a real time-saver if you receive boilerplate documents from sources outside your company (such as from customers) because you don't have to re-create the documents in-house. When you use SmartVizor for your variable-data-printing projects, virtually any word-processing application or page-layout application can be used to create your boilerplate documents (master documents). That's because SmartVizor is designed so that you can use a OLE Object file as your boilerplate document. So, you can use Adobe InDesign or Adobe PageMaker or Adobe Illustrator or Microsoft Word or virtually any application to create a boilerplate document. You're ready to use it in SmartVizor!

Hier können Sie die Update-Infos für dieses Programm abonnieren. Sie erhalten dann zukünftig eine Benachrichtigung per Email, sobald ein Update zu diesem Programm eingetragen wurde.
Um die Update-Infos zu abonnieren, tragen Sie nachfolgend Ihre E-Mail-Adresse ein. Sie erhalten dann eine E-Mail mit einem Link, über den Sie das Abo bestätigen müssen.
Sie können die Update-Infos jederzeit wieder abbestellen. Hierzu finden Sie am Ende jeder E-Mail mit Update-Infos einen entsprechenden Link.
Dieser Service ist für Sie vollkommen kostenlos.

Kommentare zu SmartVizor Variable Barcode Batch Printing Software
Bisher gibt es keine Kommentare zu diesem Programm.
Selbst einen Kommentar schreiben